Meanwhile in Canada… I tumble into the sugar-plum fairy's boudoir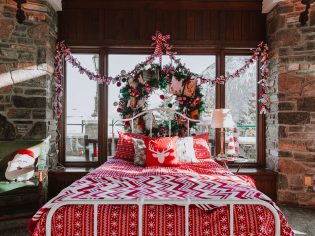 Canadians know exactly what cosy means, and have no restraint when it comes to seasonal celebrations, making December the most wonderful time of the year.
This is story 10 of our Meanwhile in Canada… series.
Canada is an outrageous cliché in December. Everywhere I go, Santas ho-ho-ho. Yuletide carols aren't just being sung by a fire but in hotel lobbies, shops and snowy squares.
Warm shop interiors are cluttered with candles, scented soaps and Christmas ornaments and the soundtrack of yuletide carols is everywhere. Canadian Christmas makes me feel as if I'm 10 years old, agog with simple pleasures, entranced by the glitter of tinsel.
Talking of tinsel, you can't get away from Christmas trees in Canada in winter. Forests of them shimmer in malls, public buildings and hotels such as here at Fairmont Banff Springs, which looks like a castle built by an ogre, but has an interior that makes me feel like I've tumbled into the boudoir of the sugar-plum fairy.
An enormous gingerbread house dominates the Fairmont's lobby, swathes of beribboned garlands swoop over mantelpieces and doorways, and glass balls and baubles tinkle from Christmas trees like a drag queen's ransom.
These are real Christmas trees, of the sort unknown to Australians, that smell of pine needles and mountains and make you want to sing carols.
As it happens, I'm chatting with a bartender in the Grapes Bar about Christmas trees. Jake is a classic barman-philosopher, and makes my Shiraz taste even better accompanied by his observations about life. His own experience of Christmas trees, he says, is that decorating one takes time and most people forget about the most important part: stepping back to have a look at your efforts from across the room.
"It's like your life," he says, as if he's divined I'm an insatiable traveller. "You have to go away to understand where you've been." Wine gurgles into my glass as Jake pours and ponders some more. "Also, you have to do something different with your tree every year, otherwise it's just the same-old, isn't it? You have to keep moving on."
I'm here in the Rocky Mountains in winter in an attempt to look back. I want to recapture the excitement of a childhood Christmas, and Canada has a way of making me feel young again. The Rocky Mountains have all the things that kids like: spiky mountains, big bears, snow that falls in fat flakes, snowmen with twig arms and carrots for noses.
For an Australian, this is like stepping straight into a pop-up Christmas card. The snow here in Banff is deep and crisp. Lampposts sport little white caps, fir trees slump under epaulettes of snow, and waterfalls glitter with icicles along the Bow Valley Parkway. In Banff's gardens, shrieking children knock snow off pine trees that falls like confetti onto their friends beneath. Gotcha!
I learn to layer up against the cold, and enjoy long walks, even at night. My footsteps squeak and the rest of the world is a snowy hush, as if packaged in cottonwool. Banff's shop windows are delightful at night, when they throw a glow into the street and whirr with toy trains and nodding moose with tinsel tangled in their antlers.
When my nose and fingers start to freeze, the antidote is easy. I wrap my hands around a bag of hot chestnuts, retreat inside to feast on goose, or enjoy a Shiraz with a bartender who turns out to be a poet of Christmas trees.
Banff's Hot Chocolate Trail has me high on sugar in warm eateries that vie to outdo each other with seasonal creations; the winner in the hot-chocolate stakes might be Bear Street Tavern's hot chocolate with chilli vodka, cinnamon and whipped cream. Bakeries are warm with scented clouds of sugar and ginger. Canadian cakes are another throwback to childhood. Plump as pillows and slathered with frosting, they all look like birthday cakes and have amusing names like Apple Poke, Jos Louis and Winnipeg Schmoo. The French-Canadian forte is bûche de Noël, which looks like a fallen tree trunk but provides a baroque overdose of chocolate and whipped cream.
Christmas is everywhere in Banff. Bells are being jingled on sleigh rides. I ride up Banff Gondola to see a panorama of meringue mountains, only to find carollers and cocktails and Santa chortling in the sunshine. Kids are icing cookies with smiley faces.
Back in town, Banff Christmas Market is lovely. Stall owners are bedecked in reindeer-antler hats and festive grins. Their cheerful booths are loaded with hand-blown glass ornaments, lavender bags and felt slippers. I sniff my way past salmon grilling over charcoal, roasting sausages, pots of glühwein that chloroform me with exotic spices.
I go ice skating at Lake Louise, which I haven't done since I was a child. Where better? The rink is the frozen lake, ringing by sawblade mountains. There are people pirouetting and others playing ice hockey. My trousers are soon encrusted with chips of ice like a 1970s' pop costume.
Later, I tuck into thick slabs of ham as dusk descends, in a restaurant as garlanded as everywhere else in Canada at this time of year. A Christmas tree winks in the corner. I expect Michael Bublé to pop out and start crooning about reindeer and mistletoe. Instead, I hear the whoosh and thump of snow sliding from the roof. No cosier sound, when you're enveloped in warmth and chatter. No same-old for me this Christmas, and I couldn't be happier.
Next time, come with me to Niagara and, beyond the falls, discover the peculiarities of its parrots, vineyards, nice old ladies and wars with America.