Top places to chase the sun in Latin America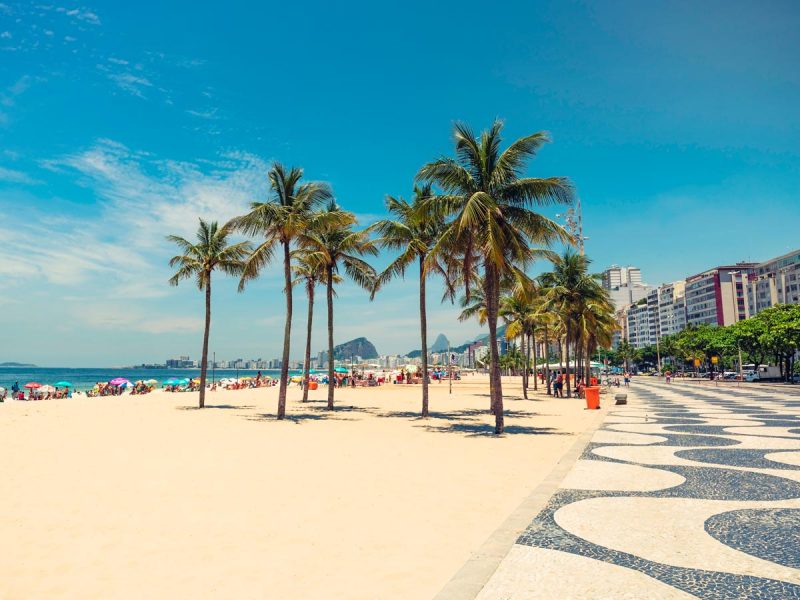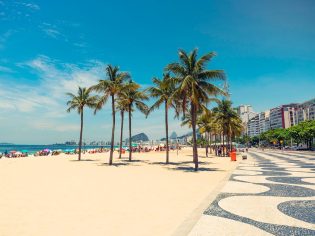 Incredible sun-soaked places to visit in Latin America.
Latin America (comprised of both Central America and South America) is as vibrant as it is diverse, encompassing 33 countries that offer everything from misty rainforests to ancient archaeological sites. With the variety of destinations, it can be difficult to choose where to go, but luckily we've taken all the work out of your choosing. Take a look at our top spots in these sun-soaked regions.
Read about all 100 places to chase the sun around the globe here.
85. The beaches of Mexico
The first time I visited Mexico, the peso was weak against the dollar, enabling my boyfriend and me to spend the best part of six months living next to nix in a palapa made out of palm fronds in Rio Nexpa, Michoacán. We were there for so long that Ilberto, the owner of the surf camp, became like family.
What makes me so nostalgic for this part of Mexico's Pacific Coast is that our lives were so simple. We gathered firewood at dawn. Swept the palapa clear of scorpions every morning. Scheduled siestas in the hammock. And walked miles to the nearest village each week for tortillas, beans, lettuce, coriander and avocados. Beyond writing letters to family, there was no business to tend to. And there was a lot of time spent simply watching the sun rise and fall in the sky.
Years later, after a subsequent trip back to Rio Nexpa, we found the accommodation had received an upgrade and Ilberto had passed away. That's when I realised that what was most distinguishable about this piece of paradise was that it was where I had the time and space to find peace with the recent death of my father, and where my (now) husband and I laid the foundation for our relationship. As Ilberto would say to me each day: "Muy tranquilo aquí." Si, Ilberto. Estaba muy tranquilo.
By Carla Grossetti
86. One&Only Mandarina, the Riviera Nayarit, Mexico
It doesn't get much dreamier than a Panoramic Ocean Treehouse overlooking both ocean and rainforest at once. Set cliffside on Mexico's Pacific Coast, One&Only Mandarina is crafted in tune with its surrounds on a rare stretch of undeveloped coastline along the sun-drenched Riviera Nayarit.
Come for the luxury accommodation, eco-chic design showcasing artisanal makers and local creators, destination dining and ancient therapies at the One&Only Spa, and fall in love with the landscape: a medley of palm-fringed sands, jungle-clad mountain peaks, lush flatlands, lagoons and estuaries that comprise this magical coastal rainforest.
87. Habitas Bacalar, the Yucatán Peninsula
Book an A-frame tented Lagoon Room to wake to a candy-coloured sunrise over the dazzling blues of Habitas Bacalar's namesake lagoon before making your way to breakfast, where a coconut chia pudding with local fruit, coconut-amaranth crumble, regional agave honey and cardamom is sunshine in a bowl. Then spend the day doing exactly what this holistic oasis tucked into the fringes of the Mayan jungle on Mexico's Yucatán Peninsula instructs: rest, nourish and regenerate.
88. The jungles of Puerto Viejo, Costa Rica
The nature experience doesn't get more immersive than in the laidback town of Puerto Viejo on the Caribbean Coast of Costa Rica, which includes a lush tropical jungle and stunning beaches. For me, Puerto Viejo will always be that wild place where I hit the jungle jackpot thanks to a local man named Jorge.
My chance meeting with Jorge happened along a leaf-littered path in Cahuita National Park, where I found Jorge staring intently into the dense undergrowth. I'd seen Jorge before, as he worked at our favourite local soda restaurant, and he beckoned for me to come closer before pointing out an enormous boa constrictor wrapped around the bough of a tree. After he introduced himself, I said, "Aaah Jorge de la jungla", which lit up his face with laughter.
Jorge was my lucky charm. He walked with me back to Puerto Viejo, where we heard the manic screeching of howler monkeys, and saw two toucans, which Jorge explained are easily spotted as they are typically seen in pairs. We also spy a giant sloth high up in the canopy that looked momentarily disturbed we'd interrupted its slumber.
What lingers in my mind about Puerto Viejo is not just spotting wildlife worthy of a segment on David Attenborough's Life on Earth. It was my interaction with locals like Jorge, who had a grin like a slice of watermelon, which epitomised the warmth and friendliness of the Costa Rican people.
By Carla Grossetti
89. Soho Beach House, Canouan Island, St Vincent and the Grenadines
The first Soho House in the Caribbean, on the secluded island of Canouan in St Vincent and the Grenadines, Soho Beach House celebrates the local vernacular while channelling the London-born hospitality group's inimitable brand of creative cool.
Arrive by boat to the boutique resort's wooden jetty, relax in one of 40 sea-facing bedrooms housed in white-painted wooden buildings with traditional Caribbean blue-tin roofs, and sip cocktails on the beach under the sweet shade of a palapa umbrella.
90. Restaurants across the region
When you think of the best restaurants in the world, many automatically lock on Europe with its culinary giants in the form of France, Italy and, increasingly, Spain. But Latin America has been quietly subverting such assumptions in the last decade, developing a unique food scene with serious swag.
As if any other confirmation was needed, the results of the World's 50 Best Restaurants this year included a total of 10 restaurants in Latin America, including the much-lauded Central in Lima, Peru, helmed by chef Virgilio Martínez Véliz, in second place.
Rounding out the top 10 were Mexico City's Pujol (5), A Casa do Porco in São Paulo, Brazil (7), and Quintonil, also a Mexico City native (9). With Lima establishments Maido and Mayta sitting at 11 and 32 respectively, the Peruvian capital boasts a total of three inclusions in the list, confirming it as the ultimate foodie hotspot to seek out when you are chasing the sun in Latin America.
91. Montañita, Ecuador
The word Ecuador means 'equator'. And although selfie-seekers are drawn to the Mitad del Mundo (Middle of the World) to pose with a foot in each hemisphere, I was more interested in hot-footing it in the opposite direction to reach Montañita in north-western South America in time for Christmas.
The average temperature in Montañita in December is about 25°C and we arrived on Christmas Eve at a boho beach scene, a kind of Goa meets jungle camp in G-Land vibe.
Montañita smells of sea salt, sunscreen and surf wax thanks to the right-hand point break here that produces a sizeable long wave. It was a feliz Navidad.
Instead of staying in party central, we found a humble beach shack a few blocks back from the colourful main strip, built an earth oven to cook roast chicken and vegetables, and chatted all night under a sky that was like a piece of velvet, dusted edge to edge in stars.
By Carla Grossetti
92. Lake Deseado, Tierra del Fuego
It takes a long time to get to the southernmost point of South America. But daylight is on our side. In the morning, we sail across the Strait of Magellan from Puntas Arena to Tierra del Fuego, the wild archipelago at the tip of Patagonia. And from its far-flung Chilean capital of Porvenir, we head south further still. We drive along a wind-blasted coastline, through the steppe with its gauchos and guanacos, and past sherbet-like salt lakes teeming with flamingos.
We curl up and around the start of the Andes and eventually arrive at Lake Deseado and our lodge for the night on its shoreline. It's late in the evening but there's plenty of light in the sky as we settle in for a Calafate sour and wait for the sun to set.
In these parts, summer days can stretch for 18 hours. And so, as I fall asleep in my cabin built from local lenga beech, it's not long before the sun rises again over the silvery lake, the mountain on its horizon – that's actually in Argentina – bathed in apricot.
By Imogen Eveson
93. The beaches in Rio de Janeiro
White sand and bronzed bodies. It's not an uncommon scene during a beloved Australian summer, but you'll see a whole lot more skin in the hot, hot, hot destination we're headed. Summer sizzles in Rio de Janeiro and the swimwear choices are just the start.
Copacabana is arguably the city's most famous beach, perhaps thanks to Barry Manilow, but it's the nearby Ipanema sand that I'd rather sink my toes into. Just beyond Copacabana, Ipanema teems with gorgeous, glistening beachgoers and their confidence is contagious, no matter how you like your togs cut. Vendors will keep you well equipped, whether you're in need of a beach beer, beach towel or beach read, and the energy doesn't quit.
If yours is a sporty summer, try Barra da Tijuca, Rio's longest beach at almost 18 kilometres, and preferred by board, kite and windsurfers. Prainha is also a surfer's paradise and a much quieter option for those in favour of lazy summer days.
By Kate Symons
94. Colca Canyon region, the Peruvian Andes
South America's beaches may be a magnet for travellers, but when the sun's out, the Peruvian Andes score a perfect 10.
From May to November, the dry season is the best time to make the 160-kilometre drive from the volcano-fringed city of Arequipa to the Colca Canyon region – a profanely photogenic place to hike, horse ride and birdwatch by day, then kick back in hot springs by night.
Using the Rainforest Alliance Certified Colca Lodge Spa & Hot Springs as a base is a smart move because, after spending your days exploring a dramatic, evolving backdrop of terraced farmland, brooding volcanos, and vertigo-inducing canyons, you'll want a soft landing.
From baby llamas and alpacas adorned with colourful accessories to herds of wild vicuñas grazing on the plains, camelid sightings are guaranteed in these parts, as is altitude sickness if you don't allow enough time to acclimatise to the elevation of 3000-plus metres. Feeling slightly woozy? Stop at a roadside stall to drink coca tea, an elixir believed to alleviate mild altitude sickness.
A sleep-in might be tempting, but if you miss your window to get to Mirador Cruz del Cóndor – the vantage point to see Andean condors in full flight – you'll throw away a rare chance to witness the elusive giants of the sky ride the thermal currents above.
Afterwards, work up a sweat on the steep (but mercifully brief) hike to the pre-Inca ruins of Uyo Uyo (minus the Machu Picchu crowds). When the temperature drops in the late afternoon, the lodge's hot springs beckon.
Overlooking the banks of the Colca River, the landscaped pools tap into geothermal waters, providing the ultimate way to relax after a day of exploring. Pro tip: grab a local craft beer from the al fresco bar before slipping into the warm water (because once you're in, you won't ever want to get out again).
By Jo Stewart
LEAVE YOUR COMMENT