Top places to chase the sun in the Pacific and New Zealand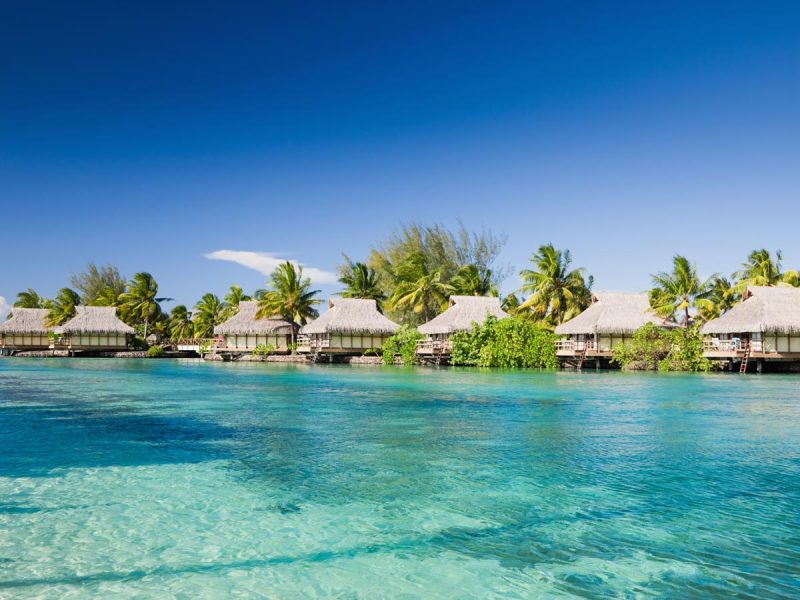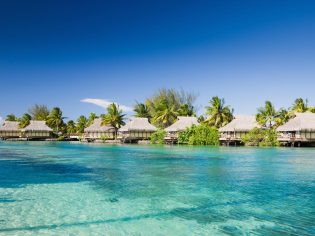 The sunny gems of the Pacific and New Zealand await.
Oceania is aptly named, with the crystalline waters surrounding its territories tempting travellers from all around the world. This vast region is blessed with some of the most astonishing natural beauty: colourful coral reefs, rugged volcanic islands, and beaches lined with the finest white sand.
Home to many small islands and some of the world's most remote locations, here are our best bets for your next tropical getaway.
Read about all 100 places to chase the sun around the globe here.
95. A sunny stay in Fiji
Whether you're staying in a fabulous family-friendly resort or at exclusive adults-only accommodation, Fiji is the kind of holiday destination where muscles are loosened in the sun, and days are spent in a delirium of dozing and swimming and friendly locals complete the recipe for the Pinterest-perfect holiday destination.
Jean-Michel Cousteau Resort Fiji
This eco-friendly hideaway was founded by one of the ocean's most esteemed explorers and the five-star facility has packages to suit everyone from families to honeymooners. If you're holidaying with the kids, then happy days, as there is unlimited free childminding on offer. A stay at an oceanfront bure at this all-inclusive resort is the pinnacle of island holiday paradise for nature-lovers.
Sheraton Resort & Spa, Tokoriki Island
Tokoriki Island in summer is all comic-book colours with rooms and suites offering views of vivid greens and blues broken by the occasional flash of red (hibiscus) or pink (frangipani). There's beach access, an outdoor pool and opportunities for daily scuba dives (note: this is weather-dependent).
Fiji Marriott Resort Momi Bay
Holidaying with the in-laws? Palm the kids off and book a few nights at the adults-only over-water bungalows at Fiji Marriott Resort Momi Bay, 40 minutes south of Nadi. Alternatively, stay in adjoining family bures and make some memories under the sun at the children's splash pool with fountains, water guns and an action-intensive kids' club. Sheraton Denarau Villas near Nadi offers a similar wealth of choice, sharing its facilities with Sheraton Fiji Golf & Beach Resort and The Westin Denarau Island Resort.
Namale Resort & Spa
Located on Fiji's northern island of Vanua Levu, this adults-only idyll offers much in the way of scenery and one of the best spots to appreciate the riot of the jungle surrounds is from the infinity-edge pool where you can sit and watch the sunshine filtered through swaying palm fronds against a backdrop of blue sea and sky. Of course, if your idea of relaxation involves exercise and action, you can scuba dive, snorkel, or enjoy an immersive island excursion.
Likuliku Lagoon Resort
This adults-only resort on Malolo Island really capitalises on its South Pacific setting, with guests staying in the bright and breezy over-water bures able to laze on their private deck and luxuriate over the lagoon like proper grown-ups. The resort has a strong conservation focus and is involved in everything from reforestation programs to extensive coral-planting projects. The emphasis of Likuliku's cuisine is on fresh, local seafood.
96. Bora Bora, Tahiti
Located 260 kilometres north-west of Tahiti island, Bora Bora (so lovely, they had to name it twice) has long been considered the go-to for off-duty celebrities, owners of Swiss bank accounts and loved-up honeymooners (myself included back in the noughties). But it is increasingly attracting young families, lured by an intoxicating mix of luxury and kids' clubs (myself included a decade and two kids later). Over the years the lives of my husband and I have changed – we've had babies, bought real estate and changed jobs – but the one constant was the goal of returning to this paradise.
Three flights, an overnight stay in Tahiti and a scenic boat transfer later, we arrive at Le Meridien, our original honeymoon resort. The hair on my arms stands on end as I watch our kids run along the same beach we walked as honeymooners as we discussed what our future children would look like (for the record, I saw them Von-Trapp-style; immaculate).
Back then we stayed in its overwater bungalows, and although these can be childproofed to prevent little ones from walking directly into the lagoon, we go with a family villa instead. It's not a bad decision: lagoonside with separate rooms, Lego deliveries and a private pool of varying depths.
Le Meridien does not have a designated kids' club, but it doesn't appear to need one. We start our days by visiting the resort's famous turtle conservatory where the kids help feed the injured turtles being nursed back to health by the on-site marine biologists, and then spend time making use of the complimentary snorkel equipment, taking the two-person kayaks out (with glass bottoms so we can see the brightly coloured fish swim beneath us) and playing with assorted buckets and spades on the beach.
As we make our way off the gleaming wooden boat into a wonderland of perfect hedges at the next resort we've booked, Four Seasons Resort Bora Bora, it doesn't look like the kind of place that would accept, much less welcome, children. You should never make assumptions. "Would you like to come to the kids' club with me?" a softly spoken gentleman says to our kids.
Apparently, there is sand art on the go, followed by a swim with a marine biologist. They can't get away from us quick enough. With the kids refusing to leave the kids' club – where they spend their days swimming, fishing, kayaking and making nature artworks – my husband and I remember what it was like to be honeymooners, enjoying treatments at the resort's spa, relaxing in the bungalow taking to the water on kayaks, and sipping cocktails at sunset (as the kids enjoy mahi-mahi and chips off the children's menu).
When we're heading to the airport a few days later, my husband proposes a return trip after another decade. "Let's make it in five years, instead," I say. "Agreed!" chimes in our eldest.
By Dilvin Yasa
97. Uepi Island, the Solomon Islands
In a world of endless travel opportunities, I've always avoided returning to the same place twice. But there is one I happily revisit. It's a haven in the middle of the South Pacific, a dollop of sand and rainforest that is 2.5 kilometres long and 300 metres wide resting on the edge of Marovo Lagoon, the world's longest saltwater lagoon.
In a country that has never met over-tourism, remote Uepi Island (pronounced you-pee) in the Solomon Islands is a place to forget the wider world exists.
It was scuba diving that first led me here – it's rare that you can step off a jetty and immediately descend a 45-metre reef wall lined with corals, sea fans and buzzing with fish in a rainbow of colour – but snorkellers equally relish this wonderland.
Uepi's appeal lies in its glorious solitude, simplicity and beauty. There are no sun lounges or pools here; this is hammock country and bungalows rest on the edge of a bath-temperature swimming lagoon.
If you're not in the water, rejuvenation and a good book is the popular choice, but when energy levels rise there are kayaks, SUPs, jungle walks or wanders through villages on nearby islands to be had. And, when the sun sinks, fireflies flit through the balmy night air and the stars are so bright they seem to rest just above the palm trees.
Paradise is a word that is oft-overused. But on Uepi, the description is wholly justified and, with a maximum of 20 guests, it's a private paradise, shared with new friends.
By Laura Waters
98. Raglan, New Zealand
Every breath of wind at Raglan tastes of salt. This low-key boho town attracts a rag-tag of surfers from around the world who want to lay claim to New Zealand's longest point break. Located about two hours' drive from Auckland, the little hippie town is known in the local Māori language as Whaingaroa ('the long pursuit'), but there's a lot more to do here in summer besides surf.
When you're not holed up in a hammock at your rustic beach shack, check out the town's colourful cafes, bars and galleries, walk to Wairēinga/Bridal Veil Falls or simply stroll along the black-sand beach as the sea rushes out to caress your feet. Fans of Bruce Brown's The Endless Summer will appreciate the fact the town made a couple of cameos in the 1966 cult classic. Head to the YOT Club to enjoy live music and a Sunday session.
99. Waitematā Harbour, New Zealand
As the sun rises over the volcanic cone of Rangitoto Island, it turns Waitematā Harbour into a glittering disco ball. Silver rays scatter in every direction and I've got a front-row seat to the show over breakfast at Harbour Society, SO/ Auckland's 15th-storey restaurant.
Even better views await on the public ferry to Waiheke Island, where pōhutukawa 'New Zealand Christmas trees' burst forth with eye-popping crimson flowers every November and dauntingly steep farmland produces what must surely be the world's fittest sheep.
During vintage, workers spend the mornings patiently hand-picking their way along vines garlanded with thick green canopies that shelter the grapes from the piercing summer sun. When it gets too hot to work, they join the crowds at sheltered coves where the receding tide leaves runway-flat pitches perfect for beach cricket.
On the ferry back, gentle ripples spill across the bay and fishing boats bring their catch to La Marée where rich, creamy Waiheke oysters are followed by thick slabs of trevally, snapper and kingfish sashimi served with fresh local wasabi. Even better is 'the wagyu of the ocean', a crispy-skinned fillet of Ōra king salmon with rich orange flesh that's lavishly marbled with fat.
Just metres away from the table, yachts bob on a mirror-like harbour that takes on a golden sheen when the sun begins to set. And because that doesn't happen until after 9pm in summer, there's plenty of time to make it back to the rooftop bar at SO/ Auckland as the harbour below fades to black and the shores on either side put on their own light show.
by Alexis Buxton-Collins
100. Lochmara Lodge, the Marlborough Sounds, New Zealand
My memories of a late-summer road trip around New Zealand's South Island/Te Waipounamu flash like a zoetrope: a heli-hike on Franz Josef Glacier. A visit to the penguins and steampunk museum of Oamaru. A day in Dunedin where our winning streak of blues skies paled in sympathy with the city's Scottish namesake. But one stop, in particular, stands out like a burst of sunshine: 48 hours spent in paradise in the Marlborough Sounds.
With no road access, Lochmara Lodge is located on Queen Charlotte Sound, and walkers on the long-distance Queen Charlotte Track might count themselves lucky to rest their legs here for a night. We travel here via water taxi from Picton and spend the next two days rising early to kayak the silky sound, swinging in hammocks with views of the startlingly blue bay, and strolling the lodge's quirky sculpture trail tucked into the bush.
By Imogen Eveson
LEAVE YOUR COMMENT