Experiencing Borneo's fantastical big five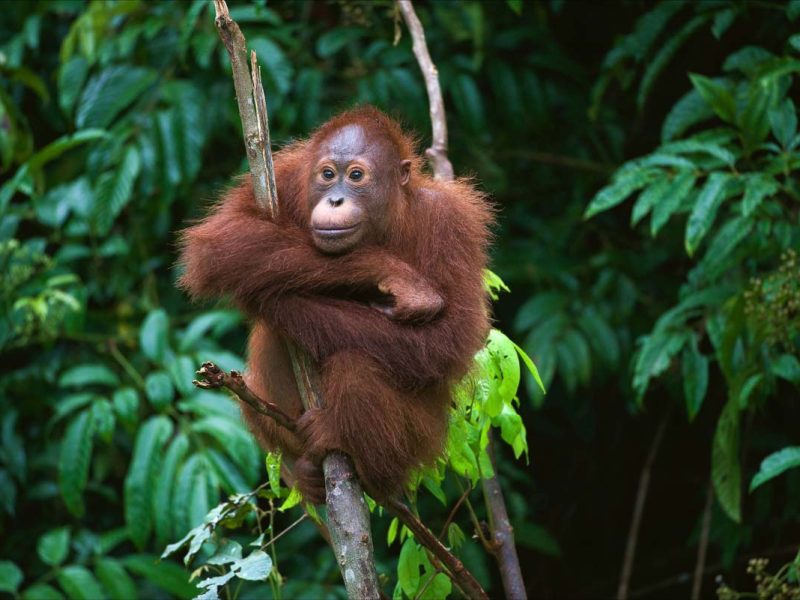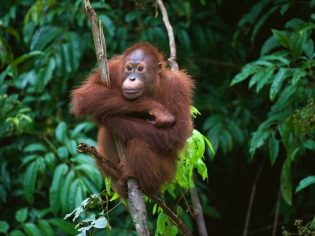 Experiencing Borneo's fantastical big five in the dense, verdant rainforests they call home invokes unbridled delight – and tears of joy.
Exploring beneath the surface
Kinabatangan River cruises
Three sharp raps at my villa door startle me from my slumber. There's every chance it is a cheeky macaque requesting a pre-dawn villa show-and-tell, but it's more likely just a porter delivering the morning wake-up call I'd requested the night before.
The clock has just ticked over to 5 am, and it's time to rise; the first of our early morning Kinabatangan River cruises is due to depart at first light. In the morning's blue glow, I slide into a seat beside a man visiting from Korea.
He's an avid birdwatcher, but I've come to Malaysian Borneo with a slightly different wildlife-spotting agenda. The goal is to tick the famed 'big five' off my travel bingo sheet – orangutans, pygmy elephants, saltwater crocodiles, proboscis monkeys and rhinoceros hornbills.
And here, amid the rich ecosystem of the 260 square-kilometre Lower-Kinabatangan Wildlife Sanctuary, is the best place to find them. Monkey Magic Our boat easily slices its way upstream through the strong current of the heavily silted water.
Sukau Rainforest Lodge
It almost glows against the deep green of the floating water hyacinth and overhanging ficuses. We boated for two-and-a-half hours on this river yesterday, leaving the port of Sandakan and snaking our way through the floodplains and jungle to reach Sukau Rainforest Lodge.
Today, however, we veer off course, detouring down a quiet tributary. The minor waterway is still as a pond, save for the gentle lap of the water in our wake. We duck our heads to avoid the vine-covered overhang as the boat pushes yet deeper into the unruly rainforest.
Meeting Borneo's fantastical big five
Proboscis Monkey
A loud rustling in the canopies breaks the stillness, cueing the scramble for binoculars and the sighting of our very first proboscis monkey. I stifle my over-zealous squeals as I fine-tune my focus on the primate. It's a cartoonish-looking creature, barrel-bellied and Gonzo-nosed, sitting proudly at the centre of a considerably lesser-nosed harem.
Our Borneo Eco Tours guide, Chi Seng Lau, tells us that we've just homed in on the group's alpha male. Acting like an echo chamber, the fleshy pendulum nose amplifies the male's call, the loudest and deepest of which is considered most attractive to potential female mates.
Fortuitously, we see it in action; the male throws back his head and makes a series of calls, sounding like a cross between a common pig's oink and the honk of a goose. It rings out distinctively over the higher-pitched twittering and screeching of the females and young.
Rhinoceros Hornbill
A few more putts up the river, and Lau has us avert our gaze skywards. He's seen the tell-tale 'flap-flap-glide' pattern of a passing rhinoceros hornbill, one of eight hornbill species found in the area. It's my bird-loving seatmate's lucky day.
The hornbill glides in to land in the upper canopy of a fig tree, far enough away to make its male or female eye markings indiscernible to the naked eye. But its curved golden casque – yet another mating call amplifier – is unmistakable.
The daily sunrise tours from Sukau Rainforest Lodge run for just two hours. If you're fortunate, that's all it will take to check off the wildlife quintet. So far, I've seen two from the list, and optimism remains high.
Nobody has spotted an orangutan yet, but there has been a maroon langur, a silvered langur and plenty of macaques darting by. Monitor lizards are abundant, too, mistakenly identified by my fellow tour-goers as crocodiles at first glance.
Saltwater Crocodile
The trained eye of Lau and our skipper are much more adept at distinguishing the lizards from the crocs, noticing the eyes and muzzle of an all-but submerged predator just metres to our right. Before I could pick up my camera, it disappeared under the boat, three or four bubbles all that remain in its wake.
It's not the last crocodile we see as we journey the river. Most are sunning themselves on the muddy banks before slipping into the murky water as we near. Our skipper doesn't linger in the hopes of finding a more patient crocodile; he's on a mission to get us further upstream. Word has it that the plantation workers have spotted elephants.
Pygmy Elephant
The boat sputters and chokes as it wrestles its way through an impossibly thick carpet of water hyacinth. It's a miracle we make it down the knee-deep irrigation channel at all. Here, wedged into a mudbank with river grass tickling at our shoulders, is where our skipper says we need to be if we're to get a good look at the approaching elephant duo.
Their mud-caked leathery forms emerge silently from behind a grove of ficus saplings. My eyes prickle as I fight to hold back the tears. They're magnificent, such colossal creatures moving with impossible grace. Mum and calf make their way slowly around the edge of the plantation, giving us a good minute or two in their presence.
And then, just like that, they're gone, off to sup on sweet palm tree hearts. It's not every day that nomadic elephants are seen on the Kinabatangan, so luck is clearly on our side. I add them to my tally of animal sightings so far – two elephants, a pack of proboscis monkeys, a handful of crocodiles, and three rhinoceros hornbills.
Orangutan
By all accounts, we've had a wildly successful morning of wildlife spotting. But Borneo's poster child, the orangutan, still eludes me. The last stop Between 800 and 1000 of the endemic primates are said to reside in the Lower-Kinabatangan Wildlife Sanctuary.
Compared to the pack-dwelling proboscis and macaques, solitary orangutans are much more difficult to find. A quick stop at the Sepilok Orangutan Rehabilitation Centre meant we wouldn't leave Borneo without a lasting visual of them.
Kabili-Sepilok Forest Reserve
The refuge at the heart of the Kabili-Sepilok Forest Reserve cares for about 25 orphaned and mistreated orangutans. It's the very antithesis of a zoo, with not an animal enclosure in sight. I'm the one who's standing behind floor-to-ceiling glass, watching a handful of the program's participants practise their swinging and climbing from learning platforms into the surrounding forest.
The orangutans are free to come and go as they please from this 'nursery', gently dipping their toes into the idea of jungle living. One orangutan sits with her arms and legs wrapped around a crumbling pyramid of coconuts, losing one every time she swipes another hungry hand away. She's so human-like in her mannerisms that I feel we might just have a brief moment of mutual understanding if I were to catch her eye.
I'm in awe of her, and this time there was no fighting the tears. It's impossible to curb the raw emotion of seeing your favourite animal in the flesh. I watch on with my face pressed against the glass, laughing, sighing and gasping at the orangutans' antics. Through my tears, I'm smiling, knowing how privileged I am to now be able to call 'bingo' on my Bornean 'big five'.
A Traveller's Checklist
Getting there
Malaysia Airlines, AirAsia and Qantas fly direct between all Australian capital cities and Kuala Lumpur. Both Malaysia Airlines and AirAsia offer connecting flights to Sandakan.
Staying there
Borneo Eco Tours runs a range of three-, four-, and five-day wildlife tours along the Kinabatangan River, departing from Sandakan. Full-board accommodation at Sukau Rainforest Lodge or Borneo Rainforest Lodge is included in the tour price.
Talking there
Selamat datang – Hello
Selamat tingal – Goodbye
Apa khabar – How are you?
Tolonglah – Please
Terima kasih – Thank you
LEAVE YOUR COMMENT