12 must-try Korean dishes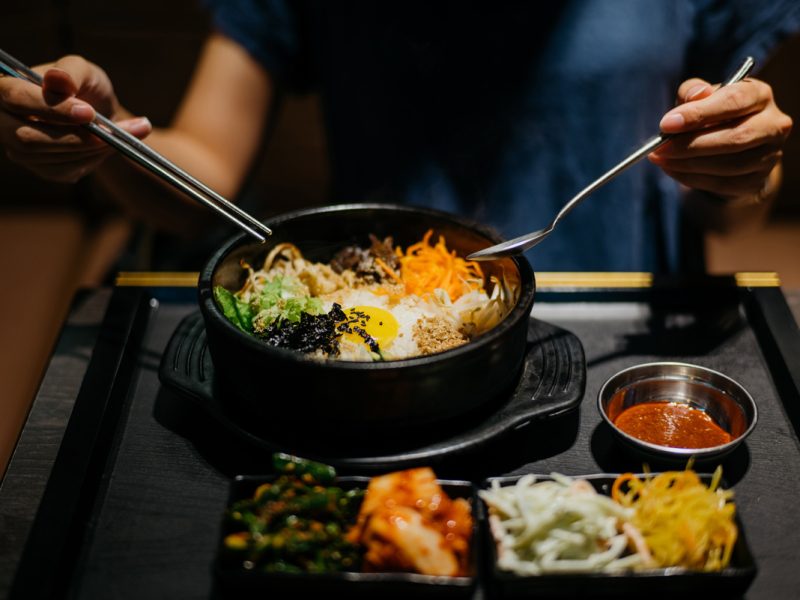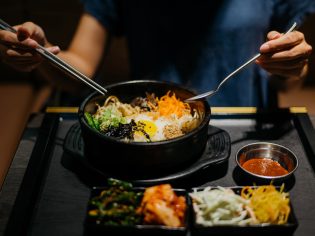 From 'addictive' snacks to a seafood dish so fresh it's still moving (in your mouth), Korean food is fresh, flavoursome and fun.
With all things Korean capturing our collective imaginations of late, it's little wonder that South Korea's diverse and interesting cuisine is also hot right now (figuratively and literally).
The food scene in this country of 51 million is one of the most exciting in all of Asia, with a multitude of dishes, cooking styles and flavour profiles to sample.
While Korean BBQ is most people's entry point into Korean fare, there is so much more to excite. From plump, juicy dumplings (mandu) to all manner of soups (including a beefy hangover cure – haejangguk – and a vivid green seaweed option served up as a traditional birthday treat – miyeokguk) to the omnipresent kimchi, which is served as a side dish (banchan) with just about everything.
Koreans' passion for their produce, food traditions and cuisine, and their exuberant, unabashed love of eating and drinking, is instantly evident when visiting the capital of Seoul. There is food available on just about every main thoroughfare, back alley, and street corner, at all times of the day and night.
And no matter if you are ordering from a Michelin-starred restaurant (Seoul was the tenth most awarded city in the 2022 guide), a family-run noodle shop, a thronging food market (Gwangjang Market is one of the largest traditional markets in Korea, making it the perfect place to head to fill up) or a sidewalk street food vendor, it is almost impossible to have a bad meal there.
So, book your ticket, punch another hole in your belt, and order anything and everything from this list of must-devour Korean dishes.
1. Gimbap
These rice and seaweed roles present like sushi but don't make the mistake of calling them that – ever.
While gimbap (also seen as kimbap) comes in all manner of thicknesses and lengths, the cigar-sized mini version is the ultimate snack food. Their nickname of mayak gimbap, which translates to 'narcotic' gimbap, hints at how addictive they are.
The shiny little rolls are filled with rice, wilted spinach, carrot and pickled radish, sprinkled with sesame seeds and served with a tangy-sweet mustard sauce. Stop at one if you can!
2. Bibimbap
A traditional dish dating back centuries, bibimbap (bibim meaning mixed and bap being rice) is presented like an edible artwork. The colourful ingredients including julienned carrot, zucchini, cucumber, mushrooms, bean sprouts, tofu, seafood or meat are laid on top of rice and crowned with gochujang (red pepper paste – a staple of Korean cuisine), sesame seeds and a soft egg yolk or fried egg. The ingredients are mixed together before eating to make a moreish, delicious mess.
Dolsot bibimbap is served in a hot stone bowl which results in the rice at the bottom becoming crispy and crunchy hidden treasure.
3. Bindaetteok
These mung bean pancakes (also known as nokdujeon) are created from stoneground mung beans, used to create a batter that is mixed with spring onions, ground pork and kimchi and fried to golden goodness.
Gwangjang Market is the best place to try this filling snack, where you can watch the beans being ground at numerous stalls.
Korean cuisine boasts a number of savoury pancakes; try spicy kimchi pancakes (kimchijeon), green onion pancakes (pajeon, which are usually paired with makgeolli, a milky fermented rice wine) and vegetable pancakes (yachaejeon).
4. Tteokbokki
This hugely popular, super-spicy stew can be found bubbling away in giant pots at markets and food stalls across the city.
Made from thumb-sized chewy rice cakes which are cooked in a sauce of anchovy broth, gochujang, soy sauce and sugar, along with thin slices of fish cake (eomuk), cabbage and spring onions, there is also a pan-fried version that is deliciously sticky and smoky.
5. Mandu
Korean dumplings are as generous as the cuisine itself – shiny, plump and juicy, they fill your mouth to capacity when consumed whole. The most popular versions are kimchi mandu (kimchi, tofu, ground pork and onion) and pork mandu (pork, cabbage, chives and glass noodles).
6. Jajangmyeon
This gooey noodle dish is the stuff food porn is made of. The thick black soybean sauce that the firm wheat noodles are coated in makes a juicy, squelching sound when you plunge your chopsticks into it, and rings your lips as you slurp them into your mouth. Laced with pork and vegetables and topped with cucumber, it is super filling and well-priced.
7. Bungeoppang
A fun, on-the-go snack, these cute carp-shaped pastries filled with sweet red bean paste are made fresh at street stalls and sold for just a dollar or two.
8. Gogi-gui
That's Korean BBQ to you, 'grilled meat' to locals. There are various meat dishes to choose from when grilling including bulgogi (thinly sliced beef marinated in soy sauce, brown sugar, Asian pear, garlic, ginger, black pepper and sesame oil), galbi (marinated beef ribs) and samgyeopsal, pork belly that you wrap in a fresh leaf and top with sliced green chillies, garlic slices and thick, umami ssamjang paste.
There are various cuts of meat and vegetables on the menu at most barbeque restaurants, but whatever you choose it will be grilled in front of you, cut into bite-size pieces with scissors and accompanied by the ultimate Korean side dish: kimchi.
9. Chicken and beer
The basic version of KFC – Korean Fried Chicken – is coated in a salt and pepper seasoning and cooked to a crunchy finish while a sticky, sweet and spicy version combines gochujang and rice syrup. The ultimate accompaniment is beer (maekju), resulting in the combination being known as chimaek.
10. Kalguksu
Knife-cut noodles swimming in a light vegetable broth, kalguksu is served fresh and piping hot in any number of small noodle shops down back streets across the city.
The perfect comfort food, it is plentiful and cheap. In the summer months, mul-naengmyeon is a cooling alternative; bouncy buckwheat noodles are served in a cold beef broth, complete with ice cubes.
11. Hotteok
These disks of golden fried pastry stuffed with cinnamon, nuts and sugar are calorie-packed and habit-forming.
12. Sannakji
This dish consists of raw small octopus (nakji) tentacles sliced into bite-sized pieces, topped with sesame oil and sesame seeds and accompanied by a dipping sauce.
But there's a surprise element: due to the nerve endings located in the tentacles, they are still wriggling when they arrive at the table – and as they go down!
As the suckers are also still active, you need to chew them well before swallowing so they don't latch on in your throat. If you are up for the challenge, head to Noryangjin Fish Market for the freshest (and wiggliest) offerings.
LEAVE YOUR COMMENT