7 must-see wonders in Central Asia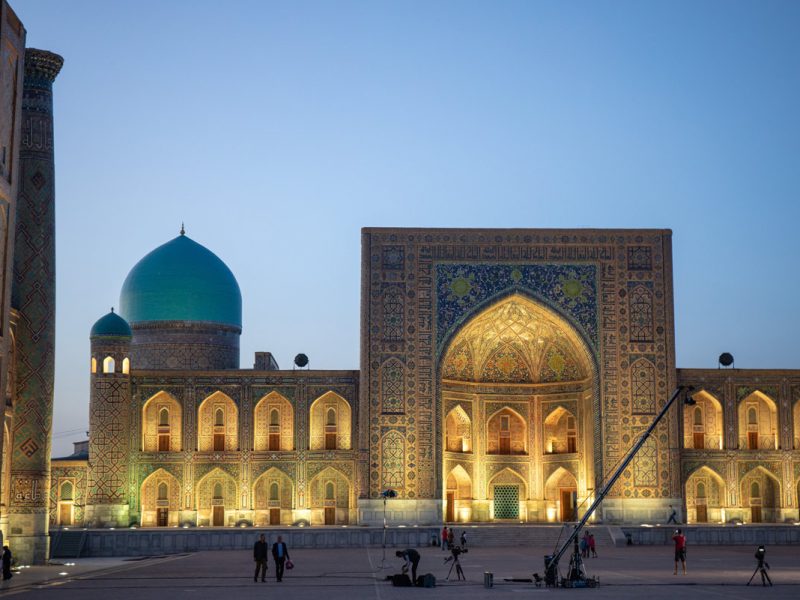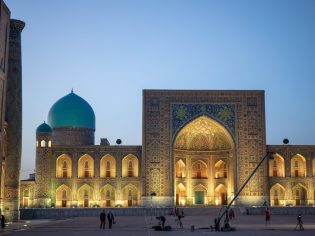 These little-known wonders in Central Asia are well worth marvelling at.
Central Asia has something for every traveller, from the rolling hills of steppe-country Kazakhstan to marvelling at Uzbekistan's old Islamic architecture and the impressive high-altitude lakes in the Kyrgyz Republic.
We share our favourite destinations in the region of land-locked countries to inspire your next holiday abroad.
1. Southern Shore, Issyk Kul, Kyrgyz Republic
Not only is this enormous alpine lake hard to miss on a map, but it's also elevated 1,600 metres above sea level, where travellers can swim and, at the same time, enjoy the views of snow-capped mountain peaks.
As a rule of thumb, travellers seeking a more vibrant atmosphere should venture to Issyk Kul's northern shores (typically populated by Bishkek locals escaping on weekends). However, in our experience, the tranquillity of Issyk Kul is best discovered on the southern side of the lake.
If you happen to be visiting in July, don't miss out on the magic of Kölfest, a music and arts festival celebrating Central Asian culture and local artists from one of the most unique places in the world.
2. Skazka Canyon, Kyrgyz Republic
Only a stone's throw away from the southern shores of Issyk Kul lies Skazka's impressive rock formations. The canyon's jagged rocks and short hiking routes present some remarkable vantage points of red earth and carvings for minimal physical effort.
Travellers usually pit-stop here for half a day en route to Karakol's hiking region, with regular marshrutkas (local shuttle buses) connecting the area and the option of hitchhiking between destinations.
3. Registan Square, Samarkand, Uzbekistan
Wandering through Samarkand is like stepping back in time and following the footsteps of caravaners and traders along the ancient Silk Road.
Registan Square (formerly Samarkand's commercial centre) is the most impressive site in town, and the craftsmanship in the minarets, madrasahs, domes, and facades is detailed and intricate. We recommend visiting both during the day and evening, so you can see the site illuminated and watch the light show.
4. Sibinksie Lakes, Kazakhstan
The northeast of Kazakhstan is one of the least travelled regions of Central Asia, and that's precisely why it's worth visiting.
There are improved train services and a range of ride-sharing apps like Yandex and inDrive, to help you make your way around.
You'll encounter Sibinskie Lakes in this region – a group of five lakes, each reachable on foot. The stunning rocky granite surroundings provide a jaw-dropping backdrop alongside its calm waters for the brave souls wanting to swim and cool off along the trail.
Over summer, local families picnic on the shoreline, and shashlik (skewered meat) aromas blow in the wind. The Kazakh hospitality is warm and friendly, and being invited for kumis (horse milk), chai, and vodka is common – as I quickly discovered four times throughout my adventures.
For those with flexible schedules, we highly recommend spending time in Semey and Ust'-Kamenogorsk.
5. Kyzart, Kyrgyz Republic
The dramatic scenery on the drive from the capital, Bishkek (the typical entry and exit point in the Kyrgyz Republic) to Kyzart is a sight for sore eyes and worth the commute alone.
The hiking passage from Kyzart to Song Kul presents an alternative – and very scenic – journey to the enormous alpine lake some 3,000 metres above sea level with access to the summer yurt camps. Visitors can enjoy a homestay in town and then navigate the journey to the lake on foot or horseback.
6. Mountains surrounding Almaty, Kazakhstan
Almaty is a fantastic cultural and social hub in Central Asia, so you'd be forgiven for wanting to spend your entire holiday roaming between its beautiful restaurants, cafes and museums. But that's just the tip of the iceberg. No matter how much you enjoy the city vibe, you should still balance your time in the nearby mountains.
With the city's robust public transport and ride-sharing options, it's easy to access the neighbouring trails, particularly the ones leading to Old Japanese Road, Furmanov and Shymbulak Peak.
To experience the quintessential Central Asian postcard picture, head to the sprawling hills of the Ushkonyr Plateau for views of blooming flowers, roaming horses and snow-capped mountains.
From Almaty, you can arrange any hiking or camping equipment needs and trips or tours outside the city.
7. Ancient Relics around Termez, Uzbekistan
Termez is situated in the far south of Uzbekistan, bordering Afghanistan.
Although it doesn't have the same glamorous polish as its major city counterparts, it is home to the magnificent archaeological ruins of the ancient city, Aleksandriya na Okse and Fayoz-Tepe, a well-preserved third-century monastery complex and evidence of the country's Buddhist past.
Whereas most visitors reach Termez by train in its comfortable sleeper berths, if you can't secure a ticket (they sell out quickly), consider taking a shared taxi from Samarkand for a very scenic journey down south.
If you're seeking a destination less travelled, look no further than Central Asia this summer. The region will astound you with its untouched landscapes and hearty hospitality and keep you returning back for more.
LEAVE YOUR COMMENT