Feast in Fukuoka: Japan's hidden foodie hotspot is a secret no more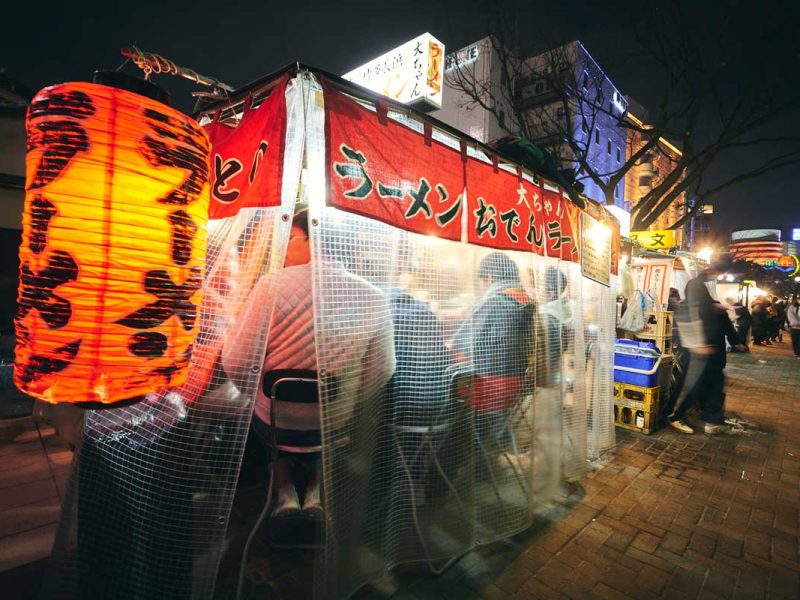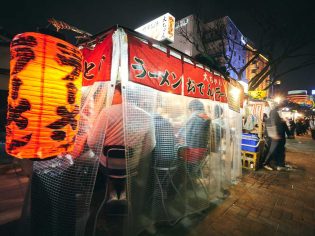 Fukuoka was named one of the top six places in the world to eat on Lonely Planet's 'Best in Travel' list for 2023 – so, what makes this city's culinary scene so special?
Fukuoka often gets skipped on Japanese travel itineraries. It's one of those cities with a familiar name, but largely unknown personality, given it sits in the shadows of popular cousins Tokyo, Kyoto and Osaka.
But Fukuoka won't be a stranger for much longer, given the cat's out of the bag: Fukuoka has a food scene worth travelling for. Here's what you should try when you visit.
Yatai
Temporary food stalls known as 'yatai' are synonymous with Fukuoka. From around 6pm until midnight (or later), around 100 yatai open their non-existent doors to keen diners, who can be seen lining up along the footpath outside their chosen stand.
Space is at a premium as yatai are tiny, seating anywhere between 6–15 people around a small pop-up kitchen. Many yatai have a specialty, but you can reliably find things like gyoza, yakitori and ramen on the menu.
You'll see the stalls scattered all around the city, but the highest concentrations are in Tenjin and on Nakasu Island.
Tonkotsu ramen
Tonkotsu ramen hails from Fukuoka, and is often referred to as 'Hakata ramen', with Hakata being the historical port-side area of Fukuoka city. (Side note, Ippudo, which has outlets in Australia and around the world, was born in Fukuoka.)
A cloudy pork-bone broth gives this ramen its distinct flavour and appearance, and the thin noodles are kept firm (soft noodles in Hakata ramen would be as sacrilege as a well-done wagyu steak).
When it comes to finding ramen in Fukuoka, there's an entire food court dedicated to the dish, called Ramen Stadium (found in the Canal City shopping and entertainment complex). But, really, you needn't look far if a hankering hits – tonkotsu ramen can be found all over the city.
(And at this point we should add that Fukuoka isn't all street grub and food courts – at last count, the greater prefecture had more than 50 Michelin-star restaurants.)
Shochu
Like other places in Japan, Fukuoka makes and serves up many types of sake, owing to the region's plentiful supply of rice and clean, soft water. But the island of Kyushu (on which Fukuoka sits) has a signature spirit called 'shochu', which you'll see on pretty much every drinks menu.
Shochu will likely remind you of vodka, perhaps mixed with a dash of tequila, but different types of shochu have different profiles and flavours, so don't write it off based on your first glass if you find it glass-cracking sharp.
The vodka parallels check out given many types of shochu are made with sweet potato (this style is called 'imo-jochu'), but it can also be crafted with base ingredients like rice and barley. (Compared to sake, which must abide by a strict ingredient list and formula to legally fit the category, shochu production is much more fancy free.)
Enjoy shochu on the rocks, with a mixer, or toned down with water; sipped with or without food.
Green tea
Another of Fukuoka's specialities is quality green tea. Much of the region's tea is grown in Yame, found in the prefecture's south, where vibrant tea fields seemingly roll to infinity across the mountainside.
Yame 'gyokuro' (which means 'jade dew', referring to the pale green hue of its infusion) is considered one of the finest green teas in Japan, with a rich, umami flavour that is achieved by shading the tea leaves as they mature. Gyokuro is hand-picked (which helps explain the high price), and new shoots are steamed, rather than roasted.
Of course, you'll also find Japan's famous matcha in Fukuoka, made from finely ground tea leaves.
Kakigoya
If you're willing to venture out of the city centre for a culinary adventure, jump on a train or drive to Itoshima to try giant, charcoal-grilled oysters at one of the many 'kakigoya' (oyster huts) that set up shop along the coast in winter (roughly from October to March). The catch is, you need to cook them yourself, but that's half the fun.
Inside the huts, which can be large vinyl tents or sheds, the air and everything in it smells like smoke (so leave the nice cashmere jumper at home, or accept the loan of a jacket from the hut if offered) and expect to jump out of your skin on occasion, as oysters can make a seriously loud pop when they crack open on a grill (spoken from experience).
Kakigoya sell other types of seafood too, like fish, clams, sea snails and squid.
Out the back of the huts you can appreciate just how fresh the seafood is as you watch fishermen haul their catch onto the jetty.
Wagyu beef
Japan is known for its wagyu beef (simply, wagyu means 'Japanese cow', but not all cattle in Japan are wagyu), and the island of Kyushu is where you'll find some of the best.
Many restaurants in Fukuoka serve up Miyazaki and Saga beef, which is farmed in the prefectures of the same name, and is butter-knife tender and dripping with flavour.
Steak houses in Fukuoka range from mid-range to premium, and wagyu will likely have pride of place on the menu. Not sure where the beef comes from? Just ask (and use Google Translate if you need to).
Yakitori
The people of Fukuoka love yakitori and, like most other things on this list, you'll find it in establishments all over the city. Yakitori means 'grilled chicken' (on a skewer), though you can also find skewers of other meats like pork and beef under the yakitori banner.
Oh, and the chicken variety can encompass all parts of the chicken – choose your own adventure from thigh, breast, cartilage and gizzard.
Not warming to the cartilage idea? A speciality in Fukuoka is yakitori made with 's'-bends of chicken skin (called 'torikawa'). If you think a skewer of crispy chicken skin sounds delicious, it most definitely is.
In Fukuoka, you'll often be served a side of cabbage and vinegar to go with your meat. And, while we're talking sides, a cold glass of Japanese beer also goes down a treat.
LEAVE YOUR COMMENT