Why 'naked' stays are taking off in Bali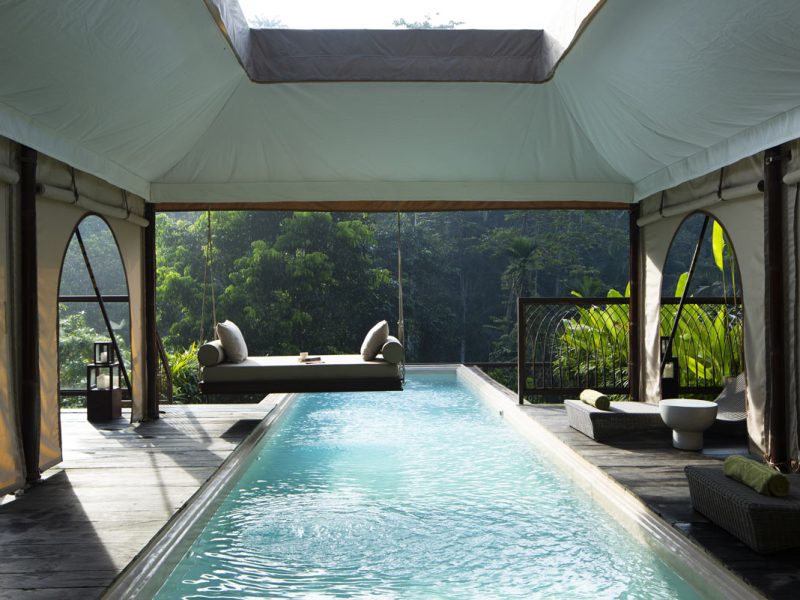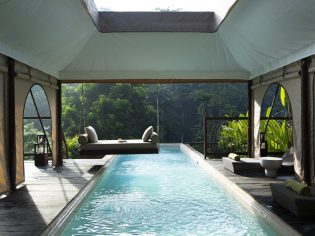 Travellers have never been more nuts for nature and Bali is taking notice.
Walls and doors are so yesterday. If the pandemic has taught us anything, it's that we feel more like ourselves when we're closer to nature. In Bali, a crop of new 'naked' nature stays has sprouted up over the last couple of years, joining a small handful of already established spots offering glamping and camping in a style that is uniquely Balinese. From low-impact jungle-luxe resorts to tented stays with infinity pools and a Bill Bensley-designed Dutch colonial-themed retreat in Ubud, these are the best ways to shed the exterior and bring you closer to nature. It's not called the Island of Gods for nothing.
1. Buahan – A Banyan Tree Escape
Built lightly into a hillside in the village of Buahan 40 minutes north of Ubud, the 16 dreamy bales here are stripped bare to reveal stunning open-air one-bedroom pavilions. Each of the low-impact, modern bales feature infinity pools, hand-hammered copper baths, cloud-status king-sized beds, double showers and 'Bali-gronis' to sip before shut-eye. Guests can forage from the organic farm for their meals and sheer veils are drawn at night, so it's like waking in a cocoon.
2. K Club, Ubud
The Ferrari of glampsites, this roomy 110-square-metre jungle escape in Ubud has just launched its Sensual Infinity Pool Tent Suite, and it's quite impressive. Set high on a pavilion overlooking a green mosaic, the infinity pool is partially covered by a canvas tent with a generous sunroof that you can pop open. A daybed suspended underneath allows you to roll off and straight into the water when in mermaid mode. The best bit? There's no wifi or internet; a true untethering.
3. Capella Ubud
One of the original haute nature stays in Bali, this award-winning camp in Ubud was inspired by Indonesia's colonial past. Designed by Bangkok-based American-born interiors prodigy Bill Bensley (Shintamani Wild), it's a playful, irreverent journey through history. Overlooking green forest, the lodgings are less tent and more zip-up bungalow, with colourful batik pulled across the ceiling and found paraphernalia speaking to the themes of each. A giant cistern pool dazzles in the centre of the property, and the spa's treatments are based on the moon cycles.
4. Bali Beach Glamping
Many of the island's nature stays are hidden among mountains, but not this family-friendly beachfront beauty. Located on Bali's west coast just 25 minutes from Canggu, this beachside retreat has a unique outlook, with the Indian Ocean on one side and vivid green rice fields on the other. A popular wedding destination, the al-fresco resort is also pet-friendly (here's looking at you, pampered Bali dogs) and comprises 40 tents with a large lawn area, beachfront infinity pool and restaurant, and unlimited ocean breezes and sunsets.
5. Alam Caldera
Sunrises don't get more spiritual than this. A hybrid between glamping and camping, this spot on the edge of Batur Lake overlooks Mount Batur volcano and the surrounding Kintamani area. Stays start from just AUD$62 a night in a comfortable Danu tent with cozy beds, a DIY BBQ dinner set and breakfast included for two. While here, book tours to hike the volcano, drive in a Jeep to the lava, do morning yoga or kayak the lake. Bathrooms are clean and shared.
6. Sandat Glamping
Surrounded by rice paddies and swaying palms, there's no second-guessing where you are when you wake up here. Just three minutes from Ubud, the well-appointed tents promise private pools, sun loungers shaded by traditional Balinese parasols, and stillness among the serenity of nature. Open since 2013, they're one of the first to offer the concept in Bali and guests can further unwind with yoga and meditation in the bamboo shala, or with a cocktail at the lounge and bar.
7. Camp at Virgin Beach
Step onto the now black-and-white marbled sand at Pantai Pasar Putih (White Sand Beach) in East Bali and you'll be taken back 30 years. This is how many of us remember Bali before the beach clubs arrived. It doesn't get more perfect than renting a tent from one of the local beachfront warungs and sleeping on the beach overnight with the rhythm of the waves lulling you to sleep. There's grilled fish for dinner, beach massages for less than $10 and Bintangs aplenty. What more could you want?
8. Nyan Bali
It wouldn't be Bali without a bamboo inclusion. This hand-crafted Airbnb house is fully immersed in nature and 90 minutes from Ubud in the rural village of Sidemen, with not a neon light or nightclub in sight. Watch the many moods of Mt Agung from the lounging net and gaze at the stars from the copper tub in the open-air bathhouse by night. The bamboo house has been designed so that it makes the most of the breezes and there's no AC, with temperatures cooling to between 20-22 degrees in the evening. The bed is king-sized and mosquito-netted, but you'll likely be sharing the house with the best type of friends: frogs, geckos and fireflies.
LEAVE YOUR COMMENT