What to expect on a trip to Seoul, South Korea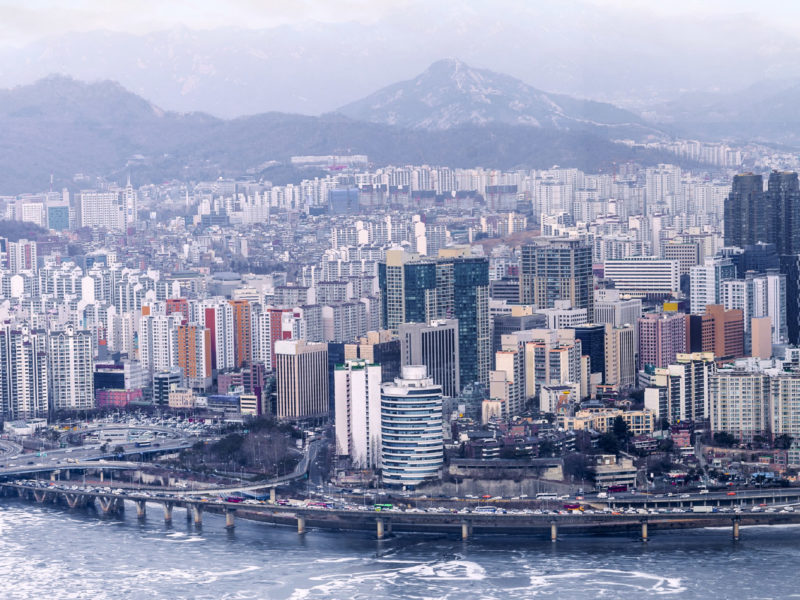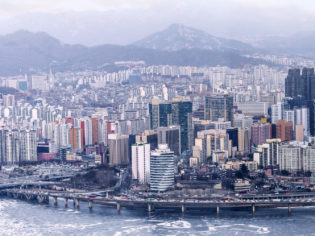 The South Korean capital of Seoul is a frenetic, fascinating proposition, filled as it is with a tranquil population of people obsessed with eating, shopping and looking good.
I am squeezed into a lift 117 storeys above the streets of Seoul and I am going nowhere. The ultra-polite young lift operator is subtly pushing the door button while keeping a poker face, probably hoping that the 75th time will work a treat, which it doesn't. The apparent reason for the failure of the lift that at other times floats effortlessly up and down the spine of Lotte World Tower to its pinnacle at Seoul Sky, the tallest building in South Korea, is an approaching typhoon, deceptively bestowed with the rather jolly moniker of Lingling.
The total shutdown a safety mechanism, like the blaring warnings I have been receiving by text message since I landed at Incheon International Airport (which is also now in shutdown); they are entirely in Korean.
As I feel my level of panic start to rise, I look around at my fellow passengers, most of whom are retiree-aged Koreans who appear to be part of a group. They are cool, calm and collected; they even joke with each other, laughing quietly so as not to disturb. The unflappable lift operator hands out little bottles of chilled water from a tiny fridge, flight-attendant style, while a young local helpfully translates her reassurances that they are working on fixing the problem. They are all a study in trusting nonchalance.
When the doors finally do open I take up position at one of the tower's sky-high cafes and watch Lingling engulf the sprawling city below in a downy grey fog of rain; the accompanying winds register as nothing more than a slight swaying of the hanging light fittings. None of the locals seem that fussed about the situation, and I find myself almost enjoying my front-row seat to the duality of nature – at once beautiful and menacing – and the brief insight it is giving me into the Korean psyche.
The soul of seoul
South Korea is known as the land of the morning calm, where a landscape of hulking green mountains, which are believed to be inhabited by spirits and gods, bestows a tranquil natural beauty on the country.
This seems to be reflected in the day-to-day activity on the streets of Seoul, where the pace of life is fast but doesn't feel as unrelentingly frenetic as other cities, and it is perhaps what has allowed the inhabitants of South Korea to thrive and grow into an international economic powerhouse while enduring a fractured peace stretching back over half a century with its neighbour to the north.
Of course, much has been made of the levels of stress South Koreans reportedly feel as a result of the importance placed on success in getting good grades and securing the right job (the suicide rate here is high), but on the surface of things in Seoul at least, the society seems to prides itself on its ability to keep calm and carry on.
For visitors this makes the city an easy proposition: it is a cinch to navigate, safe to explore, and functions perfectly (typhoon-affected express elevators not withstanding).
Past and present
The past and the present exist harmoniously in Seoul. Unlike many Asian cities that have sacrificed their heritage to ensure their future, the city is dominated by a series of stunning historic buildings and neighbourhoods that make for a compelling investment of time.
Gyeongbokgung Palace is the largest and most beautiful of the Five Grand Palaces that dot the city (the others are Gyeonghuigung Palace, Deoksugung Palace, Changgyeonggung Palace, Changdeokgung Palace). Originally built in 1395 to house the rulers of the Joseon Dynasty, the palace complex is made up of a series of ornately gabled and painted buildings and pavilions accessed through the imposing Heungnyemun Gate at the front (there are also gates on the northern and western side, and an entrance through the National Folk Museum of Korea).
The palace buildings as they stand today were rebuilt after they were destroyed by fire during the Imjin War with Japan between 1592-1598, before being systematically destroyed during the Japanese occupation from 1910 to 1945. The government has invested much time and money into restoring the buildings to their former glory. While in the area, browse the historic architecture of nearby Bukchon Hanok Village too.
Mirroring the scale of the buildings of the Gyeongbokgung Palace, the Zaha Hadid-designed Dongdaemun Design Plaza (also known at the DDP) represents the new face of architecture in Seoul and is no less worthy of wonder.
The metal-clad structure shines bright in the midday sunshine, its rounded lines turning this way and that to create gloriously amorphous shapes. Inside is a series of galleries and arts and event spaces as well as design shops offering up locally made ceramics, stationery and accessories, but it is the late Iraqi-born architect's signature flourishes that speak loudest including a central staircase that is a masterpiece of form and design.
Hot in the city
Seoul is a sprawling modern city, but it is at its most human in the neighbourhoods where its nearly 10 million inhabitants come to relax and entertain themselves. Areas like the well-heeled Gangum, immortalised in the annoying anthem that you won't be able to get out of your head as you walk the streets here. The streets here are thronged with locals shopping and eating seven days a week; join them to explore the mind-bogglingly big COEX shopping mall or explore the Seoul Olympic Park, with its K-pop museum, plentiful cafes and green space.
Another area to dedicate time to is Myeong-dong, one of the main shopping streets in the city. For those looking to get their fill of K-beauty products, this is the place, with what seems like every second shop dedicated to the art of looking good. Once you have discovered the perfect lipstick and filled your bags with sheet masks, there are fashion shops to browse and plenty of cafes and restaurants to find respite in.
The area of Itaewon is another of Seoul's cultural melting pots, home to a roster of international restaurants and a meeting spot for its international inhabitants. It is also ground zero for seriously good coffee, with a number of too-cool-for-school cafes grinding, brewing and pouring beans from all over the world.
Market daze
When it comes to eating, the South Koreans could rightfully stake a claim to it being a national pastime. Much of the cuisine of the country is so unique it could best described as endemic, and it is while standing in line waiting to order a steaming bowl of noodles or gathering in groups to enjoy Korean barbecue that the people of Seoul are at their most natural and animated.
One of the busiest of Seoul's many markets is Gwangjang, dedicated as it is to every conceivable Korean dish, from kimchi and pickled vegetables that are available to scoop from giant tubs to slippery hand-cut noodles and juicy, plum dumplings filled with port and even more kimchi.
The sheer size of these markets can be overwhelming, and visitors will have a hard time hunting out the best on offer on their own, even if you have instruction, so getting a bit of local knowledge is essential. Jay, a young Seoul inhabitant, conducts tours of the market, stopping in at all the best spots and joking with the stallholders who he obviously knows well. He takes me through a list of must eats that are all delicious. One of the last places we sit down in serves squid, with a twist. As the plate is put down in front of me the tiny tentacles stacked on it are still writhing and squirming.
I muffle a scream as he explains that the creatures are not actually alive, rather the movement is the result of muscle spasms in the just butchered sea creatures. I frantically look around the restaurant to see what everyone else makes of this, but as always, all is calm. Apparently tentacles as well as typhoons can't phase the South Koreans.
The best of Korean food on a plate
It's almost impossible to have a bad meal in South Korea, and in Seoul more specifically. The food here is full of intricate flavours and is extremely good for you, packed as it is with vegetables, rice, pickles and lean meat. Koreans do have a sweet tooth, but even their sugary treats are brilliantly executed.
Whether heading to one of the numerous behemoth markets scattered around Seoul or into any of the inner-city neighbourhoods that are so fun to explore, there are endless choices when it comes to what to eat, but these are some of the dishes you should definitely not miss.
Bibimbap – With a name that translates loosely to mixing with rice, this Korean staple can be found everywhere from restaurants to food halls to markets. It is constructed by placing vegetables, pickles and meat on a bed of rice and topping with a fried egg, all of which is mixed together with a roster of sauces including chilli.
Kimbap – The ultimate Korean street food, these cigar-shaped rolls of rice, thinly sliced vegetables and seaweed are sold everywhere to be munched on the go. They are so popular they are known locally as mayak kimbap or 'narcotic' kimbap.
Barbecue – What we know as Korean barbecue, known as gogi-gui, is a social and fun way to eat, with various vegetables, sliced meats and seafood cooked over hot coals in the middle of a table. The Maple Tree House restaurants are hugely popular.
Kimchi – It is impossible to avoid the Korean national dish; made of fermented cabbage, it is big on flavour and chilli heat and is served with almost everything.
Bindae-tteok – This golden pancake is made from ground mung beans and fried to crispy perfection.
Getting there
Jetstar flies to Seoul (Incheon International Airport) three times a week from the Gold Coast. jetstar.com
Staying there
Located in the buzzing shopping and cultural hub of Dongdaemon, the stylish five-star Novotel Ambassador Seoul Dongdaemun Hotels & Residences has 331 rooms boasting interesting neighbourhood views (I was fascinated by a dog having fun on the rooftop garden of a neighbouring residential building).
There's a rooftop bar and infinity pool, and it offers easy access to Dongdaemun Design Plaza and Dongdaemun Market. The Novotel Suites Ambassador Seoul Yongsan is part of the impressive Seoul Dragon City, Asia's first-ever lifestyle hotel-plex that also boasts a Grand Mercure and ibis Styles, plus a collection of shared bars and restaurants.
Playing there
A former beauty industry employee, Grace Han now conducts Korean cooking classes (platehan@gmail.com) out of her cute little apartment in the Hongdau area of the city. Aided by her husband Nathan, Grace's delightfully relaxed kimchi class utilises her mother's recipe and gives step-by-step instructions on how to make this beloved daily staple. You'll finish the lesson with a take-home container of fermenting goodness and a convivial long-table feast of kimchi and rice.
Smiling local Jay conducts food tours of the heaving and delicious Gwangjang Markets through Airbnb Experiences; his insights into South Korea's plentiful and interesting cuisine are hugely informative, and his relationship with the best stallholders means there is always a seat available, much to the chagrin of those waiting in line. He also conducts morning coffee meet ups with locals and travellers.
Currency
South Korea's official currency is the South Korean won or Korean Republic won (KRW).
Visa requirements
Australian passport holders don't require a visa to enter South Korea for stays of less than 90 days.
LEAVE YOUR COMMENT