Up close with the endangered orang-utans of Borneo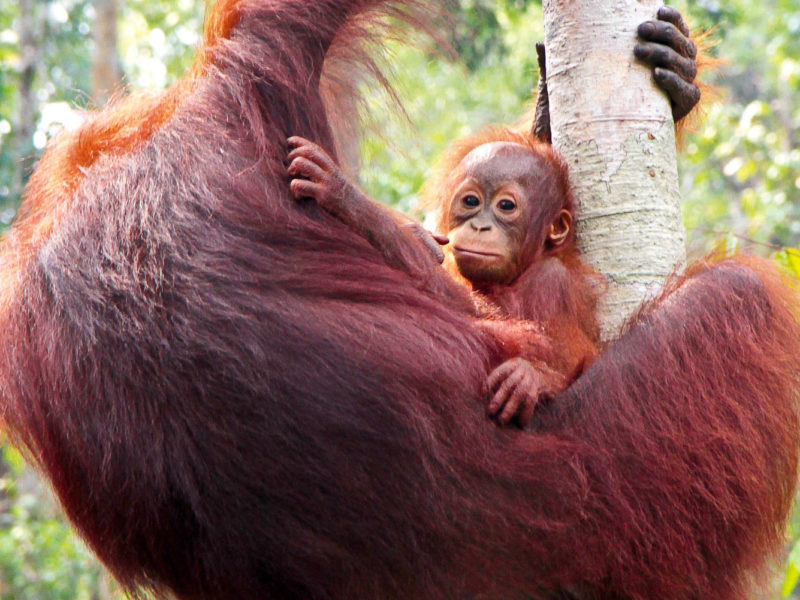 Sue Gough Henly takes an unforgettable trek into the rainforests of Borneo to seek out the highly intelligent orang-utan and by doing so plays a part in the fight to save this extraordinary species.
With her beguiling baby clinging effortlessly to her torso, a young orang-utan mother has just shown her offspring how to pick some delicious habu habu fruit before making a new nest of leaves in the crook of a bloodwood tree.
I'm standing beneath them and a tiny squeal of awe escapes my lips, joining the buzz of cicadas, bird twitter and other rustlings in the mottled light of the Borneo rainforest.
I had no idea there would be such intimate encounters with Indonesia's endangered orang-utans when I signed on for my Orangutan Odysseys adventure.
Witnessing this precious mother–child interaction up close, I begin to understand how these 'people of the forest' share 97 per cent of our DNA.
Orang-utans are one of the four great apes, alongside gorillas, chimpanzees and the lesser-known bonobos.
They are the only ones in our neck of the woods – or jungle to be more precise: their ancestors split from the main ape line 16-odd million years ago and spread into Asia.
There is academic jostling regarding which of the apes is most like humans and which has the most smarts.
One amusing anecdote, which comes down on the side of orang-utans, goes something like this: "If you give a screwdriver to a gorilla he will scratch himself with it. A chimp will throw it, a bonobo will have sex with it, but an orang-utan will use it to escape."
Our local guide, Ivend, explains how 15-year-old Becky is doing an excellent job of teaching her child to live in the wild.
While several others, all of whom have been rehabilitated back to the rainforest, are stuffing themselves with their once-a-day banana supplement at the feeding station, Becky is displaying the sort of initiative and teaching skills that are hallmarks of orang-utans' superior intelligence.
Unlike the other apes, orang-utans are solitary, coming together only to mate, however babies live with their mothers until they're about eight years of age, the longest dependency of any animal except humans.
I watch Becky and her baby over the course of an hour. Under her silent but perfectly calibrated watchful gaze he climbs up and down the tree trunk and right to the edge of the branch she is sitting on.
Ivend explains that orang-utans don't make a sound unless they have to, shaming us human mothers who would probably have been screeching something like, "Be careful, you're gonna fall!".
Over and over the baby practises and returns to his mother and I melt at the look of sheer contentment on his tiny human-like face as her long red arms envelop him in utter security.
Just two days earlier, our group had flown above a fuzz of jungle green to get to Pangkalan Bun in Central Kalimantan. Sanskrit for 'burning weather island', the word 'Kalimantan' embodies its hot, humid climate.
Glancing out the window as we approach the airport, I am shocked to survey a vista vastly more searing: hectare upon hectare of palm oil trees standing rigidly to attention in blinding heat like military squadrons on innumerable parade grounds, each one hemmed in by white sand rectangles.
Almost 80 per cent of Indonesia's rainforest has been lost in the past 50 years. Australia's neighbour is the world's third largest emitter of greenhouse gases, due almost solely to the destruction of its rainforests and carbon-rich peatlands for palm oil production.
The Indonesian government continues to grant land-use concessions to multinational corporations so they can produce cheap palm oil, which is found in half the products on our supermarket shelves.
In the process, vast amounts of herbicides contaminate local water supplies and villages lose their land for growing food crops.
Before setting foot in Kalimantan, I had some pretty compelling evidence as to why the orang-utan is under so much threat.
Only 55,000 are left in Borneo (90 per cent in Indonesia and 10 per cent in Malaysia) and a mere 6500 remain in Sumatra, where they are critically endangered.
It is estimated that 3000–5000 orang-utans are dying each year. They live nowhere else in the world.
Orangutan Odysseys is no ordinary tour company. Founded in 2009 by a Sydney builder and a former fireman from Melbourne, it combines adventure and educational orang-utan tours to support conservation efforts and rehabilitation programs for the survival of the species.
With a mission to "save the environment through tourism", Orangutan Odysseys gives a portion of all its tour proceeds to support The Orangutan Project, the world's foremost not-for-profit organisation supporting orang-utan conservation.
To date, Orangutan Odysseys has raised more than $600,000.
Co-owner Garry Sundin had a bit of a 'jungle change' three years ago. "I've always enjoyed leaving something good behind when I travel. I did the Kokoda Track six times and helped build the eco toilets there."
After a divorce and the death of his father, Garry decided to sell the family construction company where he had worked for 40 years. He moved to Lombok and is now immersed in trying to make a difference for the orang-utans.
I am on Orangutan Odysseys' most popular trip, which includes taking a klotok (river boat) excursion up Sekonyer River and Camp Leakey River (also known as Crocodile River) where you make multiple visits to three feeding stations in Tanjung Puting National Park. The most famous is Camp Leakey, established as the first orang-utan research station in 1971 by Dr Biruté Galdikas.
Alongside doctors Jane Goodall and Dian Fossey, Galdikas forms the triumvirate of world-renowned primate researchers dubbed Leakey's Angels after Cambridge paleoanthropologist Louis Leakey who mentored them all.
Pioneering the study of orang-utans as intelligent great apes, Galdikas and her team at Orangutan Foundation International have undertaken the world's longest continual research on a single species.
For 40 years she's worked with orphaned and injured orang-utans to rehabilitate them back to the rainforest.
Much of the appeal of seeing orang-utans in Tanjung Puting National Park is the journey itself. That is once you motor out of the river port of Kumai, with its flotilla of palm-oil tankers and bobbing flotsam.
The whine of chainsaws is interspersed with fake bird-calls broadcast from concrete bunkers to attract lucrative nest-making swallows.
As the narrow boat chugs into the park, five of us – young professional couple Leila and James from Sydney, biology teacher Susie from Exmouth, industrial chemist Helke from Germany and myself – sit at the bow and let out a collective sigh.
Finally, we can soak up the colours and cacophony of the jungle. A gentle breeze cools our faces and the boat prow breaks the surface of the tannin-stained waters, shimmering tree reflections into myriad ripples.
The crew of driver, boat hand and cook is anchored by our charismatic guide Ivend, who Garry believes is the finest in the park. "He gives the most accurate information, spends the right amount of time with guests and has good English. We want to make sure our clients have the best experience."
We certainly notice other visitors coming up to ask Ivend questions as we watch the orang-utans. Later, he explains there are many unlicensed 'finger guides' who merely point when they see orang-utans swinging through the trees.
Our adventure is not just about the orang-utans, however. We spend a night moored on the riverbank immersed in the rainforest.
As dusk falls, we watch neon-bright stork-billed kingfishers skim the water and laugh at the antics of long-nose proboscis monkeys as they posture and screech and leap from tree to vine to bush.
We feast by candlelight on local delicacies and sleep on mosquito-net-draped mattresses on the deck as giant fruit bats cross the dark sky. The siren-like calls of gibbon provide an early morning wake-up call.
We also plant trees with Pak Ledan who has reforested more than 50 hectares at Pesalat since 2001. It's good to feel like I am making a difference. Yet when I get home Garry tells me a major battle has recently been lost right across the Crocodile River from the park.
In spite of lobbying, petitioning and extensive photographic evidence that orang-utans live here, the government has sold another concession for yet more palm-oil plantations.
"The only thing that will save the rainforest and the orang-utan is money," he says. "Money to buy land concessions, money to pay for anti-poaching patrollers and money to fight court battles."
The Orangutan Project founder (and Perth Zoo curator of exotic animals) Leif Cocks is more blunt: "Extinction in the wild is likely for both Sumatran and Bornean orang-utans if we do not take immediate action."
Orangutan Odysseys aims to be part of the solution.
In addition to regular tours, the company offers fundraising citizens incredible orang-utan immersive experiences alongside the world's leading primate researchers and environmental activists. The access they provide is unparalleled; unique in the wildlife world.
On our last jungle walk we are transfixed by the 100-kilogram Gungul. The late afternoon sun burnishes the red hair on his massive arms and legs as he star-hangs between two tree trunks. His enormous black head, framed by wide cheek pads, surveys his territory.
He croaks a long, low, guttural sound, which reverberates through the rainforest. It is the spine-tingling call of an Alpha male orang-utan. Ivend explains Gungul is warning other males to stay away and letting the girls know he's ready for a date.
Another clear example of shared DNA perhaps?
Details
Orangutan Odysseys
All Orangutan Odysseys tours start and end either in Bali or Jakarta and include internal flights, park fees, accommodation, boat travel and most meals.
The trips range from seven to 12 days. Participants in the Trans Borneo Challenge, the world's largest orang-utan fundraiser, travel for 23 days over 900 kilometres across Borneo by bus, boat and foot to raise funds for orang-utans.
Cost is $4850 plus minimum $3000 in fundraising. It starts on 19 August, World Orangutan Day.
Other fundraising tours offering immersion in orang-utan research and reforestation projects:
OuTrop Sabangau Orangutan Adventure in Central Kalimantan
Offering a unique opportunity to see research at the Orangutan Tropical Peatland Project (OuTrop), which has the world's largest population of wild orang-utans.
Trek with researchers in the Sabangau Forest as they study the behaviours of wild orang-utans, gibbons, leaf and macaque monkeys.
Visit the orang-utan 'islands' and the Borneo Orangutan Survival Foundation centre at Nyaru Menteng.
Tour dates: 1–9 May and 5–13 November; $2895 plus $1000 in fundraising.
Gunung Leuser Orangutan Fundraiser in Sumatra
Visit the Orangutan Care Centre and Quarantine in Batu Mbelin (closed to the public) run by the Sumatran Orangutan Conservation Program.
You will also visit the Halaban Reforestation Program, trek for two days in Gunung Leuser National Park to see wild orang-utans and other animals, and Asian elephants in Tangkahan.
Tour dates: 17–25 April and 18–26 September 2015, 20–28 March 2016; $3100 plus $1000 in fundraising.
Kalimantan Orangutan Tour
Led by The Orangutan Project's founded Leif Cocks, you will pay an exclusive visit to the International Animal Rescue's orang-utan rehabilitation centre in Ketapang and take a tour of Tanjung Puting National Park via river boat.
Tour date: 1–9 August 2015; $3350 plus $1500 in fundraising.
LEAVE YOUR COMMENT