The ultimate guide to stargazing in the 24 Utah dark sky places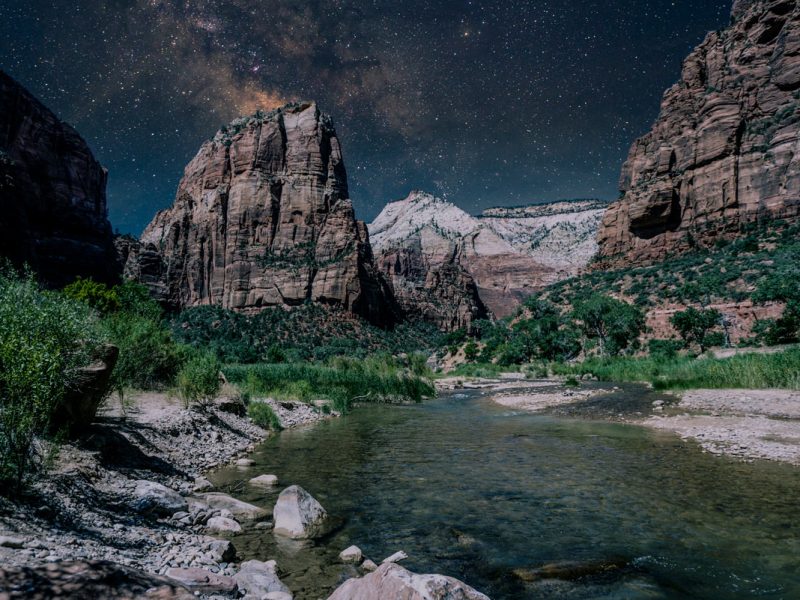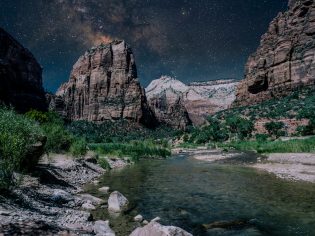 Witness the wonders of the cosmos from the dark sky parks that encompass Utah.
Utah is at the heart of a dense cluster of certified parks in the USA called The Great Western Starry Way from New Mexico to Montana, and is home to 24 international dark sky parks and communities, the highest concentration in the world.
Stargazing is one of the most calming, awe-inspiring hobbies, and whether you're an Astro-tourism buff or just want to unwind off the beaten path, it connects you to nature and allows you to peer inward and think about your place in the universe.
The International Dark Sky Association is working to protect natural areas from light pollution, and Utah alone, with a mission to protect naturally dark places for present and future generations, has certified 24 (and counting) locations, including communities, parks, and protected areas.
Boasting some of the finest dark skies in the world, viewing the billions of stars in the Milky Way has become an increasingly popular pastime for all ages. We've put together the ultimate guide to stargazing in Utah's dark sky parks.
Southeastern Utah
1. Arches National Park
Arches National Park is a 296-square-kilometre wonderland of eroded sandstone fins, towers, ribs, gargoyles, hoodoos, balanced rocks, and, of course, the arches northwest of Moab.
After the sun sets and the sandstone has cooled you can see countless stars set against a pitch-black night sky.
2. Canyonlands National Park
Imagine endless deep canyons, towering mesas, pinnacles, cliffs, and spires stretching across 1365 square kilometres. This is Canyonlands National Park, the largest national park in Utah, formed by the currents and tributaries of Utah's Green and Colorado rivers.
The utter darkness of a moonless night in Canyonlands surprises many visitors. At Canyonlands, the naked eye is sufficient to witness a wealth of stars, and under the right conditions, common binoculars may even reveal the rings of Saturn.
3. Dead Horse Point State Park
Driving to each of the Dead Horse Point State Park's many overlooks reveals a completely different perspective into Utah's vast canyon country. Some visitors claim Dead Horse Point State Park is even more captivating than the Grand Canyon. It's also the place where Thelma & Louise drove their convertible off a cliff!
Since 2016, Dead Horse Point State Park has been an officially designated International Dark Sky Park. The first Utah State Park to achieve the certification, the high plateau and distance from city light pollution make it an ideal place to view the celestial sphere.
4. Goblin Valley State Park
Goblin Valley State Park captures and bewilders the imagination, challenging you with its geologic quirkiness. The landscape, covered with sandstone "goblins" and other fascinating formations, is often compared to Mars.
Fun and goofy by day, and slightly spooky at night, Goblin Valley's location attracts a lot fewer crowds. It's one of the most spectacular — and ghoulish — places in the world to view the Milky Way.
5. Goosenecks State Park
Goosenecks State Park is an easy-to-get-to area with a million-dollar view. From this primitive state park, you can see the famous goosenecks.
Look down upon the San Juan River 300 metres below and see the results of 300 million years of erosion. Look up and Goosenecks' night skies rival its sensational geological formations.
6. Hovenweep National Monument
Delve into the world of the Ancestral Puebloan people by visiting Hovenweep National Monument. Hovenweep trails are open from sunrise to sunset daily. Stargazing and exploring the night sky is allowed from the visitor centre parking lot and campground.
7. Natural Bridges National Monument
Given its remote location, it's no wonder the park has some of the world's least light-polluted night skies.
Natural Bridges National Monument was the world's first International Dark Sky Park. Accordingly, park rangers not only give interpretive discussions on astronomy but also changed out the park's light fixtures to reduce their own light pollution.
8. Rainbow Bridge National Monument
Considered sacred in Navajo culture, Rainbow Bridge is a symbol of deities responsible for creating rain, the essence of life in the desert.
Rainbow Bridge National Monument is the first International Dark Sky Sanctuary in the National Park Service. The monument itself can only be accessed by boat on Lake Powell or by backpacking from Navajo Mountain, but the entire Glen Canyon National Recreation Area boasts dark skies.
Southwestern Utah
9. Bryce Canyon National Park
An alpine forest with as many red rock hoodoos as trees. At dawn and dusk, mule deer graze the forested plateau along the road into Bryce Canyon. Water and wind, over millions of years of freezes and thaws, have carved into the plateau endless fields of distinctive red rock pillars called hoodoos, as well as into the park's series of natural amphitheatres.
Far from the light pollution of civilisation and protected by a special force of park rangers and volunteer Utah astronomy enthusiasts, Bryce Canyon is known as the last grand sanctuary of natural darkness and has one of the nation's oldest astronomy programs. During moonless and clear nights, 7500 stars will welcome you to their domain.
10. Capitol Reef National Park
While Bryce and Zion are like encapsulated little fantasy lands of coloured stone and soaring cliffs, the less-visited Capitol Reef is almost like a planet itself. Here you get a real feel for what the earth might have been like before life appeared when nothing existed but earth and sky.
11. Cedar Breaks National Monument
Hidden within the mountains above Cedar City is the brilliant geology and vibrant environment of Cedar Breaks National Monument.
Far from any metro light pollution and high in altitude makes Cedar Breaks one of the best locations for astral viewing. It's also an ideal spot to sleep under the stars at Cedar Breaks' campground.
12. Fremont Indian State Park
Fremont Indian State Park is known for its captivating dark skies. Located in Fishlake National Forest, here you can explore the ancient petroglyphs and pictographs of the scenic canyon by day, and the Milky Way galaxy by the cover of night.
13. Kodachrome Basin State Park
If ever a state park was made to be photographed, it is Kodachrome Basin State Park. The park covers 9 square kilometres of canyon country and is surrounded by Grand Staircase-Escalante National Monument on three sides.
Pillars shaded red, pink, white, yellow and grey are only the start of the greatness of Kodachrome. Due to its geographical remoteness, superb air quality, high elevation, low humidity and distance from urban areas, the park boasts one of the darkest skies remaining in the continental US.
14. Zion National Park
Zion National Park is the newest addition to Utah's certified dark sky parks, and it doesn't disappoint.
Zion is a great place to reconnect with the night sky, as it protects this dark sky resource for future generations by not lighting up the night. But this means that after sunset, the park is very dark. Be prepared!
Northern Utah
15. Antelope Island State Park
Antelope Island State Park is 40 kilometres north of Salt Lake City. Accessed by a causeway, the island sits in the Great Salt Lake and features free-roaming bison and antelope herds.
Overlooking the Great Salt Lake at night with countless stars above makes for near-seamless stargazing. The park often presents dark sky programs and events to learn more about the Milky Way and beyond.
16. Dinosaur National Monument
Northeastern Utah's dinosaur legacy comes to life at Dinosaur National Monument, where geological and climatic forces have tilted, warped, and eroded the earth's crust to reveal a treasure trove of fossils.
The monument boasts one of the most magnificent Utah dark sky parks, perfect for stargazing and connecting with the monument's primordial foundation.
17. East Canyon State Park
The rugged East Canyon State Park, oozing history, is a land of stark contrasts. Sagebrush gives to oak and then to cottonwood. Long expanses of dry dirt are suddenly punctuated by creek beds.
Although East Canyon State Park is close to the big city, the mountains provide a blockade for light pollution. At night, visitors are treated to an array of black skies and starry constellations.
18. Jordanelle State Park
Jordanelle State Park is close to Park City, Midway and Heber City, but the surrounding hillsides and mountains provide a blockade for light pollution. The park hosts dark-sky events, and its Rock Cliff Nature Area boasts the darkest skies in the park.
19. North Fork Park
This sprawling county park tucked into a canyon near Ogden is one of the few places you can still see the Milky Way near an urban centre — in part because the mountains block light pollution from the Wasatch Front and Cache Valley, and because of successful local efforts to limit light pollution in the park.
It doesn't take an astronomer to locate or appreciate the stars at North Fork Park – amateurs and artists have been doing it for centuries. In the summertime, you can pitch your tent or simply sleep under the stars, a show that changes every night but lasts throughout the year.
20. Rockport State Park
Rockport State Park sits at a base elevation of 1800 metres above sea level in a rural valley between the Wasatch and Uinta mountain ranges.
The surrounding mountains create a protective halo that blocks out light pollution from the nearby communities, making it an exceptional stargazing spot.
Park staff host public programs on best dark sky practices and the importance of dark skies for the area's nocturnal species.
21. Steinaker State Park
Located just north of Vernal and between Ashley National Forest and Dinosaur National Monument, Steinaker is a remote destination with welcoming accessibility for dark sky viewing. The park offers nighttime programming right in the parking lot for visitors ready to soak in the vibrant Milky Way.
22. Timpanogos Cave National Monument
Famous for its spectacular caves of helictites, stalactites and stalagmites, the cave has a new designation — the first National Park Service unit to be certified as an Urban Night Sky Place.
Dark sky communities
23. Helper
Located near Nine Mile Canyon and along the way to more popular Southern Utah adventures, this former mining and railroad town rallied its locals to protect and share its natural dark sky parks, leading to its certification of being an International Dark Sky Community.
Helper's nearby Dark Sky Observers lead regular astronomy programs and special events in the area.
24. Torrey
Located just 13 kilometres from the west entrance of Capitol Reef National Park, Torrey is an idyllic little tree-lined, high-elevation town on the Capitol Reef Country Scenic Byway surrounded by rose-coloured cliffs and green meadows.
The town came together to protect its night skies by improving outdoor lighting ordinances and retrofitting dark-sky-compliant lighting to minimise light pollution and strengthen the town's already close relationship with nature, place and the universe.
LEAVE YOUR COMMENT