Must-visit spots for your San Diego getaway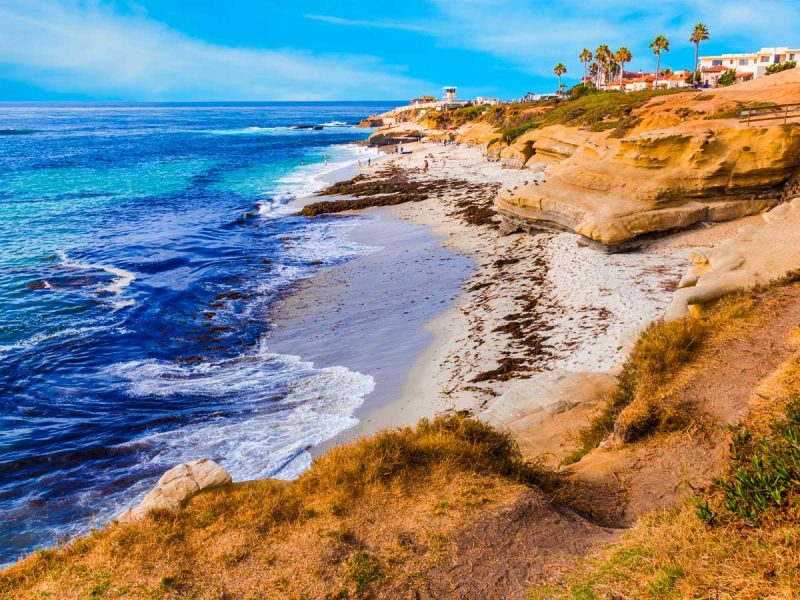 California's so-called 'beach city' serves up more than just endless blue skies and beautiful coastline.
A day out in downtown San Diego
Get a sense and feel for the city by strolling around its culture-rich centre.
1. Hang 10 in La Jolla
Both novice and experienced surfers can enjoy a lesson with experienced instructors from Surf Diva at La Jolla Shores, on a section of San Diego's 113-kilometre-long coastline that is known for its gentle waves.
2. Coffee up
Bird Rock Coffee Roasters is a boho hang known for its brioche breakfast sandos and a rotating roster of specialty coffees. The La Jolla outpost works closely with the Art Cooperative, a space for art and music next door. It's so So-Cal.
3. Good times in the Gaslamp Quarter
The Gaslamp Quarter was once San Diego's scuzzy red-light district. But the downtown neighbourhood is now the pulsing heart of the city, dotted with destination diners, discreet dive bars and breezy rooftop hangs.
4. Roost at Kingfisher
Settle in with a Vietnamese spritz and plate of crispy chicken wings at Kingfisher, a Southeast Asian bar and restaurant with a hella Valley Girl twang.
The pretty interiors at the inner-city eatery are as vivid as a kingfisher's plumage.
5. Perch at Petco Park
Attending a San Diego Padres baseball game provides an illuminating glimpse into Californian culture.
In addition to being the home ground for the major league team, Petco Park gets runs on the board for its calendar of concerts.
6. Bike San Diego Bay
The 38-kilometre-long Bayshore Bikeway is a scenic way to loop around San Diego Bay into Imperial Beach.
Hire a bike from Wheel Fun Rentals and cruise between Coronado and Chula Vista and back into Downtown.
Slick Stays
There's a surplus of beachfront stays in San Diego. Here are a few family-friendly favourites to book for 2023.
Hotel del Coronado, Coronado Beach
This National Historic Landmark (above) is a wedding cake of a hotel that has played host to a number of dignitaries and celebrities since it was built in 1888 and even had a starring role in Some Like It Hot with Marilyn Monroe.
Stay in the new Cabanas near the expansive main pool or in The Victorian, the original oceanfront building.
Catamaran Resort Hotel and Spa
This mid-century resort on the shores of Mission Bay is within 16 kilometres of major attractions such as Balboa Park and the Gaslamp Quarter.
The 310-room Polynesian-styled hotel is also the perfect launching pad for a cruise on the Bahia Belle sternwheeler boat.
The Crystal Pier Hotel
Live out your southern Cali dreams and sleep over the ocean at the Crystal Pier Hotel, the Cape Cod-styled clapboard cottages built in 1930 on the former Pickering's Pleasure Pier.
Each nautical-striped cottage has a private patio so you can drop a line in from your doorstep.
Celebrating cultural gems in California's second-largest city
There are myriad attractions in this Pacific Coast hangout that give the city its cool, creative edge.
Museum of Contemporary Art San Diego
San Diego is closer to Tijuana than to LA, so it makes sense that the opening collections at the newly renovated La Jolla branch of the Museum of Contemporary Art San Diego celebrate artists from the US-Mexico borderlands.
The Rady Shell at Jacobs Park
The Rady Shell is a sleek new outdoor venue located on the San Diego waterfront.
The concert hall without walls is the summertime home for the San Diego Symphony and is known for its exceptional acoustics and architecture.
Comic-Con Museum
Balboa Park is best known for being home to San Diego Zoo. But fans of Comic-Con, the biggest pop culture convention on the planet, know it as the place to marvel at the comic-inspired exhibits at the Comic-Con Museum, which opened in 2021.
The Land of the First People Park
The Iipay – Tipay Kumeyaay Mut Niihepok (Land of the First People) park offers insights into the Kumeyaay Nation and their connection to their ancestral lands near Old Town San Diego, which is worth dedicating a day or two to exploring.
La Jolla Playhouse
No visit to San Diego is complete without taking in a show at La Jolla Playhouse, co-founded in 1947 by actor Gregory Peck. The theatre is known around the world for swinging the spotlight on local talent and developing award-winning plays and musicals.
Old Town
The Kumeyaay were San Diego County's First People, and lived in this region more than 10,000 years before the missionaries arrived in 1769 and built a mission on a hillside in present-day San Diego.
A small Mexican community was formed at the base of the hill in the 1820s and the rich heritage that defined the area was recognised in 1968 when it was declared Old Town State Historic Park by California's Department of Parks and Recreation.
Take a Trolley Tour to historic Whaley House, San Diego's first commercial theatre, and stroll through the neighbourhood during the Día de los Muertos (Day of the Dead) to see Old Town come alive.  
The influences from south of the border are also evident in the Old Town Urban Market: head to Tuetano Taquería for tacos and Barrio Donas for doughnuts. While we're talking culinary attractions, follow the aroma of coriander, cumin and corn to eateries Casa Guadalajara and Cafe Coyote where you're guaranteed great Mexican food.
What to eat and where
San Diego's most coveted dishes look to the Pacific Coast for inspiration. Here are some delicious seafood staples to seek out and try.
Quesadillas
Take your tastebuds to Tijuana with a tortilla filled with pepper jack cheese, roasted chillies, pico de gallo and shrimp and then folded and cooked to melted perfection at Barra Barra Saloon in Old Town San Diego.
Seafood boil
The Crab Hut is a lively meeting place for locals and holidaymakers who gather here to tuck into the signature Cajun-style seafood boil (pictured above), comprising a king crab claw, snow crab cluster, craw fish, clams, mussels and potato slathered with garlicky butter.
Lobster roll
Ironside Fish & Oyster eatery is located in a historic hipster-cool renovated warehouse in Little Italy. It's where the city's tattooed and moustachioed crowds convene to devour soft white rolls stuffed with lightly dressed chunks of Maine lobster.
Tuna crudo
The best way to take the pulse of San Diego is to head to the Fish Market. Once you're done with the babble and noise downstairs, head to Top of the Market in pursuit of tuna crudo. Suddenly, there's another very good reason to stay in San Diego a bit longer.
LEAVE YOUR COMMENT