San Diego's food renaissance: a chef's eye view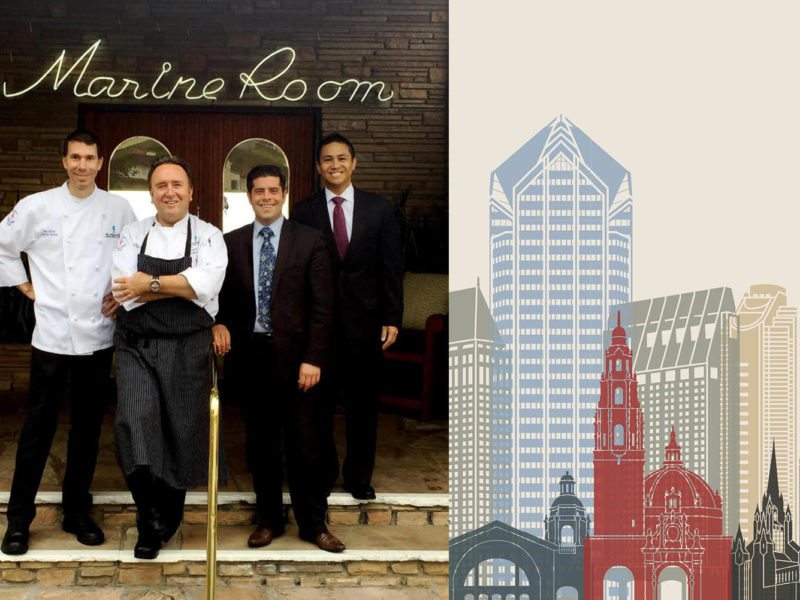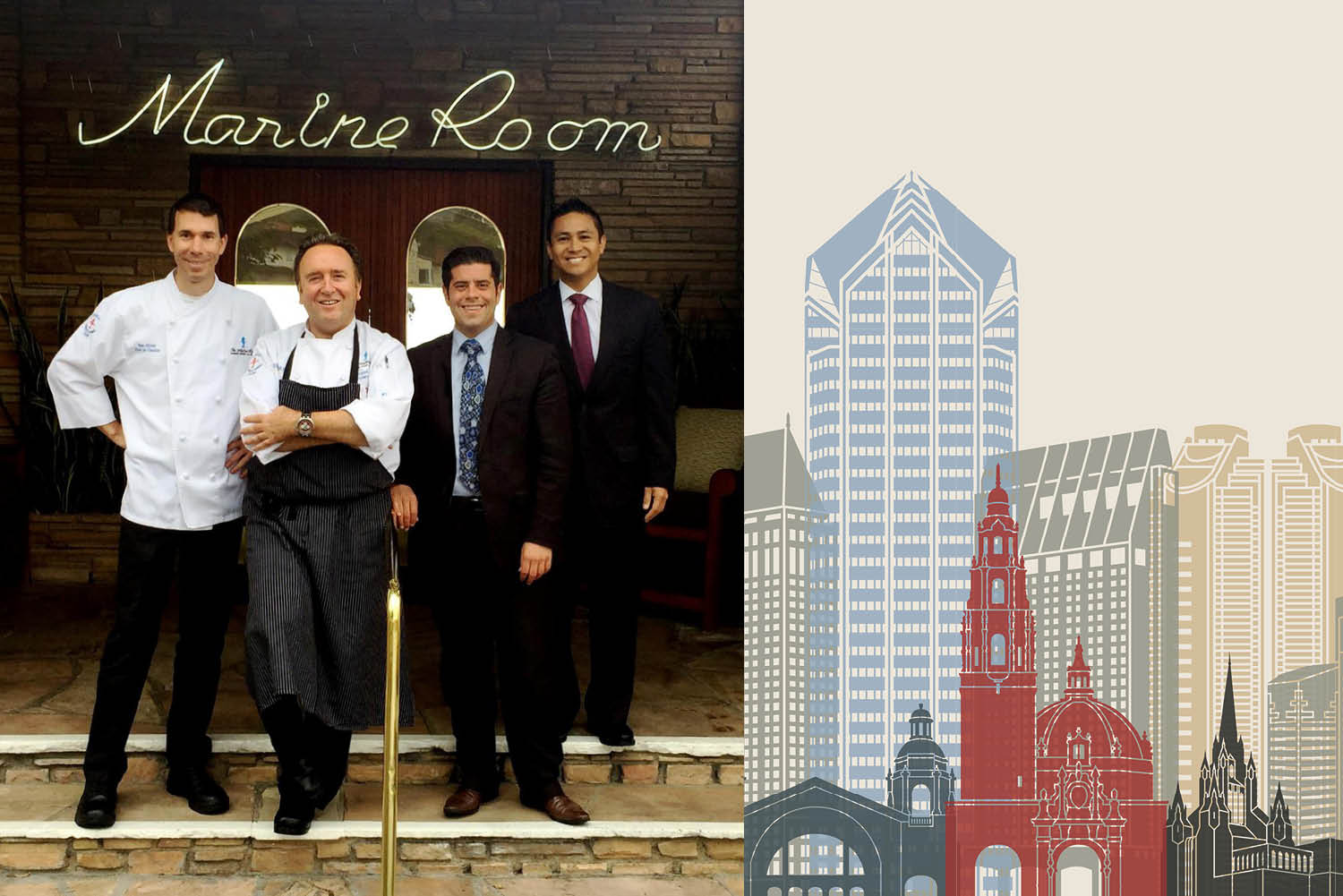 From farmers' markets to fine-diners to bag a table at, top San Diego chef Bernard Guillas helps us navigate the city's abundant culinary offerings.

"28 years ago you wouldn't be talking to me about the San Diego food scene," says chef Bernard Guillas.
"Even 15 years ago, probably not either."
In fact, it was only 10 years ago when restaurants, producers and the hungry souls of 'America's Finest City' started doing more with, and demanding more from, their cuisine. Strange, really, given San Diego's proximity to West Coast culinary Bethlehems Los Angeles and San Francisco.
"A new crop of chefs appeared, younger more progressive, who really cared about Mother Earth, cuisine, service and 'the experience'," says Bernard. One of the city's most recognisable, renowned and revered chefs, Bernard landed in town during the barren years (1994), taking up the executive chef role at old-money San Diego institution The Marine Room.
High Tide at the Marine Room, part of La Jolla Beach and Tennis Club, has been one of San Diego's go-to dining experiences since 1941.
The sea-level beachfront property literally becomes oceanfront as the tide creeps in and the waves crash against the windows. If you're lucky you might even see a dolphin pod bisect the sunset less than a hundred metres away.
Chef Bernard's High Tide Dinners embody his (and the city's) modern, multi-cultural pan-Pacific fusion. And San Diego's collective philosophy reminds the chef of home (Brittany, France).
"It's refreshing to me, who grew up with my grandmother, because that's the way we were doing things. If it's not in the season, either in the garden or in the ocean, it's not on the table."
The following restaurants, markets and providers all stay true to this philosophy. They also happened to be the best that the San Diego food scene has to offer.
The Chef's San Diego fine-dining superstars
1. Herb & Wood: "Awesome, vibrant, high-end yet not super fine dining. Brian Malarkey does seasonal progressive-American really well. It's just really, really cool." (Harborview)
2. Addison: "Chef William Bradley is not French but he is more French than me. He learned from the best, Thomas Keller [The French Laundry, Napa Valley]." (Grand Del Mar in the city's north)
3. A.R. Valentien: "Jeff Jackson is very big into farm-to-table, which is great for a restaurant in a five-star hotel." (The Lodge at Torrey Pines).
4. George's at the Cove: "It's been in the city [for longer than] I've been in the city and it's been an inspiration to many chefs. Classically gastro fine-dining yet modern. Great sea views too." (La Jolla)
5. Sushi Ota: "A shopping centre-ish location but the restaurant is beautiful. This is pure Japanese cuisine." (Mission Bay Drive).
Neighbourhoods you should know
The star of Little Italy is Bencotto, an inexpensive family-owned Italian which makes everything from scratch: beautiful flatbreads, pastas. The antipasto, especially the octopus, "is to die for", says Bernard.
For something a little different in this part of town, Bar Bodega does great tapas, sangria, Serrano ham and local cheeses; "everything is really, really fresh", Bernard continues. The ambience and music make this a great place to relax with friends.
When the chef wants to party, he heads takes a seat at the beautiful long bar of Ironside Fish & Oyster. Best for oysters galore (obviously) and great wines at a great price. "It's a must-go. Oh man, there is super high energy there."
For just about any kind of Asian cuisine, head to Convoy Street (city north), the place for ramen, dim sum, Vietnamese and Japanese, plus there are plenty of Korean barbecues to choose from. "Plan to eat at two or three restaurants, if you have time," Bernard says. "It's like travelling through Asia."
For cooked-from-scratch ramen head to Rakiraki Ramen & Tsukemen. Try the oxtail with ginger and ponzu, "which is unbelievable", and/or the super crispy squid served with Japanese mayo.
For Hong Kong-style seafood, try Jasmine; select your live prawns and bass from the huge tank. "You name it, they have it." The Peking duck is "amazing" too.
In Point Loma is Liberty Station, a Spanish Colonial Revival-style former navy barracks, which harbours plenty of shops and restaurants among its courts and plazas (great spot for a waterside picnic). Officine Buona Forchetta is the pick here, for its great Mediterranean food and coffee.
Corvette Diner "will have the kids bouncing," Bernard assures, with its combination of games, atmosphere and good-quality all-American food: burgers, chicken wings, mac 'n' cheese. There's ice-creams of just about every conceivable flavour too.
In affluent beachside La Jolla, stop by Nine-Ten Restaurant and Bar [and Chef Bernard's Marine Room, of course]. Chef Jason Knibb "is an artist – it feels like two Michelin stars in France. He does a lot of sous vide dishes like compressed watermelon with crab, ponzu vinaigrette and foraged leaves. "You ask yourself, 'Is this growing on the plate?' "
Farmers' market mecca
There are 3000 micro-farms in and around San Diego, which supply around 46 separate open-air farmers' markets every month.
Hillcrest Farmers Market (off University Avenue) is "the most exciting; a good mix of artisans and farmers, and full of local chefs asking them what's in season," says Bernard. Fruit and vegetables are the focus, but it's perfect for seasonal seafood too, especially sea urchins and oysters. A lot of the stalls are extensions of shops, serving everything from great Indian food to French crepes. "When I go there, I get stuck there for an hour and a half."
Little Italy Mercato Farmers' Market is like Hillcrest but with a Latin-Continental twist. There are plenty of places to source picnic supplies, prosciutto, truffles et al, but it's not just Italian here – other cuisines like Spanish and Argentinian also get a run.
Alongside the glut of farmers' markets are a host of culturally specific markets covering a wide cross-section of world cuisine. "You don't have to go through airport security to travel the world," Bernard advises; "just stay in San Diego."
The pick of these markets are Zion Market (Korean), 99 Ranch Market (Chinese), Northgate Market (Mexican), Mitsuwa Marketplace (Japanese) and Vine Ripe Market (Middle Eastern).
And last, or first, of all… coffee time
Chef Bernard's coffee shops of choice are Cafe Moto (Barrio Logan) and Moniker General Coffee Co (at the north end of Liberty Station).
Travelling to the United States of America soon? We have you covered:
– Disneyland Resort California – 10 did-you-know facts
– San Francisco – 5 fabulous facts
LEAVE YOUR COMMENT