A perfect 48 hours alone in Los Angeles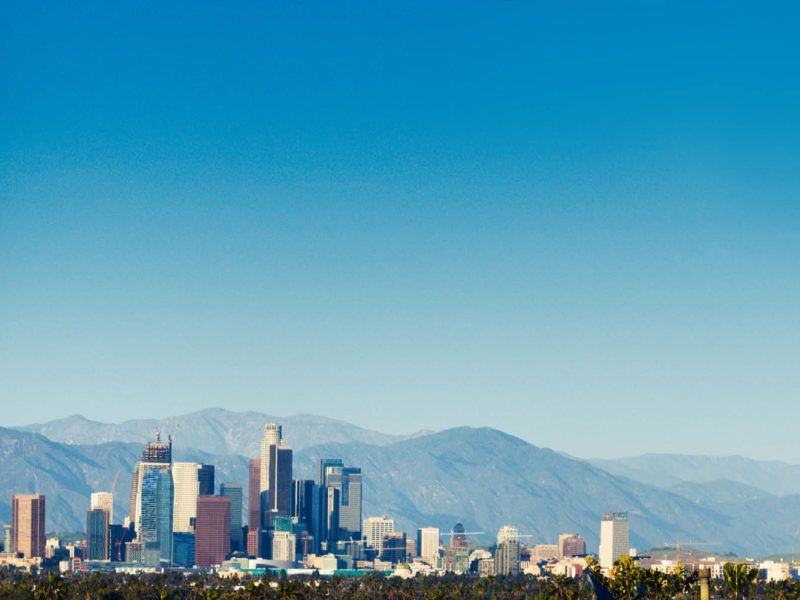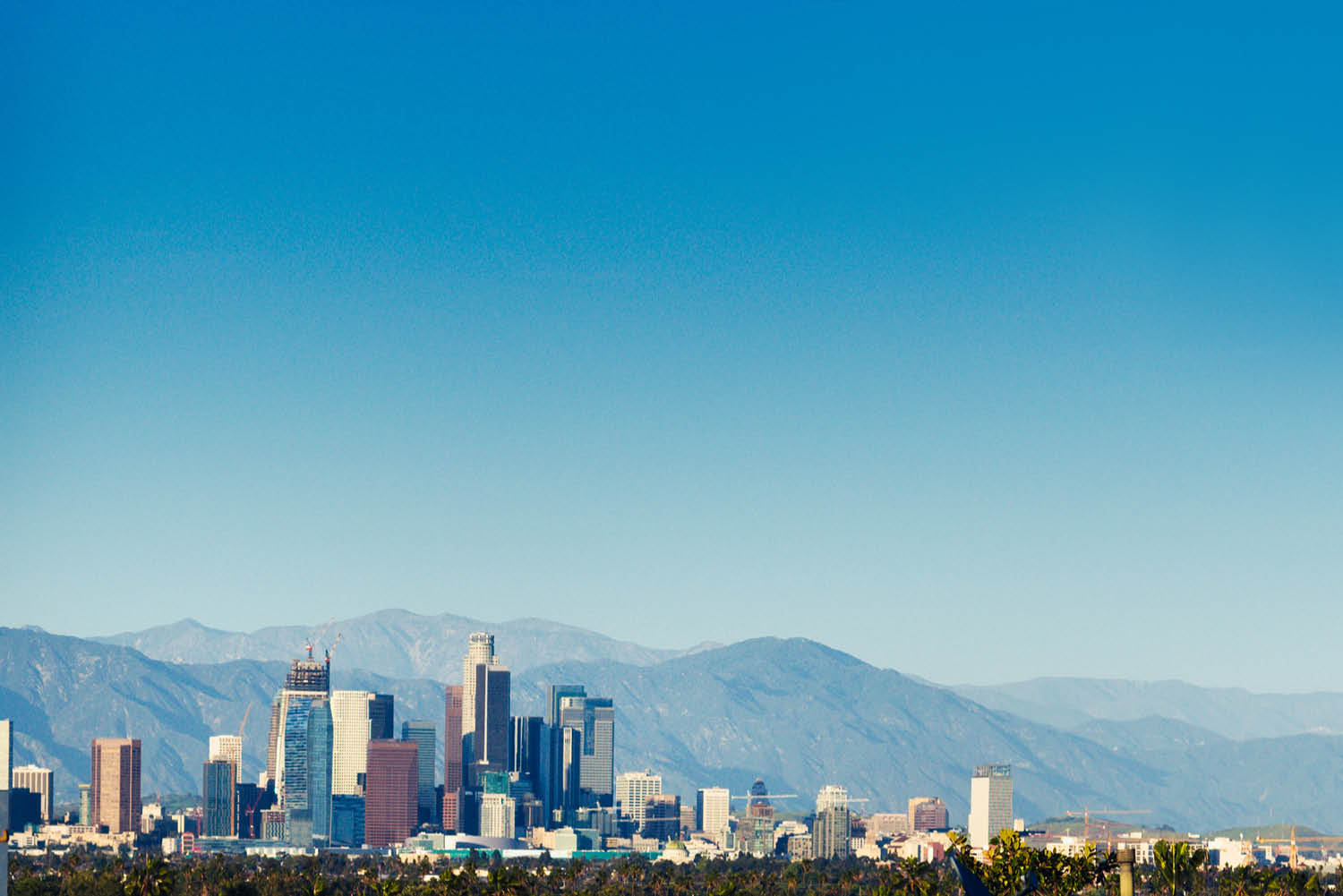 With solo travel becoming increasingly popular, it's nice to know you can enjoy a place as bustling and bright as the City of Angels – all on your own, writes Olivia Mackinnon.
I touch down at Los Angeles' LAX airport on the first flight in on a Sunday morning. Having never travelled solo before – as in, without a friend waiting on the other side – I am relieved to recall that there will at least be a driver picking me up on the other side. Phew, someone forced to converse with me.
In the car we make small talk, and I spend the drive thinking about apps I'd heard of where solo travellers can connect with other singles in the same area – but I quickly decide that even though the idea has merit, there is too much potential for a murder at worst and a smarmy Tinder-style encounter at absolute best.
Thankfully my hotel room is ready for me when I arrive. I say goodbye to my friendly driver, fumble as I tip him – for his conversation as much as his careful navigation – and dump my bag in the room before taking a quick nap. When I wake up, I mentally prepare how I'll get through the entire day alone; figuring a walk around the hotel will be a good place to kill some time. Little do I know this is the final scared-solo-traveller thought I'll have: I'm about to embark on the most incredible, freeing experience I've ever had.
Here's what to pack in your itinerary to survive – and thrive – for 48 hours alone in Los Angeles…
Book a room at The Mondrian Hotel, West Hollywood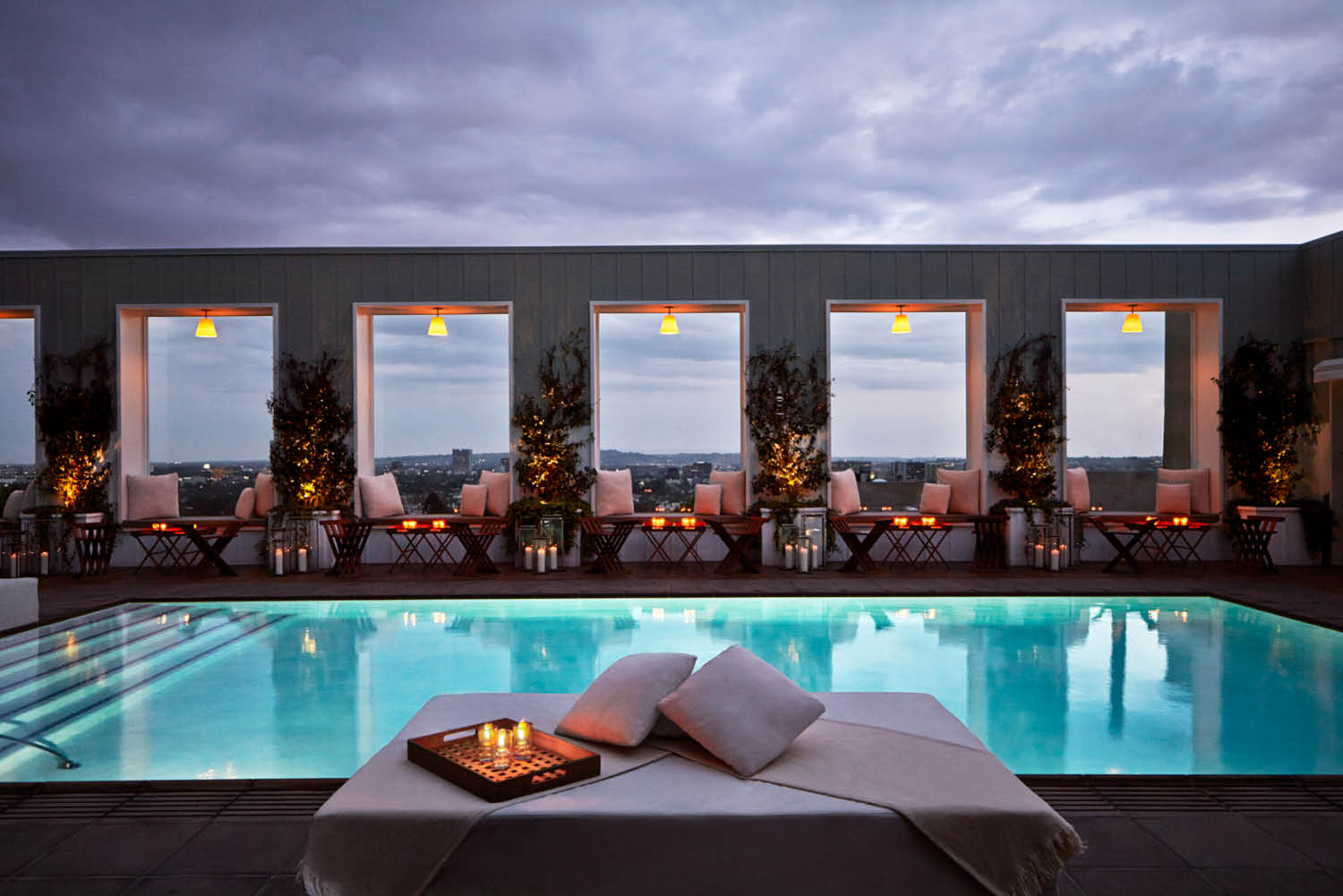 When travelling alone, it's important to choose a good hotel, with a built-in social scene and a location that's in close proximity to the action.
The rooms at the Mondrian are pretty awesome; generous bedroom space, a huge, comfortable bed and separate quarters for a powder room, toilet and shower, not to mention an almost floor-to-ceiling sized revolving television in the centre of the room.
Mine also has an expansive balcony that looks over Sunset Boulevard and the hotel's pool and restaurant; which, as I discovered later on, becomes quite a lively social scene in the evenings – a perfect opportunity to mingle with locals, who very much consider the Mondrian's bar an 'it' place to be.
The pool is incredible. Covered by a marquee in the cooler months, it provides a private, covered setting without preventing the sun from getting through. Complete with comfy sun lounges, bar service and a restaurant just across the space, it's a more than adequate meeting point should you wish to strike up conversation with other guests, or take a load off in a place that, despite being smack bang in the middle of Sunset Boulevard, manages to feel secluded.
So, I sleep off my jetlag for a few luxurious hours by the pool until it's time to head to the first place on my Los Angeles itinerary…
I jump in an Uber and make the 20-minute journey downtown to OUE Skyspace, which I don't know a lot about, other than the fact it is an observation deck with a transparent slide – and has incredible views of the city.
Like everything in Los Angeles, OUE Skyspace is an attraction that has all the bells and whistles to make the price of admittance seem totally justified. An immersive experience, I learn that the tower is like the Empire State Building in terms of panoramic views of the city, standing at 305 metres above the ground, a mere 75 metres shorter than the iconic New York landmark.
There are psychedelic viewing holes that seem to reach down to almost street level beneath your feet, and telescopes that give you an incredible view of the city, but perhaps the most impressive attraction is the Skyslide: a 360-degree transparent slide that runs around the side of the building. A ride down actually makes me feel as though I'm flying! Side note: potentially not a great idea for anyone with an intense fear of heights.
Skyspace also now offers R&B yoga classes on the top floor, so you can relax in your warrior pose, while dropping it low to Beyoncé and looking over one of the most interesting cities in the world. I do this one morning later in the week, and it is one of the best events I take part in, if for nothing other than the unique nature of the class. Check out the calendar of upcoming events here.
Treat yourself to brunch for one
The meal that is perhaps the least awkward to eat alone is brunch. I had received multiple recommendations for SUR in Los Angeles, the eatery at the centre of hit show Vanderpump Rules, and head there.
Not too familiar with the show, I keep an eye out for the only star I would recognise – owner, Lisa Vanderpump of The Real Housewives of Beverly Hills fame. But alas, she was no doubt brunching at her farm-style homestead, complete with her pet horses – I kid you not.
The food is incredible. I order a cappuccino, which by Australian standards is actually surprisingly good, a nutritious alternative to a pink lemonade, and the tuna tartare, which gets more incredible by the mouthful. The staff give me a seat by the window, and between my well-tended table and incessant people-watching, I don't feel alone for a second.
Determined to pack as much as I can into the two days I have on my own, I book myself in to the Warner Bros. studio tour that afternoon. A long-time Universal Studios fan, I kick myself when I find out that I'd missed the opportunity to learn about this iconic film and television brand's past and present on previous visits. Honestly, how does anyone not know about this?
The Warner Bros. Studio Tour is the perfect afternoon filler for anyone who shares a fascination for the film and television industry. On this tour, you drive through working film lots, including the former working sets of Pretty Little Liars, in the (as it turns out very small) town of Rosewood.
A hop-on/hop-off experience, your dedicated guide spends around four hours with you, taking you through some of the sets, in to visit the Harry Potter Sorting Hat – hello Gryffindor – and even the current functioning sound stage for the biggest show in the world: The Big Bang Theory. We see all of the different working sets side-by-side and are astonished to realise how a show so big can be filmed in just one warehouse; half of which is filled with a live studio audience.
What strikes me as different about this tour is the way the guides explain the process of creating a movie, sharing insights like the fact that while George Clooney was filming ER and Batman & Robin at the same time, he used to frequent an eatery right next to the lot called the Smoke House. He loved the place so much that he ended up calling his production company Smokehouse Pictures.
And it's great to learn about incredible landmarks like the Friends set, aka 'Central Perk', so named because the show was filmed here for 10 years, and the last functioning Casablanca set, La Belle Aurore, which still remains on the lot.
In the evening it is a vegan plate from Veggie Grill for one in my hotel room. Hey, I figure it is okay to spend some time in my own company, right?
Clearly hot on the production appreciation trail, I decide to spend my second solo day in Los Angeles at Universal Studios. I get up bright and early – by jetlag standard anyway – and make my way to the gates.
Once inside, I check out the incredible The Wizarding World of Harry Potter – which, since opening in April 2016, has become one of the most popular attractions in Universal Studio's history. Needless to say, it is bustling with cloak-wrapped wizards and wand-waving children, spellbound with the magic of this incredible world. I half expect Hagrid to walk out of the Owl Post at any second.
The incredible Hogwarts Castle stands tall, covered in snow – even on a 27-degree day in Los Angeles – as a performance from the stunning ribbon-dancing Beauxbatons and the powerful pupils from Durmstrang Institute ensues below.
I pick up my Butterbeer and continue through the park, stopping in at The Simpsons Ride, as well as the three incredible rides on the lower lot; from The Mummy, Transformers and the one that soaks me from head-to-toe – Jurassic Park.
Being alone, I am slotted into the 'single riders' seats fairly quickly – but I would always suggest opting for a front-of-line pass, unless you have a penchant for waiting in hour-long lines.
I then treat myself to my favourite part of my time at Universal Studios: the back lot tour.
'Hosted' by a virtual Jimmy Fallon, the cars transfer me (and around 35 others) around the lot, and even though I've done it all before, I am amazed by the technology, with no distractions from travel buddies. The Fast and the Furious ride and the King Kong 360-degree immersive ride particularly impress me. I mean, movies are fine, but how do you incorporate a tour bus into a high-speed car chase and a giant ape's fight against its prehistoric enemies? With magic, that's how.
Take me out to the ball game
I round off my two day solo stint in Los Angeles with a trip to see the LA Dodgers against the Los Angeles Angels. Momentarily confused by who to barrack for – and a little nervous about attending a sporting event on my own – I find solace in ordering a traditional 'Dodger Dog' and a cup of Buzz Light before nestling into my seat.
The stadium is unlike anything you'll find in Australia; peppered with music and studio TV cameos that broadcast around the stadium, as well as pristine bars and exceptional food stands, serving everything from humble baseball staples – see above – to more intricate Vietnamese baos.
I sincerely enjoy the evening, and at one point I somewhat freeze in the stands. As the seventh inning stretch begins, the famous song – and the reason many foreigners attend a ball game – echoes through the stands. Fans of the game recite the lyrics to Take Me Out to the Ball Game with the same passion and gusto as they do with the national anthem.
It's at this moment that I feel utterly invigorated to be travelling solo – and wish that I had a few extra days up my sleeve, alone.
LEAVE YOUR COMMENT