A guide to California's best national parks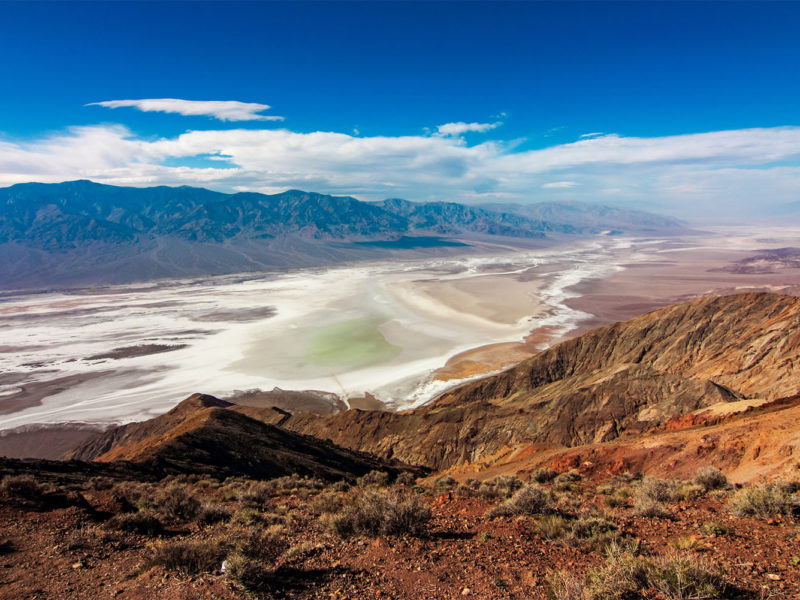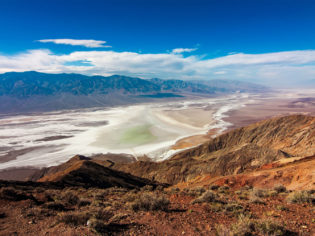 It's tempting to quickly peg California as the United State's stereotypical surf state or the glamorous home of Hollywood. But let's not forget that it's much more multi-dimensional. For example, California is privy to nine national parks – the most of any state in the US.
From cacti-studded deserts and volcanic fields, to secluded islands and the tallest trees in the world, each park offers something unique. Yet, all nine are comparable in their breath-taking beauty.
This guide will give you a first look into the personalities of each California national park so you can decide which one (or two, or nine) to visit on your next trip to the Golden State.
Best known for: Waterfalls, famous valleys and sheer granite cliffs
Yosemite is California's most-visited national park with good reason. Each year, some 4 million visitors are lured to the park to visit this dramatic landscape, defined by its wildflowers, iconic towering granite cliff faces and cascading waterfalls, all of which leave lasting impressions. One of the world's tallest waterfalls, Yosemite Falls, resides in this national park as well as many other highly recognisable geological landmarks, such as the Half Dome. The park offers something for nature-lovers, holiday-makers looking for a luxe, forest retreat, adventurers and rock climbers alike.
Where: Central California.
Nearest airports include Sacramento International Airport (SMF) about a three-hour drive away, San Francisco International Airport (SFO) about a two-hour drive away and local Fresno Yosemite International Airport (FAT) about an hour's drive away.
Don't miss:
-The Firefall: (in February) captures the light from the setting sun at dusk and glows, simulating lava flowing from the rock face. Check here for updated info on when the phenomenon will occur this year.
-El Capitan: an awe-inspiring sheer granite cliff face, which is worshipped by the rock-climbing community.
-Yosemite Falls: the tallest waterfall in North America.
-Glacier Point: a beautiful viewpoint above the Yosemite Valley with great views of the Half Dome.
Best known for: Oddball shrubbery, rugged desert and starry skies
Dotted with cacti and its namesake Joshua Trees (yucca trees), this park is the perfect place to rock climb, experience Old West California mining history or simply get away to the peace of a starry-skied desert. Its low humidity and lack of light pollution makes it a dazzling place to gaze at the night-time galaxies. During the day, Joshua Tree National Park exhibits unexpectedly diverse desert flora and fauna, being at the junction of the Mojave and lower Colorado Desert.
Where: Southern California
Nearest airports include Los Angeles International Airport (LAX) about a 3.5-hour drive away, San Diego International Airport (SAN) about a 3.5-hour drive away and local Palm Springs Airport (PSP) about an hour's drive away.
Don't miss:
-Keys View: a favourite hike and lookout.
-Cholla Cactus Garden: a top spot for a walk amid hundreds of cacti.
Best known for: Towering sequoia trees, deep canyons and tall mountains.
Standing 50 to 85 metres high, the sequoia trees are the centre of attention at these joint national parks, and rightfully so. However, they often overshadow (literally and metaphorically) the other attractions Sequoia and Kings Canyon have to offer. Mount Whitney is the tallest peak on the US mainland and Kings River Canyon is one of America's deepest. There's also a spectacular cave to explore.
Where: Central California
Nearest airports include Los Angeles International Airport (LAX) about a 3.5-hour drive away, Sacramento (SMF) about a 4-hour drive away, local Fresno/Yosemite airport (FAT) about an hour's drive away and local Visalia Municipal Airport about an hour's drive away.
Don't miss:
-Giant Forest: comprises 8,000 sequoias, the most of any grove in the park.
-Moro Rock Trail: a short 800-metre track with stunning views.
–Tunnel Log: is a drive-through attraction that was created when a massive sequoia tree fell.
-Crystal Cave: a sparkling cave made of marble and stalactites.
Best known for: The world's tallest living things (redwood trees), rugged ocean coasts and lush greenery.
Similar to Sequoia National Park, Redwood's namesake tree is the main focus of this park. Redwoods are coastal trees that grow taller and more slender than the neighbouring sequoias. These giants easily reach 90 metres, and today's tallest California redwood stands 115.55 metres tall. The whole park hugs the northern Californian coast, so there is also an abundance of beaches, decorated with driftwood and tidal pools.
Where: Northwest California
This park is one of the farthest from the international airports. Nearest airports include San Francisco International Airport (SFO) about a six-hour drive away, Sacramento (SMF) about a six-hour drive away and local Del Norte County Regional Airport (CEC) about a 1.5-hour drive away.
Don't miss:
-Fern Canyon: in Prairie Creek Redwoods is a scenic place to stop and walk through the narrow canyon wallpapered with ferns and greenery.
-Lady Bird Grove Trail: an easy 2-kilometre walk through the redwoods.
-Tall Trees Grove: is crisscrossed with trails that pinball between the enormous redwoods.
-Drive Newton B Drury: along the Redwood Scenic Parkway is a 16-kilometre drive through the heart of an ancient forest.
Best known for: Its massive size, sandstone canyons and salt flats
Spanning an impressive 1.34 hectares, Death Valley is larger than some states in the US. That only means there are more to explore and more of a diverse range of sights to discover. Begin your trip at a visitor centre to get the lay of the beautiful, arid land: will you descend into Badwater Basin and begin with the salt flats? Or climb Zabriskie Point for spectacular sunset views? Drive along Artist's Drive and see the multi-coloured hues of the desert come alive in sandstone stripes of dusty pinks, rusty reds and yellows? Whatever you fancy, there's lots of land to cover and all sorts of geographical features to explore.
Where: Mid-eastern California, bordering Nevada.
Nearest airports include Las Vegas McCarran International Airport (LAS) about a two-hour drive away and Los Angeles International Airport (LAX) about a 3.5-hour drive away.
Don't miss:
-Badwater Basin: the lowest point in North America comprises 321 square kilometres of salt flats.
-Zabriskie Point: affords panoramic views of the golden-hued badlands of the Furnace Creek formation.
-Ubehebe Crater: the 800m-wide imprint of a volcanic eruption that happened 300 years ago.
Best known for: Volcanic rock formations, caves and springtime wildflowers
The pointed crags and winding caves of California's newest national park are the result of volcanic eruptions millions of years ago. Now, the park offers endless adventure, whether it is rock climbing to the tops of the park's rocky pinnacles or descending into its dark talus caves. In the springtime months – between March and May – this park bursts with beautiful wildflowers due to the volcanic soil.
Where: Central California
Nearest airports include San Francisco International Airport (SFO) about a 3-hour drive away and Monterey Regional Airport (MRY), about a one-hour drive away.
Don't miss:
-Bear Gulch Cave Trail and Balconies Caves: at Pinnacles National Park.
-Wildflowers in spring: the vast grasslands are carpeted with lilies and poppies and shooting stars.
-High Peaks: the park's signature pinnacle rock spires.
Best known for: Crystal waters, sea caves and unique flora and fauna
Only reachable by boat and with no lodgings, restaurants or buildings, the Channel Islands National Park is an oceanic oasis frozen in time just off the bustling Southern California coastline. Its tropical temperatures stay fairly sunny year-round, in comparison with the other California national parks that experience harsh winter weather.
This park takes a fair amount of coordination to visit as it can only be reached by boat and you need to pack your own food and water. But the extra effort will reward you with an uncrowded ocean sanctuary. Sometimes referred to as the 'Galapagos of North America' you will see several species of plants and animals that are exclusive to the islands. If you plan ahead, you can book guided kayaking, snorkelling and hiking experiences to get up close to the park's natural wonders. The Channel Islands stay fairly warm year-round and are made up of five islands: Santa Cruz, Anacapa, Santa Rosa, Santa Barbara, and San Miguel.
Where: Southern California
Plane:
Nearest airport is Los Angeles International Airport (LAX) about a 2-hour drive away from Oxnard and Ventura (where the boat transports depart). Channel Island Aviation flies small planes directly to the islands from Camirillo, if you are willing to pay much more to skip the boat trip.
Boats:
The islands can only be reached by boat or small airplane. One- to three-hour boat ride leaves regularly from Oxnard and Ventura to the islands.
Don't miss:
-Lighthouse on Anacapa Island: one of the park's only manmade structures.
-Kayaking some of the world's largest sea caves: book with a local company like Santa Barbara Adventure.
Best known for: Bubbling mud pots, steaming sulphur mines and an active volcano hike.
This is the park to visit if you'd like to see Mother Nature turning up the heat. Get used to the rotten egg smell of sulphur as geothermal activity abounds in the form of steaming fumaroles, boiling pools and roiling mud pots.
Lassen Park, the active volcano that overshadows the park, began eruptions in May 1914 and continued to emit steam until 1921. The volcano is considered active since it erupted in the last 100 years, but no one can know for sure if or when it will erupt again. Check here for more information on how to stay safe in an active volcanic area.
Where: Northern California
The closest airports include Sacramento International Airport (SMF) about a 3.5-hour drive away or Reno-Tahoe International Airport (RNO) about a 2.5-hour drive away.
Don't miss:
-Bumpass Hell: hike alongside hot springs, mud pots and more bubbling and broiling like hell on earth.
-Hike Lassen Peak: the climb to the summit of this active volcano takes about 4km.
-Sulphur Works: hike along sulphur steam vents called fumeroles, which emit plumes of steam that escape from the earth's pressure cooker.
LEAVE YOUR COMMENT