Meanwhile in Canada… we fall hopelessly in love with Quebec City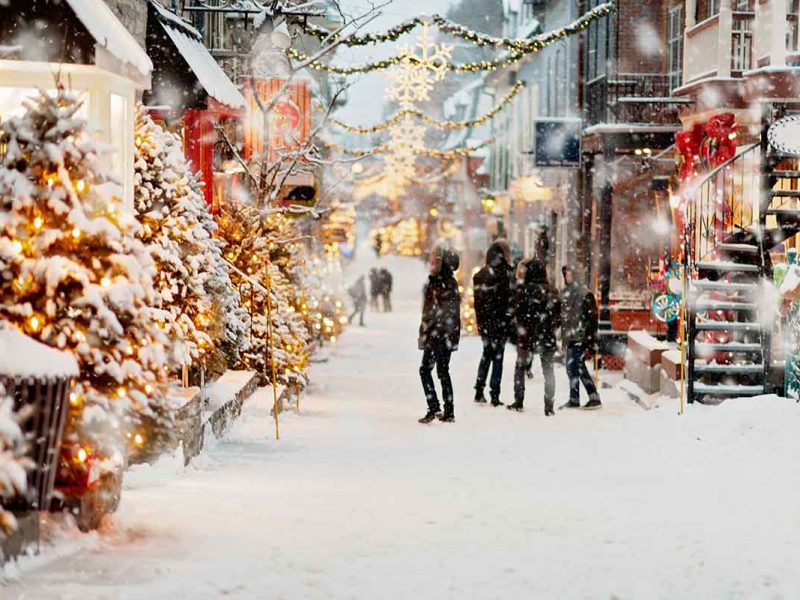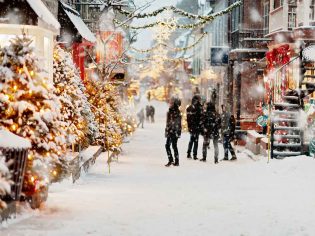 Québec City is a proud Canadian city. It celebrates its French heritage but is neither French nor quite like Anglophone Canada but resolutely Québecois.
This is story 14 in our Meanwhile in Canada… series.
I'm hunkered into a little bistro near the waterfront. Outside, a chill spring wind blusters down the river, buffeting seagulls and shaking the trees. Inside, old advertisements hang on rough-hewn walls, and the wooden ceiling beams are knotted and polished with age. Warmth and chatter rises all around from businesspeople, sleeves rolled out of the way as they dip hunks of baguette into the white-wine sauce in their pots of mussels.
A fire crackles with the promise of a long, slow meal. I'm tempted by escargots and rich cassoulet with Toulouse sausage. In the end, I veer towards a more Canadian choice: beef cheeks with maple and bacon. After all, this is Québec City. French, but not. Still wonderfully Canadian.
"We aren't French, we're North Americans who speak a variety of French," says my tour guide Marie-Pierre Lessard. "We're proud of who we are because we fight really hard to keep our language and culture in a sea of 300 million Anglophones."
English is only Marie-Pierre's second language. She learned it in school, but improved it by watching television shows in English and listening to rock and heavy-metal music. The musical tastes are a surprise: Marie-Pierre has tidy hair, sensible glasses and a cheerful smile.
I like Marie-Pierre, and Québec City is a delight. This is my first day and already I'm seduced. I'm loving Québec City's glorious old town. It rises from riverside to clifftops in a tumble of churches, statues and cobbled squares like a picture from a medieval prayer book. It has enchanting grey and copper rooflines and fat street lamps that glow orange at night like little moons.
The town is green with that wonderful leafiness of Canadian trees, which rustle like cheerleaders' pompoms. Even the seagulls seem happy here, pirouetting above the Saint Lawrence River that gives Québec City its raffish maritime atmosphere.
Beyond its physical beauty, Québec City's curious culture seduces me, too. First Nations People have inhabited this region for thousands of years, and the city stands proudly as a last remnant of France's North American empire, although, as Marie-Pierre has pointed out, it is no longer French but distinctively Québecois, with a unique culture.
For me, it's one of the places that makes Canada special. Being here makes me wonder what would have happened if the British hadn't won a decisive battle in Québec City in 1759. Australians generally see history through Anglo-Saxon eyes, but in Canada you're constantly reminded of another reality. A good thing, surely. Shouldn't travel make us see the world differently?
The Iroquois village of Stadacona occupied a site near here in the 16th century when the first French explorers arrived. Basse-Ville or Lower Town is where the European history all began. The main street is named after Samuel de Champlain, the French navigator who founded Québec City in 1608. It charms me at every turn with cobbles and pastel-coloured buildings. Shops make me smile with their sugary smell of maple fudge and their stuffed souvenir moose-wearing Canada hockey shirts.
Some places just instantaneously put you under a spell, and I'm in the throes of an affair with Québec City. Next day, spring in my step, I wander across the Saint-Charles River into Limoilou district, where streets rustle with maple trees and wrought-iron staircases spiral up the facades of old brick buildings.
In the Sunday street market, I sniff my way past creamy, nutty hard cheese carved from giant golden wheels, and soft creamy cheese smelling of meadows and milk. One stall sells tender asparagus shoots, another zucchinis with yellow blossoms still attached, a third plucked quails with their legs in the air like cancan dancers.
To me this is quintessential Canada on a sunny afternoon: everyone outdoors, the background shriek of kids, cyclists whirring past, acrobats emerging from a circus school, young people lying on park grass with faces turned up to sky like sunflowers.
Québec is a layered city. I'm always climbing up and down here on steep streets that sometimes turn to stairs, past pepper-pot towers and red roofs. Every neighbourhood has a different charm. Next day, I pant upwards towards the Haute-Ville or Upper Town and onto Dufferin Terrace high above the Saint Lawrence River.
Here, green benches and ironwork gazebos provide a charming 19th-century air. A huge, swashbuckling statue of Champlain seems French in spirit – nothing like the stern, scientific-looking British explorers depicted in Australian statues. He has curly hair and a dashing feathered hat as if auditioning for Three Musketeers: The Musical. That makes me smile, too.
Québec City, located on a First Nations' village with its French and British influences, is a wonderful double destination: an Anglican cathedral here, a French-looking square there. The historical barracks have austere Georgian lines. Tourny Fountain is all French froth and bare-chested nymphs, and Rue du Trésor is hung with local artists' Impressionist-style paintings.
What I truly love about Québec City, though, is that its heart is firmly Québecois, and its most prominent landmark neither French nor British. The Fairmont Le Château Frontenac that crowns Old Québec, built for newfangled 19th-century railway travellers, is wildly grandiose. It looks like a hotel from an outsized fairy tale, all gabled roofs and spires and gleaming windows.
How apt, I think to myself, that Québec City is topped by something so defiantly Canadian. Confidence is the sexiest asset of all, and I have another reason to be in love.
Next time, come with me to Ottawa and discover a mini version of Canada that condenses the character and aspirations of Canadians into one very pleasing package.
Enjoy more Meanwhile in Canada… here.
LEAVE YOUR COMMENT