Quebec's very unique sugar shack pig out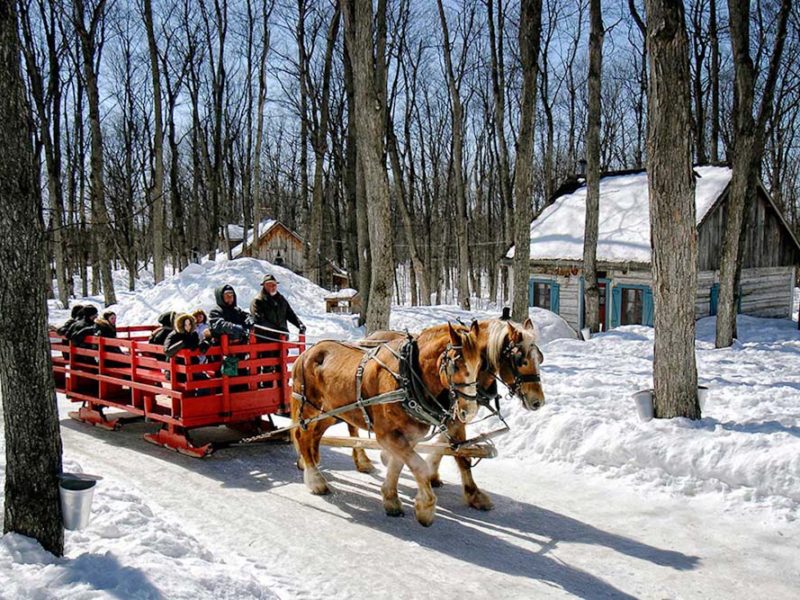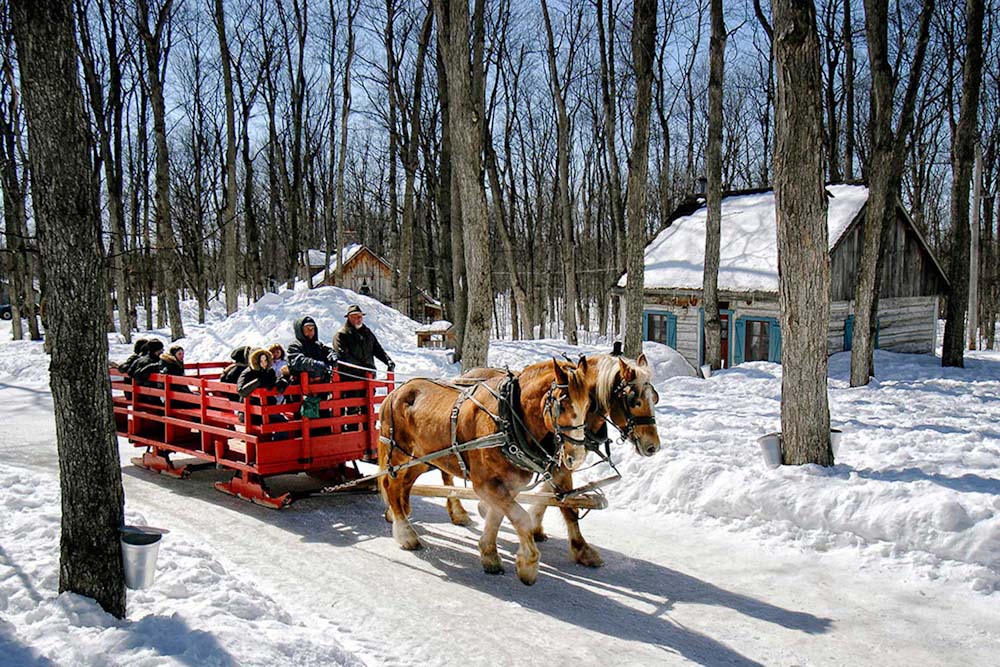 Make like a maple-forest worker and dive into a hearty sugar shack maple syrup feast, writes Katrina Lobley.
As I slip-slide up an icy track towards the nightly maple-syrup bacchanal in a Quebec 'sugar shack', owner Pierre Faucher drives in alongside me.
"You staying here tonight?" he asks. "There's deer, there's wolves. Are you scared?"
Monsieur says it all with a glint in his eye but he's right – there is a wolf roaming around Sucrerie de la Montagne, a sugar shack tucked within a maple forest an hour's drive west of Montreal.
It doesn't take long before I meet his pet Louploup, part wolf/part husky. Like her owner, the she-wolf has a naughty streak.
A box of bonbonnières has arrived ahead of a wedding scheduled for the next day. Louploup sticks her snout in the box and runs away with something, prompting immediate banishment from all public areas.
A weekday lunch isn't the busiest time at the sugar shack, which really comes alive on weekends when diners assemble in a high-ceilinged hall to feast on the traditional meal as live fiddle music is played.
I settle into the cosier Salle Castor, lit only by oil lamps, firelight and weak winter daylight to find out what the feast is all about.
The hearty meal, originally designed to refuel half-frozen maple-sap collectors, comprises a set of well-known dishes.
The spread usually includes pea soup, maple-smoked ham, omelette soufflé, crispy-fried pork rinds, baked beans, mashed potato, sausages, meatball stew and a flaky meat pie anointed with fruit ketchup, with sugar pie and syrup-doused pancakes to finish.
Big bottles of maple syrup adorn each table. I'm surprised to see diners add generous slugs of syrup to their food but they're right – everything tastes better with maple syrup.
I order a glass of the house caribou – a mix of red, white and blueberry wines, whisky and maple syrup. I think of it as a wintry French-Canadian sangria – it's delicious too.
Most sugar shacks are open only seasonally during the 'sugaring off' period when snow starts to thaw and sap circulates through the maples.
Sucrerie de la Montagne is open year-round and offers accommodation in four cosy log cabins that seem like a throwback to bygone times.
I spend the night in the quaint Maisonnette du Sous-Bois (Undergrowth Cabin).
There are no mod cons such as television – just a roaring fire in the fieldstone fireplace, a rocking chair, rustic furniture and a claw-foot bathtub behind the bed upstairs.
As I climb the stairs ready for bed, I glance out the window. A full moon illuminates the bare-branched maples and, just for a moment, I imagine a wolf roams among the trees.
Hungry for more?
If your stomach is rumbling for more stories from Canada, here are our tastiest picks from the list of 100 Things to do in Canada Before You Die:
LEAVE YOUR COMMENT