Undiscovered Quebec City Guide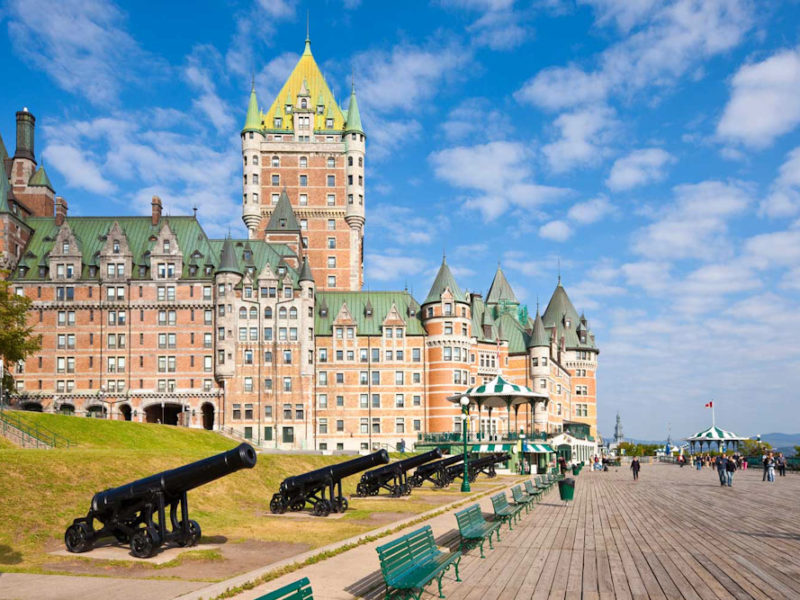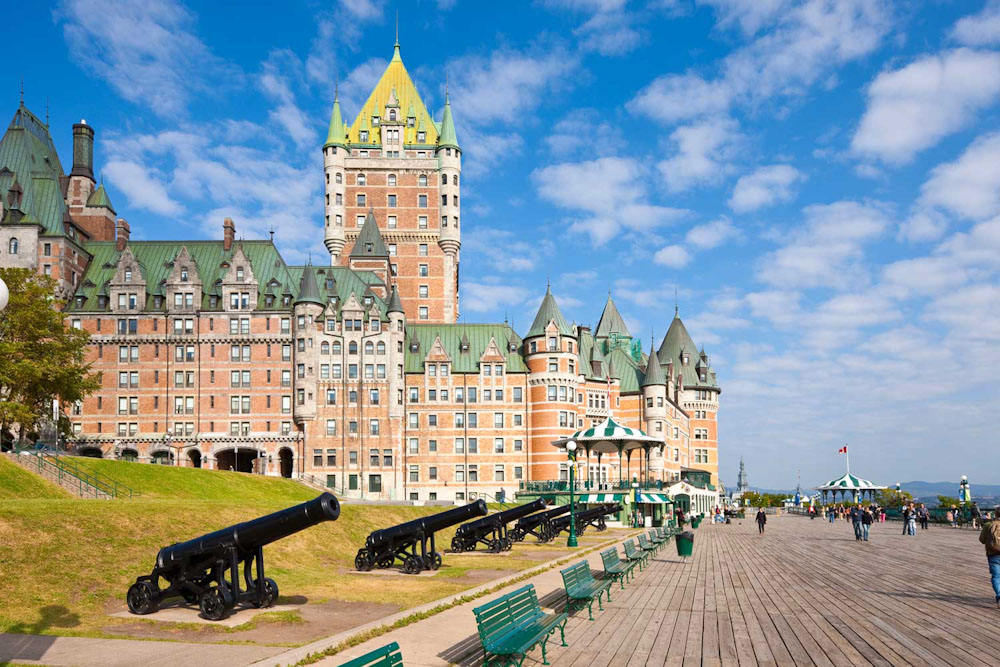 With fortified walls, cobblestone streets and a fairytale chateau overlooking it all, Quebec City is like a slice of Europe on the banks of the mighty St. Lawrence River; this is our Undiscovered Quebec City Guide. By Adam Bisby.

What we know
Few vistas in North America can compare to that of the Chateau Frontenac towering over the parks, gardens, ancient stone fortifications and cobblestone squares of the Old City.
Combine this with the ornate National Assembly, historic Citadel and extravagantly gilded Notre-Dame-de-Québec Cathedral, and it's no wonder Quebec City has earned World Heritage Site status.
There's no shortage of style here, either: The quartier Petit Champlain is filled with boutiques that would feel right at home in Paris, Rue Saint-Paul is famous for its antique shops, and Rue du Trésor hosts an open-air art gallery.
Then there's the world's third-largest pre-Lent extravaganza, the Quebec Winter Carnival, which puts a unique snowy spin on revelry that rivals that in Rio or New Orleans.
What we overlook
With so much to keep visitors busy in Old Quebec's core, you don't have to stroll far to feel like you're off the beaten track.
Take Le Domaine de Maizerets: The spacious, pretty park on the north side of the St. Charles River offers 11 kilometres of walking, snowshoeing and cross-country ski trails, as well as a lush arboretum and the Château Ango des Maizerets, a 16th-century mansion built by the French.
Yet it's rarely, if ever, crowded.
Likewise, with history hogging the spotlight, more modern diversions tend to get overshadowed.
A prime example is the Quebec Fine Arts Museum. Despite the fact that it's located smack dab in the middle of the Plains of Abraham – more on that shortly – the newly enlarged celebration of Quebecois creativity often offers a quiet, contemplative escape from the hustle and bustle surrounding the Chateau.
Don't leave without:
Strolling the Terrasse Dufferin
Perched above Lower Town next to the Chateau Frontenac, this expansive pedestrian promenade provides peerless views of the St. Lawrence River and its opposite bank.
In summer, street performers strum and juggle around its ornate black and white pavilions, while in winter it provides the pushing-off point for a toboggan ride like no other. (Read on for more on that.)
Exploring Battlefields Park
One of the most telling twist in Canadian history took place on September 13, 1759, when British troops commanded by General James Wolfe defeated French forces on the rolling expanse of pastureland known as the Plains of Abraham.
These days, the plains are part of Battlefields Park, which also encompasses an interpretive centre, dozens of historic artillery pieces, and three brooding Martello towers.
The site's allure, however, isn't just historic, as it hosts outdoor concerts and festivals galore. ccbn-nbc.gc.ca
Climbing the Quebec City fortifications
North America's only fortified city north of Mexico is home to centuries-old walls, gates and ramparts that stretch for nearly five kilometres.
Guided tours of the fortifications explore the city's intricate defence system and offer a unique soldier's-eye view of town.
Locals only
Most visitors only ever see the neighbouring city of Levis from a distance, but a regular car ferry makes the trip across the St. Lawrence, providing superb views of the rocky Diamond Cape upon which the Chateau Frontenac sits.
With its home province being the world's largest producer of maple syrup, it's hardly surprising that many local restaurants incorporate the sweet sap into their menus.
To sample this sugary goodness at the source, head to one of the many Sugar Shacks in the area, such as the Cabane à Sucre Leclerc and the Érablière du Lac-Beauport (read more about sugar shacks here).
Family
Just west of the Old City, the ultra-modern Aquarium du Québec features more than 10,000 species of mammal, reptile, fish and other aquatic fauna native to North America and the Arctic.
Highlights include the polar bears and seals in the Arctic enclosures – safely separated, of course – as well as the enormous 'Ocean' basin visitors can admire from underneath.
The province's largest shopping mall, Les Galeries de la Capitale, is home to the 17-ride Mega Parc, which includes a rollercoaster and full-sized skating rink.
Adventure
It takes a truly adventurous soul to spend the night atop a slab of ice.
North America's original ice hotel, just east of Quebec City, also provides plenty of ways for guests to stay warm: thermal sleeping bags and mattresses, in-room fireplaces, hot tubs en plein air, even a lounge where cocktails are served in, you guessed it, ice glasses (read more about the ice hotel here).
A three-lane toboggan chute has descended the Terrasse Dufferin since the winter of 1884. Riders reach speeds of up to 70 kilometres per hour as they hurtle down solo or in groups of two to four.
Culture
The Grand Théâtre de Québec's two concert halls host regular performances by the Quebec Symphony Orchestra, the acclaimed Théâtre du Trident, and the Opéra de Québec.
Located in the fortified Place D'Youville, the Palais Montcalm concert hall is famous for its world-class acoustics and Casavant organ, as well as for eclectic programming that includes everything from classical and jazz to world music, blues and folk.
Hip hoods
Lower Town is just that: set at the base of the Diamond Cape, this historic district is linked to the Terrasse Dufferin above, via a short funicular railway.
With the bustling Place Royale at its heart, Lower Town unabashedly embraces its French roots, with bustling bistros lining the cobblestone streets and ornate churches like Notre-Dame-des-Victoires rising over the rooftops.
On the opposite side of the Cape, the neighbouring districts of Saint-Jean-Baptiste and Saint-Roch are famous among foodies, shoppers and visitors looking for cocktails and dancing after dark.
Festivals and events
Canada's most recognisable mascot, the Bonhomme de Neige, gets the Quebec Winter Carnival started with an exuberant parade each February, and the city follows suit with everything from dogsled and canoe races across the icy St. Lawrence to group snow baths and pancake breakfasts.
Quebec City regularly appears on global top-10 Christmas destination lists, with the Chateau Frontenac draped in lights and garland every cobblestone street decked out in its holiday best.
There are also dozens of concerts and parades, as well as a German-themed Christmas Fair selling crafts and holiday cuisine.
Take a detour
What do you get when you take a dramatic stretch of the St. Lawrence River's north shore, rugged mountains that are part of a World Biosphere Reserve, and add $350 million in tourism investment?
Cirque du Soleil co-founder Daniel Gauthier has made it his dream to turn the Charlevoix region north-east of Quebec City into a tourism hot spot, and so far, so good.
There's a foodie-friendly railway to the base of Le Massif ski resort and beyond, the riverside Casino de Charlevoix, and the spa treatments, top-tier golf and general sumptuousness of the neighbouring Fairmont Le Manoir Richelieu resort.
Where to stay
Luxury: Fairmont Le Chateau Frontenac – This century-old grand dame literally and figuratively caps the city's charms.
Family: Hotel Universel – Located in the suburb of St. Foy, this modern property features a tropical-themed indoor pool and spa.
Comfortable: Hotel Clarendon – Old World style meets modern amenities and comforts in this centrally located option.
Budget: Auberge de la Paix – Eight tidy dorms and five private rooms right in the heart of the Old City.
Eat and drink
L'Échaudé: Classic French cuisine served in a suitably stylish dining room.
Corsaire microbrewery: Follow up a ferry trip to Levis with a flight of beer and an overflowing charcuterie board.
Bachir: Diners seeking a break from the ubiquitous French fare will love Lebanese dishes like shish tawook and house-made baklava.
Can't get enough of Canada?
We've got an amazing amount of information on Canada, check out our guides below:
LEAVE YOUR COMMENT