Top places to chase the sun in Western Europe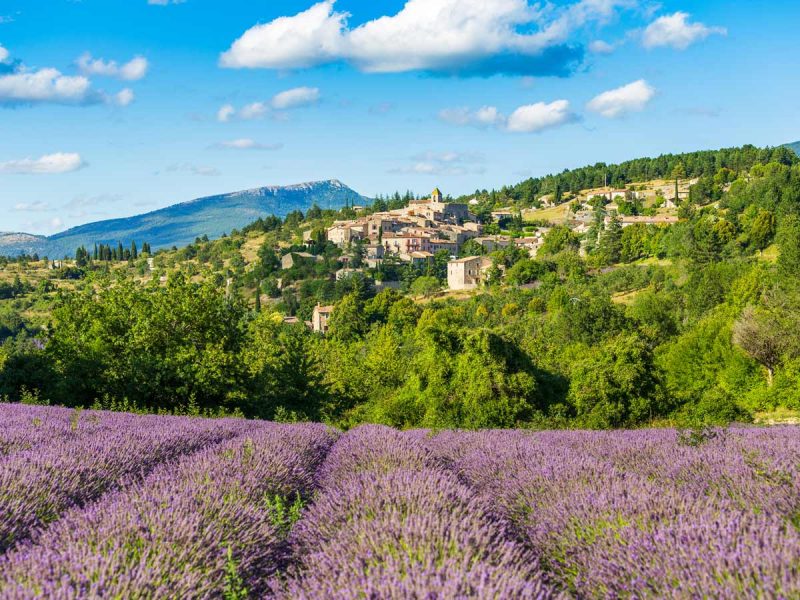 Fly away to these dazzling places in Western Europe.
Western Europe is probably among the most visited destinations for tourism—and for good reason. The historic villages, ancient castles, and lush European countryside would attract even the stubbornest of homebodies. From the Portuguese Riviera to the end of the earth in Galicia, the places we've picked in this region (12 out of our 100 places to chase the sun list) will give you the richest European experience.
Read about all 100 places to chase the sun around the globe here.
47. Les Perles de Monte-Carlo, Monaco
Chanel is gearing up to present its 2023 resort collection on a sandy runway at Hotel Monte-Carlo Beach tomorrow, set against a backdrop of the glittering Côte D'Azur. Kristen Stewart, Tilda Swinton, Vanessa Paradis and Sofia Coppola will be there in the front-row sun lounges. But I'm on the other side of Monaco at a hangout only locals know about, and I too have front-row access to the spoils of this fabled coast.
Les Perles de Monte-Carlo is the small principality's hidden gem: a sustainable oyster bar founded by certified biologists at the tip of a pier in a neighbourhood – Fontvieille – that gives visitors a taste of real Monegasque life.
Its on-site nursery and ripening centre means seafood is scooped straight from the water and served fresh to the plates of appreciative diners. It's here, at wooden tables under the Riviera sun – the straw hats provided an especially nice touch – that my lunch companions and I get true star treatment.
By Imogen Eveson
48. Onboard an Azamara cruise to Marseille, France
We set off from Barcelona and, by the morning, are gliding along the French Riviera, limestone cliffs like honeycomb under the early light. There's no better way to embark on international travel again than by sailing on Azamara's new and aptly named ship Onward.
The boutique brand specialises in destination immersion: its smaller ships mean better access and sure enough, we soon dock in the heart of Marseille and I'm reminded of all the things I've missed about Europe. A rocky coastline, jewel-like sea and the geometric arrangements of lollipop-bright day beds attached to beach bars along the Corniche mean I couldn't be anywhere but the Mediterranean.
On the Vieux Port, the bustling Marché aux Poissons supplies local restaurateurs with fresh fish for the day's bouillabaisse. And the old town of Le Panier is exactly the kind of characterful neighbourhood you want to find on your travels: its rambling streets a profusion of plants and graffiti studded with tiny artisan shops, quirky cafes and quintessentially French bars to lounge in the sun at streetside.
After exploring, it is just a 10-minute stroll back to the ship and onward again to the next destination.
By Imogen Eveson
49. Paris Plages, France
Paris has been famed for many (many) things throughout history, but its beach culture is not one of them. With the arrival of Paris Plages ('Paris Beaches'), however, which magically appear each year from early July until late August along the Right Bank of the Seine near the Hotel de Ville and beside Le Bassin de la Villette in the 19th arrondissement, visitors to the City of Light can savour long summer days with sand between their toes.
Think beach umbrellas and deck chairs, palm trees and misting stations, canoes and beach volleyball, pétanque pistes and temporary swimming pools, including one right in the Seine. There are free dance lessons, tai-chi classes and concerts, not to mention casual cafes and bars where the lilt of an accordion may drift across the summer breeze and into the sultry streets of the city.
By Susan Gough Henly
50. La Tartane, Saint-Tropez, France
Your motivation for securing a room at the impossibly stylish La Tartane, the latest luxury boutique hotel to take up residence on France's sparkling Côte d'Azur, should be: 'Just because'. Every room, every cosy space, every just-so arrangement feels like it is drenched in pure sunshine and fresh warm air, heightened by a joyous colour palette, gently tactile natural materials, vintage pieces and delightful prints. Take up residence by the pool and live out your best life.
51. Val d'Isère, the French Alps
Head to the hills to enjoy the alpine delights of the celebrated French resort Val d'Isère when it opens for its summer season.
Hit the new e-bike trails stitched around the high-altitude mountain village; take an eco-hike through its network of pathways to learn about preservation efforts at play here while picking up any rubbish found along the way; dine in rustic surrounds at the foot of the Col de l'Iseran mountain pass at two-Michelin-starred L'Atelier d'Edmond, and hike through lush green hills sprinkled with wildflowers to sleep under the stars (and in the company of the chamois and marmots) at Refuge du Prariond.
52. The lavender fields in Provence, France
Late June until late July is the time that Provence's iconic lavender fields are in full bloom and the Valensole Plateau, about an hour's drive northeast of Aix-en-Provence, is aromatic lavender central.
Start at the lavender museum in the village of Valensole to learn about the history of cultivation and how the flowers are distilled to make essential oils. Then follow the Route de Riez (D6) to see the incandescent hues of purple corduroy, often juxtaposed with fields of golden sunflowers.
Visit Lavandes Angelvin to pick up bouquets of dried lavender and lavender-infused oils and soaps before continuing to the pretty pottery-making village of Moustiers-Sainte-Marie, built on terraces wedged into a limestone cliff.
Discover more lavender fields, interspersed with purple sage, on the way to Sainte Croix-du Verdon, where you'll also enjoy spectacular vistas of the aquamarine waters of Lac de Sainte-Croix, which forms the Gorge du Verdun.
Where to stay: Alain Ducasse's quintessential Provençale country inn, La Bastide de Moustiers.
By Susan Gough Henly
53. Saint James Paris, France
The glory of Paris in the sunshine deserves a glorious auberge to enjoy it from. This is an easy proposition in the French capital considering your choices include establishments such as Saint James Paris. Located in the 16th arrondissement, this neoclassical mansion was originally built in 1892 to house scholarship students and has been the city's only château hotel since the early 1990s.
Recently revitalised under the stewardship of Laura Gonzalez, the French designer has amped up the property's swoon-worthy romance and elegance to new levels throughout the 50 rooms and communal spaces.
Equally elegant are the 5000 square metres of private gardens surrounding the hotel, a riot of colour, fragrant blooms and busy bees housed in hives that promote a message of biodiversity to guests and supply the kitchen of on-site restaurant Bellefeuille, led by chef Julien Dumas.
54. The Lighthouse Way, Galicia, Spain
Say you're going for a walk in Spain and most people assume it's the Camino de Saint Jacques de Compostela, where hundreds of thousands of pilgrims walk each year to the final resting place of the apostle Saint James. However, just beyond Santiago de Compostela, the new Camiño dos Faros, or Lighthouse Way, in the north-west province of Galicia, is hiding in plain sight along the Finisterre coast, otherwise known as 'the end of the Earth' (and incidentally an ideal locale for sunset viewing).
Forget your image of Spain as dry and parched, this green coastal realm is more reminiscent of Brittany. Linking ancient fishermen's ways and farm tracks, the 200-kilometre walk is broken into eight stages, which are described on the website's exhaustive trail notes with accompanying photos and videos of every step of the way.
Hiking companies such as UTracks also offer self-guided trips with luggage transfers. You'll walk across sublime white sandy beaches, atop limestone cliffs and through traditional fishing villages where you can feast on some of Spain's finest seafood washed down with local Albarino white wines, crafted in the hinterland.
By Susan Gough Henly
55. The Beach Caves of Six Senses Ibiza, Spain
When it opened in July last year, Six Senses Ibiza became the first BREEAM-certified resort in Spain's Balearic Islands, and its commitment to sustainable initiatives extends to its brand-new Beach Caves – delivering a healthy dose of guilt-free hedonism.
This dynamic new cultural hub for hotel guests and the local community is a one-stop shop for eating, drinking, dancing and more, with a program that includes art and live music and a focus on environmental and community initiatives.
Dine seafront on local produce with a Latin American accent, order a Los Gatos chicha morada sour at the speakeasy-style bar (the team will donate 1€ to the Happy Hippie Cats sanctuary if you do), kick back at the beach to watch a blazing sunset, and check into a Beach Cave Suite with its ready access to the Mediterranean Sea (and, in the case of the exclusive Cave Royale Suite, to the on-site recording studio, too).
56. Ivens Hotel, Lisbon, Portugal
The Ivens, Autograph Collection is a new Lisbon bolthole designed for modern-day explorers in the spirit of explorers of old. Housed within a historic building, its interiors festooned with tropical plants and patterned with exotic flora and fauna might transport you to a far-flung jungle, and the chic and sunny lime-green Terraza will whisk you to a 1960s Italian movie, but its Chiado location primes you for exploring the urban jungle of the Portuguese capital itself.
57. A culinary tour of Barcelona, Spain
Barcelona makes for a flamboyant backdrop for a culinary tour of the Catalonian capital on a sun-splashed summer's day. Although the bohemian barrio of El Poble-sec translates to 'dry village' (due to the fact it once lacked water sources), it's my go-to place to pause for a glass of vermuteo and plate of papas arrugadas (wrinkled potatoes) at Celler Cal Marino (housed in a former fizzy drink factory). The atmospheric bar is a short walk away from El Raval, the rapidly gentrifying red-light district.
As well as being the best place in Barcelona to appreciate street art, El Raval is dotted with great al fresco cafes, bars and eateries such as 360° at Hotel Barceló Raval, which offers one of the most panoramic views of the city skyline, cocktail in hand.
By Carla Grossetti
58. The seaside town of Cascais, the Portuguese Riviera
Firstly, an apology. I can't tell you exactly where I ate one of the most memorable meals of my life. The name of the restaurant has faded. In truth, I may never have known it. Countless investigations of the data tucked behind my images reveal frustratingly little. However, I can tell you I was in the Portuguese Riviera, in the seaside town of Cascais.
King Luís I of Portugal was the first to drop a proverbial pin in this waterside gem in 1870. The fishing village prospered in his favour with the royal court and its aristocrats descending to frolic in the crystalline waters and build monumental mansions.
By the time I arrived, less than a decade ago, it was a playground for polo-shirted tourists day-tripping from nearby Lisbon.
It was this particular set of people I was attempting to evade when I stumbled across that exquisite meal. Attempting to stay in the shadows of pastel-hued walls to escape the summer heat, I accidentally meandered deep into a residential area of Cascais.
Hunger eventually dictated I dine at what I can only describe as an ultra-locals club. This place was not here for the tourists. English was minimal, tables were plastic and the food was defiantly unadorned. Garnishes be damned. Instead, a boiled potato rolled around in all its perfectly bland glory on the standard-issue plate.
But… the seafood. Simple and slashed with a knife to hasten cooking over the grill, with a blackened lining where the flames had caramelised the meat. A sausage, concertinaed like an accordion, dark red, glistening and in harmony with the opaque squid and sweet prawns. So brutish was the meal's plating that it seemed almost to have been cooked in contempt, but quite the opposite was true. Every care had been taken to honour the bounty plucked from the waters of Cascais.
Although all useful details have ebbed into deeply irritating obscurity, the flavour memory remains in my palate. It's tucked away as an ode to the gems unearthed when we allow ourselves to be lost somewhere else.
By Lara Picone
LEAVE YOUR COMMENT