Top places to chase the sun in Central Europe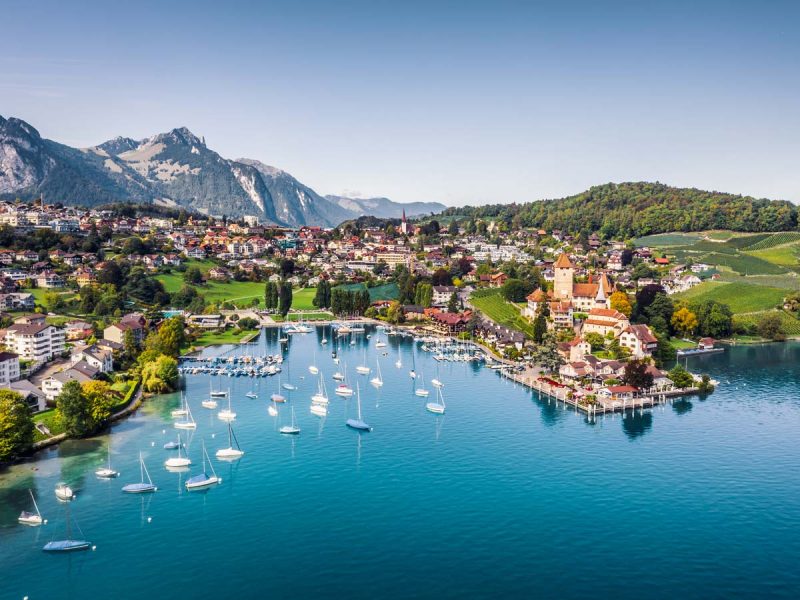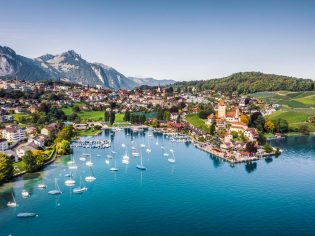 Discover the underrated summer destinations in Central Europe.
Bavarian villages, old castle towns, glittering cities, and a whole lot of walking are to be expected when exploring the landscapes of Central Europe. Dominated by the Alps, these mountainous regions offer natural beauty so picture-perfect, so fairtytale-esque, that narrowing down our choices to just one place per bullet seemed borderline offensive. Thus, we've chosen a diverse set of five places to chase the sun that are sure to maximize your European delight.
Read about all 100 places to chase the sun around the globe here.
59. Summer walking tours all along Central Europe
You've conquered the Cinque Terre and tackled Tour du Mont Blanc; so now what? It could be time to take those well-worn hiking boots a little further afield with these summer-friendly walking tours that are mostly in Central Europe.
Walking in the Salzburg Lake District by The Natural Adventure
Why twirl and yodel when you can walk with purpose and see the highlights of Austria's picturesque Lake District across an eight-day visual odyssey? This easy walking holiday offers alpine lakeside trails, mountain scenery and traditional village settings, with accommodation on a B&B basis.
The Seven Rila Lakes by Traventuria
Not up to a multi-day hike? Bulgaria's most famous hike across the Rila Mountains can be done on a chairlift, its peak revealing the drama of the region's seven glacier lakes.
Explore Croatia and Slovenia by Walkabout Gourmet Adventures
Two stunning countries and a variety of landscapes that include Croatia's Plitvice Lakes National Park and Slovenia's Julian Alps over 14 days sounds wonderful enough. The luxury accommodation and meals complete the picture.
Iceland Cultural Walking Adventure by Classic Journeys
Black-sand beaches, ice caves and geothermal pools are all covered in this six-day adventure led by descendants of 9th-century Vikings. It's not all rough-and-tumble; farm-to-table cuisine, luxury digs and additional daily activities such as horseriding are also included.
Bohemian Paradise by On Foot Holidays
After days spent indulging in Prague's cultural delights, strike out on this six-night trail which takes in a landscape of meadows, pine forests and more than a fair few castles. Kicking off in Turnov, Czech Republic, hikers can expect to punctuate their days with beer-focused pit stops.
You might also want to consider: The eight-day Life's an Adventure Portuguese Camino pack-free walk or Macs Adventure's Best of Skye in Style five-day walk on the charming Scottish island.
By Dilvin Yasa
60. Beer Gardens in Berlin, Germany
Gritty, graffitied and grafted with diverse subcultures, Berlin doesn't always top the list for a European summer escape. Yet, there is something so wonderful about this time of year. For instance, strawberries with flavour so intense they're almost a caricature. Pair them with cider from a corner shop and enjoy on the street as you watch Berlin life amble along. Or loll about the poolside parklands in Sommerbad Kreuzberg, just a step off the Prinzenstraße train line, to beat the heat while you soak up this area's hip vibes.
Naturally, there are also plenty of incredible beer gardens. Here are two of the best to try:
Luftgarten Bier & BBQ
Stretch out in the sun of the Tempelhofer Park, home to the now defunct Tempelhof Airport, which during the Second World War found inevitable infamy. Tour the incredible neoclassical airport terminal with its vast, fascist-style wings, before making your way towards Luftgarten Bier & BBQ. Sunshine, beats and bratwurst make this sprawling garden a very solid option for whiling away some summer hours. If you are entering from the airport side, we do recommend a bike, as it's a long, hot walk to find refreshments.
Cafe am Neuen See
Tiergarten is the green lung of central Berlin. This beautifully verdant park is a popular spot for Birkenstock-ed Berliners who come to play on the lush greens, picnic and participate in events. But do not leave the park without stopping for a pint at one of this city's most picturesque beer gardens. Lakeside Cafe am Neuen See is no secret, so make sure you arrive at this waterfront spot early enough to nab a table under the lush canopy, where you can watch punters glide out on adorable red rowboats to work up a thirst.
By Lara Picone
61. Oerol Festival on the Dutch island of Terschelling
The 70-kilometre-long Dutch island of Terschelling in the North Sea is a sliver of paradise. It has wide ocean beaches backed by sand dunes, pine forests, wildflowers and bird-filled wetlands, and lime-green pastures dotted with sheep and cows, all of which are easily accessible via a filigree of bicycle paths.
During the summer solstice, the Oerol Festival (one of Europe's finest landscape arts festivals) builds a temporary ideal society with dance, theatre and music performances, storytelling and art installations in the island's dunes, forests, barns and historic villages. Its themes are based on our relationship with each other and with the environment and underpinned by a celebration of kindness and care for all living things.
Savour the long hours of sunlight well into the evening on the terraces of beach pavilion restaurants such as the bright blue Zandzeebar and the Heartbreak Hotel, where the spirit of Elvis lives on in its music and food offerings.
By Susan Gough Henly
62. A perfect sunny weekend in Zurich, Switzerland
I didn't mean to arrive in Zurich on the day of the world's largest techno-parade, but here I am, trying to find the cathedral with the Marc Chagall windows, Fraumünster, while weaving between throngs of high-spirited partygoers.
From this festival atmosphere to the 1200 public water fountains that come into their own when the heat is turned up, this is a city that knows how to do summer. People lie under willow trees on the grassy flanks of Lake Zurich and seek dappled shade along the banks of the Limmat River, feet dangling in the cool water. And they while away hours at the many outdoor pools that reflect the city's tradition-rich bathing culture.
Visiting a badi is an integral part of daily life in summer and I see it play out the next day when I head to Seebad Utoquai, a 19th-century bathing house right on the lake. Locals sunbathe on the wooden upper terraces. They jump and dive into the clear, mild water. They read books and the Sunday papers.
I swim out to a raft anchored in the lake and rest for a few minutes – mountains on the skyline in one direction and the outline of the medieval Old Town in the other. Two swans idle past, as leisurely as this blue-sky day feels.
By Imogen Eveson
63. St Anton am Arlberg, the Austrian Alps
St Anton am Arlberg is best known for being a winter destination and the region that pioneered the Arlberg technique, which revolutionised downhill skiing. But flick the switch to summer and you'll find the weather in this pretty Austrian village is positively glorious: rent an e-bike, find a yoga class, go on a mountain hike, and meet with likeminded nature lovers from around the world who are interested in active experiences that offer plenty of breathing space. Wander along the Wonder Walking Trail to the fairy-tale Sennhütte for lunch and you'll find rushing streams, locals wearing lederhosen and cows dotted around flower-filled meadows in the alpine environment. It's like popping up out of the pages of a storybook.
LEAVE YOUR COMMENT