Jeju Island – the South Korean island you need to know about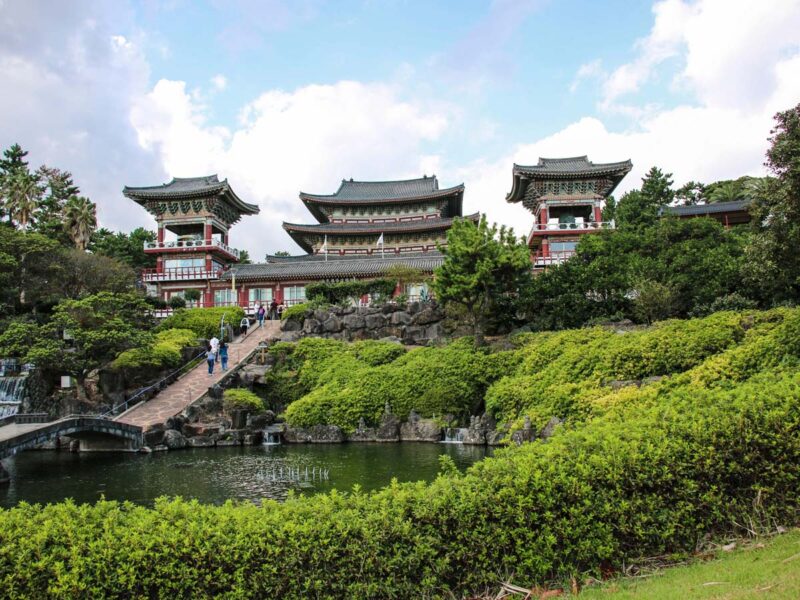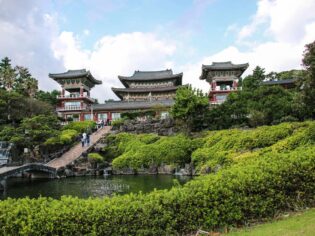 Shaped by goddesses and gods, Jeju Island sits at the southern tip of South Korea – a jagged unpolished jewel waiting for wanderers to explore its craggy shores and connect with its charming people.
Think of how long you'd like to stay on South Korea's getaway gem – then double it. Healing forests, temple stays, hiking trails, and Korean cuisine will have you wishing you'd booked longer as the eye of 1950-metre-high Mt Hallasan (a UNESCO World Heritage Site) pulls you into its sights. Jeju Island has all the frills, thrills and downtime experiences of a destination that awakens a venturesome spirit – a one-off visit isn't nearly enough. Read on, adventure is afoot.
1. Seogwipo Forest of Healing
Restore your mind and body on one of Seogwipo Forest's 11 healing trails – each with its own health message, from soaking up negative ions to indulging in Shimpang (resting spaces) and listening to meditative stories. Walk on a bed of tiny wooden acupuncture cubes to activate blood flow and relieve tension in the body.
The park is all about healing, lying back on daybeds shaded by cypress and cedar trees, watching woodpeckers overhead as you connect to Mother Earth.
If you plan on exploring all 11 walks, pre-book the Charong Healing lunchbox – a basket of healthy food made by local residents of nearby Hogeundong Village.
2. Yakcheonsa Temple stay
Change out of your civvies and into a monastic tunic and trousers for an overnight stay at Yakcheonsa (medicinal spring) Temple. The well-planned program starts with making mala prayer beads and learning the etiquette of how to bow before entering the highly adorned temple where huge Buddha statues are seated in the lotus pose.
The 108 prostrate bows in the evening give you time to reflect as the head monk's meditative chants hang in the air during prayer time.
The program's 4am mantras continue to teach how important every moment is – nothing lasts forever. It's an immersive window into how tough giving up material assets to embark on a meditative life can be.
3. Tutti Colori Art Studio
Spend a morning calling on your inner artist and let the paintbrush do the talking while you create mini-artworks at Tutti Colori Art Studio. Held in a 100-year-old remodelled stone house you'll sip soothing tea while mixing colours sourced from Jeju's natural landscape.
You'll come away with a rendition of how you see and feel the environment. Nature's soundtracks are paired with your paintings as a reminder of your time on Jeju.
Tutti Colori's brainchild, and owner, Kim Myeong has also designed her own clothing range using inspiration sourced from the surrounding countryside. She sells one-off designs along with beautifully crafted giftware in the studio's boutique gallery.
4. Saebyeol Oreum Volcanic Cone
Don your hiking boots and climb 520 metres above sea level to reach the tip of Saebyeol Oreum – south Jeju's highest volcanic peak. From the top, you'll see other oerum ridges (volcanic peaks) piercing the skyline in an otherworldly landscape. Myth has it, the island's favourite goddess, Grandma Seolmundea, made 368 oerums from dirt that fell through holes in her skirt when she created Jeju Island.
Visit during autumn (September – November) and see the peak swathed in silver grass. Better still, arrive in March, when, on Gyeongchip Day (Day of Awakening), the grass is set alight during the Jeju Fire Festival to cleanse the land of vermin for healthy regrowth. Every year some 300,000 people attend the award-winning scorching spectacle.
5. Jeju Olle Trail
Tie your laces up and connect with nature exploring Jeju's walking trails – 27 in total, including six sub-routes. Each route is graded by distance, time to allow, and difficulty level. If you're a challenge-seeker allow up to four weeks and hike the 437-km long Jeju Olle Trail discovering villages, culture, and wild wonders along the way.
The well-thought-out trails have information centres where you can rest and leave baggage. Make sure to purchase a Jeju Olle Passport. Along each route you'll find stamp stations to mark the trails you've hiked. Stamp every page and you'll be rewarded with a certificate, medal and be inducted into the hall of fame on the Jeju Olle website.
6. The WE Health Resort
If your muscles are calling out for relief after hiking Olle trails, book into The We Health Resort and choose a healing program to bring you back to life. Nestled in the healing Haeam and Dorae Forests, stress will slide away as you reawaken your inner calm.
Tune out in the resort's meditative crystal singing-bowl session or start your morning stretching in the tranquil forest in the WE's daily yoga class. Try the healing hydrotherapy program. Tailored to individual needs, you'll float under soothing lights in a state-of-the-art dome as a therapist massages muscle tightness away. It's so relaxing you'll want to do nothing for the rest of the day.
7. The Museum of Sex & Health
Interested in sexual health? Take a visit to the, adult-only, world's largest sex museum. Humour, history, and sexual culture from around the world are displayed tastefully throughout the museum's many themed sections. Learn about the relationship between life and sex through various stages of life, a subject that's often difficult to embrace and discuss openly.
The museum was established to raise sexual awareness and consciousness in South Korea. With over 5,000 sex-related artifacts on display, various topics are illuminated in-depth to both educate and entertain visitors from all over.
8. Toto Atelier Cooking Class
Jeju Island is draped in countless tangerine farms which produce dozens of different varieties. It's the sweetest citrus fruit you'll ever taste – so it's fitting to make a tangerine flan at Toto Atelier, a culinary cafe set up for cooking classes.
Set in a tangerine farm (of course) you'll pick your own ingredients, then follow step-by-step video instructions in your own mini-kitchen where each ingredient has been pre-prepared. Voila – twenty minutes later, the oven pings with a tangerine tart. Toto Atelier offer other try-cooking choices, but if you have a sweet tooth, try the tasty tart.
9. Arte Museum
Be captivated by the Eternal Nature theme at Jeju's Arte Museum's incredible displays of immersive digital media art that reflect the island's cultural heritage.
Ingenious media-art displays will have you feeling you're in the thick of nature as crashing waves, storms and larger-than-life safari animals roar around you.
In another gallery, painted works by masters such as Vincent Van Gogh float on 10-metre-high walls dwarfing visitors as they look up, awestruck by the revolving scenes; each cinematic scene awakens the senses.
10. Sleep in a hanok – traditional Korean housing
Drift off to the sound of the ocean's ebb in your own private hanok at Korea's first traditional house, Seaes Hotel. Overlooking a traditional fishing village, the hotel's hanoks have been created with one notion in mind – to bring the outside in to create a natural environment.
Crafted using local timbers, the Seaes' hanoks also have heated floors to further enhance your stay during colder seasons. Blended with mod-cons, the restful rooms filter late afternoon light, warming the room for cosy nights while nature's critters croon outside.
11. Hwansang Forest Gotjawaj Park
Hang out in Hwansang Forest, a designated World Natural Heritage site, and learn how the park stays cold in summer and warm in winter due to its unique ecosystem. Gotjawaj Park is formed on lava and is the only place in the world where tropical northern limit plants and boreal southern limit plants coexist.
Wander its leafy pathways or join the hourly program and listen to stories to gain a deeper insight into the primeval forest's rare flora and fauna. If you're feeling weary afterwards, book an aromatherapy foot bath at the forest's cafe, and soak your feet in Jeju's herbal remedies. The floor-to-ceiling window, with views across the park, add to the restorative experience.
12. Haenyeo Museum
A visit to Jeju Island isn't complete without discovering the iconic female free-divers, the Haenyeo. Inscribed on UNESCO's Intangible Cultural Heritage list of Humanity in 2016, the Haenyeo date back to the early 1600s when Jeju Island's (then) barren land produced little food.
To feed families women took to the ocean free-diving up to 20 metres to source seaweed, seafood, and shellfish. The museum not only showcases the Haenyeo's tough perilous lives, but also the unwavering camaraderie they share with each other. Using age-old techniques, the women still dive today. Incredibly some are in their late 80's. Watch the video footage and hear their extraordinary stories – you'll see why they are considered the matriarchs of Jeju's society.
Getting there
Both Singapore and Scoot Airlines fly via Singapore to reach Jeju Island.
LEAVE YOUR COMMENT