A beach lover's guide to the best islands in the Philippines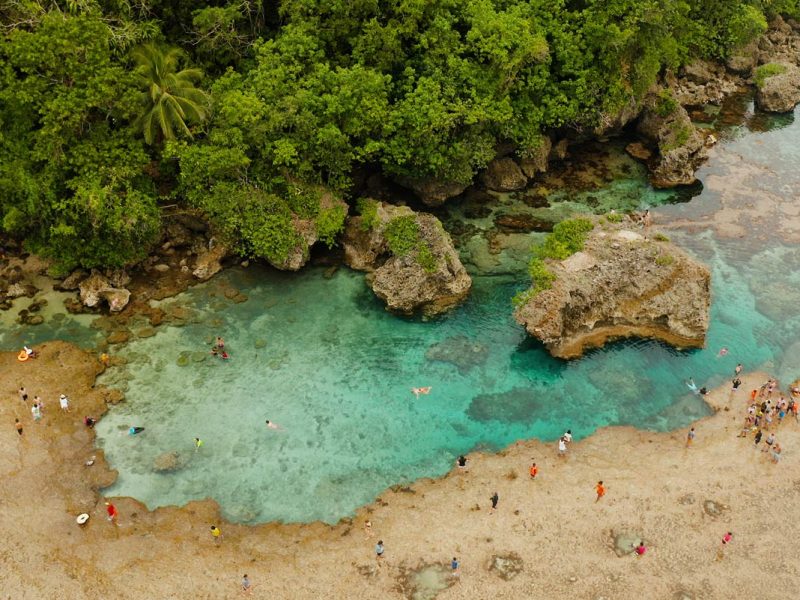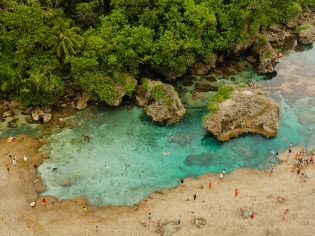 From powdery patches of white-sand beaches to crystal clear waters, the Philippines is overflowing with diverse islands to explore.
It may look like a small group of islands on the map, but the Philippines is jam-packed with over 7,000 interconnecting islands, each bursting with its own luxurious or laid-back holiday beach vibe.
Also called the Pearl of the Orient Seas, this archipelagic country in Southeast Asia sits in the western Pacific Ocean and is mainly divided into three island regions; namely Luzon (north), Visayas (central), and Mindanao (south). Spread across each region you'll find islands that rival the renowned beaches of Maldives and Bali.
Boracay | Palawan | Siargao | Bohol | Cebu
Boracay
Perfect for: Beach bums, adventure seekers, certified foodies, party-goers and families
Long after its pre-pandemic rehabilitation in 2018, the world-famous Boracay island was successfully restored to its glory days, with almost the same ever-glowing turquoise waters and soft white sand that people fell in love with the first time it was discovered in the 70s.
Why you should visit Boracay
Sailing on a paraw, a traditional outrigger sailboat until sundown is what makes Boracay an ideal romantic getaway spot worthy of its title, a "Paradise Reborn." Its calm, undulating blues caressing the four-kilometre stretch of palm-fringed coastline will leave you in awe.
What to expect in Boracay
Capture a blaze of fiery orange hues with the striking sight of the sun sinking below the vast ocean horizon. Consecutively dubbed the world's best island by the readers of the New York-based magazine Travel + Leisure, Boracay presents a mix of luxe and unhurried island lifestyle with its quaint beachside cafes, pubs and hotels serenely queued along the shore.
Best things to do in Boracay
Meet the sky in an endless expanse upon setting foot on Boracay's fine and powdery white sand shores. Hop on a stand-up paddle board or ride a crystal kayak and let the local boatman photograph you like a goddess of the sea.
Ditch the island-hopping tour and go on a sunrise bike tour away from the crowds to Boracay's hidden beaches. Get ready to traverse an 18-kilometre uphill and downhill trail to the Boracay Keyhole Rock Formation, a spectacular sea arch with waves gently crashing on the rocks.
The sun rises idyllically over the lush canopy of Lugutan Mangrove Park. The eastern side of Boracay is home to Bulabog Beach, the windy side of the island where kite surfing is a popular sport. At dusk, catch the golden hour as you journey over the cliffside footpath towards Diniwid Beach, a hidden white beach with villas nestled atop a hill.
Where to stay in Boracay
The famed island of Boracay has plenty of accommodation options lined up in the White Beach area. From boutique hotels to elegant contemporary beachfront stays, you'll be spoilt for choice here. The tourist-filled stretch of powdery white sand is divided into three parts: Stations 1, 2 and 3.
Station 1 for luxury beachfront hotels: Home to the whitest and purest sand on the island, Station 1 is Boracay's primary location perfectly laid out with posh luxury hotels. Discovery Shores is one of the five-star beachfront hotels in Boracay with exquisite suites located less than 500 metres from Willy's Rock, a huge rock formation standing on the shallow waters of the beach.
The Lind Boracay, a lavish five-star hotel, comes with exclusive beachfront amenities and is a go-to spot for celebrities and newlyweds dreaming of a beach Boho-inspired honeymoon. Then there's Hennan Crystal Sands, the plushest offering from the Hennan hotel chains, notable for its rustic and modern earthy room interiors with an array of pools overlooking spectacular sea views.
Station 2 for mid-range resorts: If you're the type of traveller who would rather spend money on food and experiences than stay in an expensive resort, then go to Station 2 for budget-friendly stays. Plus, you'll be located right in the heart of all the island has to offer.
A chic mid-range offering, the Hennan Lagoon Resort stands out among the rest with its modern, Asian architecture and 1,200-metre-long lagoon pool. For an economical but stylish option, you may opt to stay right beside the famous D'Mall shopping centre. The Tides Hotel, a boutique resort with a rooftop pool and luxe rooms is just a few steps away from the beach.
Station 3 for laid-back stays: The calmest part of Boracay is fringed with bent coconut trees casting shade on the shoreline. Picture azure waters and tall palm trees swaying peacefully to the warm sea breeze. Feel the sand beneath your toes before taking your morning dip right outside your island retreat.
Nestled beneath lush tropical greenery, Villa Caemilla is a four-star beach lover's paradise perfect for those in need of tranquillity and peace of mind. Have your breakfast served right by your room's verandah or downstairs at the restaurant facing the beach. A few steps away from Villa Caemilla is Boracay Ocean Club, a whitewashed property where blazing fire dance performances happen at night next to its expansive outdoor pool.
Station Zero at Punta Bunga Beach: Situated on the other side of the island, this secluded gem is Boracay's most exclusive location with a separate but equally captivating beach dedicated to its guests. Opened in 2017, the Crimson Resort and Spa Boracay is a 3,000-square-metre property with spacious bedroom villas equipped with their own plunge pools. You can reach the resort directly via a private seaplane.
Boracay Newcoast: The newest 15-acre property development on the island houses top-rated hotels and world-class resort offerings reminiscent of Miami Beach and Santorini in Greece. One of Newcoast's sleek offerings, the Belmont Hotel, is a four-star hotel with 442 rooms, a tiki bar, a wellness spa, an outdoor pool and a fitness centre. You'll also find Savoy Hotel, a stylish contemporary retreat featuring Boracay's first and biggest concert pool arena.
Where to eat and drink in Boracay
Hop from one cafe to another to quench your thirst and hunger after your day-long island musings. With several cafes and restaurants on the island, crowds of tourists can be a bit overwhelming from midday until the wee hours of the morning. Might as well bask in the island's local food culture, where you can always opt for paluto, the Filipino term for cook-to-order meals. Locals will tempt you to try their seafood dishes including freshly cooked squid, shrimp, gigantic crabs and lobsters.
Sunny Side Cafe is a must-try, with two beachfront branches in Stations 1 and 3. The minimalistic cafe serves hearty breakfast favourites and specialty coffees from sunrise to sundown. If you're craving something tangy, nab a million-dollar-view seat at Real Coffee and grab a bite of calamansi muffin with Philippine lime extract, the best pastry companion to your afternoon coffee.
Just one station from Real Coffee and Sunny Side Cafe is Cafe Maruja, a cosy and laid-back cafe in Station 3 that strongly emulates a tropical island vibe with its patterned cushions and lounge chairs. Don't miss out on their healthy smoothie bowls with acai berries and signature Maruja house burgers. Cap it off with Coco Mama's vegan-friendly coconut ice cream or Halomango's ice cup with soft-serve ice cream with sliced Philippine mangoes, both are perfect refreshments on a hot summer day.
Palawan
Perfect for: Adventure-seekers, honeymooners, digital nomads and backpackers
The blissful islands of Palawan and its see-through waters are calling your name. Towering limestone formations underneath the emerald green and azure blue seascape calmly rush over pristine white-sand beaches binding this dreamy coastal province.
El Nido
Immerse yourself in the serene and dazzling glass-like lagoons in El Nido, one of Palawan's most treasured wonders. Off the northernmost tip of mainland Palawan is Bacuit Bay, which consists of karst landscapes and a total of 45 exquisite islands and islets. Among those are the enchanting Miniloc Island and Snake Island, an S-shaped sandbar that connects to another island.
Coron
The charming island town of Coron looks like a painting out of a postcard. It's the dramatic cliffs, coral gardens, enchanting rock formations and World War II shipwrecks beneath the emerald waters that morphed Coron into a unique paradise of its own. The waters are so clear that it glistens majestically from your boat's viewpoint. Don't miss Coron's little Boracay known as Malcapuya Island, and the refreshingly green but clear waters of Kayangan Lake, one of the cleanest lakes in Asia.
Balabac
Explore further south of Palawan to the remote and barely touched islands of Balabac, just three hours away from Sabah, Malaysia. While El Nido and Coron often garner accolades in the international scene, Balabac is an emerging beach destination that is equally captivating. Deemed the "Last of the Last Frontier", the Balabac group of islands is home to vanishing sandbars and marine sanctuaries that serve as the breeding ground for sea turtles.
Why you should visit Palawan
If you're looking for the closest place to heaven on Earth, I'd point you to Palawan. Even the UK-based travel magazine Wanderlust agrees; hailing Palawan as the most desirable island in the world.
What to expect in Palawan
Palawan is a secluded spot in the Philippines with untouched islands and beaches that are yet to be discovered. It is dotted with dramatic limestone formations carved by mother nature thousands of years ago. Yet there's no stopping this island province from bagging accolades as an emerging international travel destination.
Best things to do in Palawan
A day or two won't be enough to tour Palawan's majestic islands and scenic coves. Go snorkelling along its abundant coral reefs to spot sea turtles, jump from the towering cliffs into El Nido's enchanting lagoons, go kayaking, or simply hang at the beach until sundown.
Where to stay in Palawan
While a majority of its islands remain untouched, Palawan is now dominated by numerous lavish resorts tucked away on its most exclusive islets and beaches. Perched on a private beach in Bulalacao Island is Two Seasons Coron Island Resort and Spa. Its shores serve as a hatching area for turtles and a giant clam sanctuary.
Peacefully situated on Bacuit Bay, Pangulasian Island of El Nido Resorts is a luxurious eco-sanctuary featuring treetop canopy villas. For backpackers, you may opt to stay at hostels and inns near the mainland.
Set between palm trees and a fishing village is Mad Monkey Hostel, a laid-back beachfront accommodation on Nacpan Beach. Come nighttime, get acquainted with fellow travellers over beer and live music.
Where to eat and drink in Palawan
From Filipino-grilled specialties to Mediterranean cuisine, El Nido and Coron are both known for their diverse food scene. Head to Trattoria Altrove to taste the best truffle bacon pizza in town or savour seafood dishes like ceviche or raw salmon with citrus juices at The Nesting Table, a bayside restaurant overlooking the scenic Bacuit Bay.
Pull up a chair at the hippest beachside bars in El Nido and chill out with a cocktail in hand while staring in awe at the distant limestone cliffs. Let loose at SAVA Beach bar and dance the night away with its eclectic and quirky beach vibe. Head to Pukka Bar, a late-night beachfront bar perfect for a night-filled upbeat reggae dancing. For a casual and cosy sundowner, simply settle down into Republica Sunset Bar's romantic sunset ambience for happy-hour cocktails and Spanish tapas.
Siargao
Perfect for: Surfers, adventurers, nature lovers and digital nomads
With barrelling waves drifting over remote beaches and lush foliage of coconut woodlands, suddenly you're transported to Siargao, a dreamy tear-shaped island situated in the southernmost part of the Philippines.
Why you should visit Siargao
Siargao is nothing short of a dream. With its pristine white sands and sensational waves, what more could you wish for?
What to expect in Siargao
Be prepared to be awestruck with the unspoiled charm of this island province. While deemed a surfing capital, its world-class surf breaks are only half of the picture. Siargao has plenty more to offer, from incredibly turquoise-hued rock pools to palm-fringed islets.
Best things to do in Siargao
Get your surfboards ready to catch some consistently gigantic waves that are starting to swell from late August to October. Cloud 9 is the most popular surfing spot on the island where surfers huddle up at sunrise to ride gnarly waves for hours on end.
Non-surfers prefer exploring the colourful reef-covered islands of Naked, Daku and Guyam where you can walk barefoot and unbothered on the fine white sand beaches. Rent a motorbike to stroll the rest of the island's hidden gems like the tidal-dependent Magpupungko Rock Pools, and climb the jagged rocks for the ultimate cliff-jumping experience. Kite surfing and paddle boarding are also must-try water activities to pump up your island adventure.
Where to stay in Siargao
Full-on surf camps run accommodations exclusively for those signing up for a surfing lesson in Siargao. Just hail a motorbike and tell the driver to drop you off at Kermit Siargao, Buddha Resort or Harana Surf School with bunk beds for backpackers and deluxe rooms for families. These surf schools run island accommodations that provide lessons and board rentals for those eager to ride the ripples.
With sustainability in mind, the resorts in Siargao mostly offer beach cabanas and glamping options with organic wastewater systems while upcycling all plastic disposables. Experience barefoot luxury at Nay Palad Hideaway, the only five-star resort on the island and among the most expensive accommodations in the Philippines. For honeymooners, spend your romantic getaway at Bulan Villas Siargao, a Bali-inspired resort with modern nipa hut-styled villas.
Where to eat and drink in Siargao
Siargao is a certified local foodie destination for unfussy eaters in the hip beach town of General Luna. If you're health conscious, several restaurants offer vegan options and greens on their menu made from locally sourced ingredients. Order daily smoothies with homemade granolas and fresh fruits at Shaka Café near Cloud 9 to power up for a day of riding the waves. Or head to Kermit Siargao for a tasty and satisfying brick oven pizza, which is arguably the best on the island.
Bohol
Perfect for: Nature lovers, diving enthusiasts, adventurers, history buffs and beach bums
In Bohol, smooth and grassy limestone mounds turn dry during summer and evergreen during the rainy season. Dotted with a thousand cone-shaped hills, this countryside hideaway comes with lush canopies of greenery and dense rainforests that are home to tarsiers, the smallest living primates in the world.
Why you should visit Bohol
Bohol blends a charming mix of culture, luxury, beachside escapes and countryside adventures. Sprawling across the vast foliage is a strong cross-cultural heritage of the Boholano or Bol-anon people. Century-old churches and structures relevant to Philippine history conceal the iconic streets of Tagbilaran City, the central hub of business and commerce in the island province.
What to expect in Bohol
Get ready to embark on a river cruise along the emerald, green waters of Loboc River whilst being serenaded by folk singers aboard a traditional raft. An ultimate island-hopping experience awaits you, with the pristine Panglao beaches as the main drawcards. And if you're exceptionally lucky, you'll spot whales circling and gliding gracefully past your mid-sized boat.
Best things to do in Bohol
Nature tripping in Bohol is a must if you're itching to immerse yourself in serenity. Climb up the viewing deck of the famed Chocolate Hills to appreciate the majestic geological formation.
Drop by the Bilar Man-Made Forest for a quick photo op behind scenic Mahogany trees as your backdrop. Sign yourself up for an island adventure and visit Pamilacan Island and Balicasag Island to spot sea turtles up close.
Where to stay in Bohol
Some of the best remote luxury resorts in the Philippines are found on the pristine beaches of Panglao Island. Find yourself disconnected from the outside world at Mithi Resort and Spa, a top-rated beachfront spa resort offering island villas perfect for honeymooners. Another luxury wellness spot is the Eskaya Beach Resort & Spa, with elegant villas nestled on a 600-metre private beach.
Where to eat and drink in Bohol
Past the pristine beaches and lush greeneries in Bohol are restaurants serving homegrown eats and best-kept recipes. Head to Gerarda's Family Restaurant for original Filipino favourites such as seafood kare-kare (peanut stew) and kinampay (purple yam jam). For gluten-free alternatives, nab a spot at Shaka and try their vegan burgers and colourful smoothie bowls. More farm-to-table meals are served at the Bohol Bee Farm; try their chicken glazed dish and pasta best enjoyed with tomato and spicy ginger ice cream.
Cebu
Perfect for: Divers, adventure seekers, beach lovers, history buffs, foodies and families
The oldest city in the Philippines is steeped in history and Spanish tradition dating back to the arrival of Portuguese navigator Ferdinand Magellan in 1521, the same period the first Catholic Filipinos were baptised. But more than the city's historical wonders, its coastal province is brimming with diving hotspots and white-sand beaches.
Why you should visit Cebu
Of all Cebu's cultural attractions, the vibrant and lively Sinulog Festival is the main highlight that draws tourists back. Packed with street parties, it's deemed one of the biggest and most extravagant Catholic festivals in the Philippines honouring Cebu's patron saint, Santo Niño.
There are plenty of things to love and rave about in Cebu; not to mention the zesty dried mangoes and must-try Lechón (spit-roasted suckling pig). Amid the city's thriving food scene are the sprawling beach resorts beautifully laid out on its majestic islands.
Rising from the depths of Malapascua Island are thresher sharks; they don't shy away from human interaction and will happily welcome divers who swim with them. But perhaps, the true spectacle happens at Moalboal, where hundreds of sardines gather to feed on plankton.
What to expect in Cebu
Touring around Cebu will lead you to its ancestral homes and colonial architecture which have been well-preserved through the years. A visit to Magellan's Cross and the adjacent Basilica Minore del Santo Niño de Cebu is a must for lovers of history. You'll gain more insight into the Cebuano culture with its blend of Chinese and Spanish heritage at the Yap-San Diego Ancestral House and Casa Gorordo, which were built in the 1680s and 1850s respectively.
From the bustling city centre, get ready to traverse the path to Cebu's mesmerising beachside towns. Expect to set foot on the pearl-white beaches of Bantayan Island and Virgin Island; reminiscent of the famed Boracay Island. Be prepared to hop from one island to the next to see beneath the crystal clear waters and hot dive spots.
Best things to do in Cebu
Go on a canyoneering trip to the multi-tiered Kawasan waterfalls in the town of Badian off the southwestern coast of Cebu. It's a mix of climbing and trekking down the freshwater streams and massive jungle canyons. Jump off the cliff and dip into the refreshingly turquoise blue waters of the falls. Island hopping is definitely a must if you're eyeing to explore Cebu's underwater wonders. Swim and dive among sea turtles, barracudas, sardines and occasional thresher sharks.
Where to stay in Cebu
Stay at the world-class Shangrila's Mactan Resort and Spa, a five-star exclusive beachfront resort with grand suites designed with Filipino-themed interiors that are set on a 400-metre white sand beach between manicured gardens.
Soothe your tired muscles at the CHI, a secluded spa at Shangrila Mactan that incorporates Mactan synergy scrub massage treatments. A few steps away from the resort is Mövenpick Hotel, a Mediterranian-inspired resort featuring the hippest Ibiza Beach Club where you can dance the night away.
Where to eat and drink in Cebu
The popular Cebuano's ultimate roasted suckling pig or Lechón is deeply ingrained in the diverse cultural identity of Cebuanos for generations. Head to Rico's Lechon and the House of Lechon for the best-tasting crackling spit-roasted suckling pig in town.
There are also budget-conscious foodie boltholes in the Carcar public market for cheaper but tasty Lechon variants. If you're in the mood for a seafood feast, go to Lantaw Native Floating Restaurant and enjoy freshly cooked scallops and grilled tuna. Don't miss out on the Filipino dessert staple called Halo-Halo, a milky mixed fruit snack with finely crushed ice.
Stare in awe at the city skyline while popping a bottle of wine at Seda Central Bloc's Straight Up roof deck bar. If Seda Central's too crowded, you can head to The Social Cebu instead, a cafe, music hub and bar that serves the finest wines and local beers.
Ready to book your island adventure in the Philippines? Experience a tropical beach getaway like no other and bask in the serene postcard-worthy views surrounding the archipelago.
LEAVE YOUR COMMENT