5 of the newest sustainable hotels in Bali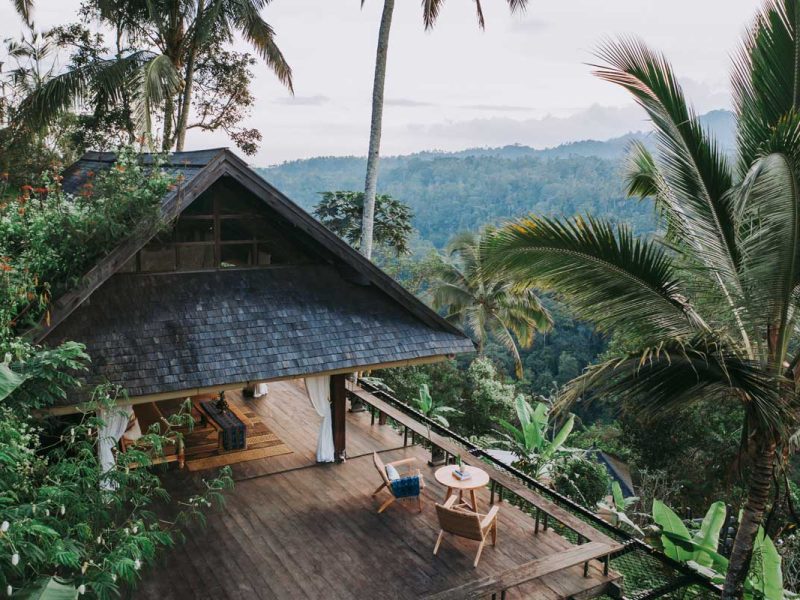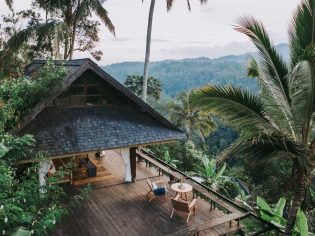 Bali's tourism ministry is now encouraging visitors to ditch 'sun, sea and sand' for 'serenity, spirituality and sustainability'. Here's where to find it without leaving your hotel.
Lying in bed watching fireflies flit past your villa, tucking into flavour-packed feasts driven by the onsite permaculture garden and connecting with local culture on a deeper level… this is what eco-luxury lodging looks like in Bali in 2023. And we're here for it.
Returning visitors will notice a sustainable shift in the Bali experience, with zero-waste eateries and ethical boutiques now popping up across the island, along with hotels embracing not only a more holistic approach to sustainability, but also a regenerative one.
"We wanted to create something where we could confidently say, because of us, things are getting better around us," says Aska Hamakawa, co-founder of Mana Earthly Paradise – an Ubud eco retreat that in 2022 became Southeast Asia's first hospitality B Corp.
"Bali has so much potential to be an example to the world, and I hope in the coming years we'll start to see more effort from every sector to make tourism more sustainable," she adds.
Here are five of Bali's newest hotels following Mana's positive-impact lead.
1. Lost Lindenberg
Where: West Bali
Follow the coastal road northwest of Canggu and the concrete jungle soon gives way to a patchwork of lurid rice paddies and spindly coconut palms that stir memories of a Bali before the beach clubs arrived.
Putting a sustainable spin on the utopian fantasy with eight treehouse-style rooms floating above a rewilded jungle property is Lost Lindenberg. One of just two Bali retreats in Small Luxury Hotels of the World's Considerate Collection recognising actively sustainable accommodations, this minimalist-chic eco lodge feels like a natural extension of the local village of Pekutatan.
Community is, indeed, at the heart of Lost Lindenberg. Heavily involved in the lodge's design process, locals now hold meaningful staff positions and host local tours, with the wider community regularly invited to events ranging from surfing competitions to barbecues on the property's black-sand beach.
Made for social travellers, Lost Lindenberg guests are encouraged to embrace the lodge's collective concept and mingle with fellow holidaymakers in common spaces including the elegantly understated dining room, where wholesome plant-based meals are served at a communal, sustainably sourced wooden table. Solitude can be savoured at the rustic spa, with e-bikes and e-scooters available for exploring further afield.
2. Potato Head Suites
Where: Seminyak
Potato Head has evolved into one of the island's most innovative hospitality businesses since arriving on the scene in 2010 as one of Bali's first beach clubs. Its 2022 reincarnation of the Brutalist-chic Katamama Hotel furnished this 'eco village' with 58 artisan-led suites.
The brand's sustainability journey began in 2016 when its Indonesian entrepreneur owner Ronald Akili found himself surfing in knee-deep plastic. Exploring creative ways to morph waste into stylish and useful objects is now a key focus at the onsite Waste Lab, which hosts free sustainability workshops (open to non-guests).
After a few days padding around your traditional terracotta-tiled suite in biodegradable coconut husk and palm leaf slippers and exploring the local area toting your complimentary zero-waste kit, it's easy to forget plastic ever existed.
And if you're flirting with vegetarianism, Australian chef Dominique Hammond's plant-based degustation at onsite restaurant Tanaman might just seal the deal. Also housing 168 studios alongside a slew of wellness, music and gallery spaces, Desa Potato Head was Asia's first hospitality company to be certified carbon-neutral in 2017.
With the brand now focusing on more impactful strategies to prevent emissions (rather than simply offset them) such as mangrove-planting projects, its 'good times, do good' philosophy has never felt more apt.
3. Buahan – A Banyan Tree Escape
Where: Ubud
Who needs Netflix when you can watch fireflies dance on the tropical breeze as you drift off to sleep? Certainly not at Buahan – A Banyan Tree Escape, which reinvented the luxury hotel concept with its 'no walls, no doors' idea carried throughout the jungle property near Ubud, including its 16 spacious balés (villas).
Encouraging guests to commune with nature on a whole new level (with mosquito nets providing a welcome buffer), the resort's game-changing design forms part of a meaningful commitment to sustainability that only enhances the guest experience.
Notice it in the quality of the local craftsmanship, from the hand-carved wooden headboards to the natural-dyed furnishings; taste it in the freshness of the wholesome dishes served up from the zero-waste kitchen, where produce is sourced from within an hour of the property; and embrace it on a range of local-led experiences helping to safeguard ancient traditions, from a crash-course in the art of loloh (traditional Balinese medicine extracted from nature) to spiritual healing guided by a Balinese priest.
If you're unsettled by the possibility of sharing your loo with a frog, Buahan may nudge you out of your comfort zone. But for adventurous visitors with cash to splash mindfully, this first property in a new tier of sustainability-focused wilderness retreats is a memorable place to do it.
4. Desa Hay
Where: Canggu
Entranced by Bali's beauty and culture, Canadian couple Scott and Julia Kowaleski and their son Josh set about finding a way to share their love for the island with visitors – without contributing to its problems.
The result is Desa Hay, a six villa stay just 10 minutes from the heart of Canggu. Stepping through the hand-carved door into the lush private garden cocooning your meticulously designed, ultra-energy-efficient pool jabu (Northern Sumatra-style villa), you'd never know this is the family's first foray into hospitality.
Thoughtful touches such as the copy of Tresna (the first book in a memoir series by Canadian-born Frances Tse Ardika, the first foreigner to become a Balinese temple priestess) gently encourage a more mindful Bali holiday experience.
Also part of the SLH Considerate Collection, Desa Hay supports the IEPD Foundation-led construction of rainwater-fed 'recharge wells', designed to regenerate Bali's shrinking water table and the schooling of disadvantaged children via a scholarship fund.
Look as hard as you can, but you won't find a skerrick of single-use plastic. And with all water treated onsite, this might be the only hotel in Bali where you can safely drink from the tap. Add to that a relaxed restaurant and bar fringed by a serene communal pool, and Desa Hay makes a strong case for spending your entire stay on the premises. It has a similarly sustainable sister retreat (Munduk Cabins) in north Bali's highlands, too.
5. Anantara Ubud
Where: Ubud
Big hotel groups are often criticised for a sluggishness to implement (and meet) meaningful sustainability targets, yet even small steps taken across entire chains can have substantial impacts. One larger hotel group doubling down on its sustainability goals in 2023 is Anantara, which in January released a Sustainability Charter outlining a commitment to ramp up sustainability initiatives across its portfolio and chart its progress transparently.
Spilling down a lush hillside near Ubud, the brand's newest property, due to welcome its first guests in June 2023, embodies this deeper commitment with initiatives ranging from an onsite water-purifying and bottling facility to energy-efficient technology and a clutch of restaurants showcasing organic produce from the resort's own chef's garden.
John Roberts, group director of sustainability and conservation at Anantara, confirms there's also a long-term conservation initiative in the pipeline for the 66-room hotel – a Sustainability Charter objective for all nature-based properties. So you can feel better about kicking back in your stylish pool villa and indulging in an array of Balinese-inspired treatments at the Anantara Spa.
LEAVE YOUR COMMENT