11 reasons to visit Bali Zoo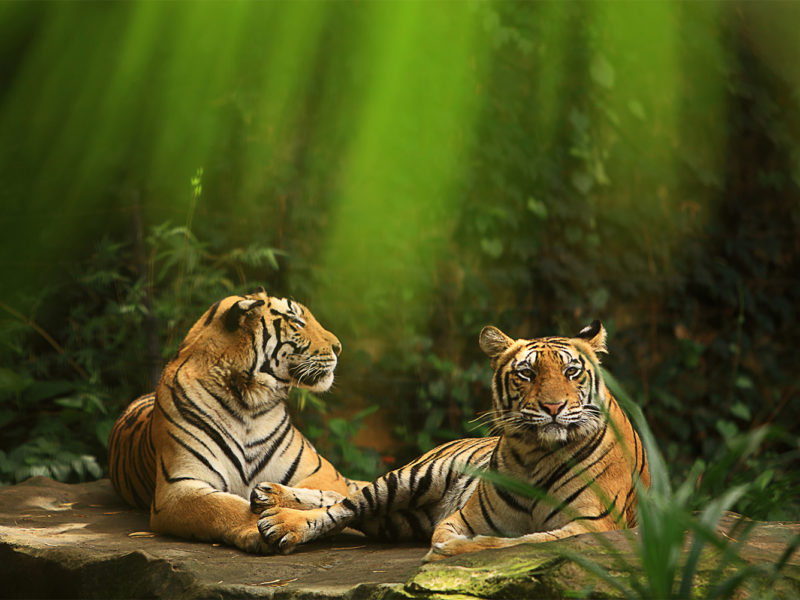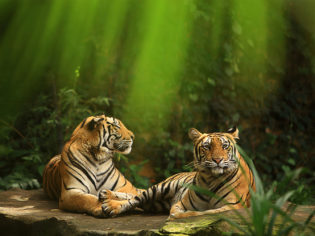 Encountering exotic flora and fauna is a fascinating element of any visit to a foreign country.
Bali Zoo, home to over 500 animals of more than 60 species, is set amidst 10 hectares of cooling, verdant tropical gardens. We've come up with 11 reasons why you should visit on your next trip to our nation's favourite holiday destination.
1. Free-ranging animals
The roaring of a lion echoes in the air as we wander through the entrance gate. The small herd of deer who greet us are unperturbed by the roar or by our attention. Even when we stroke their fur they stand still, accepting the pats. A lone albino peacock strides along, cool as a cucumber, without displaying its tail feathers. A wallaby with a joey in her pouch stares at us (almost doe-eyed), calm and observant, while the baby crawls in and out of his cosy home. The animals are healthy and content; a fabulous welcoming committee.
2. Orangutan breakfast
When we arrive at the breakfast pavilion, we have a dozen options: mee goreng, croissants, fruit, eggs, coffee, tea. It's the usual high standard breakfast buffet fare but, although we are hungry, we're not really there to eat. We've come for an orangutan encounter.
A keeper brings out Dara at 8am on the dot. Apart from the snacks she receives from her trainer, she is not eating breakfast. Her job is to entertain us while we do. And entertain us she does. There are ropes leading from the platform to trees and poles around the area.
As we approach her, the keeper warns us to remove our sunglasses and hats. "She's cheeky. She'll take them," he laughs. As the kids hang back, the orangutan reaches for my hand and before I know it she's pulling me close to her and holding both my hands with her leathery palms, her feet resting on my stomach gently before she pushes off and swings along the rope a little.
At one point she breaks away, darting over to the nearest table scattered with someone's breakfast remains, and grabs a croissant. The keeper moves quickly to reign her in; this kind of monkey business is not allowed.
Slowly, the kids edge forward and take hold of her leathery hand too. Their faces beam, filled with wonder at being able to touch this animal with which we share 97 per cent of our genes.
3. Feed the elephants
Two Sumatran elephants arrive in the courtyard. For a few dollars, we purchase some nutritious snacks to feed them: corn, bananas and carrots. The guides counsel us to hide them behind our backs, then stand up straight with the food in our hands high above our heads and open our palms.
Quick as a flash, the food has been retrieved and deposited into their mouths and we are left with the thrill of having been so close to such a huge animal. Elephant rides are still very popular with the Asian market here, but the zoo is phasing them out over the next few years, to come in line with the worldwide push to refrain from animal tourism of this kind.
4. Lush gardens and locals
Shelter from the sun in the pretty green gardens maintained by locals. The zoo is built on land belonging to Singapadu village, and the management committee is committed to providing jobs for members of the community. Over 70 per cent of staff comes from the local village, and all food for the animals is purchased from the fields belonging to the villagers.
5. Water fun park
Kids can break up the day with a splash around the water fountains of the aquatic playground. When the sun is high overhead, you'll be grateful for a pair of swimmers and a rest under the umbrellas while the kids frolics under the spray.
6. Savannah in 2020
The road takes us past the site of the new Savannah enclosure which is due to open in 2020. Giraffes, bears and tigers have been located and will be delivered to the zoo in time for the opening. It's quite cool for the kids to see that, like any garden, the habitat required for zoo animals can be created from nothing more than a bare patch of earth.
7. Spa
Wildlife and wellness make a perfect match in Bali. There's never a time when a massage is not a good idea so the Bali Zoo has an onsite day spa, The Sanctoo, to encourage wellbeing and relaxation. Enjoy a massage treatment or soak in the spa and rest your eyes on the verdant jungle which surrounds the sanctuary.
8. Stay the night
The one-bedroom Sanctoo Villas are popular with honeymooners due to their idyllic location. Choose from a garden or river view and wake up to the sounds of lions roaring, birds screeching, tigers growling and orangutans laughing in the jungle. It is surely a once-in-a-lifetime opportunity.
9. Food
The zoo has three restaurants and a snack bar, and visitors will definitely not go hungry here. The Wantilan seats up to 300 guests and the Wana bar, restaurant and lounge is also an expansive space. Adjacent to the lion's den, it offers observers a unique vantage point for watching lions at play as well as some yummy local food. The Gayo has a simple international menu with some interesting options; tacos, chilli dogs and even Canadian poutine grace the menu alongside more traditional Indonesian dishes.
10. Meet the 'Tiger Mommy'
The day we visit, my guide introduces herself as "The Tiger Mommy" and invites me to feed the Sumatran tiger. I immediately decline. I have images of people patting sedated tigers and my mind skips ahead to game hunting and the awful trophy photographs that poachers/hunters will take post-kill. Obviously, my tiger is alive but I am scared and definitely not thrilled at the prospect of being in a tiger's lair.
The Tiger Mommy laughs at me. She's brought an esky containing chicken carcasses and spears one on to the end of a steel pole for me. "Just hold it up," she says, pointing it to the high bars of the cage. I do as I'm told and the tiger leaps at the meat. The carcass remains so he jumps a little higher, his whole body pressing up against the fence in front of me. It's thrilling and scary in equal measure and I can't wait to get away.
11. Support the rehabilitation programs
In the years since the zoo opened in 2002, many species have been studied, nurtured and rehabilitated on the grounds of the Bali zoo. 50 Oliver Ridley sea turtles were released into the ocean in 2016, and nine Javan porcupines were also released in Pura Batu in Silakarang, Tabanan. Five Javan deer have been released in West Bali National Park and, in July 2019, two silvery gibbons, endemic to West Java, were let back into the wilderness after being acclimatised and educated at the zoo. Conservation is always part of the zoo's agenda.
The facts:
Getting there: Transport is available and included in some ticket packages. Otherwise, ask at your hotel for a taxi service.
Tickets: General admission is IDR 355,500 (AUD $37).
Spa and wellness treatments at the Sanctoo Spa start from IDR 605,000 (AUD $63).
Animal experiences are extra. Breakfast with Orangutans is IDR 720,000 (AUD $75). There are a range of packages available. See website for details.
What to bring: Sunscreen, hats, water bottles.
Address: Jl. Raya Singapadu, Sukawati, Gianyar, Bali.
LEAVE YOUR COMMENT