A local's guide to Kuta's best restaurants and cafes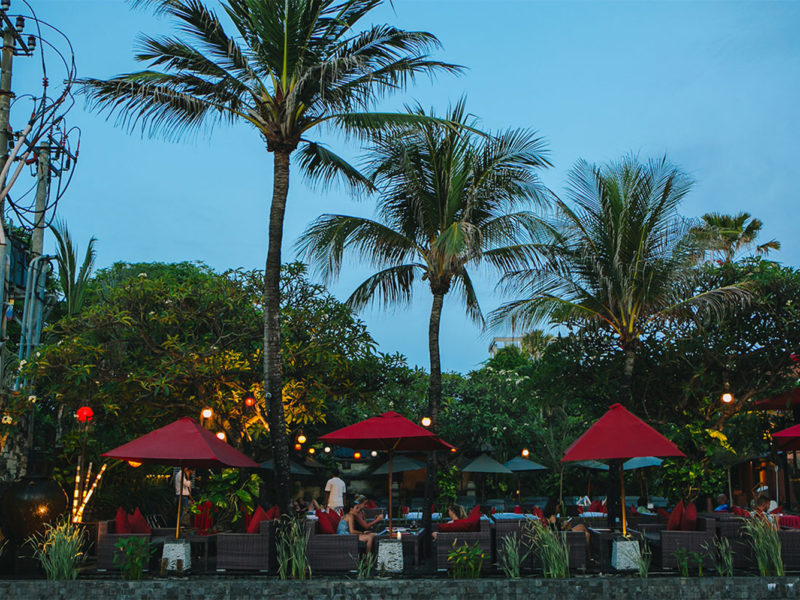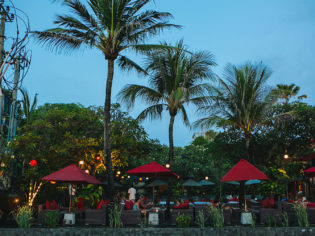 Kuta really is a melting pot of different flavours and, from a culinary point of view, there really is something for everyone in Bali's colourful playground.
Thankfully there are also an array of different price points too, so holidaying here doesn't have to break the bank.
Here are some of the best spots in Kuta to tantalise your tastebuds.
1. Ma Joly
At the fine-dining end of things, this is a great beachfront spot for a special occasion (or perhaps just a few cocktails in the bar). Set in the quiet resort area of Tuban at the southern end of the beach, Ma Joly has become something of an institution in Kuta. The restaurant has indoor and outdoor dining options as well as a number of private dining pergolas for a truly romantic experience. The view of the sunset here is amazing.
2. Fat Tony
It may not be the most refined meal you have on holiday, but if it's a burger you're craving then Fat Tony may be just what the doctor ordered. Offering a selection of beef burgers, chicken burgers, wraps, hot dogs and vegetarian options, this is a great place for a quick bite on the go. If you have a big appetite this place won't disappoint. The portions are huge.
3. Johnny Tacos
There's something about tacos and Mexican food that really fits with Bali's warm climate – especially when it's all washed down with an ice-cold beer or cocktail. This food truck-style offering keeps surfers and sunbathers fuelled with their fresh and tasty tacos. Johnny Tacos also do excellent chips with guacamole and magnificent margaritas.
4. Benih Café
Just a short stroll from the beach, Benih Café is a great option for breakfast, with their excellent pancakes and eggs Benedict. Later in the day you can choose from one of their towering burgers, or a healthier option if the holiday eating is getting out of control. They also do excellent coffee and juices/smoothies.
5. Warung Shinta
If it's more traditional Indonesian fare that you'd like to try, then put Warung Shinta on your list ('warung' means 'shop' or 'restaurant' in the local lingo). Chargrilled satay sticks, delicious stir-fried veggies, spring rolls and nasi goreng-style rice are all fan favourites. The local staff are friendly, the atmosphere is cheerful and the bill is more than reasonable at the end of your meal.
6. Nebula
For super cool ambience in the heart of Kuta, Nebula is a popular spot with travellers. There are some great healthy options here and it's good for vegetarians and vegans. Asian flavours are executed well in offerings such as Thai chicken laksa, mie goreng and chicken satay. If you want to go European, Nebula also offers some excellent pastas.
7. Sushi Tei
For fresh Japanese flavours, head to Sushi Tei – there are outlets all over Bali. Choose from a mouth-watering selection of fresh sushi, tempura, ramen, and other classic Japanese favourites. Side note: the restaurant chain has adopted high food standards, so you can feel more confident that you're not going to contract a case of the dreaded Bali belly.
8. RossoVivo Dine and Lounge
Since 2006, RossoVivo has been plying visitors with delicious Italian fare in an indoor and outdoor setting. Under the distinctive red umbrellas you can enjoy an antipasto plate, clam spaghetti or their classic seafood pizza while watching the world go by. They also do a great spin on the classic chicken parmy. There's often a DJ spinning tunes at sunset, making RossoVivo a great spot for a cocktail at the end of the day.
9. Made's Warung
This is one of the oldest restaurants in Kuta, originally started as a traditional roadside warung. There is a reason Made's Warung has stood the test of time: there really is something to please every palette with a wide menu covering local and international cuisine. The dishes, including fresh fish dishes, spicy beef rendang and traditional Indonesian classic gado gado, are all beautifully executed.
10. Warung Indonesia
Fancy some late-night satay? Look no further than Warung Indonesia, an enduring favourite on the Kuta map (and a place where a lot of locals eat). It's a great spot to enjoy the authentic flavours of Indonesia just a stone's throw from the beach. There are plenty of vegetarian and vegan options and, while the decor isn't upmarket per se, the friendly service is top notch. The real clincher is the price – it's hard to beat. If you're in a hurry, you can also choose to order from the buffet for a quick meal to go. (In the absence of a website, you'll find them at Jl Popies II Gg Ronta, Kuta).
11. Crumb and Coaster
A common traveller complaint is the difficulty of finding a good coffee. That's where Crumb and Coaster comes to save the day. Part of many a Kuta visitor's morning ritual, a visit to this popular eatery delivers excellent java as well as nourishing breakfast / brunch plates to power you through the day. The corn fritters are a popular option, as is the health-giving yoga bowl and smoothie bowl. You can also enjoy dinner and cocktails here in the evening.
For help planning the ultimate getaway to Bali, check out our comprehensive travel guide.
LEAVE YOUR COMMENT