11 of the most luxurious resorts in Ubud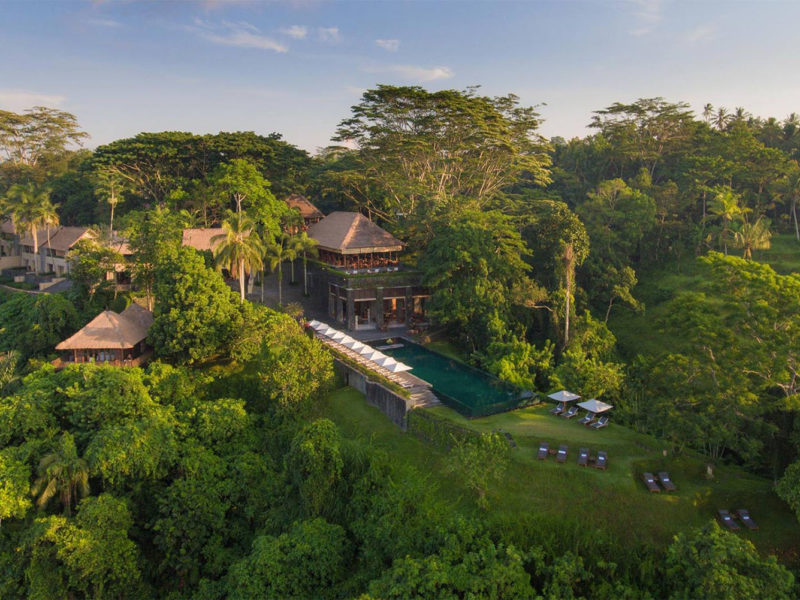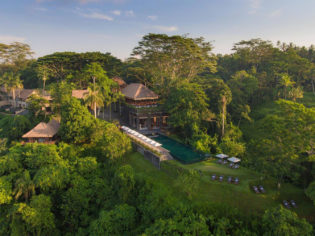 A mecca for honeymooners and sunseekers alike, Ubud is home to some of Bali's most magical and indulgent retreats.
People from all over the world flock to Bali to relax, reset and bring a little zen into their lives. And there's no better place to treat yourself than in Ubud, which has some of the most indulgent retreats on the island. Here are 11 of the most luxurious places you can land in this beautiful mountainous town.
For a traditional five-star experience, Maya Ubud Resort and Spa is hard to beat. Spread across 10 hectares of tropical landscape, you truly feel as if you are away from the hustle and bustle. Accommodation offerings include stylish rooms and private villas and visitors rave about the onsite dining.
Described as a 'sanctuary of tropical indulgence' The Kayon Jungle Resort is located within the traditional Balinese village of Bresela, Payangan and is just 25 minutes from the cultural heart of Ubud. Designed as a relaxing retreat for adults, it's not recommended for children under 15. The spectacular pool and bar that cascades over three levels (and is designed to mimic Bali's undulating rice fields) is a real drawcard.
Chapung Sebali Resort and Spa fuses traditional Indonesian architecture with a contemporary Scandinavian styling. Set high in the hills just a 10-minute drive from Ubud, this is a great base if you wish to explore the village (but have a tranquil place to retreat at the end of the day). The onsite day spa has an array of indulgent treatments on offer, and there are a couple of great bars – including a luxe pool bar and a speakeasy – where you can unwind throughout the day.
The luxury villas at Viceroy Bali combine the best of both worlds: traditional Balinese design and modern amenities to make your stay truly relaxing. The resort boasts amazing fine-dining options and for those wanting to rejuvenate, there's an array of private yoga lessons, spa treatments and fresh juices to treat yourself with.
The tiered pool at the Hanging Gardens of Bali has to be one of the most photographed in the world. Overlooking the Ayung River and ancient Dalem Segara temple, the resort is surrounded by lush rainforests and picturesque rice terraces. With 44 beautiful villas to choose from, the resort is truly an oasis in the middle of the Balinese jungle.
Prepare to be spoiled. The Mandapa offers luxurious butler-attended villas and suites; vintage VW convertible tours of the local villages, rice fields and temples; and exquisite dining in private 'cocoons' (they also do a great traditional Balinese barbecue overlooking the rice fields). Be sure to check out the traditional healing sessions at the luxury spa and their signature cocktails crafted from Indonesian ingredients.
If urban styling is more your speed, the Komaneka at Rasa Sayang is an indulgent, contemporary offering. Set on Monkey Forest Road, the resort is a short walk to all the action of Ubud, so this is a good choice if you're wanting easy access to the town. Komaneka also has another resort in Ubud named Bisma in the up-and-coming area on Bisma Lane near the centre of Ubud.
With sleek interior design, tranquil private villas (with infinity-edged plunge pools) and world-class cuisine you'll never want to leave COMO Uma Ubud. If you want to be a bit active on your holiday the resort offers biking and trekking tours. It's a 30-minute walk to the heart of Ubud, but the hotel offers a regular free shuttle into the town if you want to head there in air-conditioned comfort.
Located high above the Ayung River, Alila Ubud hotel has been laid out as a Balinese hillside village complete with its own community centre and pedestrian lanes. The resort's rooms and villas have a treehouse feel, perched on stilts above ravines set into the banks of the river valley. A stay here is an unforgettable experience.
With just 24 villas onsite, a stay at Natya Resort Ubud is a truly boutique experience. Using a subtle blend of modern and traditional architecture, all villas are built with privacy in mind, incorporating private gardens and pools, and spacious bathrooms with outdoor and indoor showers. The intimate atmosphere means it's perfect for honeymooners and couples.
Set among the tree tops on the outskirts of Ubud, Kamandalu Ubud has been welcoming guests with its warm Balinese hospitality since 1992. Enjoy six-course forest dining on the exclusive tree deck, or indulge in a spa treatment surrounded by towering coconut palms. The resort has one of the largest swimming pools in Ubud with a swim-up bar serving a full selection of exotic cocktails. Its complimentary morning yoga sessions are a great way to start each day in paradise.
For more info on curating the ultimate Bali getaway, check out our comprehensive guide.
LEAVE YOUR COMMENT