11 of the best villas in Seminyak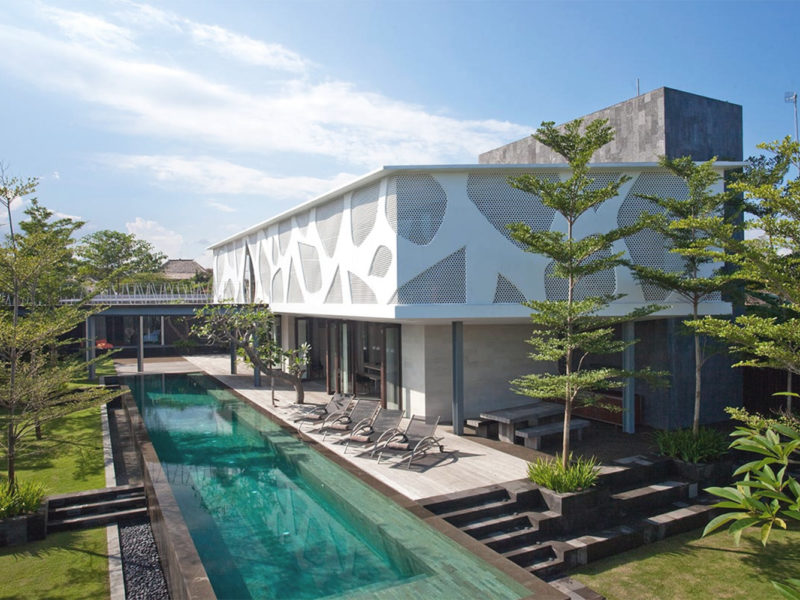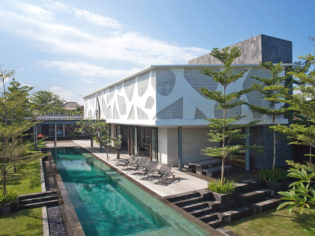 Hide Map
Seminyak is an area of Bali that really does offer the best of both worlds – plenty of action when it comes to shopping, dining and partying, but also a wealth of peaceful, private villa accommodation so you can retreat and unwind as well.
Here are 11 of the best villas in Seminyak to make your home away from home.
1. The Layar
Distinguished by the architect's signature sloping roofs, cutting-edge design and ultra-chic interiors, The Layar is one of Seminyak's more modern offerings. Each of the 23 villas (which offer one to four bedrooms) is set within a private landscaped garden with a large swimming pool, oriented for privacy. The Layar's private barbecue dinners, prepared, cooked and served at sunset in your villa garden, are a great way to end the day.
2. The Cotton House
The Caribbean-style Cotton House is a sprawling villa with distinct relaxation and entertainment zones. Four separate pavilions, huge indoor and outdoor dining areas and a 20-metre pool on a landscaped lawn area make the eight-bedroom villa perfect for large groups of family and friends. Staff is on hand to facilitate requests, from group yoga sessions on the lawn to luxurious seafood lunches.
3. Villa Shambala
Just minutes from the boutiques and restaurants of Seminyak, Villa Shambala boasts five elegant ensuite bedrooms. Enjoy massages in the spa room, watch a film in the media lounge, enjoy cocktails on the deck and unwind over a delicious dinner made by your own private chef. The gorgeous 20-metre pool will be a hit with kids and adults alike.
4. Peppers Seminyak
You can get the best of both worlds here: the privacy of your own one- to five-bedroom villa, with easy access to Peppers Seminyak's resort-style facilities. Each villa features a lush garden setting, private pool, sundeck, indoor/outdoor marble bathrooms with sunken baths, and a fully equipped gourmet kitchen. The resort has a wonderful gym and day spa onsite, which is just steps from the door of your villa.
5. Villa Lulito
Sit back and enjoy five-star service at the four-bedroom Villa Lulito in the heart of Seminyak's highly regarded Oberoi neighbourhood. When it's time to dine, let your private chef know whether you'd like a formal feast in the smart dining area, or a casual alfresco meal at the dining table nestled within the villa's tropical gardens.
6. Villa Saba 10
Fans of modern, minimalist design will love Villa Saba 10. The five-bedroom retreat in the middle of the Umalas district is a light and bright space with a glimmering swimming pool at its heart. Stylish and comfortable living areas, with art pieces and interior design by Saba Steck (a renowned European artist/interior designer), give the villa an artistic edge.
7. Villa Lilibel
Set just 300 metres from the beach, Villa Lilibel is ideally situated for soaking up the cosmopolitan vibe of Seminyak. Comprising six bedrooms, a private gym, expansive indoor and outdoor living spaces and a stunning pool set in a flourishing garden, this is a stunning spot for couples or families wanting to spend some quality time together.
8. Chandra Bali Villas
With a number of different villa styles on offer, there's bound to be something to suit at Chandra Bali Villas. Choose from an intimate luxury villa for a couple, or a sprawling family villa to accommodate the whole clan. The level of service is first class with assistants, personal chefs, drivers, massage therapists, yoga instructors and babysitters all available at the drop of a hat.
9. Villa Joss
Just 100 metres from Batubelig Beach, the four-bedroom Villa Joss has been designed to capture the style and spirit of Bali. Architects and designers have made ample use of leather, recycled teak and other beautiful organic materials, as well as a remarkable collection of fine art and Majapahit-period stone carvings to give the space a truly exotic feel. Staff such as attendants, butlers and private chefs perform the daily offerings throughout the villa in keeping with Balinese Hindu tradition.
10. Villa Issi
The contemporary architecture of Villa Issi makes it one of the most Instagrammable villas in Seminyak, with its unique metal feature frame encasing the top floor. Just a short walk from Seminyak Beach, the fully staffed villa comprises four generous bedrooms, a well-equipped gym, a covered barbecue dining area and an emerald-green swimming pool, making it the perfect urban oasis.
11. Space Villas Bali
Hidden behind Seminyak's beach restaurant and shopping district, Space Villas Bali is one of the area's most tried and true accommodation options. Designed as a secluded hideaway, there are many areas throughout the villa for relaxing, listening to music, having a massage or reading. Each villa has its own private butler and chef service, so you can have that intimate alfresco dinner by the pool or invite friends over and entertain in the privacy of your own tropical paradise. You can also take part in a private Balinese cooking class with the chef, if you wish.
Need help planning the ultimate Bali getaway? Check out our comprehensive Bali travel guide.
LEAVE YOUR COMMENT