Review: Hotel Indigo Bali Seminyak Beach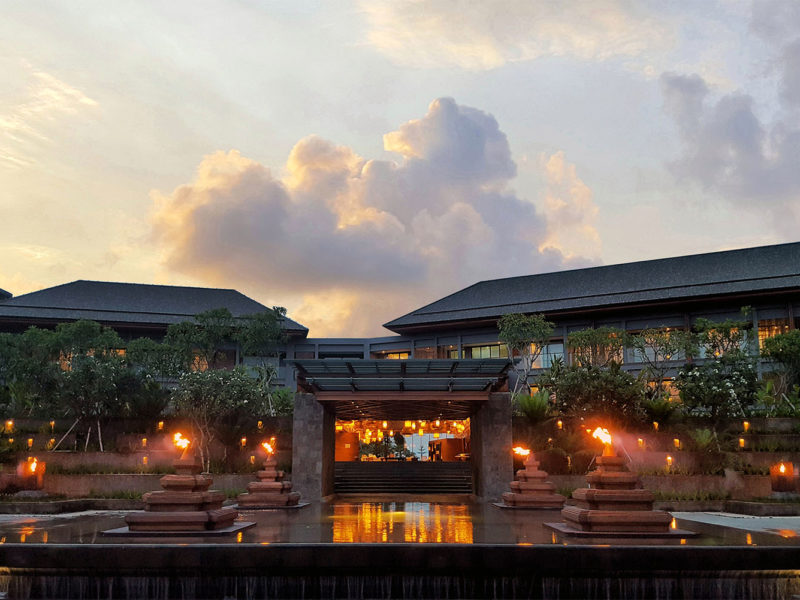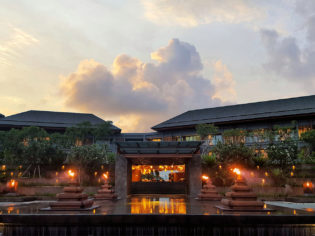 While there is no shortage of accommodation in Bali's crown jewel Seminyak, Hotel Indigo Bali makes the choice pretty darn easy.
Bali to Australians is as synonymous as kangaroos, or a Bunnings sausage sizzle. With that in mind, it's hard to not feel at home here. Wind down your taxi windows in Seminyak's bustling square and you're likely to hear Bruce McAvaney's voice commentating AFL over the loudspeaker at an outback-themed pub.
Admittedly, this familiarity had cemented itself in my head as the best and the worst thing about the island. Like many, I moved through life with the mentality that Bali was not somewhere I'd choose to spend my hard-earned annual leave – that I should instead save for the far more blissful and exotic Europe or Americas.
But when your (tough, horrendous) job is to review luxury hotels, you can be given the opportunity to revisit places you had once written off, and find a property that reignites your faith in Australia's favourite holiday destination.
Details
Hotel Indigo Bali Seminyak Beach
Jl. Camplung Tanduk No.10, Seminyak, Bali
First Impressions
Once you step off the plane (and become accustomed to Bali's famed humidity), your Hotel Indigo Bali driver will politely make himself known among the crowds. Once together, you'll make the 30-minute complimentary hotel transfer to the property.
Upon arrival, you will be greeted with two fabulous things. One is a purple mocktail, thank you very much. The other is a hotel lobby so grand and beautiful, that it might just make you pause.
Inspired by the 'banjar' lifestyle – meaning 'community' – the hotel's spaces are thoughtfully designed, intentionally paying homage to the pulsating neighbourhoods that surround them. The artful interiors reflect a traditional Indonesian village square, which results in an eclectic mix of Balinese tradition and contemporary design.
Dubbed 'the neighbourhood gallery', Hotel Indigo Bali's lobby sources and showcases work from local Balinese artists. The geometric roof design was pulled from the woven songket (brocade) cloth which has been worn in religious ceremonies for decades. The lights are symbolic of umbrella tops and Indonesian fisherman traps. It's evident that attention to detail really is paramount in this property – and it's a signature of the Hotel Indigo brand. So much so in fact, that the property's 5-star accreditation came as the first for the Hotel Indigo company.
It definitely shows.
The rooms
The resort features 270 spacious rooms and suites, alongside 19 villas with private pools, all set out across 4.7 hectares of prime beachfront.
We were allocated one of the ocean-facing Perada suites, with panoramic balcony views over the entire property. The colour palette was divine, featuring wooden-accent interiors that pay homage to both classic and contemporary Bali.
During my time at the resort, I overheard at least three different people make comments on the plushness of both the mattresses and pillows. Upon further investigation, I discovered these two gorgeously comfy items to be custom made locally in Denpasar.
You'll find all the usual hotel amenities: a safe, dressing gown, a locally sourced minibar, toiletries for days. But, you'll also find some not-so-usual, but very welcome ones too: a woven-grass bag that became my favourite island accessory, and the perfect floppy hat.
And would it be a Balinese holiday without an opulent bathtub? Probably not. You'll find yours on your private balcony overlooking the resort. There is a divider for modesty, but aren't holidays all about throwing caution to the wind?
The food
Guests at Hotel Indigo Bali are blessed with six different restaurants, all showcasing different themes, cuisines and menus. Let me be the first to tell you, if even one of these spaces existed in Sydney, you wouldn't be able to get a table.
SugarSand is located right on the vibrantly bustling Seminyak beach. There's a poolside dining option, daybed dining, a rooftop for drinks and several indoor spaces to make the most of. We recommend anything seafood, and a cocktail from the G&T menu.
Salon Bali is Hotel Indigo Bali's answer to fine dining, creating signature Balinese dishes that amply show off the island's small growers and bespoke producers.
Makase is the casual dining option for the hotel. Head here for your drool-inducing buffet breakfast.
Pottery Café is ready to transport you to the world's caffeine-loving capitals. Bring a magazine and indulge in locally sourced coffee, tea and fresh baked goods. There's also a shop where you can purchase adorable handmade pottery from around the island.
Tree Bar centres around a sacred tree, known by locals as a healing space. Take in the cool, speakeasy atmosphere while sipping on one of the bespoke, Bali-inspired cocktails. Think organic, artisanal, with herbal infusions and aromatics.
Cave pool lounge provides exactly what you'd expect from a poolside bar. Order a quick bite between dips and wash it down with a signature pink Hotel Indigo Bali coconut.
For those who don't feel the need to leave their room, the hotel also offers 24-hour room service.
The spa
Experience head-to-toe indulgence at the uncomplicated, unpretentious nirvana of Sava Spa.
More than just your average Seminyak spa, Noni and her team offer a complete menu of pampering treatments designed for deep relaxation. They've even won a couple of awards (best spa in an Indonesian 5-star resort included!)
Each massage room has its own shower facilities. There are also extensive options for couples and a signature manicure and pedicure parlour. Check out the full menu here.
Pool and gym
The resort has a number of lavish pools to choose from, each with its own signature flare.
The oh-so-grand main pool spans almost the entire back of the resort. It has plenty of space and daybeds, as well as the Cave pool restaurant for all your food and beverage necessities.
For those seeking a little more seclusion, the Secret Garden pool is an adults-only oasis, fringed by green palms.
There's also the pool SugarSand, and the 19 private pools inside the villas.
As for the gym, Hotel Indigo Bali provides your basic 24-hour hotel gym facilities. They also have an on-staff personal trainer who can assist you in your workouts. Private boot-camp sessions go for about $10 an hour.
Activities
Learning from locals is a surefire way to experience any destination. Hotel Indigo Bali has its own 'Neighbourhood 15' campaign, casting a keen spotlight on the rich stories of each property and the community surrounding it.
In Seminyak, guests have eight 'neighbour' options to choose from, each ready for exploration within 15 minutes of the hotel. There's the local surf school, Divine Earth raw vegan restaurant, the Bali barber, the Jari Menari Massage and Training Centre, Seminyak Yoga Shala, and a whole raft of others.
The IT verdict
Score
5/5
We rated
Bali's saturated accommodation market means that a hotel needs to tick every imaginable box in order to stand out. From attention to detail, to the staff, rooms, food and every amenity in between, The Hotel Indigo Bali needs a whole new piece of paper.
We'd change
While spectacular, the room brought with it an overwhelming amount of light switches. While some things can't be helped, maybe some correlating signage would be helpful for some forgetful guests – AKA me.
LEAVE YOUR COMMENT