Everything you need to know about Sylvia Earle, the latest state-of-the-art expedition ship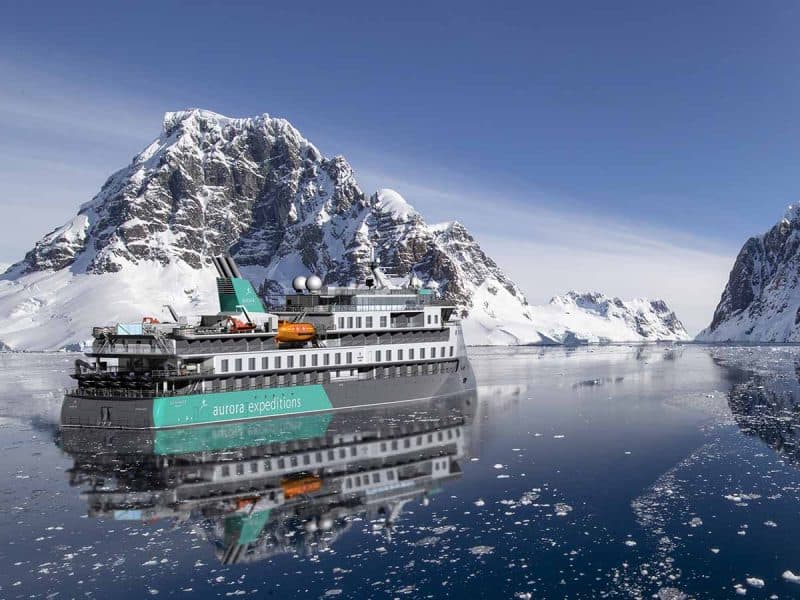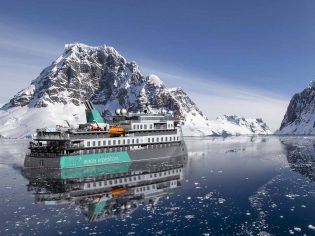 |

THIS ARTICLE WAS CREATED IN PARTNERSHIP WITH Aurora Expeditions

|
Australia's award-winning adventure travel company Aurora Expeditions is debuting its new, purpose-built expedition ship Sylvia Earle at the end of this year.
That's good news for anyone who's looking to make one of the world's ultimate journeys, as the ship will sail its first voyages to Antarctica. The remote, ice-encrusted landscapes and abundant wildlife of Antarctica are made for hardcore adventure, but aboard Sylvia Earle you won't have to sacrifice the creature comforts to get there.
Among the expedition ship's features are a unique two-level glass atrium lounge in the bow, multiple observation areas, a lecture lounge, two restaurants, a gym and wellness centre, heated top-deck swimming pool and hot tubs.
Every stateroom has an ocean view, and nearly all have balconies. And with a maximum of 132 passengers on board, this promises to be not just a supremely comfortable experience, but an intimate one, too.
Where is Aurora's Sylvia Earle sailing to first?
On 4 November 2022, Sylvia Earle will sail from Santiago, Chile, on its maiden Subantarctic Safari voyage. It will visit the Falkland Islands and South Georgia, notable for its vast seabird colonies and fascinating history of polar exploration associated with Sir Ernest Shackleton.
The new ship will then undertake an impressive variety of voyages of between nine and 24 days in Antarctica. These include fly/sail and fly/fly options; the Antarctic Explorer, for example, offers flights over the Drake Passage to reduce your time on the high seas. There are also classic Spirit of Antarctica voyages to the South Shetland Islands and Antarctic Peninsula.
The advantage of a small expedition ship is that it can get into small bays and crannies in the coastline for up-close wilderness encounters: think snow-encrusted mountains, colossal glaciers, towering icebergs, and the thrilling sight of surfacing pods of humpback and minke whales. On land, guests will be stunned by Antarctica's vast king penguin and elephant seal colonies.
An Antarctic Climate Expedition departing on 13 February 2023 is accompanied by the ship's namesake, Dr Sylvia Earle. A renowned marine biologist and oceanographer, Dr Earle was named a Living Legend by the US Library of Congress, as well as Time Magazine's first Hero of the Planet. As an explorer, Dr Earle has also earned medals from the National Geographic Society and Royal Geographic Society. Sought-after spots on the expedition can be secured by application, with 10 additional staterooms recently released in honour of World Oceans Day.
Sylvia Earle is 100% carbon neutral
The ship pays tribute to other pioneering female conservationists, after whom decks are named: plastic-free pioneer and eco-documentary maker Joanna Ruxton, marine biologist Dr Asha de Vos, free diver and ocean conservationist Hanli Prinsloo, coral conservationist Dr Carden Wallace, Arctic wildlife guardian Bernadette Demientieff, and marine educator Sharon Kwok.
Given such associations, Sylvia Earle aims to sail lightly on the planet in recognition of the fragility of ocean ecosystems. Aurora Expeditions has had long-term, far-reaching sustainability goals for over 30 years and is certified 100% carbon neutral. Carbon credits for high-standard international climate-action projects compensate for its emissions, and the company strives for further emissions reductions and best-practice sustainability programs such as efficient management of energy, water and waste.
Sylvia Earle's cutting-edge design includes Ulstein X-Bow technology to improve fuel efficiency and reduce vertical movement, which provides more stability in rough seas. It also uses dynamic positioning, which allows the vessel to maintain its place without anchors in order to protect the seabed.
Activities and excursions on Sylvia Earle
In short, Sylvia Earle is a floating ambassador for conservation. As part of that ethos, Aurora Expeditions aims to deepen its guests' connection and understanding of the unique places it visits, offering enriching on-board lectures and interactive Citizen Science programs that provide an opportunity to collect scientific data. Among current projects are studies of whales, seabirds, micro-plastics and marine biodiversity.
The expert expedition guides, marine researchers, scientists and conservationists who accompany each voyage also add to the guests' appreciation of the wilderness. Aurora Expedition's unique activity program is an important part of the experience that goes far beyond mere sightseeing, immersing guests in remote wilderness and providing insight into the planet's fragile environments.
Excursions are made by Zodiac and on foot, and there are exciting opportunities to snowshoe, alpine trek, and (for the experienced) ski and climb with crampons and ice pick. One of the most popular activities – and the ultimate in bragging rights – is camping on the ice amid the wildlife. Expert photographers are on hand with tips and tricks for capturing Antarctica's magnificent landscapes and animals.
Meanwhile, polar scuba diving and snorkelling provide an incredible view of Antarctica from a startling new angle. Admire the undersides of icebergs, see penguins zipping through the water, and marvel at curious marine creatures, such as nudibranchs and crustaceans. Sylvia Earle is about the spirit of adventure and wonder of the planet, and you can be sure marvels await.
Learn more about Sylvia Earle, or for more Antarctic, Arctic or global adventures, visit auroraexpeditions.com.au
Following its inaugural Antarctica season, Sylvia Earle will make voyages to Costa Rica, the Canadian Arctic, Norway, Greenland, Iceland, Ireland and Scotland. Aurora is currently offering up to 20% off inaugural season voyages on the Sylvia Earle (terms and conditions apply).
LEAVE YOUR COMMENT