13 best places to go wild swimming in Samoa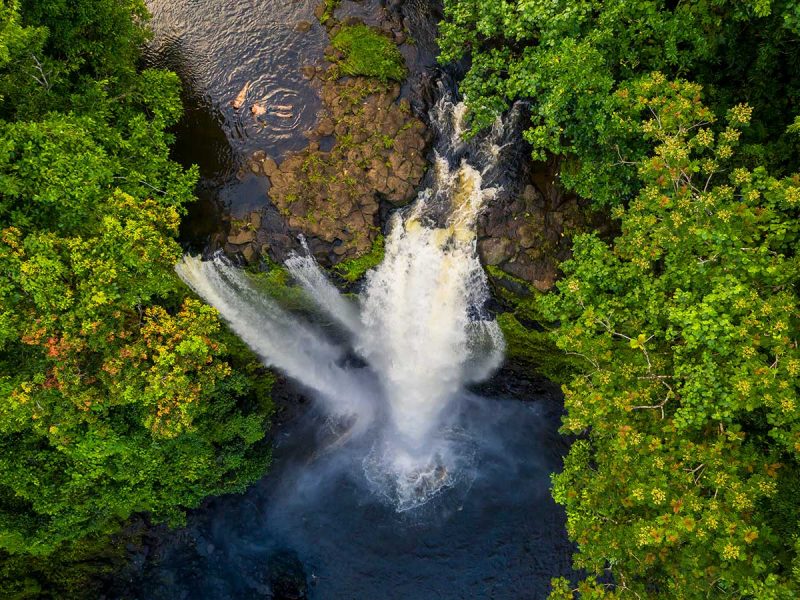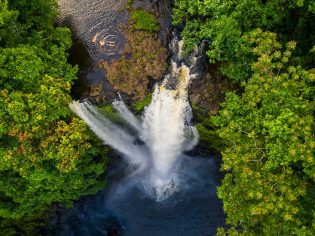 Waterfalls, the world's most beautiful beaches and unique ocean trenches all invite you to spend the day in cozzies on a trip to Samoa.
This is a country made of 10 islands (only five are inhabited), so there's a lot of water around and no end of choices when deciding to go wild swimming in Samoa.
What's better, is that many of them are fed by the ocean, which is warm enough to dive right into (take it from me, a person who refuses to swim in anything below room temperature).
Samoa boasts some of the world's most beautiful beaches, in fact, they're the very picture of a tropical island getaway. But if you head a little inland, you'll find unique natural pools and incredible waterfalls just begging you to take a dip.
Before you go
Before you dive in it's important to note that most attractions in Samoa – including wild swimming spots – ask for a small entry fee which is then put back into the upkeep for future visitors. You're only looking at five to 10 Samoan Tala (WST), which is about $3-5, but make sure you're carrying cash.
Also, be sure to pack a change of clothes or a coverup to wear before and after your dip – Samoa is quite a modest country and it's considered impolite to walk around in your swimwear if you're not actually swimming.
1. Piula Cave Pool
Samoa is famous for its cave pools, and Piula is one of the most popular. Located in the Piula Methodist Theological College, east of Apia, this freshwater cave pool is not only beautiful, but it's the perfect set up to while away a lazy sunny day – particularly if you have small children in tow.
The cave sits almost directly below the church, and while it doesn't appear to get any holy powers despite this positioning (yes, I asked), it does create a uniquely beautiful view. Take a dip out in the ocean, or explore further into this underwater cave. Take a snorkel if you want to take your exploration up a level, but the water is so clear you don't really need one.
Beach fales and ocean viewing platforms have been set up around the pool, making it easy to set yourself up for a picnic or extended stays. There's also a toilet and changeroom onsite.
2. Return to Paradise Resort
When I say there's no end to beautiful beaches in Samoa, I'm not exaggerating. And while you could stop at the side of the road just about anywhere, some resorts reserve their beachfront location for guests only. Return to Paradise is one such resort, and its private beach is truly something.
If you don't believe me, just refer to the 1953 movie from which this resort got its name – even Hollywood decided this was the epitome of island paradise.
Blue and clear, you can easily see the sand ripples at your feet without the need for a snorkel, even when you swim out to deeper water. Small mounds of coral support everything from small, bright blue fish darting from here to there, to sea cucumbers lazing on the ocean floor.
Lounge chairs are set up on the white sand shore, with coconut trees rustling above you in the gentle breeze.
3. Lalomanu Beach
Speaking of beaches, you can't leave Samoa without a swim at the beach voted as one of the top 10 Beach Destinations of the World by Lonely Planet: Lalomanu.
Set yourself up directly on the white sand, or settle into one of the beach fales lining the beach and enjoy views out to the smaller, uninhabited islands dotting the south coast of Upolu.
The true vision here, in my opinion, can be found on the south end of the beach. A little cut off from the rest of the beach and the waves by large black volcanic rocks and the palm trees that cover them, this little alcove feels like it dropped directly out of a shipwreck scene in a pirate movie.
You can find snorkelling gear and kayaks for hire along the beach if you'd like to explore it a little further.
4. Papase'ea Sliding Rocks
Who needs a water park when you can find a natural playground, only about a 15-minute drive from Apia.
The naturally formed rock slides at Papase'ea Sliding Rocks were worn down by thousands of years of having water running over them. Now, visitors can slide down as well (they're quite smooth but I still recommend wearing board shorts).
There's a big one for adults, and a smaller one for the kiddies (or adults who prefer a gentle thrill), but you'll find the walkways to the rapids to be a bit on the slippery and rocky side, so wear god, grippy shoes.
As with most natural swimming holes, this is another one dependent on the weather, so check if they're flowing before paying your entry fee.
5. Afu A'au Waterfall
Also known as Olemoe Falls, this gorgeous freshwater swimming hole is to be found surrounded but lush green rainforest – the only wild swimming spot of its kind on Savai'i.
While the car ferry crossing over to Savai'i is an incredibly easy hour-long ride (give or take half an hour either end to get everyone on and off the ferry), not many tourists attempt it. This means that those smart travellers who make the trip are rewarded with even more secluded swimming spots, and Afu A'au is no different, despite being one of the most popular draws on the island.
It's effortless to access (just drive right up to it and walk mere metres), and even on a day when the waterfall is barely flowing (like when I went), the bird and insect calls, the clear water and the very cool cave behind the waterfall all make it a perfect place for a dip.
6. Amoa Resort
While Amoa Resort is set up with kayaks, snorkelling gear and deck chairs for its guest who wander to the turquoise beach across the road, you don't have to stay here to access the beautiful waters (but I recommend you do, it's incredible accommodation).
A natural sea wall around the island means that you can swim out for metres without any worries of being buffeted by waves. Once again, you can quite easily see coral and small fish swimming below the surface with the naked eye, but to really explore bring your own snorkel.
7. Togitogiga Waterfall
Togitogiga Waterfall is more like a series of low waterfalls on Upolu that form a few different swimming holes, all nestled in tranquil greenery. And, unlike most attractions, entry is free.
It's another popular spot that's quite easy for families or people wishing to stay longer and end up enjoying a picnic. It's also not uncommon to see groups playing casual games of rugby and volleyball in the recreation area (just BYO equipment). Bring your mozzie spray if you plan to linger.
It's only a short walk to the falls from the carpark, and you'll find changing rooms and restrooms on site. The entrance to the falls will close if the water is too high or low though, so have a backup plan and be prepared to try again another day.
8. Mataolealelo Pool
On Savai'i Island, visit one of the most significant historical sites and cool off on a hot day at Mataolealelo Pool.
You'll find it in the village of Matavai Safune (note that there are few street names, instead locals will point you to the relevant village). It's actually two pools – the larger for men and the smaller for women and children – but both are ocean fed.
Traditionally, the pools represent the legend of a beautiful girl named Sina, whose small pet eel grew up to fall in love with her and wanted to marry her. Despite her efforts to run away, the eel kept chasing her until she had him killed – after burying the eel's head the first coconut tree grew.
Besides the history, it's just a peaceful place to sit in the water and watch the ocean.
9. Fuipisia Waterfall
This 55-metre-high jungle waterfall is not only incredible to look at, it provides a natural infinity pool with panoramic views at the top.
Before diving in, take in the beauty by following signs to three viewing points around the falls. To get to the top, you'll have to be prepared to trek through thick jungle and be very aware of water conditions – avoid swimming when the falls are flowing too fast.
Bird watchers will also love this spot, take your binoculars and settle in to spot local White-throated Pigeons, Red Junglefowl, Red-tailed Tropicbird and more.
As a place that attracts more tourists, be aware that you may be asked for $20 tala to enter, but the Samoa Tourism Authority lists the entry fee as $10 tala, so be ready to negotiate. And yes, you have to pay whether you swim or not.
10. Asaga Mangroves
Technically this is more of a canoe than a swim, but when you see the inviting waterways you'll understand why it's completely acceptable to "accidentally" capsize and take a swim.
The opening to Asaga is so inconspicuous (head to Asaga village and keep your eyes peeled for the Asaga River Pool sign and Beach Fales) that you'd be forgiven for driving right passed – you do have those distracting ocean vistas to your other side, after all. But to drive past would be missing out on some beautiful mangrove formations and the chance to learn more about this country's ecosystem.
Book a tour through Samoa Tourism Authority to join a guided kayak through Asaga. Although not all guides are fluent in English, there's enough communication to be shown highlights of wetland ecosystems and the creatures that call it home. Tours depart from the road bridge in Asaga village.
11. Sauniatu Falls
If you're looking to avoid the crowds (not that there are many in Samoa), then the flowing Sauniatu Falls are for you.
Don't be put off by the approximately six-kilometre bumpy stretch of road to reach your destination, it's more than worth it. Park at the LDS Church compound and follow the grassy path until the surrounding rainforest gives way to a freshwater swimming hole and waterfall.
As well as the perfect secluded place for a swim in nature, it's well worth packing yourself a picnic and setting up for a while to enjoy the surroundings.
12. Namu'a Island
While most tourists stay on Upolu and Savai'i, a day trip (or overnight stay if you're up for a stay in open-sided fales) to Namu'a rewards anyone who makes the 10-minute boat ride from the mainland.
Pack your water shoes (the coral and rocks can be a bit rough on your feet) and your snorkel – you're very likely to spot sea turtles swimming around this island.
Head to the calm waters of the lagoon, which is often filled with turtles from October to June who are looking to nest. You can book a fale on the beach, and enjoy a barbeque lunch for around $15 talas per person.
13. To Sua Ocean Trench
Saving the best for last is a swimming hole so magical that two hours there feels like no time at all: To Sua Ocean Trench ("giant swimming hole" in Samoan).
This naturally occurring land formation on the southeast coast of Upolu is actually two caves joined by an ancient lava tube (don't worry, only sea water flows through it these days).
Floating around in the incredibly clear waters (seriously, this swimming hole is 30 metres deep and you can still easily see the bottom) of the ocean cave is an unforgettable experience. Those afraid of heights may falter at the long and narrow wooden ladder leading down to a diving platform just above the water below – it's a climb that's absolutely worth it, however. Strips have been placed on each rung for extra grip, so there's not much danger of slipping.
Like the rest of Samoa's oceans, the water is warm enough to dive right in. When you do, you'll notice the gentle but obvious tidal movement as the waves rush in and out of the small tube leading to the ocean. Listen closely when you're on the ocean side of the trench and you'll hear that movement as well – alternating between a loud drain gurgle and a louder baby dragon snorting. It's this movement that explains the small fish and crabs that call the trench home.
Lazily backstroke your way to the other side of the trench and you'll find yourself inside the much larger lava tube connecting to the second, completely dry ocean trench. You'll come out the other side to rocks piled into cairns and brightly coloured, hardy plants. If you're a nervous swimmer, make use of thick ropes leading from the diving platform through the tube.
LEAVE YOUR COMMENT