12 best hot pool springs in New Zealand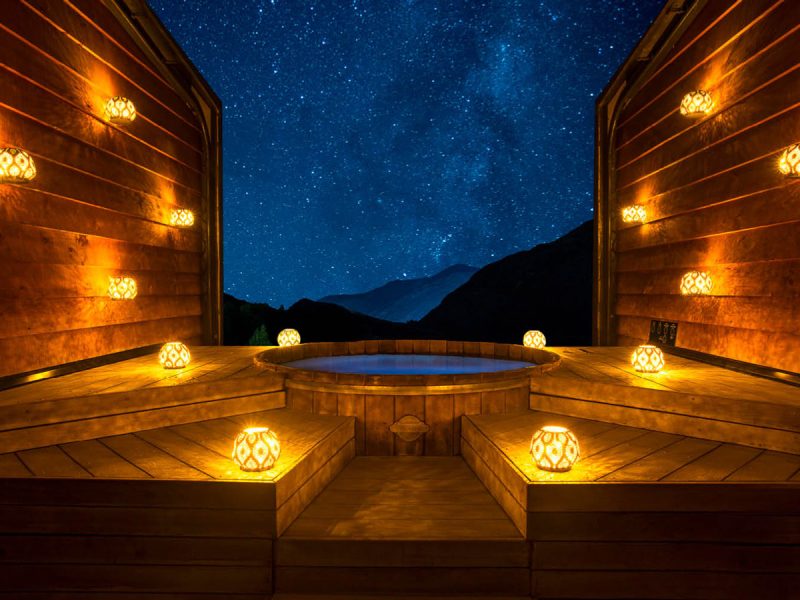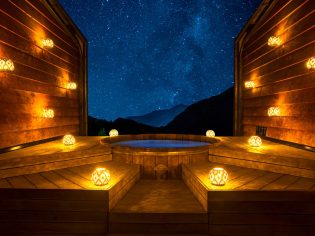 Aotearoa is known for its adventure experiences, but once you've leapt from bungee platforms and hiked its mountain peaks, sink into one of the country's blissful hot pools and soak away those aching muscles.
From the North Island/Te Ika-a-Māui with its geothermal waters to the picturesque South Island /Te Waipounamu where outdoor baths take advantage of spectacular mountain views, New Zealand knows how to deliver relaxation in soothing, heated waters. All across the country you'll find these are the 12 best hot pools in New Zealand worth visiting on your next trip.
South Island/Te Waipounamu
When everywhere you turn boasts a view that will take your breath away, it's worth enjoying that signature South Island/Te Waipounamu scenery via hot tub.
1. Hot Tubs Omarama
This is the experience to book if you're after the tranquillity of the New Zealand countryside. Hot Tubs Omarama has positioned its baths so that guests can enjoy the Waitaki District views without interruption, and water temperatures are adjusted based on the weather. You can even enjoy the baths at night for a truly unique stargazing experience. Sessions run for 90 minutes and prices start at $68 per person.
Address: 29 Omarama Ave Main, Twizel Highway, Omarama
Phone Number: (03) 438 9703
2. Onsen Hot Pools
Extremely well set up to maximise its jaw-dropping views across the Shotover River and its mountain surrounds, Onsen Hot Pools is also one of the most easily accessible New Zealand hot pools in the South Island/Te Waipounamu.
Just ten minutes out from Queenstown's central village, there is also ample parking and ramp access down to the pools. Choose between a variety of onsen experiences, from romantic, oval-shaped tubs to outdoor cedar-lined bathing. A drink and snack are included in the cost, with prices starting at $87.50 per person.
Address: 162 Arthurs Point Road, Arthurs Point, Queenstown
Phone Number: (03) 442 5707
3. Kamana Lakehouse
It's the exclusivity of Kamana Lakehouse's Soak experience that sets it apart from other New Zealand hot pools. Only on offer to in-house guests, there are just three hot tubs – meaning minimum interruption to your relaxation. Each private room opens out to 180-degree views of both the Remarkables and ​​Lake Wakatipu – book for sunset to really experience the magic.
Address: 139 Fernhill Road, Fernhill, Queenstown
Phone Number: (03) 441 0097
4. Ōpuke Thermal Pools And Spa
Situated an hour's drive outside of Christchurch, Ōpuke Thermal Pools and Spa has options for everyone. There are adults-only hot pools for those seeking a serene soak, hot tubs with temperature control for those who like it hot (or a little cooler), and the Discovery Pool, which sits at around 35-37 degrees and has a seriously fun play area for the kids. Bookings start at $31.
Address: 35 Mount Hutt Station Road, Methven 7782
Phone Number: (03) 261 6800
5. Mariua Hot Springs
Head 2.5 hours north of Christchurch and you'll find Mariua Hot Springs nestled away in the Southern Alps. Of course, this means views on views – you'll be surrounded by the beech forests and mountain peaks of Lewis Pass reserve.
The thermal waters are from a natural underground sulphur spring with a pH of 7.3 and high mineral content. Aside from the outdoor hot springs you can brave the cold plunge pool, or enjoy the infrared sauna, rock sauna and steam room. Day passes start at $65, or you can stay on-site in hotel rooms or glamping pods.
Address: 1513 State Highway 7, Lewis Pass 7847
Phone Number: (02) 199 9946
6. Flat Hot Springs
Fancy a hike with a steamy, relaxing soak at the end of it? That's exactly what you'll get with Flat Hot Springs. The springs are found on the Copland Track, at the end of an 18-kilometre, seven-hour hike that's ranked as Intermediate.
You'll end up at Welcome Flat Hut, where you can book either a private room, bunk bed or campsite space. Here, you'll find natural hot pools that will ease your aching muscles, before making the return trek the next day.
Because of the length of this walk, you'll have to do the overnight stay at Welcome Flat Hut, and it gets busy – book ahead to avoid disappointment. Bookings start at $10 per night for a campsite.
Address: Upper Copland Valley Track, West Coast 7886
Phone Number: (03) 752 0360
7. Hanmer Springs
Possibly the most extensive of the New Zealand hot pools you can visit, Hanmer Springs won't be for everyone – it's extremely popular and therefore less serene than some offerings. However, if you're travelling with kids, this is one place worth visiting. Older children will love the winding water slides and rivers, while little ones can enjoy the Aquaplay space.
There are still tranquil escapes at Hanmer Springs, with several hot pools away from the action that take advantage of the beautiful garden views, and for those seeking full privacy, private pools can be booked in advance. Prices start at $38 per adult, and children under five are free.
Address: 42 Amuri Ave, Hanmer Springs 7334
Phone: (03) 315 0000
North Island/Te Ika-a-Māui
Volcanic activity underground means a wealth of natural thermal waters bubbling to the surface on New Zealand's North Island/Te Ika-a-Māui – many of which you can enjoy a soothing (and healing) soak in.
8. Polynesian Spa
One of the first geothermal hot springs to emerge in New Zealand's North Island/Te Ika-a-Māui, you'll find both acidic and alkaline natural mineral springs at Polynesian Spa in Rotorua. Waters are from two separate sources, the Priest Spring which helps relieve tired muscles, and the alkaline waters of Rachel Spring, which are said to help nourish skin. You can book private pools or enjoy the public bathing spaces, and prices are very affordable, starting at $29.95 for a private pool.
Address: 1000 Hinemoa Street, Rotorua 3010
Phone Number: (07) 348 1328
9. The Lost Spring
The Lost Spring has to be one of the most unique New Zealand hot pools – designed to actually look like a lost, hidden oasis, you'll find natural hot springs tucked into leafy surroundings, with caves and miniature waterfalls to explore.
This is one for those looking to indulge – there is a poolside service for food, drinks and cocktails, and a day spa for extending your relaxation with luxury treatments. Prices start at $60 for two hours in the hot springs.
Address: 121 A Cook Drive, Whitianga, 3510
Phone Number: (07) 866 0456
10. Kawhia Springs
If you're looking for a New Zealand hot pools experience with a difference, you have to head to Kawhia Springs. This is technically not a hot pool, but a hot beach. Here, the Te Puia Hot Spring waters come to the surface at low tide, so you can dig your own private hot pool and enjoy the thermal waters. You'll need to bring a shovel – if you're staying at Kawhia Beachside Scape or Kawhia Camping Ground they'll loan you one, or pick a cheap one up at a nearby hardware store.
Address: 3331 Te Puiha Rd, Kawiha 3889
11. Secret Spot Hot Tubs
Step into your cedar hot tub among native ferns at Rotorua's Secret Spot Hot Tubs. Each tub can fit up to six people and overlooks Whakarewarewa Forest and Puarenga Stream. In great news for travellers who may not have considered swimming as part of their New Zealand itinerary, Secret Spot Hot Tubs also rents everything from towels to swimwear.
Address: 13/33 Waipa State Mill Road, Rotorua
Phone Number: (07) 348 4442
12. Mangatutu Hot Springs
Another of the popular New Zealand hot pools that's a little more difficult to reach, Mangatutu Hot Springs is well worth the effort. Perched on platforms overlooking the Mohaka River in Kaweka Forest Park, you'll feel like you're in a prehistoric world.
Best of all, they're totally free. You'll need to drive 90 minutes into the park from nearby Napier, then take a trail down the cliff from the car park. It's a long stretch of unsealed road and a river crossing, so make sure to check with the Department of Conservation about road conditions and whether your vehicle can access the springs.
Address: Makahu Road, Puketitiri 4184
Phone Number: (06) 835 9101
LEAVE YOUR COMMENT