10 of the best Central Otago wineries to visit for a perfect pinot noir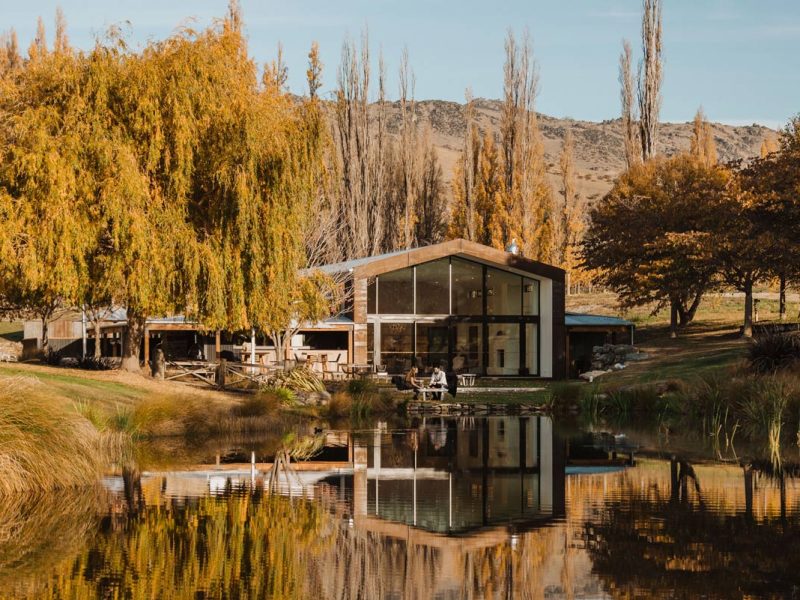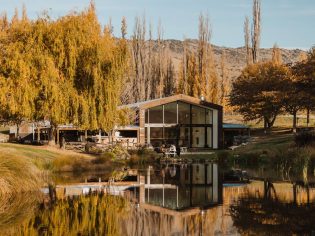 Did you know pinot noir is now New Zealand's second-most exported wine after sauvignon blanc? You'll find the country's best drops in the Central Otago wine region – the cool, older sister to Marlborough and a place where the rich, bold reds reign.
Central Otago wines are known for their silky textures and juicy intensity, but it's worth visiting the area for the landscape alone. Snow-capped mountains, crisp air and free-flowing rivers make touring this region a joy even if you're not an oenophile.
For those seeking silky, spicy pinot noirs, Central Otago is home to a variety of wineries specialising in the grape, from small, family-run businesses where you can sip in a quaint backyard setting through to sprawling estates with mountainous views. Not sure where to start? Here is our extensive guide to the Central Otago wine region. (And if you want an itinerary that spans both islands, follow our five-day New Zealand wine trail.)
1. Rippon Vineyard, Wānaka
A family-run winery, Rippon Vineyard feels like stepping onto your aunt's country home. Tastings are driven by the history and community of the vineyard, so expect to learn as you sip the winery's wide range of pinot noirs. Don't miss the Rippon Mature Vine pinot noir, described as the 'voice' of the Rippon vineyard.
Address: 246 Wanaka-Mt Aspiring Rd, Wānaka, Central Otago
Phone Number: (03) 443 8084
2. Te Kano Estate, Bannockburn
Just above Te Kano Estate's vineyard grows the Kōwhai tree, which bursts into colourful golden blooms in the spring, feeding birds and wildlife. It's the inspiration behind the estate's ethos, which strongly focuses on regeneration and caring for the land and its history. The architecturally designed cellar door utilises the property's breathtaking views across the Kawarau River, where you can taste pinot noir and other varietals from the estate. If you can, try the blanc de noir – made entirely from pinot noir grapes, the clear white wine is deliciously juicy and spicy.
Address: 92 Felton Rd, Bannockburn, Central Otago
Phone Number: (03) 928 6951
3. Mondillo, Bendigo
A single-estate vineyard, Mondillo is just 55 minutes from Queenstown, making it a great option for those visiting town for just a short time.
Cellar door visits are by appointment only, but that makes it all the better – the winery is known for its attentive service and warm atmosphere, in large part due to being a family-run business that only produces five varietals and maintains a deep passion for each.
Address: 370 Bendigo Loop Rd, Bendigo, Central Otago
Phone Number: 0274 282 214
4. Mt. Difficulty, Cromwell
Mt. Difficulty Wines has positioned its cellar door just right – high up on the hill, it overlooks Cromwell Basin and Lake Dunstan, ensuring views for anyone dropping by to taste the wines on offer. Wine tastings cost $10 per person and include the full range of wines produced by the winery.
Address: 73 Felton Rd, Bannockburn, Central Otago
Phone Number: (03) 445 3445
5. Cloudy Bay, Cromwell
You likely know of Cloudy Bay for its sauvignon blanc, grown in the Marlborough region of New Zealand. But the famous winery has a Central Otago location that's home to the Te Wahi pinot noir – full of spice and the complex flavours of warm forest floors, dark berry fruit and structured tannins.
Address: 45 Northburn Station Rd, Cromwell, Central Otago
Phone Number: (03) 975 9599
6. Domaine-Thomson, Mount Pisa
Walk down the pebbled pathway through bursts of lavender and you'll find the Domaine-Thomson tasting room, an airy space filled with natural light and quirky touches, like flooring made of old rail posts and historical artefacts from explorer John Turnbull Thomson, owner David Hall-Jones' great-great-grandfather and namesake of the winery.
Address: 46 Clark Rd, Mount Pisa, Central Otago
Phone Number: (03) 445 4912
7. Maude Wines, Wānaka
This modern Central Otago winery has a tasting room on a separate site to its vineyard, but it's no less stunning a spot to sit and sip at. Pull up a chair at the tasting bench and be treated to the daily selection, then choose your favourite and take a bottle out to the terrace, where you can enjoy views over Lake Wānaka and a selection of nibbles.
Address: 76A Golf Course Rd, Wānaka, Central Otago
Phone Number: (03) 443 2299
8. Judge Rock Wines, Alexandra
A blink-and-you-'ll-miss-it New Zealand winery along the Central Otago Rail Trail, Judge Rock Wines might be small in size but it's mighty in award-winning drops, like its 2014 pinot noir, which won best pinot noir and best red wine at the 2016 Australia & New Zealand Boutique Wine Show. You're here for the pinot but stay for St Laurent – Judge Rock is one of the very few wineries in the southern hemisphere growing the French grape, which creates an aromatic, smooth red you'll want to snap up six bottles of.
Address: 36 Hillview Rd, Alexandra, Central Otago
Phone Number: (03) 448 5059
9. Carrick Winery, Bannockburn
Carrick is a single-estate vineyard producing 100 per cent estate grown pinot noir that's also certified organic and sustainable. Grapes are hand-harvested, and wines are known for their firm tannin profile and acidity – what more could you want? Well, incredible scenery. The winery is on the banks of the Bannockburn Inlet, so pick a beautiful day and enjoy their tasting flight or spend a few hours over a long lunch at the on-site restaurant.
Address: 247 Cairnmuir Rd, Bannockburn, Central Otago
Phone Number: (03) 445 3480
10. Black Ridge Vineyard, Alexandra
Famous as one of the world's most southern wineries, Black Ridge Vineyard was also one of the first vine growers in the Central Otago region, with vines dating back to 1981. Set among the hills of Conroys Gully overlooking the Alexandra Basin, their quaint tasting room offers tastings for $10 per person.
Address: 76 Conroys Rd, Earnscleugh, Alexandra, Central Otago
Phone Number: (03) 449 2059
LEAVE YOUR COMMENT