The perfect 5-day wine trail through New Zealand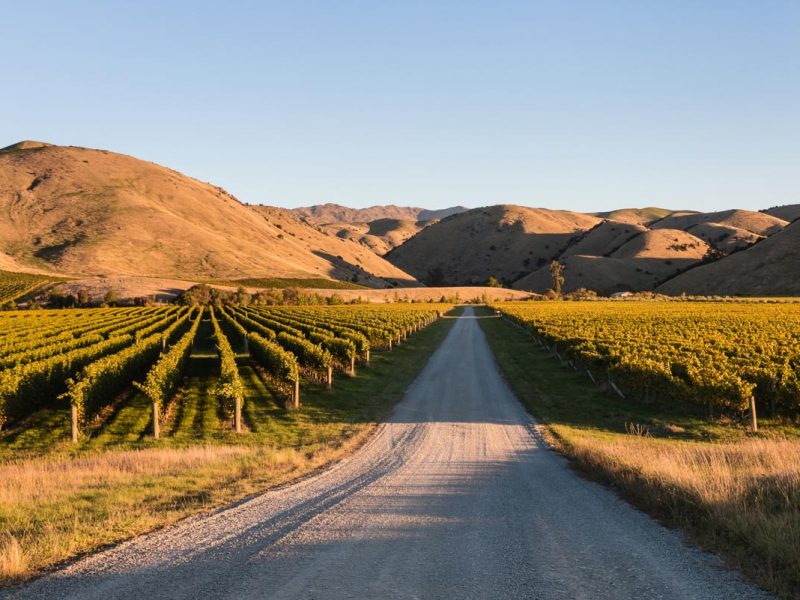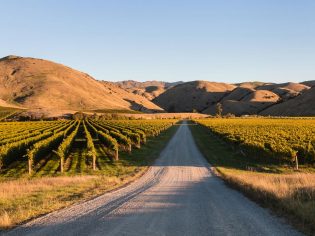 New Zealand/Aotearoa is famed for its incredible landscapes and sense of adventure. Even better, world-class local wine can be part of the journey at every turn.
From the tip of the North Island/Te Ika-a-Māui to the bottom of the South/Te Waipounamu, New Zealand is a wine lover's dream. Producing globally recognised vino, Hawke's Bay and Marlborough are two of the country's most renowned wine regions, making a road trip spanning the two destinations a mouth-watering escape.
Day one: Napier/Ahuriri and Hastings
Picturesque Hawke's Bay is bona fide wine country, and the twin cities of Napier and Hastings are the best spots from which to explore. Sitting pretty on the east coast of New Zealand's North Island, the region is blessed with beautiful beaches, remarkable architecture, award-winning cuisine, and a rolling countryside ripe with vineyards. With more than 100 producers and 30 cellar doors in the region, you won't run out of opportunities to sip, sip, sip. At the very least, pop Craggy Range, Elephant Hill and Te Mata Estate wineries on your to-do list.
Must-see
Eat up
Not only renowned for extraordinary wine, Hawke's Bay is foodie heaven. As well as incredible local produce, the region is home to a glut of exceptional cafes, bakeries and restaurants. Held each June, the annual Food and Wine Classic (FAWC!) is a particularly delicious time to visit.
Art Deco wonders
Prepare to marvel at seaside Napier's Art Deco delights. Rebuilt in the early 1930s following a massive earthquake, the city now boasts an impressive concentration of original Art Deco, stripped classical and Spanish mission architecture. The period comes to life each February during the Napier Art Deco Festival.
Scale Ta Mata
Located in the Havelock North district, Ta Mata Peak is a culturally and historically significant landmark. Walk to the 399-metre summit for spectacular 360-degree views and, back at the base, reward yourself with a tipple at Black Barn or Te Mata Estate.
Accommodation tip: The Dome, Napier
Day two: Napier to Martinborough
Next stop is scenic Martinborough, the winery hub of the Wairarapa region. Also comprising wine hotspots Gladstone and Masterton, Wairarapa is home to spectacular coastlines, a vibrant art scene, and, of course, wine worth travelling for. Martinborough alone has more than 30 wineries, including some of the best pinot noir in the country, and its charming town square is a treat.
Must-see
Taste test
Most of Martinborough's cellar doors are within walking distance of town (although you'll be far more efficient on two wheels). Favourites include Poppies Martinborough, Luna Estate and Ata Rangi.
Town hop
Wairarapa is dotted with quaint village towns, and each boasts unique appeal. For artisan treats and beautifully restored Victorian architecture, visit Greytown, while C'est Cheese in Featherston is an institution.
Accommodation tip: The Martinborough Hotel, Martinborough
Day three: Martinborough to Wellington/Te Whanganui-a-Tara
Small but mighty, the New Zealand capital of Wellington packs a punch. This is a creative and well-caffeinated city (although the subject of much conjecture, the flat white was said to be invented here), and one you will fall for quicker than you can say, 'It's a bit windy'.
Must-see
Cuba Street
Wellington's cosmopolitan shopping strip is full of character, not to mention great cafes, restaurants, street artists and colourful nightlife. Wander to your heart's content.
Wellington Waterfront
Still wandering? Head to the water. From Queens Wharf to Oriental Bay, Wellington's 2.5-kilometre waterfront is both picturesque and entertaining.
Te Papa
Located on the waterfront, the Museum of New Zealand, or Te Papa Tongarewa, is an incredible six-storey showcase of the country's diverse art and visual culture.
Accommodation tip: The Intrepid Hotel
Day four: Wellington to Picton
Sitting pretty-as-you-like at the head of Queen Charlotte Sound/Tōtaranui, Picton is the gateway to the picture-perfect Marlborough Sounds and all manner of treasures that come with it.
Must-see
Marlborough Sounds
Be it by boat, kayak or foot, a tour of the Marlborough Sounds will help you discover this magical network of ancient sunken river valleys and the abundant marine life that call it home.
Queen Charlotte Track
Take in a section of the 72-kilometre long Queen Charlotte Track for a day hike you won't forget, complete with Marlborough Sounds views.
Lochmara Lodge
A place to bed down, sure. But Lochmara Lodge is also a centre for wildlife recovery and the arts, with day trips available for those sleeping elsewhere.
Accommodation tip: Lochmara Lodge, Marlborough Sounds
Day five: Picton to Blenheim
Barely 20 minutes south of Picton you will find yourself in Blenheim, the ideal launchpad for Marlborough wine touring. Marlborough is the heartland of sauvignon blanc, the varietal that put New Zealand wine on the international map. Yet it's far from the only drop worth savouring, and with more than 20,000 hectares of vines, 120 wineries and over 30 cellar doors, you won't go thirsty in Marlborough.
Must-see
Ride the Golden Mile
You can hardly go wrong exploring Marlborough's many wineries, but the Golden Mile will at least provide some direction. The six-kilometre cycle trail on Blenheim's outskirts connects nine cellar doors, including Hans Herzog Estate and Gibson Bridge Vineyard.
Wairau River Wines
The Rose family have been growing grapes in their vineyard on the edge of the Wairau River for over 40 years, with Chris and Phill Rose planting the first vines by hand in 1978. With an award-winning range of sauvignon blanc to sample at the cellar door and a seasonal menu of delicious food on offer in the restaurant, Wairau River Wines is an estate worth checking out. Book in advance for a wine tasting at one of Marlborough's finest.
Elemental Distillers
Wine isn't the only top drop being crafted in Marlborough; housed across three up-cycled shipping containers, award-winning Elemental Distillers offer tastings in The Gin Room seven days a week. Distillery tours and tastings are also available by appointment.
Accommodation tip: Walnut Block Cottages, Blenheim
Want more of New Zealand? Read all 101 Reasons To Stop Dreaming About New Zealand And Go Here.
LEAVE YOUR COMMENT