The most luxurious places to stay in New Zealand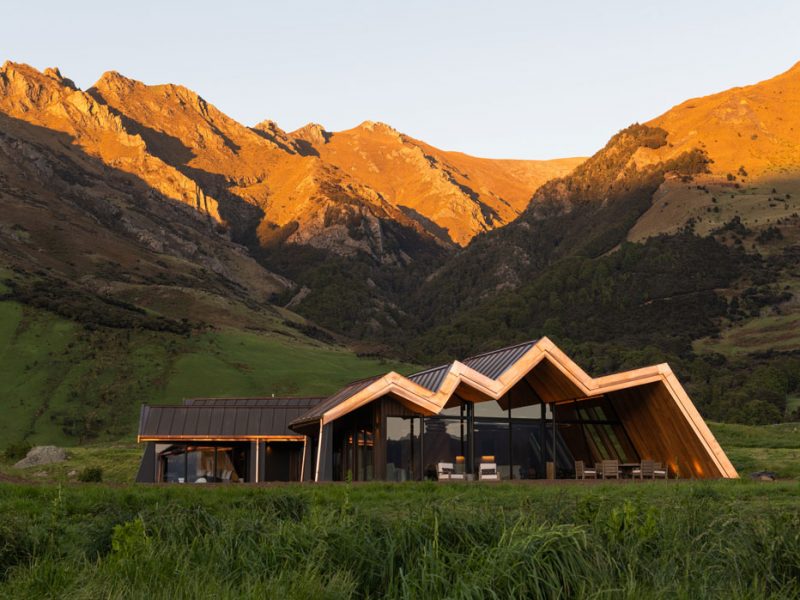 From iconic lodges fit for the Queen to architectural masterpieces in the wildest of locations and five-star retreats with serious eco credentials, here's how to live it up – Kiwi style.
It's time to discover the most luxurious places to stay in New Zealand: 48 to 58 of our 101 Reasons To Stop Dreaming About New Zealand And Go.
48. Sleep in a luxe treehouse between the mountains and the sea
Hapuku Lodge + Tree Houses is a luxuriously different South Island offering. Where else in New Zealand can you find a contemporary country hotel set on a deer-breeding farm that offers the opportunity to sleep in the treetops? Here, between the mountains and the sea just north of eco-marine town Kaikōura, you'll find five treehouses hoisted 10 metres above the ground among the canopy of a native kānuka grove (a relative of mānuka).
49. Stay at a stylish clifftop retreat (for its hot tub alone)
Pipinui Point is just half an hour's drive from Wellington/Te Whanganui-A-Tara's city centre, yet it serves up a total immersion in nature – of the most show-stopping variety. This luxury retreat is perched high on a clifftop above the Tasman Sea within 650 hectares of coastal farmland. And, from an outdoor hot tub planted in native bush to its west-facing outlook framing picture-book sunsets, everything is poised to make the most of those stunning ocean views.
50. Let The Farm at Cape Kidnappers recalibrate your idea of luxury
Arriving at The Farm at Cape Kidnappers is an exercise in anticipation. Breaching the gates and winding slowly through its extensive footprint of glorious Hawke's Bay pastureland, the main lodge building is tantalisingly revealed. If you are expecting something ostentatious to match the property's enviable reputation for sophistication and hospitality, you will need to recalibrate your idea of what true luxury is. Here it is about the experience and a level of quiet style and design that softly envelops you rather than shaking you to be noticed.
51. Slumber in architectural wonder at Mt Isthmus
A sole-use villa in the sweetest of spots, Mt Isthmus is the newest offering from the Lindis Group – whose distinctly Kiwi properties are a harmony of luxury, design and the natural environment. This seriously stunning architectural proposition is located on the isthmus (a thin strip of land) that separates the Wānaka and Hāwea glacial lakes in the South Island/Te Waipounamu.
52. Find a creative blend of old and new at Fable Dunedin
This five-star boutique hotel offers a stay in the heart of Dunedin/Ōtepoti as steeped in heritage and character as the city itself (one of New Zealand's first three cities, built on old gold rush riches, the name Dunedin is derived from the Scottish Gaelic word for Edinburgh).
53. Check into Falcon Brae Villa for the ultimate off-grid retreat
Part of the Luxury Lodges of New Zealand portfolio, Stonefly Lodge is a riverside property hewn from local stone and timber that sits lightly in the wilderness at the top of the South Island/Te Waipounamu (within an hour's drive of Nelson). And in late 2019 it expanded its luxe offering.
54. Discover the luxury of one of New Zealand's most iconic retreats
A stay at Huka Lodge is the stuff dreams are made of and bucket lists compiled from. It's revered as one of the world's great luxury lodges, and is certainly one of New Zealand's grandest and oldest – poised proud on the banks of the surging Waikato River near Lake Taupō in the North Island/Te Ika-a-Māui and just upstream from the mighty Huka Falls.
55. Witness the starry skies at five-star eco-retreat Nightsky Cottage
Stargaze beneath the dark skies of Tongariro National Park and wake to panoramic views of Mt Ruapehu from the five-star comfort of Nightsky Cottage, a luxury eco retreat in Ruapehu in the heart of the North Island/Te Ika-a-Māui. This adults- only bolthole is squirrelled away in a hectare of native bush – made up of mānuka and ancient beech trees – bordering Tongariro.
56. Luxuriate in nature at a tranquil riverside retreat
You'll find Maruia River Retreat on the banks of its namesake river between Nelson and Christchurch/Ōtautahi in the South Island/Te Waipounamu's inner West Coast/Te Tai o Poutini region, secluded within a 200-hectare nature estate of beech forest, mountains, gardens and terraced paddocks.
57. Helicopter between two world-class luxury lodges in the Southern Alps
Experience two of the world's great luxury lodges in the heart of New Zealand's Southern Alps in sweet succession. Blanket Bay lies on the shores of Lake Wakatipu and is surrounded by some of the country's most remote and pristine wilderness. From here, take your chance to be whisked away to Minaret Station Alpine Lodge, set in a remote glacial valley and accessible only by helicopter; the 35-minute scenic transfer can be arranged by either property.
58. The Lindis – a luxury lodge inspired by the landscape
When The Lindis opened in late 2018 it became something of an instant classic: a lodge dealing in understated luxury designed to blend in with the spectacular wilderness that surrounds it. It is nestled almost imperceptibly on the floor of the Ahuriri Valley, a dramatic landscape – carved over millions of years by glacial waters – of rugged mountain terrain, wetlands, tussock grasses and beech forest in the Southern Alps just a 2.5-hour drive from Queenstown.
Next: The most memorable ways to experience Māori culture >>
Return to 101 Reasons To Stop Dreaming About New Zealand And Go