Cities to stargazing: a 6-day itinerary for New Zealand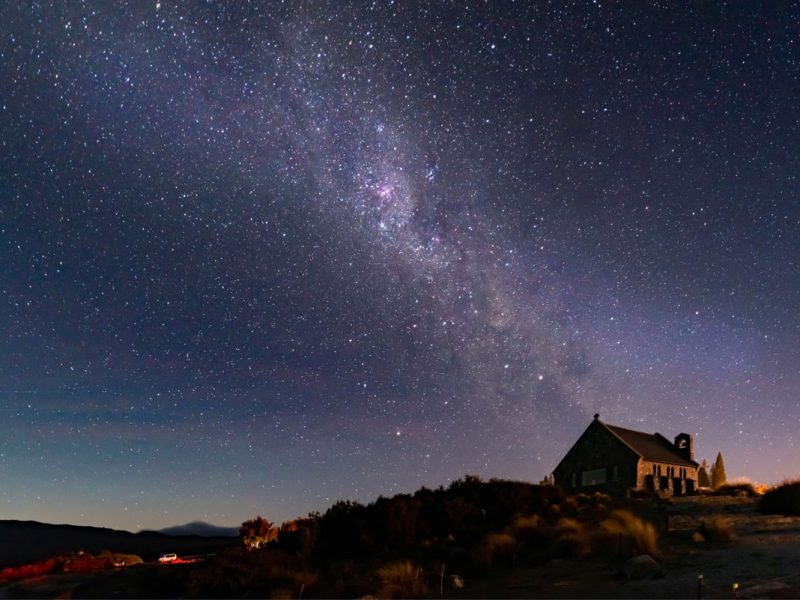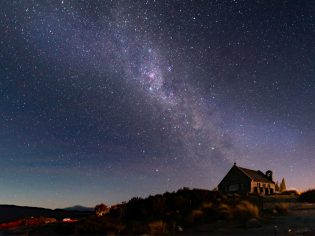 New Zealand's South Island promises plenty of pure shores to explore, creative cities to wander, and adventurous experiences, for those looking.
Punctuated by New Zealand's highest mountain and its longest glacier, and graced by the country's clearest skies, the South Island/Te Waipounamu is flush with superlative natural wonders. On this six-day itinerary you'll traverse rugged alpine landscapes, golden arcs of sand, vast crumpled ice fields, and piercingly turquoise lakes framed by swathes of pastel-hued lupins. Take to catamarans, kayaks and helicopters while exploring this wild isle from head to belly.
Day one: Christchurch/Ōtautahi to Lake Tekapo
Set off for Lake Tekapo, a three-hour drive south-west of Christchurch. If the summer sun beckons, make a short detour to beautiful Waimataitai Beach in Timaru. Kids will love local Famlan Farm Park, while art enthusiasts can capitalise on the handful of galleries that pepper the port city's streets.
A one-hour drive from Timaru will land you at Lake Tekapo in the Mackenzie Region: a mountainous, snow-capped, technicolour landscape of milky hued neon blue lakes, vast clear skies blanketed with stars, and meadows full of tall lilac lupins. For lovers of adventure and wilderness, this pocket of land in the belly of the South Island is Shangri-La.
Must-see
Stargazing at Lake Tekapo
Spending the night at Lake Tekapo is non-negotiable. One of just three International Dark Sky Reserves in the Southern Hemisphere, it promises impossibly clear night skies thanks to strict controls on light pollution. Feast your eyes on skies flecked with constellations and galaxies, such as the Southern Cross and the Milky Way, on a local stargazing tour. You might even spy the Southern Lights.
Walk Mt John summit
Take a brisk walk in the pure alpine air to the top of Mt John summit, home to the eponymous observatory, as well as a panorama of the Mackenzie Basin, Aoraki/Mt Cook and Lake Tekapo. After a 45-minute walk that traverses forest and grasslands, reward tired legs and rumbling stomachs with a seat and a slice of carrot cake at the Astro Cafe. Alternatively, you can drive to the summit in 15 minutes.
Accommodation tip: Ranginui Bed & Breakfast
Day two: Lake Tekapo to Aoraki/Mt Cook
Pick up your coffees to-go and make a pitstop at charming Lake Alexandrina, a serene, spring-fed, high country lake. From here it's only an hour and 20 minutes to Aoraki/Mt Cook Village, located on the shores of Lake Pukaki, which serves as a great launching pad for alpine adventures.
The crowning glory of the Southern Alps' rugged snow-dusted spine, Aoraki/Mount Cook is the tallest mountain in New Zealand. Aoraki/Mt Cook National Park is also home to another remarkable natural feat: the longest glacier in New Zealand. Stretching for 27 kilometres, the Tasman Glacier is capped with pristine snowfields.
Must-see
The Tasman Glacier
Go by water, the air, or a set of skis to get an up-close look at the icy white ribbon that is the Tasman Glacier. Sitting within its own lake, the ice shelf regularly calves off into smaller chunks. The glacier can be reached on foot from the Blue Lakes Shelter, but to really appreciate the scale of this natural wonder plump for a heli-hike, or a boat trip into Tasman Glacier's terminal lake, to be awed by its colossal icebergs.
Hike Aoraki/Mt Cook National Park
Make feathered friends on a walk among the rocky giants and golden grasslands of Aoraki/Mt Cook National Park, home to kea (mountain parrots). Aspiring hikers can try one of the 10 short well-marked walks that start near the village, most of which are sub–two hours. If you'd like to tackle a more challenging ascent, consider enlisting the help of local experts.
Accommodation tip: Hermitage Hotel
Day three: Aoraki/Mt Cook to Christchurch
It's a four-hour drive to Christchurch, the so-called Garden City, gateway to the South Island's adventurous pursuits. But this small city (population 394,700) has plenty to offer of its own. New Zealand's very own comeback kid, Christchurch has become a model of urban regeneration, rebuilding itself in novel ways following the earthquakes that took place between 2010 and 2012, crafting a new identity in the process.
Explore kooky architecture, such as the city's Cardboard Cathedral (the only one in the world to be made substantially of cardboard), stroll around streets freckled with abstract murals, or partake in the city's booming cafe culture.
Must-see
Riverside Market
A constant hive of activity, the buzzing indoor Riverside Market purveys fresh produce as well as ready-to-go food. Pick up some Lebanese pastries for the road, sit down for a flat white at a coffee roastery, fill up on Thai street food, or settle in and sample the local brews at a craft beer bar with 16 rotating taps.
Street art tour
Get under the skin of this multidimensional city with a tour of the city's street art scene. Led by Dr Reuben Woods, an art historian with a PhD in the subject of street art, this 90 minute tour takes in some of the city's biggest and most significant murals.
Accommodation tip: The Britten Stables
Day Four: Christchurch to the Marlborough region via Kaikōura
Hit the road and head to Kaikōura, which is 180 kilometres north of Christchurch and part of the Alpine Pacific Touring Route. This coastal town is renowned for its local offshore residents, the mighty sperm whales, but plenty of other marine mammals call these waters home, from dusky dolphins and fur seals to migrating orcas or humpbacks.
Must-see
Spot sperm whales at sea
Hop on a catamaran and venture out into the moana (sea) for your chance to view these creatures of the deep spy hopping, breaching, or lobtailing through the water. This new vantage point also offers sweeping views of the toothy peaks of the Kaikōura Ranges, which lie right behind town.
Swim with dolphins
Tune in to the curious clicks and whistles that pods of wild dusky dolphins make from under the waves: don a snorkel, mask and fins and get giddy as dolphins duck and weave beside you on this underwater adventure.
Accommodation tip: The Marlborough
Day five: Marlborough to Nelson
From Marlborough it's a 90-minute drive to Nelson, where the realms of urban and natural converge. Three national parks lie at the city's feet, wineries dot the bucolic landscapes on the city's fringe, and mountains encircle Nelson's perimeter. But it's also home to inner-city attractions of its own, from a thriving arts and crafts scene to plenty of festivals, a high density of Victorian architecture, and a thriving craft beer scene.
Must-see
Brewery hop
Known as the craft brewing capital of the country, and named the world's top cider city by National Geographic, Nelson is surprisingly avant-garde when it comes to craft beer and cider. Time your visit to coincide with one of the annual festivals, such as MarchFest, or simply hop to straight to the source at a local brewery.
Nelson Market
Host to a cornucopia of stalls, including food, homewares, artworks, jewellery and clothing, the weekly Nelson Market is the place to buy one-off crafts direct from local artisans.
Accommodation tip: Split Apple Retreat
Day six: Nelson to Abel Tasman National Park
It's an hour's drive from Nelson to Abel Tasman National Park, and New Zealand's smallest national park makes up for what it lacks in size with relentless and inescapable beauty. From sweeping golden sand beaches lapped by crystalline turquoise waters to granite-fringed headlands visited by colonies of New Zealand fur seals, soak up the castaway feel of this wilderness reserve on foot, on water or by air.
Must-see
Kayak
With so much of this national park sculpted by the sea, plenty of which can't be seen from land, it would be foolish not to take to the water for a better vantage point. Jump in a kayak (or water taxi) to paddle silently through little-explored coves, visit secret beaches and inspect unusual rock formations.
Cleopatra's Pool
Take a detour from the fabled Abel Tasman Coast Track and drop by Cleopatra's Pool, a small oasis in the heart of the forest. The smooth cheeks of rock in these spring-fed natural pools have formed a moss-lined chute that you can slide down; perfect for cooling off in the heat of summer after a long walk.
Want more of New Zealand? Read all 101 Reasons To Stop Dreaming About New Zealand And Go Here.
LEAVE YOUR COMMENT