A 7-day skiing itinerary for Canterbury, New Zealand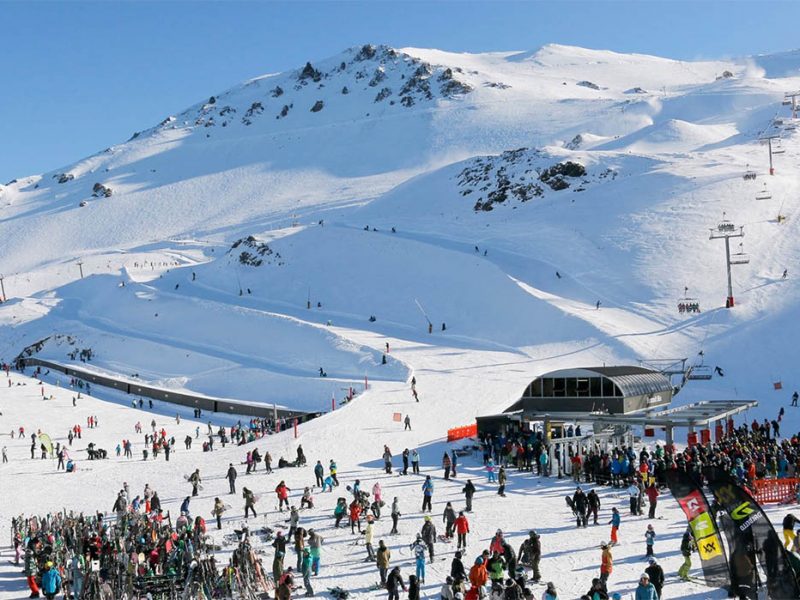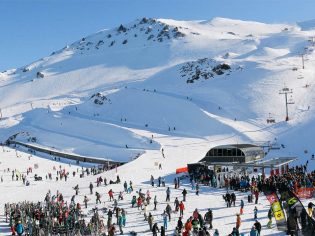 Discover New Zealand's lesser-known ski slopes on this epic Canterbury itinerary.
Ski family-owned resorts, spend your evenings stargazing and soaking in hot springs, and lap up small-town charm on this one-week road trip from Christchurch.
Day one: Christchurch/Ōtautahi
Only a short flight from snow-capped mountains and with a funky urban core, Christchurch makes a great launching point for a New Zealand/Aotearoa ski trip your friends have never thought of.
Must-see
A mix of trendy new and classic old, there's plenty for everyone in the South Island/Te Waipounamu's largest city.
SALT District
Get to know Christchurch by exploring the gritty SALT District. Pop into clothing stores such as Outsiders (offering skate/streetwear), catch an arthouse flick at Alice Cinema & Film Specialists, and grab a bite at Barefoot Eatery (specialising in wholefoods and raw treats).
Christchurch Tram
Explore the city by riding the heritage tram network. You can hop on and off at 17 stops, including Cathedral Square and New Regent Street.
Accommodation tip: The boutique Sudima Christchurch City offers luxury and a great location.
Day two: Methven via Porters Alpine Resort
It's time to hit the road, and the rustic village of Methven is a wonderful stop. Just be sure to enjoy a slide at Porters Alpine Resort first.
Must-see
Porters
After an early breakfast, head to Porters Alpine Resort, an hour away from Christchurch. A fun little hill to check out, Porters has a beginners' area perfect for children, a few intermediate runs and several blacks. There is also an unintimidating terrain park.
Methven
When it's time to rest your legs, make your way to Methven, which attracts serious skiers keen to explore some of Aotearoa's lesser-known slopes.
Accommodation tip: Check into Brinkley Resort, where you can dine on Canterbury beef and Merino lamb beside an open fire.
Day three: Mt Hutt
A quick 35-minute trip up the road means you have from first lifts to last to make the most of Mt Hutt Ski Area, Canterbury's main ski field.
Must-see
Mt Hutt ski laps
This has a reputation for being New Zealand's best ski resort – big call, we know. Perhaps that's because it has a large ski area (365 hectares), or maybe it's the elevation (2086 metres), or the fact there's terrain for everyone, with awesome chutes and bowls. Whatever the reason, spend the day lapping the fun trails.
The Blue Pub Methven
After schussing all day, pull up a chair at The Blue Pub in Methven for a burger and beer. The pub is a top live music venue on Saturdays, and a great spot to wind down with friends over a game of pool.
Day four: Lake Tekapo via Mt Dobson
Head farther south this morning to check out the ski fields around the stunning Lake Tekapo area. First up: Mt Dobson.
Must-see
Mt Dobson ski area
Mt Dobson is two hours from Methven, so hit the road early to arrive no later than brunch. There's no need to stress about beating everyone else to the snow here; the runs are uncrowded and the atmosphere friendly. The highlights: a big beginner area and a natural halfpipe.
Tekapo Springs
It's no surprise Lake Tekapo is a favourite destination for both locals and tourists. The large turquoise lake is framed by white mountains, and the gorgeous stone Church of the Good Shepherd makes for incredible holiday snaps. Soak in the scenery before soaking your muscles at Tekapo Springs. There are three hot pools, plus steam and sauna rooms.
Accommodation tip: Spend the night in the alpine apartments of Mantra Lake Tekapo.
Day five: Lake Tekapo
You'd be forgiven if all you wanted to do today was stare at the lake, coffee in hand. But there's a surprising number of options here that will tempt you outdoors.
Must-see
Roundhill ski area
If you have energy to burn, pull on your outerwear and get pumped for another day on the slopes. This time head to the family-owned and operated Roundhill Ski Area , about 35 minutes from town. It's super relaxed and child-friendly, with a large beginners' area.
Lake Tekapo Farm Tours
For those who'd rather swap high altitude for high country, Lake Tekapo Farm Tours takes you to Mt John and Balmoral stations, totalling more than 10,000 hectares. This is a great option for families as you can hand-feed the farm's alpacas.
Lake Tekapo stargazing
Part of a UNESCO Dark Sky Reserve, Lake Tekapo is superb for stargazing. April to September is prime time to witness the Southern Lights dance across the sky, and Mt John Observatory is a great place to wait for them to show up.
Day six: Lake Tekapo to Akaroa
Say goodbye to the mountains and head north-east, past Christchurch/Ōtautahi, to the historic coastal town of Akaroa.
Must-see
Akaroa
As the only French settlement in the country, Akaroa, on the Banks Peninsula, is a pleasure to explore on foot. Streets have French names, colonial cottages still stand, and you can dine on French cuisine. Our restaurant pick is The Little Bistro, with its organic, local produce.
Pohatu Penguins
Spend your last evening with an Australasian little penguin colony. On a Pohatu Penguins tour you get the chance to walk around the colony and check on nesting sites, then penguin watch, unobtrusively, from hides. Call ahead for tour availability during winter.
Accommodation tip: Oinako Bed and Breakfast
Day seven: Akaroa to Christchurch
After breakfast by the harbour, make your way back to Christchurch (1h 15m) with plenty of time ahead before your flight home.
Must-see
Quake City
Make time to learn about the 7.1 magnitude earthquake and its aftershocks that saw Christchurch fall in 2010. It's a fascinating story and the special Canterbury Museum exhibition tells it well through scientific and interactive displays, recordings from survivors and a showcase of fallen city "treasures".
Riverside Market
Grab a few extra souvenirs at Riverside Market, open seven days. This contemporary indoor market is not only a great spot to enjoy a large range of international cuisines, but it's also home to a lovely collection of boutiques, from a chocolaterie to quality garden supplies.
Note: New Zealand's ski season runs from June to October, but some smaller resorts close in September.
Want more of New Zealand? Read all 101 reasons to stop dreaming about New Zealand and go here.
LEAVE YOUR COMMENT