Spicy New Orleans cuisine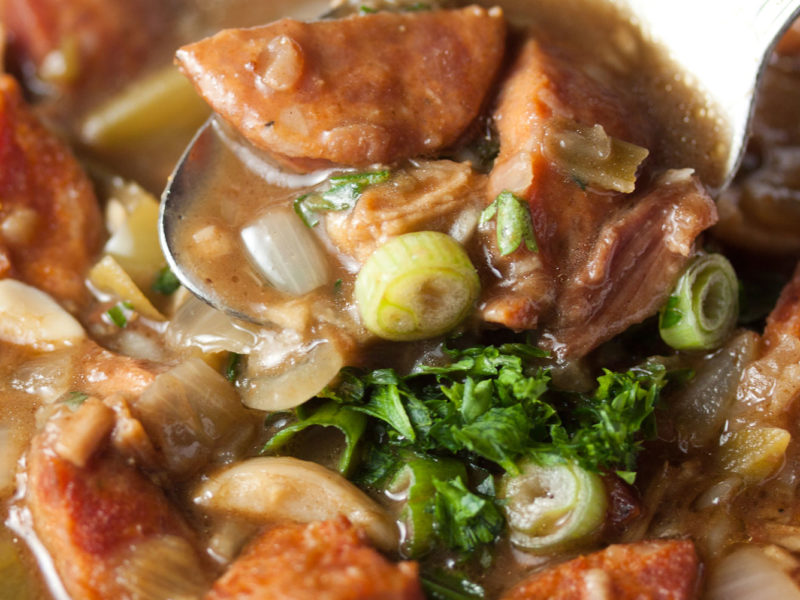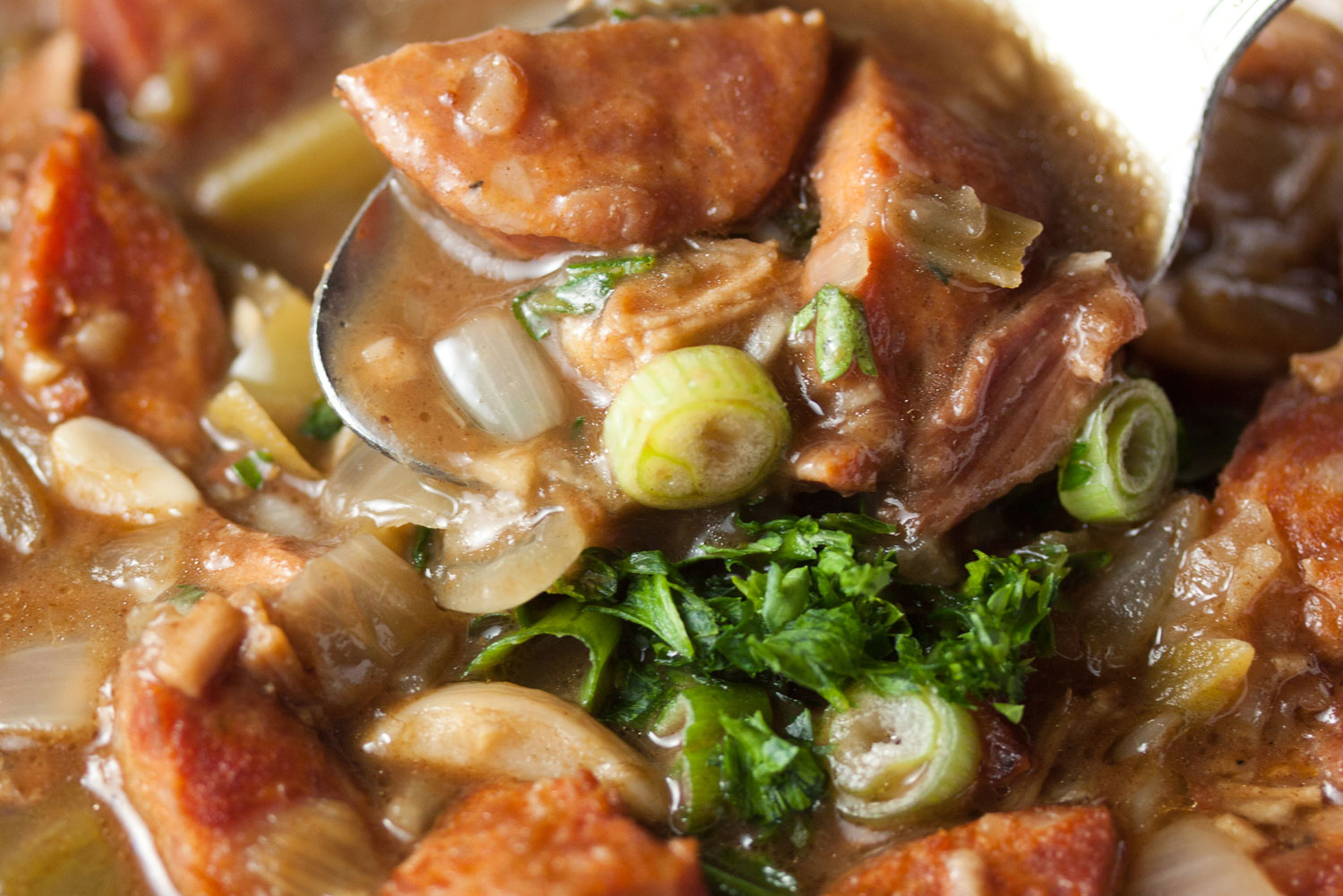 The birthplace of jazz is serving up a mean cuisine. Shaney Hudson gets to the heart of this delicious city.
The band watches my table, waiting for their cue.
It's a slightly absurd sight: dressed in black tie, the waiter brandishes a half peeled orange wedged on a fork in one hand, and a ladle full of flaming brandy in the other.
As the blue flames begin to lick the bottom of the peel, the waiter nods and the three-piece band begin to play. With a rush, flames encase the Cointreau-soaked fruit in a spectacular orb of fire.
It's typical of the old-fashioned pageantry that accompanies almost every meal in New Orleans: all I'd wanted was a simple cup of coffee, but instead I'd gotten a show.
Conversations in the hundred-year-old dining room at Arnaud's come to a halt as all eyes turn to my table.
The waiter uses a silver pot of coffee to extinguish the flaming concoction of orange, clove, cinnamon and rum. It's a showstopper, and only the band plays on.
Of course, that was the Café Brulot's original purpose: to distract unwitting diners so pickpockets could rifle through their coats. It's a tall tale, typical of the kind you hear in New Orleans, where every dish has a story, each one better than the next.
It's hard to imagine that a city like New Orleans can live up to the myth, yet somehow it does. From its incredible jazz music to its hedonistic nightlife and elaborate Mardi Gras festivities, New Orleans has enchanted visitors for decades with its affordable, easy going ways.
Increasingly however, the city on the banks of the mighty Mississippi is becoming known for its culinary achievements, redefining itself in the wake of Hurricane Katrina as a major international food destination with celebrity chefs, awards, accolades and a starring role on every 'best of' list.
But when I arrived in New Orleans, I'd discovered that there was more to the food than just the latest 'it' restaurant to open on the scene. Underlying each dish and every ingredient was a deep sense of tradition, history and legacy.
"The real history of New Orleans is seen through the food" says Michael DeVidts, senior chef at the New Orleans School of Cooking, which runs sell-out daily cooking demonstrations in the French Quarter.
While glasses of ice tea perspire in the Louisiana heat, DeVidts rhythmically stirs the roux like a magician preparing a potion. Made up of flour and lard, the roux is the foundation that links the cosmopolitan creole and rural cajun food traditions of the South.
I'd signed up for a demonstration on my first day in the city to get a better sense of the food traditions underpinning each meal.
Today he's preparing crawfish étouffée, a stew thickened by okra, a crop originally smuggled to the Americas by African slaves who ate it with crawfish harvested from rice paddies.
"As we build the dishes, we build the culture" he says, throwing finely diced onions, celery and bell peppers into the pot, sending a gust of aromatic steam whooshing upwards. Some cough as the spicy aroma hits their throat. Others inhale deeply in anticipation.
"What you are eating today is really the only true American Cuisine" he says, handing out plates of the dish. Served over rice, the spicy thick gravy is heavily seasoned and full of big flavour, the sort of hearty comfort food a friend might serve you in their home.
As we finish our bowls, DeVidts offers us one last pearl of wisdom: be sure to see New Orleans out of the Quarter, advice I come to hear repeatedly throughout my stay.
Beyond the gaslight lamps and wrought iron balconies of the touristy French Quarter is a motley mix of neighbourhoods that highlight the diversity of the city; from the sophisticated art galleries of the Warehouse district to the bohemian enclave of Bywater and the brilliant nightlife of the Faubourg Marigny, home to the city's best Jazz.
Forget the French Quarter's boozy Bourbon Street with its souvenir shops and strip clubs.
Locals head to clubs like Snug Harbour, DBA and Blue Nile on Frenchmen Street in Faubourg to get their jazz fix, with the party overflowing onto the street on weekends and during festival time.
When I show up there on a Saturday night, it's like nothing I could ever imagine.
There's a guy in a suit sitting with a portable typewriter on a table. The sign in front of him reads 'Poetry: My words, your price'. Two metres away, a group sit in a speedboat parked on a trailer outside a packed bar, having their own private party.
There's a kid selling grilled cheese sandwiches for $3 a piece on the sidewalk and a group of girls in ballerina costumes dancing along to Michael Jackson's Thriller from a car stereo.
Everyone has a drink in hand, taking full advantage of New Orleans's liberal street drinking laws (and sticky southern humidity).
When I finally manage to order a drink, the bartender asks me if it's "to have here, or to go?" I walk outside with a plastic 'go-cup' full of vodka, feeling like I've entered some sort of surreal adult Disneyland. I haven't.
It's just an average Saturday night in New Orleans.
For the first time in my life, jetlag works in my favour: I stay up all night long milling through the crowd and chatting with strangers, and judging by the line of club stamps on my wrist and the thump of my head the next morning, I'm fairly sure I had a good time.
I head out for brunch in desperate need of an eye-opener, willing to test the theory that the best way to ease your hangover in New Orleans is to stay drunk. Brunch is a New Orleans tradition, and it's acceptable (and expected) to have an alcoholic beverage with your breakfast.
Beginners should start with a Brandy milk punch, although seeing it's my fourth morning in New Orleans, I go straight for a Bloody Mary, taking my seat in the leafy garden at the Court of Two Sisters, one of the French Quarter's best known brunch destinations.
The casual buffet menu allows me the opportunity to try the things I haven't been able to sample yet on my southern adventure: freshly baked biscuits with grits, glazed sweet potato smothered in toffee, and chunks of banana drowned in syrup, all accompanied by a jazz quartet who strum softly in the sunlight.
It's hard to separate food and music in New Orleans: where there's one, there's always the other. It's common to find a jazz quartet, like the one at the Court of Two Sisters, but even the musicians do a neat secondary trade in cooking.
It's a well-known fact that even popular jazz musician and living legend Kermit Ruffins fires up his portable BBQ after his weekly show at Vaughan's Lounge.
Unfortunately a clueless cabbie who gets lost in the 9th ward makes me miss his Thursday night gig, but locals tell me it gets crowded fairly early in the small bar, thanks to Ruffins's star turn in the gritty HBO drama Treme.
The iconic, working class neighbourhood depicted in the critically acclaimed series recently celebrated its 200th anniversary in 2012 with a week-long festival of food and music.
The Treme is home to some of Nola's best restaurants like Dooky Chase, Willie Mae's Scotch House and Lil' Dizzy's.
Although they're not much to look at from the outside, these restaurants serve up the city's best soul food, and are so beloved by the community that in the case of Willie Mae's, locals and patrons pitched in with their hard work and cold cash to rebuild the joint after Katrina devastated New Orleans in 2005.
It's an example of the deep sense of legacy that drives the food culture here.
While other cities might take their new found 'it' status as a foodie destination and put on pretentious airs and graces, that's just not New Orleans' style. Sharing a meal means something more.
"Food is at the centre of New Orleans culture", says Jimmy Setchim, a Louisiana native and chef at the Palace Café.
"Love for the ingredients, the methods, and the traditions of, not just cooking or eating, but the idea of entertaining as a whole permeates the state."
People really care about food, and it's how locals connect with visitors: from the waitress bringing me a slice of pecan pie who recalls picking pecans on her Granddaddy's farm, to the guy sitting next to me on the St Charles Ave tram who explains in detail why you make red beans and rice on laundry day.
It's easy to find the heart and soul of New Orleans: it's dished up on every plate.
How to get there
QANTAS has daily flights from Sydney to New Orleans connecting via Dallas with American Airlines from $1701. qantas.com Louis Armstrong International Airport is located 11 miles from New Orleans; taxis cost around $34, shuttles around $19.
When to go
Spring (February to May) is the best time to visit if you're interested in major festivals such as Mardi Gras. The temperature is also the most pleasant at this time, as well as during autumn (September to November). Late May to August is hot and sticky in New Orleans, with hurricane season running from June to November.
Where to stay
Hotel prices fluctuate heavily in New Orleans: book well in advance if you're planning on attending Mardi Gras, Jazz Fest or other big festivals.
Affordable: Built in 1850, the low-key nine-room Royal Street Courtyard Bed & Breakfast is located in the Faubourg Marigny and is close to Frenchmen Street nightlife. From $106 per night. 2438.
Comfortable: The historic Hotel Monteleone is the top pick for its prime location near the French Quarter, as well as its historic literary ties and decadent Carousel Bar. From $137 per night. 214 Royal St; hotelmonteleone.com
Luxury: Framing the Superdome, the one-year-old 1100 room Hyatt Regency features the latest technology and has a great sports bar. From $183 per night. 601 Loyola Ave; neworleans.hyatt.com
Boutique: The 135-room Hotel Modern offers creative package deals throughout the year, including prize seats in the viewing stand during Mardi Gras. From $132 per night. 936 St. Charles Avenue; thehotelmodern.com
Where to eat
Affordable: Cake Café and Bakery is a relaxed local joint serving hearty shrimp and grits, boudin and fried potato salad. 440 Chartres St; nolacakes.com
Mid-range: It would be a crime not to try the pulled pork at the Palace Café – and always add a cup of crabmeat to every dish. 605 Canal St; palacecafe.com
High End: If fine dining is more your thing, try the Café Brulot at Arnaud's, one of the French Quarter's most iconic restaurants. 813 Bienville Ave; arnaudsrestaurant.com
You can't leave without
1. Seeing the incredible Mardi Gras floats being constructed at Blaine Kern's Mardi Gras World. mardigrasworld.com
2. Catching a show at Preservation Hall Jazz Club
3. Visiting the National World War II Museum
Best thing about New Orleans
The hospitality of the people and their friendly attitude to travellers.
Worst thing about New Orleans
Bourbon Street. Some call it legendary, but we suggest heading to Frenchmen Street instead.
You should know
Safety has improved in New Orleans, but you should always take taxis if you're leaving the French Quarter at night.
For detailed information on the city see neworleansonline.com or for a list of all restaurants in the city see nomenu.com
LEAVE YOUR COMMENT