Meanwhile in Canada… even Vikings turn out to be surprisingly friendly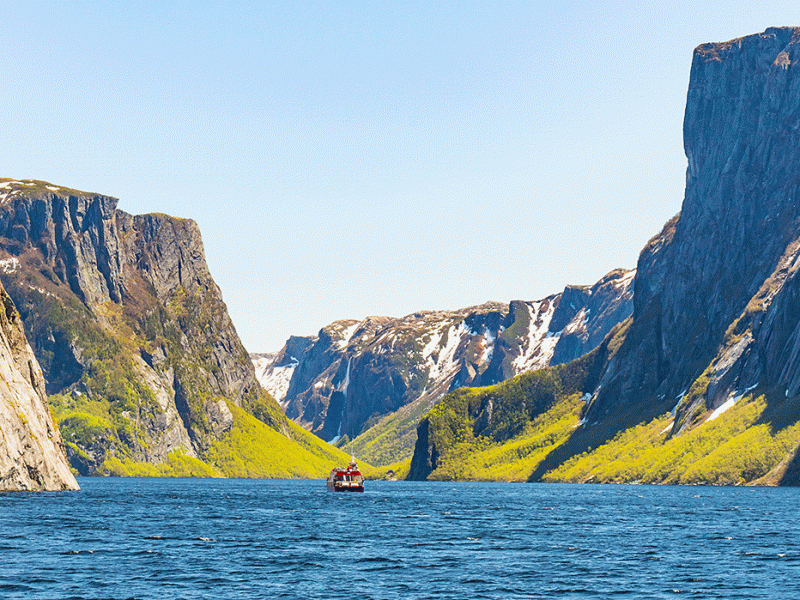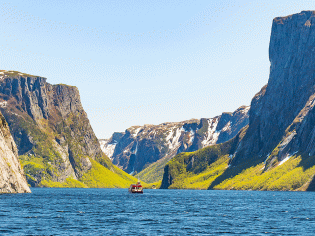 Travel back 1000 years in Newfoundland and you'll discover some early European settlers – or rather, their far more agreeable modern counterparts.
This is story eight of our Meanwhile in Canada… series.
Before I set off to Newfoundland and Labrador, Canada's eastern Atlantic edge, to discover my inner Viking, I let my imagination run away with me. I see myself charging up a beach with a sword, setting fire to a longship, feasting on an ox.
I should probably have known better. These are Canadian Vikings, and what really happens is that I find myself knitting by a fireplace.
Viking knitting is called nalbinding, which is as knotty as it sounds. In no time at all, my loops of wool are in a hopeless muddle, although the flaxen-haired Viking supervising me doesn't seem to mind. She says her name is Dagmar, but I suspect it's probably Amy or Susan. For all her talk of swords, ships and how she chipped her knitting needle out of a walrus bone, I think she's rather nice, and probably had a cinnamon bun for breakfast.
My hope of Viking raiding has been dashed. I'm sitting here chatting to a costumed guide by a guttering fire that smells of peat, snug in a house whose roof is topped by a punk hairdo of wildflowers. In the background, I can hear waves sloshing on the shoreline and a seabird chorus.
Actually, I'm rather content. I like having my stereotypes subverted. Nobody ever tells you that the Vikings knitted. Or, for that matter, that they holidayed in Canada.
I've been content for the last week. I'm almost as far east as you can go in Canada, on the Great Northern Peninsula, one the western side of the island state of Newfoundland. This isn't a well-known part of the country, which is fine by me, because the Viking Trail that snakes for 500-odd kilometres is an unexpected delight.

Lighthouses stand like white exclamation marks on convoluted coastlines. Sheep are pointillist dots on hillsides. I like listening to the surge of the sea. I like hoofing through glacier-sculpted Gros Morne National Park, which has landscapes to make the soul sing, and cold fresh air to make me feel 10 years younger.
I like the people. Newfoundlanders are descendants of seafaring folk, not as garrulous as some Canadians, but just as kindly. They stand in burbling streams, flinging out fishing lines with all the grace of ribbon gymnasts at the Olympics. They play bodhrans and fiddles in pubs as I scoop up seafood chowder loaded with lobster, blue mussels and scallops.

At L'Anse aux Meadows, I meet Clayton Colbourne, who could pass for a Viking with his ruddy cheeks and grey beard. That seems apt, because L'Anse aux Meadows is the only authenticated Viking site in North America. Clayton recalls playing on this site as a child, when it was just buried mounds. Then, when he was 11, the archaeologists arrived.
"We watched the site emerge day by day. It was like living an adventure in a kids' book. It wasn't just the outside world that had suddenly arrived in our village, but history!"
The Vikings came here in the 11th century and stayed a decade, Clayton explains. To arrivals from Greenland, this was lush country filled with wild grapes and walnuts, moose and fat salmon. They smelted and worked iron, traded in timber, and left behind items now on show in the visitor centre: bone needles, wooden spindles, decorated brass, a cloak pin.
There isn't much Clayton doesn't know about the settlement. He was there when it was excavated, helped Parks Canada build recreated dwellings, and got a job explaining it all to visitors. But he's just as interesting when talking about his childhood in this part of Newfoundland, when there was no electricity, no roads and no telephones.
"In winter we got around by dogsled. In summer, we used to catch salmon with our bare hands right out of the streams," he says with a gentle smile, making me think Newfoundlanders are more rugged than they look.
Clayton still lives in a white house at Beak Point within sight of the Viking settlement. The Vikings' houses look like homes built by Hobbits, albeit Hobbits more interested in survival than in planting flower beds or home decorating. The shadowy interiors are bare, quiet and snug.
Costumed guides are on hand to demonstrate nail-making, cloth-weaving and shipbuilding. They call themselves Ragnar the Blacksmith and Egil the Navigator but they're all very smiley for Vikings. One of them tells me a story about a witch and a troll and a magic cloth, which makes me feel as content as a kid being tucked up in bed.
Further down the road at Norstead is a recreated Viking trading town where more staff in 11th-century garb are busy herding cows, spinning wool and stirring pots of stew. This is where I get into knitting – although I'm also, to the delight of my pre-visit fantasies, allowed to throw an axe.
Then I inspect Snorri, a replica Viking ship that actually sailed from Greenland to Newfoundland. It's only 16 metres long, barely two deep, and open to the elements. The crew ate moss, lichen and dried fruits. "Though they did have a modern life raft and some flares," adds a guide with a grin.
The setting is magnificent, and it can't have changed much since the Vikings were here. A grassy meadow by a shallow bay. Shrubs covered in berries. Bonsai-twisted trees bent sideways by Atlantic winds that smell of salt and flowers. Right up here at the end of the Great Northern Peninsula, you can squint out to sea at breaching whales, and creaking icebergs that have strayed down from Greenland.
"I love this region, I can't imagine being anywhere else," Clayton tells me. Fair enough, too. Newfoundland has rugged cliffs, wave-dashed coasts, big wild skies to make you brood. It's exhilarating, and those Vikings should have stayed.
Next time, come with me to Vancouver's Chinatown, where a youthful vibe, chirpy nightlife and international dining scene deliver no ordinary Chinatown experience.