Up for a laugh? Here's our guide to the city of St John's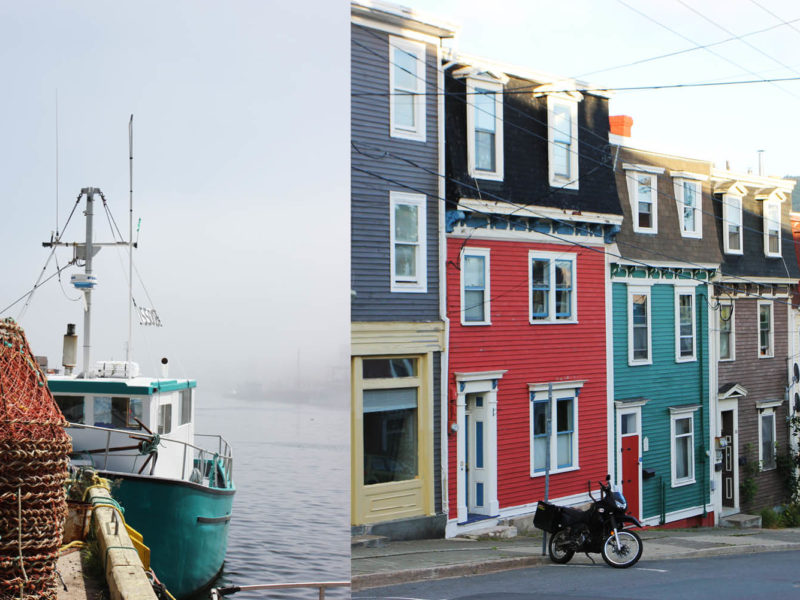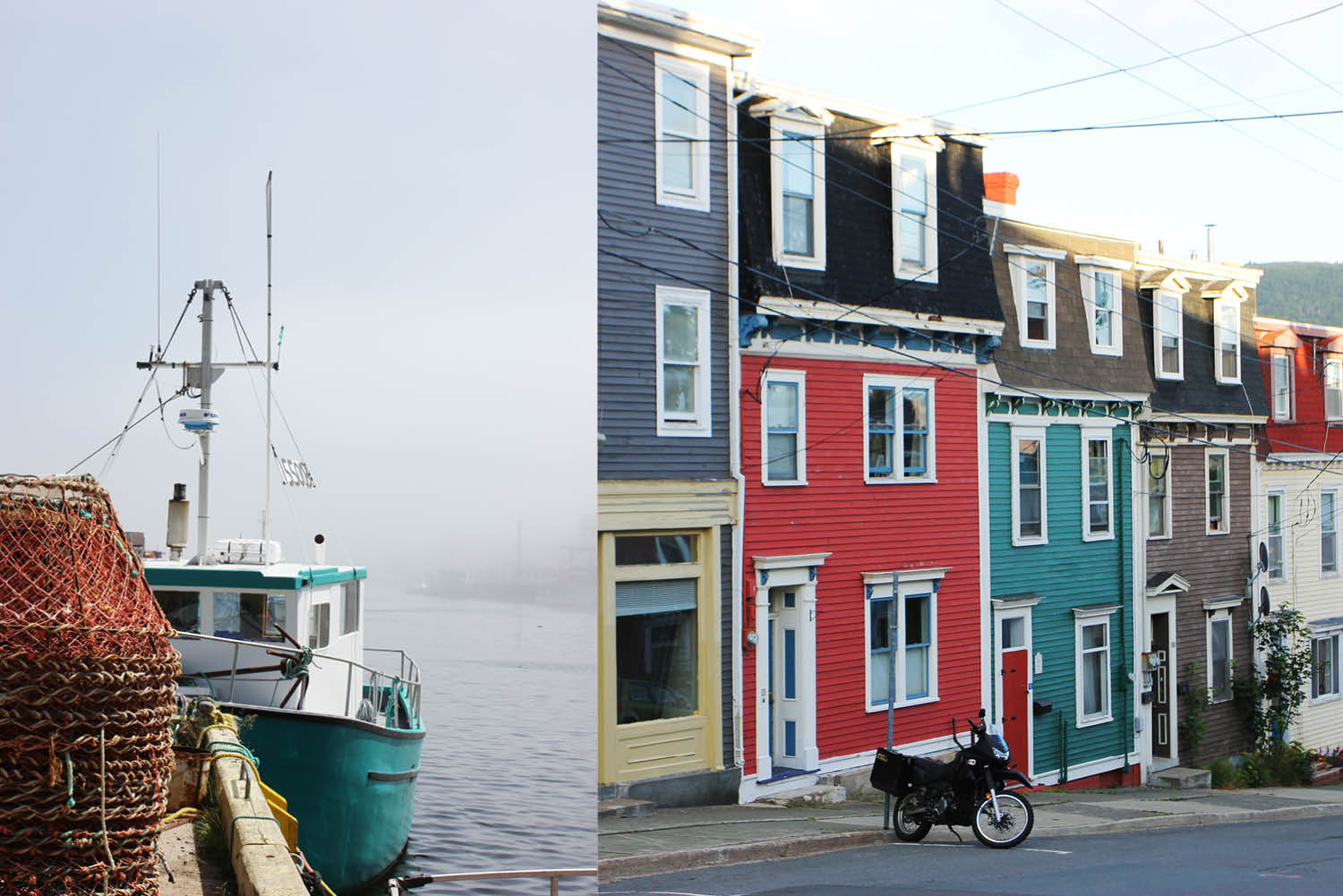 St John's is the beating heart of Canada's Newfoundland.
A visit to the city reveals that her magnetic, rough-hewn appeal comes from her long history, isolation, and people who are quick to laugh. Lara Picone takes a tour of 'The Rock's' capital and her characters.
Insults are being cast from pier to dinghy and back. I can't catch the subtleties buried in the profanities of the thick Newfoundlander accent, but the intent of the cod-fishermen is clearly good-natured. As the last mischievous chortle hovers in the cool morning air, the men in the dinghy putt out of Quidi Vidi Harbour, leaving those on the pier to their morning tasks.
It's not even 9.30am, but the cans of beer on the filleting table are already half polished-off. No doubt these men have been up long before the sun, making this their midday. They let me photograph them at work as a wiry septuagenarian deftly separates fillets and tongues from the morning's catch. I'm sure if I blindfolded him, it wouldn't make a lick of difference, but he doesn't look up once. His eyes never leave his knife during the exchange with the dinghy men, returning wisecracks with the same casualness as he flings fish guts into the water.
The quiet of the sun-drenched morning is broken by what can only be described as a party boat. It's full of men returning to the harbour, and judging by their merriment, they've already sunk a few, too, while out on an early-morning fishing trip/buck's party. More laughter and friendly fire is exchanged as they pass by the pier, but not before the fishermen turn their hose on them. This fracas is enough to make the filleter momentarily forget his cod and crack a wry smile.
All this is typical of the Newfoundlander's don't-take-life-too-seriously attitude. It's a trait you'll see repeatedly while travelling this province and it's particularly obvious in the capital of St John's. The city has endured plenty of booms and busts, the latter most evident in the collapse of the cod fishing industry in the 1990s (due to over-fishing), but she's never lost her sense of humour nor ability to enjoy herself.
Closer to Dublin than to Vancouver, and with a proud history of Irish Catholic settlers, St John's, and indeed Newfoundland, almost feels – and certainly sounds with its Irish-accented lilt – like a separate entity to the rest of Canada. In fact, it wasn't until 1949 that Newfoundland entered confederation (44 years after latecomers Alberta and Saskatchewan), making her the second-last province to join (Nunavut being the last in 1999). People here are Newfoundlanders, or 'Newfies', first, Canadians second. The province flag flies proudly, a subversion of the Irish flag with the orange replaced by pink, and Irish pubs pumping out Irish ballads are more common than convenience stores.
Come in spring and summer when this port city is in the throes of endless festivals and you'll experience St John's at her most gregarious. And that's saying something! What follows are the highlights of this historic fishing city.
Take a stroll downtown
When the sun illuminates the colourful jellybean row houses huddled together in downtown St John's, it could well pass as the happiest place on earth. The anything-goes colour choices remind me of a child's painting. All that's missing is a few simplistic, smiling stick figures.
Terraced up steep hills, the wooden Victorian houses were initially constructed as temporary dwellings after the great fire of 1892, which destroyed almost the entire city and left 11,000 people homeless. While plenty of the historic houses still stand, newer versions have been built in the same ilk, adding to the overall kaleidoscopic effect.
Spend an afternoon strolling the streets, winding your way ever up until you reach the biggest house of all, The Rooms. Dominating the city skyline, the impressive oversized dollhouse serves as an archive, gallery, and museum, and also offers one of the best views of the city. You can lose hours meandering through the individual rooms, so be sure to hit the permanent exhibition on level three, Connections: This Place and its Early Peoples, to learn about The Rock on which you're standing.
Hike Signal Hill
The Cabot Tower, which sternly watches over the narrow harbour of St John's in all her gothic-revival glory, was commissioned in 1897 to commemorate the 400th anniversary of John Cabot's landing at Newfoundland, and as a side note, Queen Vic's Diamond Jubilee.
But these days it's more celebrated as the site of a monumental communications discovery. It was here that Guglielmo Marconi received the first transatlantic wireless signal, in the form of the letter 'S' in Morse code. It's a fascinating story of determination, faith, and lost balloons that you can read about once you've reached the tower.
To reach this exclamation point in communications history, you'll need to hike a beautiful trail that spoils walkers with uninterrupted vistas of the cosy harbour and colourful city. Make sure you pack your camera and once you reach the top, take a moment to catch your breath and consider that the mobile phone in your pocket you depend so highly on, was brought to you by the letter 'S'.
Eat, drink and be merry
There's always a good time to be had in St John's, even if your trip doesn't coincide with the Folk Festival or the oldest organised sporting event in North America, the Royal Regatta. Both events come with a hearty influx of visitors and a side serve of street festivals and performances. But along Water Street at any time, you're going to find a good meal and a cosy place for an ale.
The dining scene in the city is incredibly robust, inventive and fresh. It's easy to avoid the stodgy mainstays typical of the Atlantic Provinces with plenty of restaurants employing switched-on chefs who respect the simplicity of their local ingredients. The vibe, while less developed, is reminiscent of Australia's Fitzroy or Newtown.
Of course, there are plenty of classics to keep you satisfied, too, but if you manage to evade the lure of the Irish pub, for a short while at least, stop into Blue On Water and if the cod is on the specials board, promptly order it. In summer months, the Gypsy Tea Room opens up their courtyard attached to the historic Murray Premises Hotel (which also happens to be an excellently located establishment), and serves up one of the best burgers in Canada. When the sun is beaming into this little square, there's no better place to spend a relaxed St John's afternoon. Perhaps time this one for post-walk up Signal Hill.
St John's is also home to one of The World's 50 Best Restaurants, Raymonds. Tucked into a beautiful 1915 building overlooking the harbour, Raymonds is a collaboration between head chef Jeremy Charles and restaurant manager and sommelier, Jeremy Bonia. The focus is on locally caught, foraged and hunted fare elegantly but simply finessed. You will need to book ahead for this one, but if you can't get a table, try The Merchant Tavern, the second, more casual venture by the pair. A third, and incredibly worthy option is Oliver's Restaurant, a cosy space for an intimate meal. Don't be put off by the over-saturated food photography and '90s-era styling on the website, the fare here is an unfussy delight.
Nothing if not hedonistic, St John's also offers one of the best live music scenes in the Atlantic Provinces. Concentrated around George Street, which happens to have the most pubs and bars per capita of any street in North America, the scene here is fast-becoming legendary. From Fat Cat Blues Bar to The Rock House and Kelly's Pub, all your diverse musical needs are tended to. George Street is reason alone to allocate at least two nights in your St John's itinerary.
Try a brew at Quidi Vidi Village and potter round Petty Harbour
Should you be nursing a sore head following a sampling of the musical smorgasbord that is George Street, set your GPS for Quidi Vidi Village and, in particular, Quidi Vidi Brewery for a hair-of-the-dog tonic. Once you've revived with the perplexingly refreshing Iceberg Beer (made from actual iceberg water), take a wander around the photogenic village, stopping to chat to the local fishermen who, by then, are probably well ahead of you in the beer stakes.
You may even find them filleting cod and removing the local delicacy of cod tongues. Actually a misnomer, the tongues are in fact a gelatinous part of the fish's throat. Resist the urge to try them sashimi-style right there and set course for Petty Harbour.
A short 20-minute drive from St John's is the adorable Petty Harbour-Maddox Cove on the Avalon Peninsula. Cod fishing and snow crab hauls are still the industry here, although the town's cuteness is likely to find tourism outstrip these in time.
I sit by the window of the waterShed Coffee Shop enjoying a real, barista-made latte and watch in disbelief as the clear, sunny harbour is softly swallowed by fog. Rushing outside for a better look, I witness the fog quite literally roll in through the mouth of the cove. It's an entity unto itself as it drapes its ethereal cape over masts and boat sheds. It doesn't last long, though, and after 30 minutes it retreats as quietly as it arrived, thinning droplet by droplet until the scene is in sharp focus once again.
Once you've depleted your phone's storage with Instagram-worthy snaps, spend some time exploring the Mini Aquarium before heading to Chafe's Landing for some authentic Newfie fare.
If you're curious about the aforementioned cod tongues, try them here. Along with another local specialty called 'fish 'n' brewis'. This simple, hearty dish is essentially salt cod with endemic bread, unappetisingly called 'hard tack'. Both are boiled then scattered with scrunchions (fried pork fat), and, for some undiscernible reason, served with a side of molasses. It's a dish born of hard times and a lack of anything fresh to eat. It's easy to see how those early cod fishermen would look forward to such a hearty dish after a frigid day on the foggy water. The molasses, however, has me stumped. It's a savoury dish, after all. An inquiry to the waiter reveals it's supposed to be poured over the fish 'n' brewis, but the reason why remains elusive.
I'm sure the jolly fishermen I'd met earlier at Quidi Vidi Village would have the answer. And it's in their spirit of not taking the world so seriously that against all instincts I liberally douse fish in sweet syrup and tuck in. The dish is a fitting finale to a St John's visit and even provides a summation for the city: hearty, down-to-earth, and unexpectedly sweet.




LEAVE YOUR COMMENT