10 incredible places to go troll hunting in Norway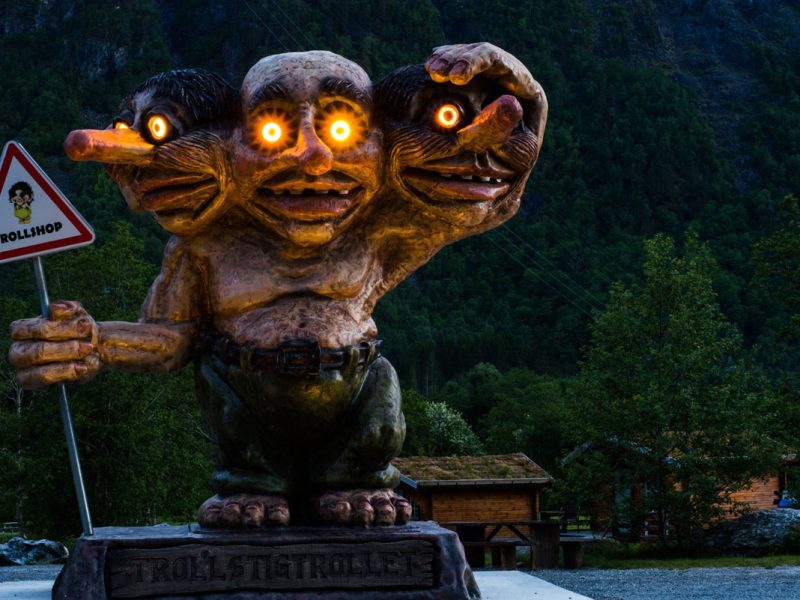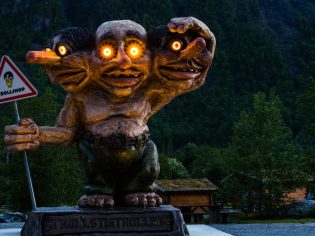 Step into a living fairy tale and discover landscapes embalmed in mystery, mythology, and folklore.
Norwegian landscapes form the backdrop of many famous myths, legends, and fairy tales – and it's not hard to see why. With a coast cut-through with jagged fjords, a terrain scooped with dramatic valleys, and a countryside blanketed in thick forests, the scenery is nothing short of enchanting.
But Norway's nature has yet another layer of magic to it. For centuries, trolls have been an integral part of Norwegian folklore, and the mythology is still proudly embraced today.
As Norse legend tells it, the first rays of sunlight can turn trolls into stone (if they don't hide in time!). That's why you'll find curious rock formations and landmarks across Norway named after trolls. Regardless of if you believe in mythical creatures or not, these landmarks connected with trolls and folklore are sure to capture your imagination. Here are 10 incredible places not to miss when you go troll hunting in Norway. (Just be careful not to wake them!)
1. Trollstigen
Trollstigen, which roughly translates to 'The Troll Path', is a striking serpentine road that snakes its way up and over the mountain pass on Norway's West Coast. With dramatic hairpin bends that zigzag over the mountain face, driving this road is sure to get your adrenaline pumping. However, you're sure to be rewarded with excellent views from the top, where a viewing platform looks out over the tumultuous route and the dramatic valleys that lie beyond.
2. Trollveggen
Experience the brutal beauty of Scandinavia's rocky mountain-scapes at Trollveggen, 'The Troll Wall'. With its jagged, toothed peaks, it's not difficult to imagine this rock face as the home of a vicious mountain troll or some supernatural creature.
Trollveggen is a popular destination for professional climbers who come from all over the world seeking the ultimate challenge. The climb is extremely difficult and risky, so it's best to marvel from a distance or head to Trollveggen Visitor Center.
The Visitor's Centre has been named one of the world's most beautiful buildings by Architectural Digest and is a great place to learn more about the landmark or admire Trollveggen from the viewing platform.
3. Trolltunga
If there's one image that comes to mind when you think of Norway's landscapes, it's probably Trolltunga. This postcard-perfect rock formation commands otherworldly views over lake Ringedalsvatne and the surrounding mountain ranges.
Legend has it that Trolltunga (which translates to troll tongue) was named for a troll that was confident he wouldn't turn into a rock after being exposed to the sun. In the past few years, the popularity of Trolltunga has exploded, transforming it into a national icon. The hike up to it is a very challenging 10-hour trek over rough terrain, but the breathtaking scenery is well worth it.
4. Trollpikken
Perhaps it's best not to imagine what this troll was doing when he was turned to stone. The phallic Trollpikken rock formation is reachable by a short 2.3-kilometre walk that gently meanders through beautiful green scenery on a serene, quiet track. The landscape that surrounds Trollpikken feels otherworldly — unsurprising, considering the landscape was formed in an ice age 10,000 years ago.
5. Trollfjorden
Norway is famed for its enchanting labyrinth of fjords on the West Coast. One of the most narrow fjords is Trollfjorden, 'The Troll Fjord', in Vesterålen in Northern Norway. On a cruise, you'll squeeze between the cliffs as you wind your way past the 1,000-metre-high Trolltinden peak.
The nature here seems as if it's been plucked straight from a fairy tale, and you'll get to marvel at it all from the water. The area is also a hotspot for local wildlife, so keep an eye out for the many white-tailed eagles that call the area home.
6. Trollkyrkja
The enigmatic marble caves of Trollkyrkja feel as if they're steeped in magic. This is due to a series of breathtaking underground rivers and waterfalls which reveal themselves as you hike through the caves.
Trollkyrkja, which translates to 'The Troll church', earns its name ostensibly from the sunlight that floods in like a skylight, lending an eerie air of mystique to the grotto. Further on, the path climbs up the beautiful Trolltindan mountains, which rises behind the caves for excellent views.
7. Trollheimen
Trollheimen, which translates to 'The home of the trolls', is a nature lover's paradise. The region is full of spectacular mountains and dramatic scenery, where traces of our stone age past still linger.
Here, it's just as easy to imagine mythical creatures inhabiting the landscape as it is our early human ancestors. Trollheimen is a haven for hiking and other outdoor sports like bicycling, fishing, and skiing, so it's perfect if you're after an active weekend.
8. Trollfoss
Trollfoss, 'The Troll Waterfall' lies two hours outside of Oslo, accessible by a 30-minute walk. Standing 12 metres high, the waterfall is flanked by towering tree-lined cliffs. Especially when the weather is a bit moody, it's not difficult to imagine a troll roaming nearby.
9. Troll Museum, Tromsø
Get acquainted with all things troll at the first and only troll museum in Norway. The museum combines handmade art displays with augmented reality to provide visitors with an immersive experience of Norway's rich folklore history.
Take a step back in time and learn the fairy tales Norwegian parents have been telling their children for generations and discover enchanting art displays and captivating augmented reality experiences.
10. Troll adventures
Trolls are big in Norway, and there are myriad destinations that celebrate them. Embrace the magic at Hunderfossen Fairytale Park, which is packed with rides, family-friendly activities, and lots of trolls.
The delightful Villa Fridheim is a Swiss chalet-style house transformed into a fairy tale museum, with spellbinding paintings that capture Norwegian folklore.
Wander through the enchanted Eventyrskogen (the fairytale forest), where you'll discover sculptures of mythical creatures great and small. You'll pass a 'Troll swamp' where lots of little stone hand-made trolls reside. You're welcome to bring and leave your own!
LEAVE YOUR COMMENT