5 hidden spots in Italy only Italians know about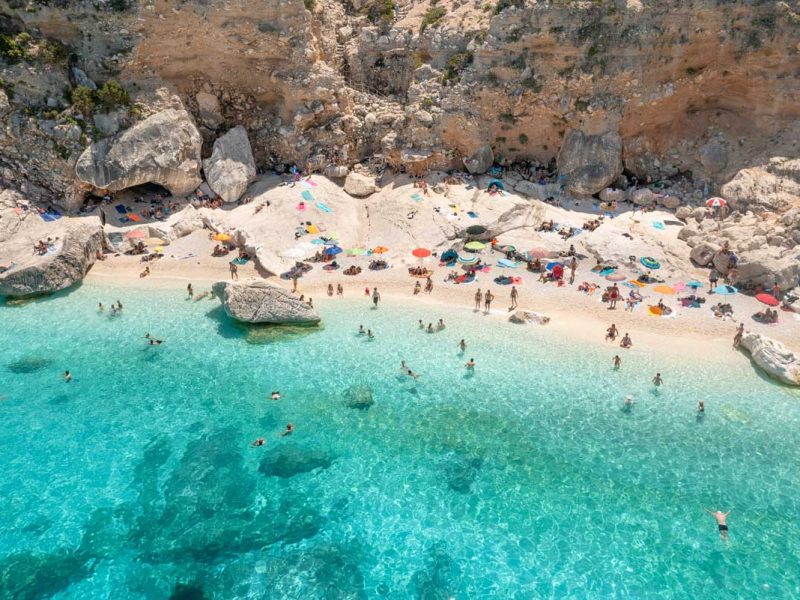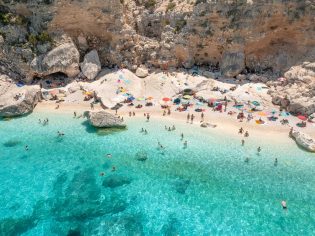 From golden bays on the south coast, to the coffeehouse capital of the country, Carla Grossetti tiptoes around Italy's boot and beyond to find the places where Italians go to enjoy a mini break.
Rome. Venice. The Amalfi Coast. Florence. Siena. The Cinque Terre. These are just a few of the places we have long loved to visit in Italy. But as this culturally rich country in Southern Europe reopens to tourists, these hotspots are hotting up again, and, in some cases, filled to capacity.
Luckily, there are areas of Italy that offer conscious travellers less-touristy alternatives. In order to find the places with less crowds and avoid being part of that influx of visitors to the main attractions, travellers must now embrace 'Alt Italy'. Where all roads lead away from Rome.
Historically, wanderers from around the globe have been lured to Italy for its landmark art, its ancient ruins, its beautiful beaches and, of course, its restaurants serving world-class regional food and wine. There's no denying that Italy has left an indelible mark on Australian culture and its cuisine, thanks in part to the waves of migrants who have been arriving here since the 1800s.
Why travel to Italy's most underrated places?
Regardless of whether you have family in the mother country or not, you will be welcomed like you do, which at the very least is a great excuse to start planning your next trip to Italy.
Italy scoops up gongs for everything from its gelato to its Mediterranean climate and friendly people. But there are also many under-the-radar regions in Italy that offer all this and then some with the added perk of being crowd-free.
From pretty fortress towns in Tuscany to the oh-so-photogenic Trieste located in Friuli-Venezia Giulia, overlooking the Adriatic, we have honed our list of lesser-known places to go in Italy where you can still get the history and hospitality minus the masses.
Sometimes, you will need a professional guide to help point you in the right direction. Other times you can get ahead of the crowds by travelling in the shoulder seasons. Or asking an insider for their hot tips. But whatever you do, know that exploring Alt Italy is all about celebrating those obscure B-Sides that one day might make it into the main mix.
Top hidden places to explore in Italy
1. Trieste, Friuli-Venezia Giulia, North-east Italy
While Trieste ticks a lot of our boxes, it is not to be missed for its sleepy backwater canals. The beautiful city is dotted with Roman relics and incredible museums, and visiting here is like going back in time.
Located in the north-east Italian region of Friuli-Venezia Giulia and bordered by Slovenia, you'll find opportunities to visit local markets, taste award-winning regional wine and local foods, and bask on beautiful beaches.
The old world city offers a distinctly Adriatic experience and is a viable alternative to Venice. The waterfront city was once occupied by the Austro-Hungarian empire and, as well as the many examples of neoclassical architecture, that Austrian coffeehouse culture remains, with Trieste bravely billing itself as the coffee capital of Italy.
Miramare Castle, completed in 1860, is located on a promontory at the far end of the city and the electric blue waters around the castle are part of a marine reserve popular with divers.
2. Grottole, Basilicata
Grottole, in beautiful Basilicata, bordering Calabria and Puglia, is the little Italian village that could. Grottole stems from the Latin word cryptolae, meaning 'caves' or 'small grottos' and the ancient town, pinned onto a hill in the countryside like a glittering brooch, once comprised some 400 caves carved into the hillside.
Remnants from the town's crumbling past remain and are evident in the many ancient and medieval sites dotted around the historic village, where the caves are now used to store wine or host workshops to make ceramics, which Grottole is famous for.
The sepia-toned city recently gained attention after Airbnb advertised for four people to live in the village over the summer of 2019. During their sabbatical, these temporary citizens volunteered for a group called Wonder Grottole designed to rehabilitate the city's historic heart.
You too can go to Grottole, which was once part of the ancient Roman Appian Way, to get a taste of vita di campagna (the country life).
3. Sardinia
Open Google Earth and punch in Stintino and watch the Earth spin on its axis and settle on Sardinia where you'll discover the unrelenting green patchwork of empty paddocks and hills surrounded by cerulean seas.
It's like a pleated green skirt tucked into a blue cardie. No, Sardinia is not exactly a secret. Especially if you do a stint in Stintino in August. But compared to other seaside areas in the Mediterranean, the island is mobbed by Italians so it still feels like a culturally enriching experience.
After a few days of sunning yourself, turn your back on the beach and make a beeline for Barbagia. It's here you will find the isolated village of Orgosolo, known for its eye-catching depictions of everyday life in murals that have been painted on the village walls since the 1960s.
Sardinia is also where you will discover Gola Di Gorropu (Italy's Grand Canyon). Keep a lookout for Sa Mama de Gorropu (Sardinia's version of Bigfoot).
4. Cefalù, Sicily
You'll find the pretty seaside village of Cefalù chiselled onto the hillside between the Tyrrhenian Sea and Parco delle Madonie in sun-soaked Sicily.
While the town is known for having waters as translucent as any you'd find in Tahiti, it deserves accolades for its rustic restaurants selling grilled fish on outdoor tables just metres from the sandy shores.
Lower yourself into a prone position after lunch to inhale the scent of the sea and orange trees in bloom, and to enjoy the snatches of Italian opera drifting out over the sea.
After enjoying an afternoon of swimming in sheltered coves, it's worth climbing the stairs that lead into the Old Town where you will find Cefalù's centuries-old cathedral, one of the most outstanding examples of the distinct Arab-Norman architecture.
If you're going to take a tour, make it an intimate one with a company such as Intrepid Travel who will keep you on the roads less travelled.
5. Capo Vaticano, Calabria
You will find the main draws in Capo Vaticano are the unspoiled beaches and sandy coves, which are surrounded by the knobbly knees of towering cliffs that look like they've been draped in a green blanket. With everyone else in a rush to be elsewhere, you will escape a lot of the nattering masses when you carve off to Calabria, located in the toe of Italy's boot.
This region in southern Italy is like the Amalfi Coast, but at a much slower pace, which suits visitors keen to explore its abundant attractions. Foodies, whatever you do, don't miss Pizzo, the home of Italy's legendary dessert, tartufo, the hazelnut and chocolate gelato balls filled with molten chocolate.
You can also indulge your sense of wonder in Tropea, on Italy's secret south coast, which is embroidered onto the cliff 's edge and replete with baroque palaces, beautiful beaches and locals with tonnes of attitude.
LEAVE YOUR COMMENT