10 Best Heritage Hotels in Asia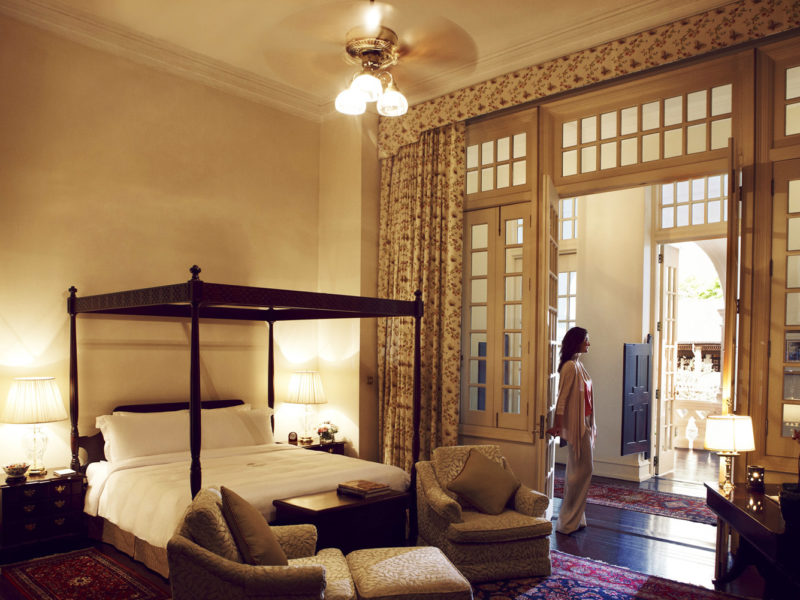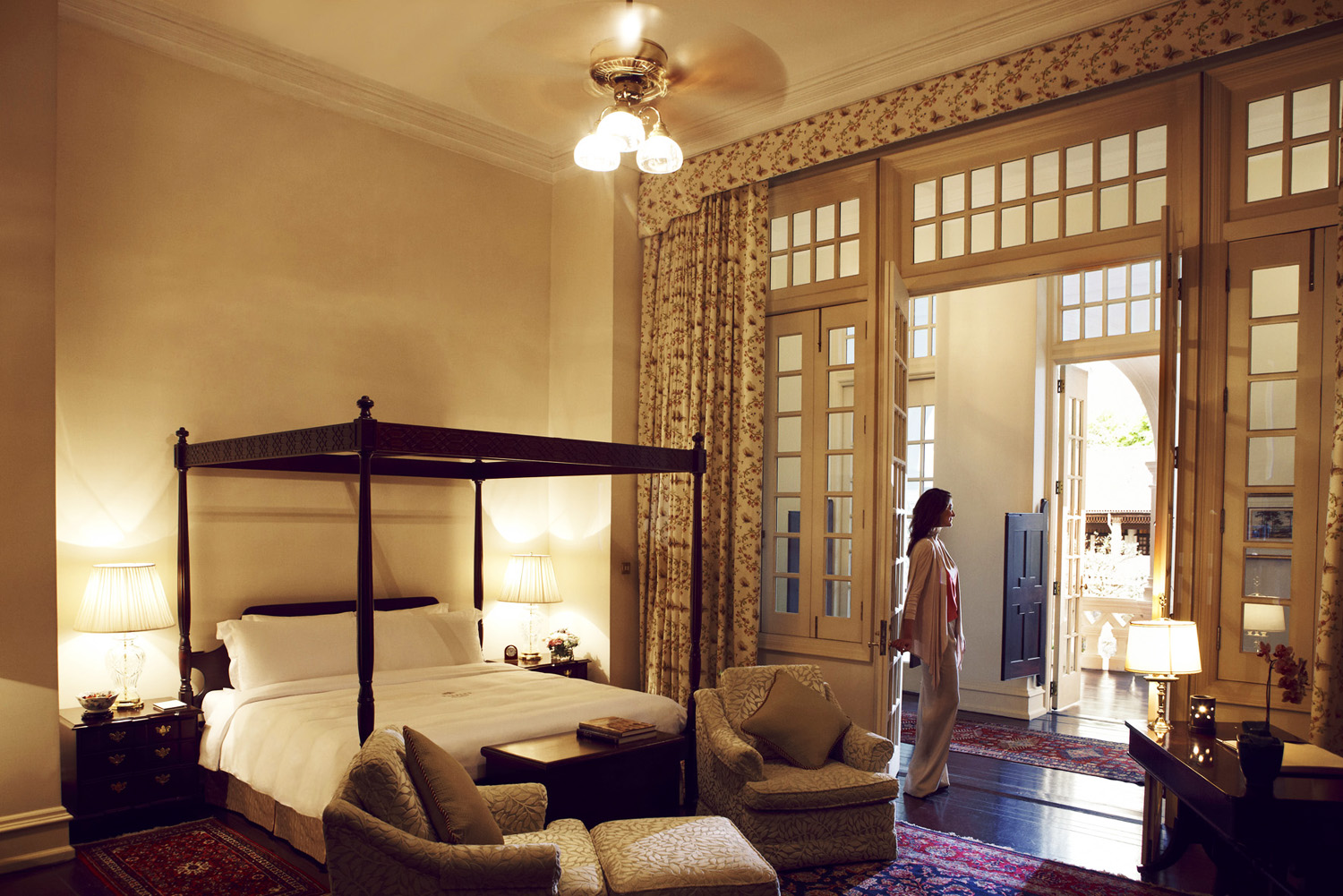 From grand dames so iconic they've become tourist attractions in their own right to tranquil former governors' residences, Asia is awash with elegant heritage hotels that offer as much style and luxury as they do history.
Here is our pick of 10 of the best Asia heritage hotels, each with its own story woven into the fabric of its surrounds.
1. Raffles Hotel Singapore
It's hard not to tip your hat to Singapore's Raffles Hotel as the top heritage hotel in Southeast Asia. Dating back to 1887, with the main building and rooms completed in 1899, it is entirely authentic and dripping with history.
And as of 2019, the hotel has entered a new chapter of its life, having undergone a major restoration. Its 115 suites have been given a spit and polish and now feature state-of-the-art technology and redesigned bathrooms. But the essence, character and bone structure remain with four-metre ceilings, lofty double-glazed windows, colonial architecture, lush gardens, verandahs and teakwood floors.
Slip into the historic Long Bar – known for being the birthplace of the Singapore Sling in the early 20th century – for an elegant aperitif.
2. Caravelle Saigon, Ho Chi Minh City, Vietnam
More significant for its history than heritage values, five-star Caravelle Saigon was one of the first luxury hotels to reopen its doors in the city post-war and tells the story of modern Ho Chi Minh, the southern Vietnamese city commonly still known as Saigon.
During the Vietnam War (or American War, depending on which way you look at it), the Australian and New Zealand embassies and the Saigon bureaus of NBC, ABC and CBS among others made their home at the Caravelle. International media congregated on the rooftop bar; resident journalists claimed they could cover the unfolding war without leaving their bar stools.
Today the renovated hotel retains the signature frontage and combines an original 10-storey building with an adjoining 24-storey tower. Offering some of the best views of the city, its rooftop Saigon Saigon Bar is still the heart of the action, with live music every night.
3. Belmond Governor's Residence, Yangon, Myanmar
Located in the leafy Embassy Quarter of Myanmar's largest city, Yangon, the Belmond Governor's Residence is a romantic, colonial-style mansion set in a lush garden. It dates back to the 1920s and retains a timeless elegance: all teak wood carving, lotus pools, lantern light.
Hardwood floors across its 49 rooms and suites are offset by delicate silks and crisp linen, and fan-cooled verandahs offer the ideal spot to while away a tropical afternoon.
Dining and drinking options include traditional Burmese dishes at the Mandalay Restaurant and cocktails by moonlight in the alfresco lounge.
The hotel offers exclusive experiences including sunrise tours of the most iconic sight of Yangon, Shwedagon Pagon; a journey through the local countryside; Myanmar cooking classes and more.
Yangon is also home another one of the most iconic hotels in Asia. Built in 1901, in 2019 The Strand became the first hotel in Myanmar to receive a commemorative blue plaque from the Yangon Heritage Trust in acknowledgement of its significance in the historical and cultural heritage of the city.
4. The Peninsula, Hong Kong
"I'd feel rich here even if I hadn't a dime in my pocket," an American woman is reputed to have said at the opening in 1928. The 300-room Peninsula Hong Kong is the city state's oldest hotel and one of Rolls-Royce's largest customers, having bought 70 cars since opening.
Recently renovated, its rooms and suites include rich linens and 300-thread-count Egyptian cotton sheets and slick technology; some include views over Victoria Harbour and the urban skyline of Hong Kong Island, and a telescope to boot.
The hotel's spa features lavish and state-of-the-art relaxation rooms and its eighth-floor swimming pool offers panoramic views of the skyline through its floor-to-ceiling windows.
Choose from Cantonese, Japanese, Swiss and Continental across cuisine across the Peninsula's seven restaurants.
5. Raffles Hotel Le Royal, Phnom Penh, Cambodia
Raffles Hotel Le Royal in Cambodia's capital city Phnom Penh opened its doors in 1929 and has become a piece of the country's heritage, blending Khmer, Art Deco and French Colonial styles. This architectural mash-up continues inside across its rooms and suites, some of which retain original 20th features including marble bathrooms with claw-foot baths.
Its Personality Suites pay tributes to some of the guests who have stayed in the hotel including Jacqueline Kennedy Onassis, who travelled to Cambodia in 1967 to fulfil her lifelong dream of seeing Angkor Wat, Charles de Gaulle and Somerset Maugham.
This grand historic hotel is centred around a private courtyard, its two swimming pools fringed with frangipani.
One of the highlights of a stay at Le Royal is the chance to prop up the Elephant Bar, a Phnom Penh institution boasting one of Asia's largest selections of gins and a cocktail, the Femme Fatale, first invented for Jackie O herself.
6. Mandarin Oriental Bangkok, Thailand
For 135 years, authors and writers have walked through the doors of the Mandarin Oriental, situated on Bangkok's Chao Phraya River.
The ghosts of Joseph Conrad, Somerset Maugham, Noel Coward and James Michener still wander the authors' suites, and the hotel still bathes in literary glory.
Classic Thai style and modern touches permeate the 368 rooms (most with river views) and suites (including the legendary Authors' Suites), and each has a distinct design. Choose from different decor including colonial-inspired, garden-themed and northern Thai style.
Dine and drink in one of the Mandarin Oriental Bangkok's nine restaurant and bar offerings, including the spectacular riverside Terrace Rim Naam for à la carte Thai dishes and the Bamboo Bar for live jazz and blues and a dose of old-school glamour along with your cocktail.
7. SUJÁN Rajmahal Palace, Rajasthan, India
The SUJÁN Rajmahal Palace wouldn't be out of place in a Wes Anderson film with its pastel colour palette, Art Deco furniture, whimsical wallpaper and eye-catching symmetry. This historic hotel is one of Rajasthan's most treasured palaces, and in recent years the royal family has commissioned an extravagant restoration.
Renowned Indian designer Adil Ahmad completely reimagined the palace into one of India's most fashionable hotels. With only 14 royal apartments, suites and rooms on the sprawling property, it's easy to feel like a private guest of the Maharaja himself.
8. Sofitel Legend Metropole Hanoi, Vietnam
In 1902, the magnificent French colonial Grand Hôtel Métropole Palace first appeared, and having survived both the Second World War and the B-52s of the 1970s, its 364 rooms and suites now carry the prestigious Sofitel Legend brand atop the newly-restored palace.
The Metropole is located a stone's throw from the Opera House in Hanoi's atmospheric French Quarter and exudes historic elegance in every square inch: all wrought-iron details and green-shuttered windows on the outside and wood panelling and luxurious finishes on the inside.
The hotel's Spa du Metropole overlooks its garden courtyard and pool, and the dining options are top-notch, too: ranging from the Paris-inspired cafe La Terrasse, to the award-winning French restaurant Le Beaulieu and the Vietnamese restaurant Spices Garden.
9. Amangalla, Galle, Sri Lanka
A Dutch colonial building that dates back to the 17th century – and has been a hotel for over 150 years – luxury boutique hotel Amangalla is set with the ramparts of the UNESCO-protected on the south-west coast of Sri Lanka.
Its light and airy 31 rooms and suites are have all been exquisitely restored with antique furnishings including four-poster beds, writer's desks and planter's chairs; some enjoy a generous verandah and a standalone bathtub.
Guests can eat elegant meals in the starched-linen dining room and indulge in one of five treatment rooms and two hydrotherapy suites in the hotel's spa. The Baths boasts its own on-site Ayurveda specialist and also features a yoga pavilion and a barbershop and salon.
10. Eastern & Oriental, George Town, Malaysia
The Eastern & Oriental was established in 1885, the first hotel venture by the entrepreneurial Sarkies brothers who also founded Raffles Singapore and The Strand in Yangon.
Today the E&O's Heritage Wing retains an old-world atmosphere that harks back to the British colonial era: when George Town milled with wealthy merchants and travellers (Penang served as the first British trading post in the East and earned the nickname 'The Pearl of the Orient').
It's complemented by a modern addition that blends modern and classic design: the Victory Annexe opened in 2013 with 132 suites, state-of-the-art facilities and an infinity pool that overlooks the Andaman Sea.