The ultimate Gunung Mulu National Park travel guide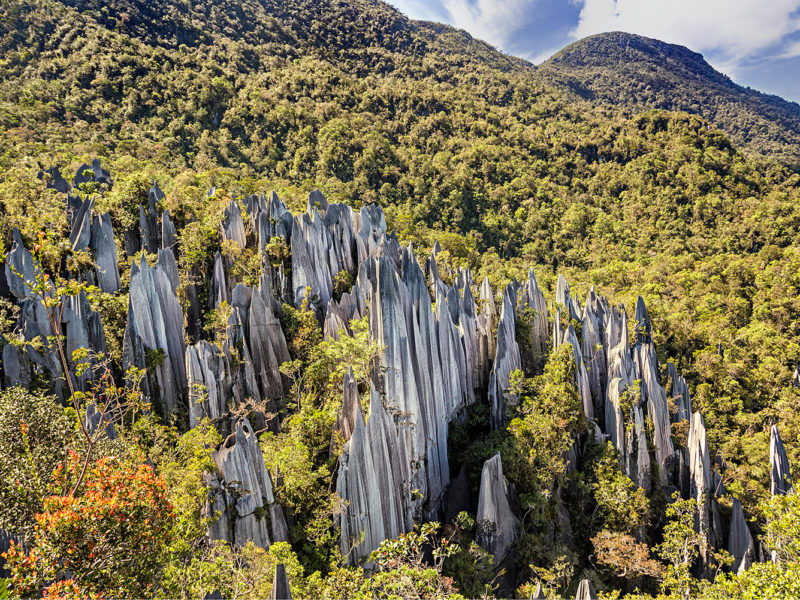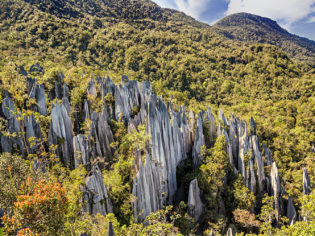 Where in the world can you witness life so diverse in form and colour that it could have come from the pen of some hallucinating science fiction author?
Gunung Mulu National Park in Malaysia's Bornean state of Sarawak, is renowned for its near limitless variety of insects, glowing fungi, bizarre bird life, striking frogs and lizards, and seemingly random additions like a giant porcupine.
Its rich animal and plant life have made it the subject of many an Attenborough-voiced documentary, the most recent being Netflix's Our Planet, which showcased its unique carnivorous pitcher plants.
Throw in some of the world's biggest caves and you can see why it's made it onto the World Heritage list. Journey here to go right into the heart of Borneo and the natural world at its most marvellous, weird and wonderful best.
When to go
To get a feel for the size of its enormous caves and inspect the bizarre insects and reptiles that call it home, you need to take on some of Gunung Mulu's world-class hiking trails. The best time to do this is during the dry season from July to September, when the paths won't be as muddy and it means you can stay a little drier – this is a rainforest after all.
This period also represents peak season, so you'll have to book your accommodation and any tours you want to do well in advance.
Getting there
Fly to the Malaysian capital of Kuala Lumpur (most major carriers fly here) before catching a domestic flight to Miri. From this small city in Sarawak, the Malaysian portion of Borneo, you can take a 30-minute flight to Gunung Mulu with the Malaysian Airlines subsidiary MASwings, which runs two flights a day to the national park.
Staying there
Mulu Marriott Resort & Spa
For a comfortable 4-star stay, a great option is the Mulu Marriott Resort & Spa for around $190 a night. This would be our choice for a way to relax and rest your legs after a long day in the park. It's also just three kilometres from the airport and the entrance to the park.
Benarat Lodge
A decent budget option would be Benarat LodgeBenarat Lodge for around $80 a night, where you'll enjoy a different breakfast each morning to fuel up for your day exploring Gunung Mulu National Park.
Fees and permits
You'll have to pay a Sarawak Government National Park Entry Fee RM10 per person (about $3.50) for each day that you enter the park. It's a good idea to book ahead if you want to do a multi-day tour to the Pinnacles for instance; tour packages range in price from RM40 ($13.90) to over RM500 ($173) per person for a three-day guided trek.
Must-see sights
Canopy Skywalk
At 480 metres long, this claims to be the longest tree-hung skywalk in the world, and what a place for it, suspended high up in the rainforest with views of rivers below. Book a guide to learn about the plants that cling to the trees up in the canopy, and have a macro lens ready for insects.
Paku Waterfall
A muddy, two-hour trail setting off from the park's headquarters rewards walkers with the sight of Paku Waterfall, which emerges from dense jungle to cascade down a sloping cliff. The natural swimming pool below offers relief from the humidity before the trek back.
Explore the caves
Most people come to Gunung Mulu to visit its caves, which represent some of the biggest underground networks in the world. Deer Cave is a vast cavern that holds the impressive sight of the Garden of Eden, a sinkhole in the cave that's allowed light to stream in and a rainforest to flourish beneath.
After that head to Lang Cave nearby to see sleeping bats up close. Clearwater Cave (the biggest in Southeast Asia, pictured) and the Cave of the Winds are found on the same walk (see map) and contain a beautiful clear stream, and impressive stalactites respectively.
Watch the bat exodus
There's a sight to behold in Gunung Mulu so impressive that the parks authority set up bleachers for visitors to be able to witness it in comfort. Millions of bats pouring out of Deer Cave at dusk create spectacular, flowing ribbons of black mist twirling a path over the rainforest.
There are about 12 species of bat that live in the cave that form this mass exodus. Head to the Bat Observatory between 5 and 6.30pm to catch them heading out for the night and keep an eye out for hawks picking them off, an early evening snack for the birds.
Hiking trails
Pinnacles trail
Another highlight that cannot be missed are the Pinnacles (pictured main), a series of limestone karsts that rise to sheer, knife-like points towering above the forest, rising to 45 metres in places. It's a three-day walk to reach them.
Mulu Summit trail
Climb to the summit of the mountain that lends the park its name, a strenuous four-day hike. Staying in camps along the way, you'll be accompanied by a World Heritage guide to gain a real understanding of the forest.
Headhunters' trail
Tracing an old tribal route through the park, the Headhunters' Trail takes two days but is relatively undemanding; head here to do the Pitcher Plant Trail to walk among the carnivorous plants that rely on animals to survive.
Animal spotting
Where to start? There are few places on the planet that can boast the variety and density of wildlife that you will be able to spot at Gunung Mulu National Park.
Bornean Keeled Green Pit Viper
There are countless vibrant reptiles in Gunung Mulu, but this striking green-and-yellow viper surely stands out among them. It will be hard to pick out among the leaves of the forest, so it's best to try and spot one with the help of a guide; plus being venomous you wouldn't want to step on it… let the guide go first.
Malayan Sun bear
The smallest bear in the world, the Malayan Sun bear is also known as the honey bear owing to its love of honeycomb that it forages for using a ridiculously long tongue. Unfortunately loss of habitat and the bears' capture for the harvesting of bile for traditional medicines are a threat to its survival.
Bornean tarsier
A night tour of Gunung Mulu will be required to spot this tiny 12- to 15-centimeter-long primate. At night they forage on the floor and up in the low undergrowth for insects. A tidy creature, it has dedicated grooming claws and a tail strong enough to support its weight so it can be 'hands-free'.
Rhinoceros hornbill
The first question you're asking is 'what is the horn of the rhinoceros hornbill for?' It acts as a large resonating chamber to amplify its haunting call. It's a surprisingly big bird at nearly a metre in length and it has a balletic, falling aerial dance that it enacts as part of a mating ritual. You'll want to have your zoom lens attached.
LEAVE YOUR COMMENT