There's a WORLD of exploration to be had when ocean cruising, and once you've settled into your cabin the old cliché that 'you only have to unpack once!' rings gloriously true.
You're not lugging around heavy backpacks, or wrestling luggage into overhead compartments to see the best of the world. Plus most cruise ships allow 32 kilos, so you can bring along your creature comforts and buy souvenirs along the way!
Depending on your itinerary, you could be waking up every day in a new destination.
Sure, sometimes you could only spend half a day in a port, but you also get to experience multiple destinations in a shorter amount of time – ideal if you have limited holiday leave. And the organised tours and activities keep things running smoothly around some of the most popular sights on the planet, enabling you to see and learn things you normally wouldn't travelling alone.
And, of course, cruise ships are famous for their onboard activities to keep you entertained at sea too: think putt-putt golf on a real lawn (Celebrity Edge), 3D cinema (Explorer of the Seas), a waterslide with 65-kilometre-per-hour turns (Carnival Legend), wine tasting in a 35,000-bottle cellar (Queen Mary 2), even the Rijksmuseum at Sea (ms Westerdam).
Then there are kids' clubs, luxury spas, rock walls, yoga classes, lectures, and Broadway-style shows including We Will Rock You (Anthem of the Seas) and Jersey Boys (Norwegian Bliss). Indeed, there's so much to do on land and sea, that while it's true you only have to unpack once, you'll certainly find it tough packing to leave.
The Pacific
Tropical, relaxing, friendly and fun, the Pacific is an ever-popular ocean to cruise, particularly for Australians with cruises departing from the East Coast and New Zealand. It's a top choice for people who love the sun, the great outdoors, snorkelling and diving, and chilling out.
Ports include the famous South Pacific islands of Fiji, New Caledonia, Samoa and Tahiti. The quick trip across the Tasman to New Zealand around the north and south islands with special stop off in the wondrous Milford Sound is another popular itinerary.The most not miss destination is the Isle of Pines, New Caledonia.
Hawai'i, Tahiti and the far flung Pitcairn Island are less often visited by the large cruise lines, typically on a relocation cruise.
Pride of America is the only ship home ported in Hawai'i and her seven day itineraries are very very popular.
In Tahiti, the Aranui 5 is a cargo ship with very comfortable accommodation.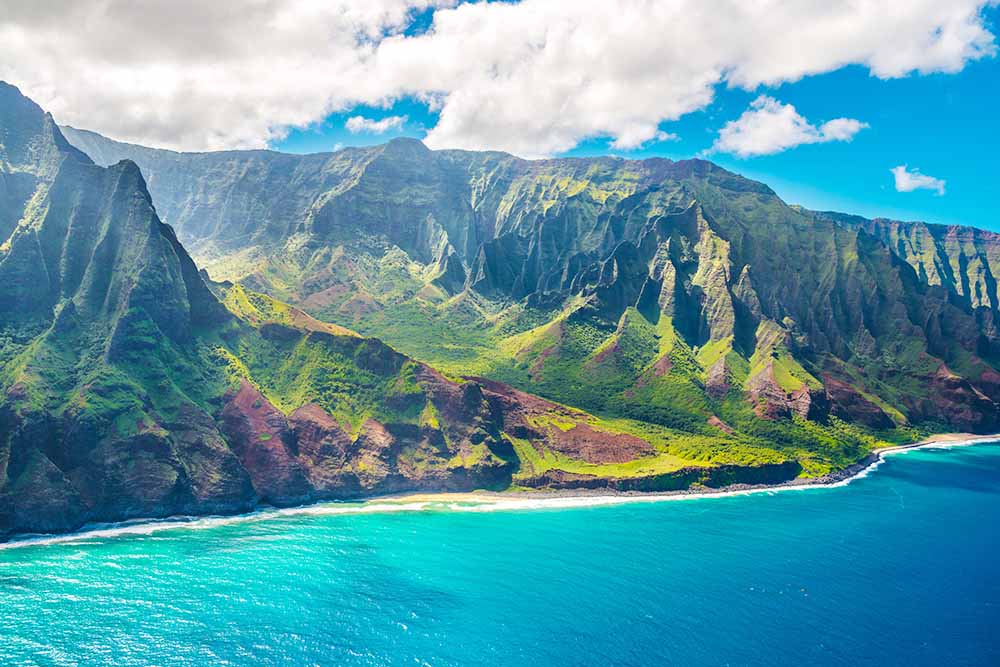 View on Napali Coast on Kauai island on Hawaii, USA
The Atlantic (& Mediterranean)
From the East Coast of the USA and Canada, to the Caribbean and Bahamas, from Mexico, Brazil and Argentina to South Africa, Morocco, Spain and the UK, this ocean is home to such a unique mix of destinations.
And pass through the Strait of Gibraltar and you hit the wonders of the Mediterranean.
But perhaps the most iconic cruise in these waters is the Transatlantic, which occurs when ships are repositioning from Europe to the Americas, or vice versa (the classic is between Southampton and New York).
If doing a Transatlantic cruise, be sure to pick a ship that you'll be happy to spend up to five consecutive days at sea on.
The Indian ocean
If you're after exotic lands and luxury destinations, the Indian Ocean is a fabulous place to cruise. Ports include the east coast of Africa (Cape Town, Zanzibar, Madagascar), breathtaking islands such as the Maldives, Mauritius, and the Seychelles, as well as Asian destinations that formed part of the ancient 'Spice Route' like India, Sri Lanka, Malaysia, and Myanmar.
The Southern & Arctic oceans
Not many can say they've ventured to these remote seas, and not many will. Antarctica voyages are singularly spectacular. Lucky cruisers to the great southern continent are treated to an overwhelming array of fauna. The birdllife is immense. the penguins beguiling and in the later months of the southern summer, whales and killer whales are wondrous.
There is no denying crossing the Drake passage, known as the 'drake shake' can be a little uncomfortable if not a lot frightening but the pay off is worth it. Aurora Expeditions do offer some sailings where you can avoid the 'shake' with flights to and from Antarctica.
The do not miss destination is South Georgia, teeming with penguins, birds and seals. Although few cruise itineraries will include it as it is an additional week cruising.