Everything you need to know about buying luggage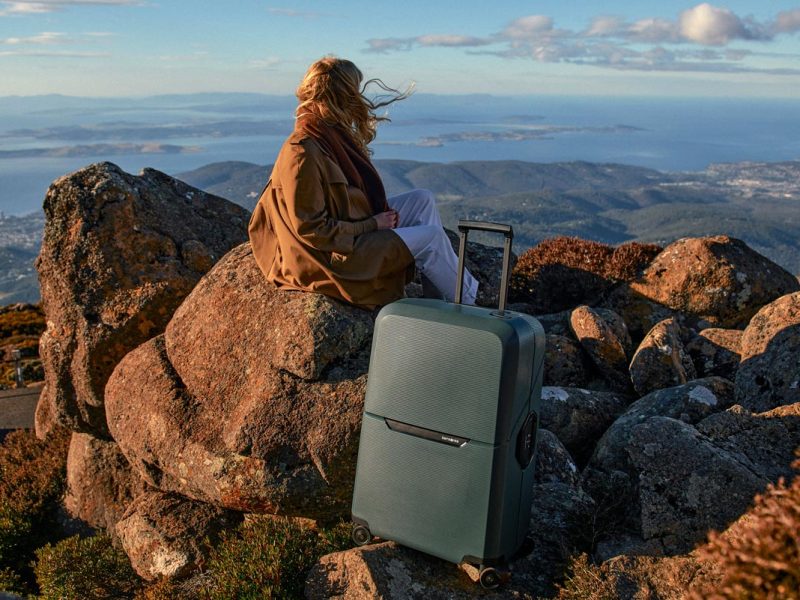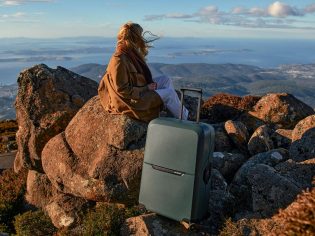 |

This Article was created in partnership with Samsonite

|
Time for a suitcase upgrade? Finding your perfect luggage set is as easy as pondering a few key questions.
Remember the days when we used to drag our worn out, gaffer-taped suitcases around airports, years before spinner wheels and superior hard-shell casing became the norm? Those memories (and, no doubt, your chiropractor's bill) are the perfect reminder of why it's so important to upgrade our luggage from time to time to make the most of the latest innovations and technology.
And if recent news images of suitcases being battered by overworked baggage handlers is anything to go by, it's time to consider purchasing the highest-quality luggage possible. While inexpensive brands may initially seem easier on the pocket, they not only tend to be heavier (thus costing you more at the check-in counter when you discover you're over your baggage allowance), but they're also less durable, so you'll have to purchase luggage more frequently.
How do you know which style of luggage is right for you? It's as easy as considering the following questions.
Should I purchase a bag to carry on, check in, or both?
Whether you're a short-stay business traveller or the kind of person who prefers the largest suitcase possible, choosing a carry-on bag durable enough to be checked in is essential. All too often, space in overhead cabins is at a premium (particularly in Europe), and you'll be asked to check in your bag.
The flipside? Should you want to avoid travel disruptions (and all that time waiting at the baggage carousel), you'll still want something roomy enough that you won't need to check in your bag when you're travelling on a shorter trip.
When looking for the perfect carry-on bag, focus on the weight of the product (the lighter the better), as well as the volume it's capable of holding. Does the case expand? Does it have cross-ribbons and zip-up pockets to help you distribute your items? Does the case have double wheels to make it easier to transport? Once you've answered those questions, there's one more thing you need to consider if you're planning on checking it in from time to time: does it have a TSA combination lock to help avoid theft?
Of course, some holidays – those requiring plenty of bulky winter gear, for example, or a months-long adventure – require something much larger.
The good news with Samsonite's best-selling Oc2Lite is that it's their entry-level range, so you'll be able to purchase both carry-on and check-in bags. The carry-on suitcase is perfectly sized – 55 x 36 x 24 centimetres, and a lightweight 2.6 kilograms – and is durable, with a reinforced shell to bring extra strength. The expandable case also has the volume (37 litres) to fit that all-important snorkel mask and flippers.
You can also purchase a 68-centimetre or 75-centimetre suitcase, but why not go for the 'committed to shopping' option at 81 x 54 x 35 centimetres? Expanding to 38 centimetres, this case weighs 4.55 kilograms, holds a whopping 127 litres, and features the all-important double wheels (you'll definitely be needing those!), as well as anti-theft zips to prevent your case being broken into.
Do I have to choose between weight and durability?
Look away from the designer trunks used by celebrities who care not one iota about portability and paying for excess fees; the benefits of lightweight suitcases are plentiful. For one thing, it's worth remembering that the weight of your suitcase counts towards your total baggage allowance (this varies between airlines, but as an example, Qantas grants its economy passengers 30 kilograms). Go over the weight limit and you'll start paying hefty premiums on the additional weight, particularly in the United States.
Having a lighter case is kinder on your neck, back and shoulders, but don't make the mistake of equating superlight with super-flimsy; some ranges are invested in providing the perfect product that delivers both.
Now that travel is back, there's no better time to invest in C-Lite luggage. The premium range – Samsonite's newest – is made with Curv® material, which archives an overall weight reduction of 50 per cent compared to other hardside, and has a unique woven structure for more resistance. The luggage varies between 1.9 kilograms for a 55-centimetre carry-on case to 3.1 kilograms for the 81-centimetre option. In great news for the environment, C-Lite lining is made from Recyclex™, consisting of 100 per cent post-consumer PET bottles.
C-Lite is far from the only Samsonite range with a 'light as a feather' touch, of course. At a slightly lower price point, Proxis uses shock-resistant Roxkin™ technology, which is essentially a multi-layered protective material that is as strong as a rock and as thin as skin, giving the case the ability to bounce back into shape upon impact. The 55-centimetre carry-on bag weighs just 2.2 kilograms, while the 81-centimetre model stands at 3.5 kilograms.
Are all wheels created equal?
One need only look towards the humble (and wayward) supermarket trolley to understand where a bad set of wheels can take us. When it comes to suitcases, many of us will make a choice between two and four wheels: the former tends to be better suited to uneven terrain and dragging heavier-than-average weight, while the latter lends to an effortless glide through airports and hotel lobbies. What you should really be thinking about is whether it has smooth rolling wheels that are durable, and what kind of suspension it provides to protect the contents of your case (as well as taking strain off your wrist).
Samsonite's patented Aero-Trac™ suspension wheel system is devoted to minimising rolling vibration and noise as you walk, offering a smoother, quieter journey. These are available on the super-stylish Minter, a classic style that harks back to the golden age of travel (albeit complete with the latest technology).
Prefer 360-degree multidirectional spinner wheels for easy manoeuvrability? Look no further than Lite-Shock Sport, a lightweight range with equally lightweight (yet incredibly durable) wheels – it's the perfect design for getting around quickly. The shock-absorbent shell design, also made from Curv® technology, is one of Samsonite's lightest; the carry-on case weighs just 1.7 kilograms, while the 81-cm model is only 2.8 kilograms.
Do I need a hard case or a soft one?
When it comes to choosing between a hard-shell or soft suitcase, it's important to take a look at the pros and cons of each. Hard suitcases, for example, can be lighter, offer better security (no slashing through these babies), and, through their impact-resistant design, are better placed to protect your belongings. Storage and space (particularly when you're trying to unpack in tiny hotel rooms/staterooms, or when you're trying to shoehorn the case into a taxi) are the key drawbacks.
Soft-shell suitcases, on the other hand, offer the opposite. While they might be more versatile when it comes to space (they're handy when you live in a small apartment and space is at a premium), they're more prone to damage.
Still, a preference is a preference, and if you like your suitcases soft, Samsonite's 73H range is not only super-tough, with an exterior made from durable nylon, but the lining is made from Recyclex™ technology, too. It's also enhanced with antimicrobial technology by Microban for extra protection against germs and viruses. Impressive enough, but the range also offers functional features that test the limits of its durability, such as exterior pockets and a functional, organised interior. Considered the true lightweight with big volume, the 73H is all about enjoying maximum expendability (hello, shopping spree).
Prefer something much harder? Take a moment to enjoy the beauty of Upscape, Samsonite's latest polypropylene (PP) collection, which is unbelievably strong, superlight in weight, and features sustainably produced lining. The collection not only protects your travel contents like a royal guard, but also comes with a host of premium features such as shock-absorbing suspension wheels and a two-way security zipper.
Is my luggage low emission?
At a time where we're all watching our environmental footprint, it makes sense that we should take the same critical eye to our suitcases.
When shopping for your luggage, look for a model that's created predominantly from recycled materials and, where possible, organic fibres. While many brands are turning to this practice, Samsonite has long been invested in utilising Recyclex™ Material Technology. This uses an innovative range of shells and fabrics created using post-consumer recycled materials that have been carefully crafted to be environmentally friendly and durable. The brand launched a variety of backpacks and bags that are made from this fabric in 2018, and the linings of most Samsonite ranges are now made with this technology.
If we're looking at the bigger picture, Samsonite aims to be carbon neutral by 2025 (no small feat considering the company-owned production facilities and global footprint).
Can't decide? Samsonite's Magnum Eco is something else, as its shell is made of recycled yoghurt cups, and the interior fabric lining is made with recycled PET bottles. It's not just a simple suitcase, however; the lightweight Magnum Eco also features an iconic three-point locking system, double wheels, and a TSA combination lock to keep things extra secure.
LEAVE YOUR COMMENT