A guide to baggage carousel etiquette 101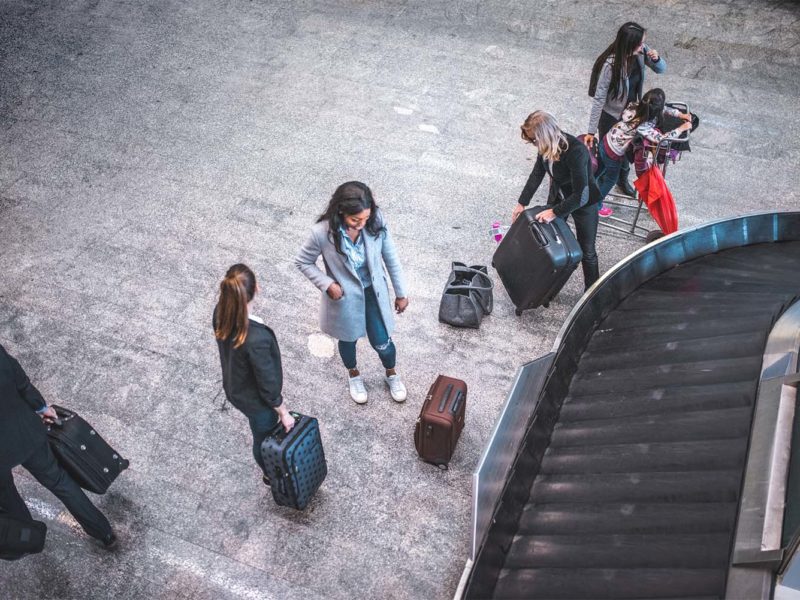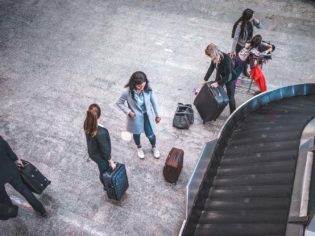 The battle lines are drawn: me versus the baggage carousel.
I am weary, but confident, for I am familiar with my competitor. She is a tough opponent, no doubt about it, but one I have always managed to conquer. This time, though, there are additional hurdles.
One of them is five. Kind and enthusiastic, she wants to help me collect the bags, two of which are pushing 20 kilograms and would squish her in a heartbeat. The other is two and showing impossible-to-ignore signs of the infamous 'terribles'. Among other things, she wants to stick her fingers in the carousel mechanics, if only to see me panic, something she seems to enjoy at the moment. Bless. I am already dreading the trip to the car. A trip to the hospital I do not need.
Mercifully, the pram is the first piece of luggage to journey my way. Like an oasis in the desert, the three-wheeled saviour appears from back of house and sails to my rescue. The two-year-old is strapped in. She doesn't like it, but I have bigger concerns and both are headed perilously towards me.
I can still taste the fear.
Carousel of Doom
The baggage carousel is travel's worst attribute. An opinion, of course, but one I will defend to the death. And while my anecdote involves children, my opinion holds firm regardless of the size and/or age of my travelling party.
There is stiff competition, to be sure: check-in is far from flawless, with more queues than a billiards shop; on board, personal space violations are commonplace and, at times, gag-worthy; long haul is, by its very nature, a total chore; and LAX is an abomination to be avoided at all costs. The list goes on.
And just when it's almost over, human behaviour sinks to new and inexplicable lows. The baggage carousel is where common sense goes to die. Where otherwise (seemingly) rational people lose their collective minds in an effort to retrieve their luggage sooner – a goal as unworthy as it is unattainable.
The solution seems simple, which is perhaps what makes the problem so frustrating. Here, just a few friendly suggestions that, if implemented, would make the world (okay, okay, just the general vicinity of the world's baggage carousels) a better place.
Step Back
This is the single most important rule. Take a step back from the baggage carousel. Please, for the love of travel. Take. A. Step. Back. Heck, take two.
Luggage is not loaded on to the carousel in relation to each passenger's proximity to it. Everyone knows this. But, I mean, do they? Do they really? Because the number of people who set themselves up toe-to-steel before the belt is even moving is baffling. From here, the herd mentality kicks in. With the front row so close, the only chance others have of catching a glimpse of their luggage is to sidle up, and so it goes until the scene is granted riot status.
Some airports already acknowledge the need for breathing space with either signage or a demarcation, but such efforts appear futile. Nothing, it seems, will stand between certain people and their revolving loot, not even a painted line.
Collect and Retreat
You've retrieved your bags. Hooray! Like winning the lottery, right? But please, celebrate elsewhere. Not dissimilar to the advice above, by taking a few steps away from the carousel to complete your luggage stacking – checking, rearranging – you'll clear the way for your fellow, not-so-lucky passengers as they continue to wait… and wait… and wait.
Stand Out
I must confess, I am throwing stones from the comfort of my glass house on this one. My suitcase is grey and my luggage tag is small and brown with a blind emboss. These 'defining' features do not instil great confidence from a distance. Avoid the need to confirm ownership at the carousel by ensuring your luggage is easily identifiable. You can take the standard route of choosing a bright coloured bag or adding a bold tag or ribbon. Better still, plaster your luggage with your own oversized face. Firebox can help you. You're welcome.
Lend a Hand
This is less carousel etiquette and more life etiquette. If you spot someone struggling, or someone who looks as though they may struggle, offer to help. No Knight in Shining Armour stuff required, just a simple gesture, a simple action.
This is, in fact, how my story ends. A fellow passenger saw my hands were full and offered his. Relief, but not for long. As I turned to offer my gratitude, I knocked one of my bags over. A big one. And it landed flush on my five-year-old's toes. Oh, the tears.
I might be winning the war, but the carousel won this battle.
LEAVE YOUR COMMENT