Is Virgin Voyages the cruise for cruise haters?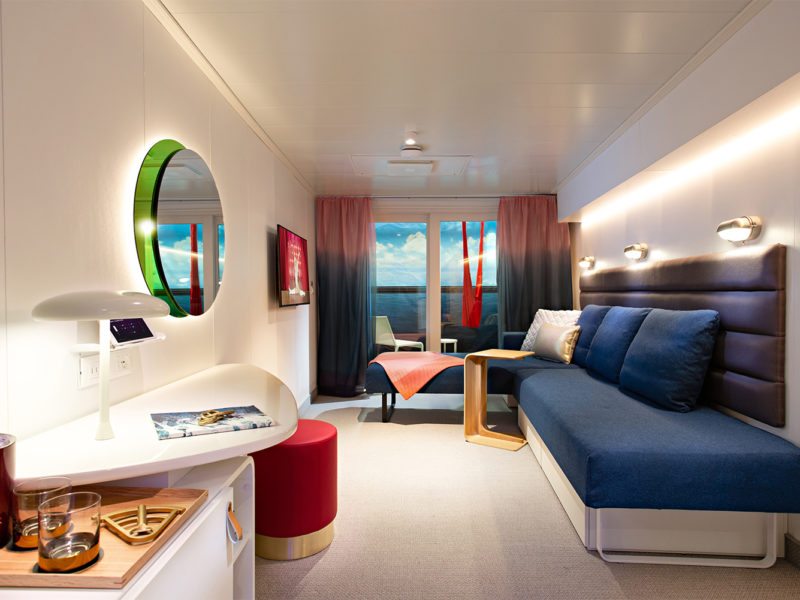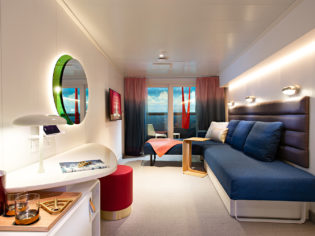 A cruise for adults with a tattoo parlour onboard are just two of the differences that Virgin Voyages is betting will attract a different cruiser. Quentin Long sat down with two of the people responsible for bringing this vision to life to find out just how different Virgin Voyages will be.
The human headline, Sir Richard Branson, has just necked Moët from a bottle to a cheering and adoring crowd of Australian travel agents and media. In about 30 minutes he will be dancing on the bar.
This is how Virgin Voyages tells the Australian travel industry it is open for business – and it doesn't even have a ship yet. Virgin will take delivery of the first of four new ships, the Scarlet Lady, on Valentine's Day 2020.
Any product that is badged Virgin comes with hype and high expectations thanks to the 70-year-old founder's zest for the risqué and racy, and Virgin Voyages is staking its future on its ability to differentiate true to the Virgin brand.
Virgin Voyages CCO Nirmal Saverimuttu tells me he thinks he may just have cracked the code to open cruising up to a new market.
"There is a whole group of people we spoke to when we did our research that said 'in my everyday life I am at boutique hotels, at cool restaurants and bars, places with high-end design and I would love it if you could marry that with a cruise'."
The real secret ingredient, according to Saverimuttu, is that it's adults only. "As we did more and more research we saw significant preference and rate premium from people who wanted an adults-only product."
How does this translate onboard?
The inspiration behind the onboard experience is – ironically – based on terra firma, Shane Riley, assistant vice president of international sales, tells me as more glasses of Moët are delivered to our table.
"We have taken what happens in the best cities in the world and curated that into an experience that will allow people to live their life onboard as they do there."
Which could explain why Squid Ink, the tattoo parlour onboard, was included in the mix.
As with any brave reimagining of a product, the language of the established industry has been discarded to make a statement: guests are 'sailors', entertainment is referred to as 'events and gigs' and the service ethos is described as 'rock star', as in you will be treated like one.
A sure-fire rock star favourite will be the Shake for Champagne on-demand service. Sailors can get a fresh bottle of Moët delivered to them within minutes if they open the Virgin Voyages Sailor app and shake it.
But that's not the most 'Virgin' of talking points – the ice-cream parlour is called Lick Me Till Ice Cream and the dining table in the RockStar suite comes with a set of stairs for rockers to get on the tabletop more easily for some grooving.
With 20-plus eateries, the volume of places to eat is on par with most cruise ships, although the lack of buffet could be considered different.
Razzle Dazzle is a vegetarian restaurant where one can be 'naughty' and add some animal protein and is probably the most off-the-cruise-script outlet. '50s steak, seafood and martini-styled The Wake is one of the most upmarket places onboard.
The cabins are said to be roomier than a standard ship's cabin thanks to the innovative German design of the Seabed. Virgin is claiming the first of its kind at sea with a bed and lounge that can be rearranged to make space to entertain people in your cabin.
The renderings show a very sleek sop modern design. It could be compared to the Celebrity Cruise aesthetic.
The RockStar suites are so on brand – a hot tub on the huge balcony, an outdoor shower, the previously mentioned table with stairs and guitars.
A new show by infamous producer and playwright Randy Wiener (founder of NYC's out-there 'theatre of varieties' The Box) has been commissioned along with circus acts and micro pop-up plays.
At Voyage Vinyl a collection of old classic vinyl can be found and purchased. But it is the on board karaoke at The Groupie that will probably be the scene of many a crimes against music.
The launch itineraries are decidedly old world cruise – the Caribbean, but with a stop at the exclusive, for Virgin Voyages Sailors, The Beach Club at Bimini in the Bahamas.
With the launch of the inaugural sailing of Lady Scarlet still months away, we'll have to wait to see whether Virgin Voyages can deliver on its promise.
But Saverimuttu is confident. "I think people will love everything we have come up with… because everyone deserves to be treated like a rock star once in their lives, right?"
Scarlet Lady sets sail in April 2020