9 weird and wonderful laundromats from around the world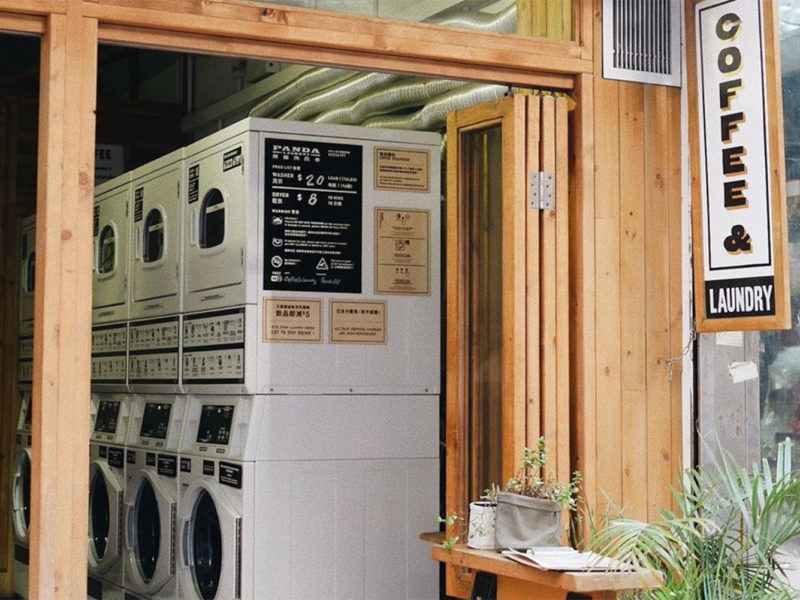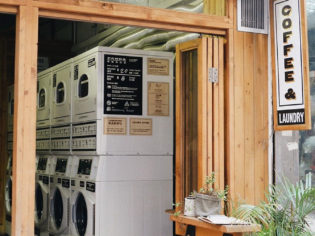 Airing their dirty laundry – you won't believe these latest tourist attractions
Just when you thought you'd seen it all, there's a new type of tourist attraction making a splash. We're talking destination laundromats, where going for a spin has taken on a whole new meaning. It's no longer just about the washing in these cool spaces that boast everything from bars to libraries and hairdressers.
Now you can swap the soap bar for a cocktail bar. Touting itself as a high-end, self-service laundromat, Splash was founded in 2012 by an Argentine entrepreneur. By day, you can wash up to 17 kilograms of clothing in one of its machines. By night, you can hire the space out for functions. Just when you thought domestic chores were dead boring, snatch one of your dresses out of the spin cycle and prepare to party. With two locations in Barcelona, one in Eixample Esquerra and another close to the Sagrada Familia, let's just hope your washing is completed in far quicker time than it is taking the Spanish to finish the famous church.
A restaurant and laundry in one? Why didn't anyone think of this sooner. This retro laundromat was developed by a Belgium-based design studio in response to Ghent's burgeoning student population. Not only can you clean your clothes, but you can drink, sing and have your hair done in this one-stop shop. In short, this place is genius. For those who simply want to hang, there's plenty of perky places to socialise and even a piano, should the urge to tickle the ivories occur. Sip coffee, order a burger, or drink something alcoholic. You'll be bummed when your washing is done.
Who wouldn't love doing the laundry at a place like this? At Philadelphia's Laundry Cafe, plonk your gear in a 'big, clean machine' (said to wash and dry faster) while you enjoy free wi-fi, flat-screen TVs with the latest shows, fountain drinks, vending machines, and… wait for it… massage chairs. Yes, no more perching on a cold, hard clothing-folding bench watching your load go endlessly round and round. There's even kid-friendly entertainment and play zones featuring books, toys and arcade-style games. With four locations in this US city, washing day just became a whole lot more fun.
Those crazy Texans. Just when you thought doing the laundry was, well, about doing the laundry, along came Harvey Washbangers to mix things up. This state-of-the-art laundromat boasts a massive 80 machines and dryers, but you're not really here for that. Right? You'll find any Texan worth his salt at the bar, tasting from a range of craft beers including Dallas Blonde and Blood & Honey. There's also an impressive food menu including burgers and 'dawgs' and it would be hard to go past the Banger Burger here.
It's South Africa's first destination laundromat but we're guessing it won't be their last. Home to innovative art displays, a solid cement table that slices through the centre of the main room and rustic red walls, anyone passing I Love My Laundry could be mistaken for thinking it's a coffee shop. While laundry is the main event here (they even tailor their services to suit your individual quirks such as how you like your socks folded), there are plenty of other things going on too. Sip Brazilian coffee, flavoured mineral waters and ice tea at the laundromat's JOGA JOGA cafe and feast on cupcakes while you wait for your washing. Even better, pick up a bottle of plonk from the I Love My Wine branch of the business.
The name of this New York laundromat suggests you'll be plenty more than just washing your socks here. Based in Brooklyn, go the full retro and play pinball while your washing hurtles around the machine. There's a comprehensive beer menu here too to keep you entertained and even t-shirts for sale, should you have no clean clothes to wear while you're doing your washing. Even better, this is a laundromat with heart with its 'Spreading Sunshine' program donating proceeds from its pinballs to hospitals and cancer patients. Doing the laundry has never felt more virtuous.
As late as 2014 there wasn't even a self-service laundromat in Hong Kong, so you can imagine how radical the concept of this country's first laundromat AND coffee shop was. Based in Sheung Wan, this funky space is capitalising on a city that no longer has space for in-home laundries. The fact it serves a decent brew too is also a boon. There's only 10 self-service washing machines and dryers here, so best to grab a cuppa, snatch a pastry, and wait your turn.
Well, you've got to have something interesting to do during those long, dark Norwegian winters, so why not the laundry? Oslo's Cafe Laundromat pitches itself as a place where strangers can meet and share coffee, a meal, bright ideas and even washing powder. Feast on cooked breakfasts, sandwiches, pizzas and burgers or hunker down in what is one of Oslo's largest private libraries with more than 4000 books. Washing? What washing?
There is not a person on the planet with whom the name of this Cambodian laundromat will not resonate. Home to the 2016 Cambodian Barista Champion, you can expect great coffee and tasty tea here too. Head here for good food, hand-crafted coffee, waffles or a cold Angkor beer. You can even order an Espresso Martini. Open 24 hours a day, and with the offer your laundry can be washed and dried in less than one hour, there's also some fabulous Khmer dishes that makes this a daring destination not to miss on your travels.