Meanwhile in Canada… leaf peeping is not naughty but nice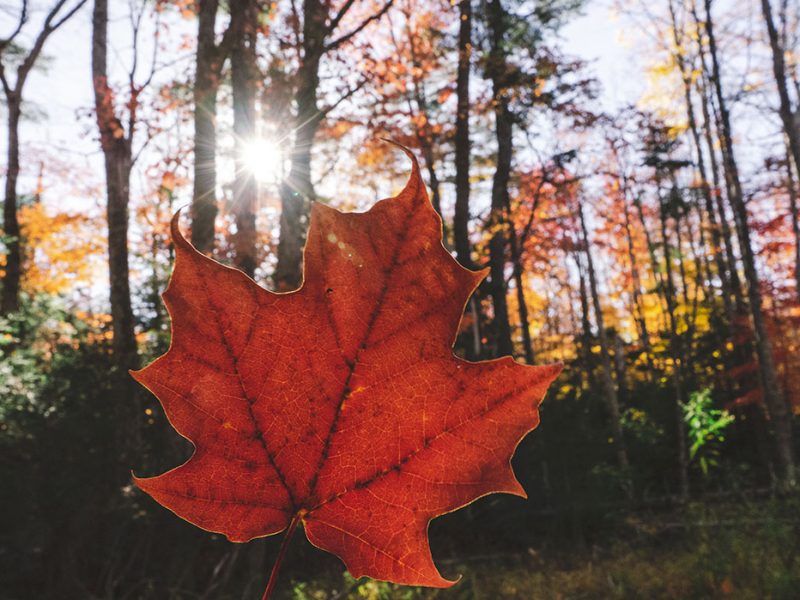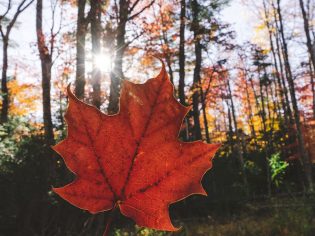 The gentle autumn art of leaf peeping is a very Canadian pastime sure to make you dizzy with delight. Or is that just the pumpkin spice kicking in?
This is story seven of our Meanwhile in Canada… series.
If a Canadian ever asks you whether you want to peep at their leaves, be assured it's no euphemism. They're really asking if you want to admire the stunning autumn foliage.
Why Canadians call it leaf peeping is anyone's guess. Autumn here isn't so much a peep as an unabashed, explosive spectacle. Nor is there anything furtive about this happy seasonal practice. Everyone does it, and now I'm doing it, too.
Canadians are hospitable, chatty folk but autumn – or fall, as I ought to call it – puts them in a particularly mellow, sharing mood. I'm loitering outside a garden in Cape Breton trying to photograph its splendid trees when the owner really does ask me if I want to peep at her leaves.
Of course I do. Her leaves are worth peeping at any day, or at least any day in October. Soon the gate is unlatched and Susan McGillivray is giving me an impromptu tour, delighted I've come all the way from Australia to see Nova Scotia in glorious Technicolour.
Her star turns are a terrific dogwood, as red as lipstick, an elegant birch just turned mottled yellow, and two maple trees with satin-soft burgundy-coloured leaves that look like something produced in a designer workshop.
Susan is dismayed to learn there's no fall in most of Australia. "Oh, but fall is so wonderful!" she exclaims, throwing up her arms. "Just as we Canadians start panicking that summer is coming to an end, Mother Nature sends us fall just to perk us up."
Soon I'm sitting at a rickety iron garden table, drinking coffee and eating homemade Nova Scotia oatcakes. Susan's oatcakes are the size of hockey pucks and have added maple syrup, though peanut butter, she tells me, is the more usual addition.
I'll become quite the oatcake aficionado before I'm done in Nova Scotia. Some are rather savoury, others sweeter. Some chewy, others thin enough to snap. Some are coated in chocolate, others have a pinch of nutmeg that makes my nose twitch. A few leave buttery fingerprints on my car door.
This is an unexpected interlude, sitting in a garden, munching oatcakes with a local who looks like an escaped pixie but has a booming laugh like one of the foghorns I heard in Halifax. Susan has barely been beyond Nova Scotia in her life, and I think she sees an Australian as an exotic encounter.
Lucky for me, because she's full of local lore. I should look out for wildlife around maple trees, she says: white-tailed deer and porcupines and racoons like the sugary sap. Red squirrels and moose chew on the bark. Did I know "moose" was the Algonquian word for "twig eater"?
Susan fills me in on the best places to leaf-peep in this petite province, and sends me off with a last piece of advice. "Get up early. Get down to the lakes. You'll see early-morning mist slowly dissolve as the sun gets warmer, and the red and orange trees appear like a mirage."
Late September and October is the moment when Canada's trees put on outrageous drag-show displays of red, orange and yellow, and leaf-peeping fever takes over. In Nova Scotia, big oaks and humble bog plants alike turn red. Sumac turns deep purple. Birch and elms and poplars flame yellow. The maple trees, beyond my expectation, run the gamut from yellow to plum.
The invigorating fall weather is ideal for hiking and belly-warming food and wine. Everywhere I go smells of pumpkin spice. It wafts from air fresheners and candles. It's added to gluhwein and lattes. The mix of cinnamon, nutmeg, ginger and cloves is named because it was once used for making pumpkin pies. Now the smell wafts in baroque clouds through bakeries and cocktail bars, where I find it added to a combination of bourbon, Grand Marnier and maple syrup that distils autumn in a crystal glass.
Everyone in Nova Scotia has their recommendations for the perfect peep. Bear River for its flanking hills carpeted in blazing hardwood trees. Kejimkujik National Park for its endless little lakes that reflect upside-down trees as I paddle a canoe. The Eastern Shore with its lashings of squirrel-haunted spruce, larch and maple.
The Cabot Trail around Cape Breton at the province's northern end is a whole hallelujah chorus of colour. This is one of the world's great scenic drives at any time but goes into overdrive in fall. The rollercoaster road teeters along sea-bashed cliffs, wanders into Highlands National Park and loops through blushing forests that explode against a blue sky and bluer sea.

As an Australian, practically anywhere makes your head spin. Even just one or two trees can be stunning enough, tucked into a garden or churchyard or fold of the landscape. Nova Scotia's grass is improbable green, the barns red-roofed, church steeples white, the trees splendiferous. Great rolls of baled hay squat in fields. Coastlines are draped in red-and-white lighthouses and dark rocks on which mournful seals twitch their whiskers.
There's nowhere from which you can't indulge in leaf peeping. From the porch of a lobster shack. From a stand selling corn cobs with deliciously charred edges. From a hiking path in a forest where the dark earth smells rich as chocolate soufflé. From a farmhouse B&B, where red ivy peeps around the corners of my window.
I follow Susan's advice and head early one morning to the shores of Bras d'Or Lake. As I kick fallen leaves along country tracks, they rustle like old parchment. Leaves twirl from the sky. The mist is like a Halloween movie scene, but as the day warms up the landscape emerges, reflected in raspberry ripples in the lake, and I feel I've had a little glimpse of heaven.
Next time, come with me to Newfoundland as I travel back in time and discover that some early Canadians were a whole lot fiercer than their modern counterparts.
LEAVE YOUR COMMENT