The 8 restaurants you have to try in Abu Dhabi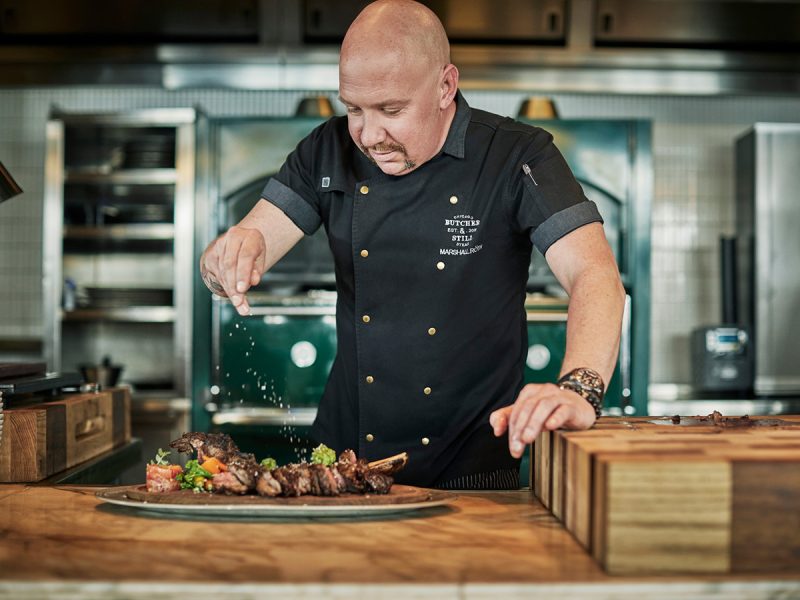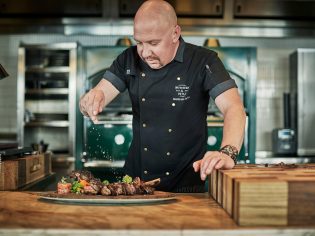 As one of the most cosmopolitan cities in the world, it will come as no surprise to learn that Abu Dhabi is filled with world-class restaurants.
Yes, you'll find fine dining in abundance in the United Arab Emirates capital city, but the restaurant experiences go beyond Michelin-starred spots (though there are still a fair few on this list).
Oceanside alfresco dining, family-friendly buffets with every cuisine you could think of, secluded restaurants inside palaces and Instagram-worthy interior design – you'll find it all around Abu Dhabi.
With so many fantastic places to dine, we've made your travels easier with this curated list featuring the best of the best.
1. Hakkasan
Where: Emirates Palace
Perfect For: Date night
You Have To Try: The dim sum menu
The UAE edition of the famous, Michelin-starred London restaurant is a must-do for any foodie visiting Abu Dhabi.
Housed inside the opulent Emirates Palace hotel, enjoy Chinese cuisine inspired by ancient Cantonese recipes given a modern twist. Book a spot on Hakkasan's terrace for sweeping skyline views.
2. Buddha-Bar Beach
Where: The St Regis Saadiyat Island Resort
Perfect For: Sunset chill outs
You Have To Try: The chicken salad
Buddha-Bar venues pop up each summer at picturesque places around the world (like Mykonos and the Maldives) but its Abu Dhabi location, situated on the pristine waters of Saadiyat Island, is permanent.
Enjoy the day-to-night ambience of the Asian-fusion restaurant, and pick one of the outdoor tables or, even better, a lounge space to enjoy the sunset colours spreading across the sand.
3. Saddle Cafe
Where: Marsa Al Bateen Marina
Perfect For: Lazy Sunday brunch
You Have To Try: The coffee
This is the first dine-in venue for the famous Saddle Cafe, which until this year was known for its food trucks and incredible coffee.
At its new venue, you can sit and enjoy the cafe's famous coffee (some say the best in Abu Dhabi) from 8am, or head down for dinner and sample the Mediterranean-inspired fare until midnight.
4. Butcher and Still
Where: Four Seasons Hotel Abu Dhabi, Al Maryah Island
Perfect For: When you just want a great steak
You Have To Try: The signature tomahawk chop
Arguably Abu Dhabi's best steakhouse, Butcher and Still is 1920s Chicago-inspired, with dark, sultry interiors featuring leather banquettes and rich wood floors.
Menu-wise, expect a decadent cocktail offering inspired by the Prohibition era, and select prime cuts of American beef – the signature tomahawk chop is a 21-day aged bone-in rib-eye steak that will probably be the best you'll ever eat.
5. Rosewater
Where: Conrad Abu Dhabi Etihad Towers, Al Bateen
Perfect For: Family meals
You Have To Try: Anything from the live cooking stations
Rosewater has one of the best buffet restaurants in the city, so it's a must for those bringing busy little ones along who won't stay put at a fine dining establishment. They'll love the interactive feel of the live cooking stations, plus the plethora of desserts to choose from.
6. Cipriani
Where: Yas Marina Circuit
Perfect For: People watching
You Have To Try: Any of their pasta dishes or the steak tartare, which gets rave reviews
Known as one of the best Italian restaurants in Abu Dhabi, and arguably the best on the popular Yas Marina Circuit, Cipriani is the place to go if you want to people-watch at the popular evening area or marvel at the superyachts docked in the marina.
You'll also enjoy exquisite dishes inspired by founder Giuseppe Cipriani Sr. and his creativity – he invented the Bellini in 1948.
7. Li Beirut
Where: Conrad Abu Dhabi Etihad Towers, Al Bateen
Perfect For: Seeing Abu Dhabi from above
You Have To Try: The Arabic Mixed Grill
Honestly, if there is an Arabic Mixed Grill on any Lebanese restaurant menu, you order it. That goes double at Li Beirut which made it into the 2023 Michelin Guide for the city.
Vegetarians need not worry, there are plenty of mouth-watering meals of the veggie kind here as well.
As one of 2022's hottest restaurants, it also comes with a stellar view of the ocean thanks to its sky-high location within the Conrad Abu Dhabi Etihad Towers.
8. Meylas
Where: Al Muneera, Al Raha Beach
Perfect For: The best authentic Emirati food
You Have To Try: The luqamaat (fried dough balls served with sticky date molasses)
Meylas means "a place that gathers people", and this restaurant embodies home; from its warm atmosphere to the family recipes passed down through generations. This is the restaurant to visit for a true Emirati cuisine experience.
Machboos is a must-order – pillowy rice spiced with traditional flavours, dry lemon and your choice of meat or fish. And the luqamaat, of course. This is one place where dessert isn't optional, it's practically mandatory.
LEAVE YOUR COMMENT